Applying for Kaplan University Financial Aid—The Number To Call for Extra Help
Purdue University Global bought and assimilated Kaplan University in 2018. This university is a primary choice among students who seek flexible education options and athletic opportunities since it's a member of the Big Ten Conference.
Now that you're no longer applying for Kaplan University financial aid, the number you should call belongs to the Purdue University Financial Aid Office, and you can find it in this guide!
You will also find out:
What types of financial aid Purdue University offers
How to appeal the University's decision, if necessary
How To Reach the Purdue University Financial Aid Office
If you have any questions or require assistance with your application, contact the Purdue University Financial Aid Office by:
The Purdue Financial Aid Office works Monday–Friday, from 8:00 a.m. to 5:00 p.m.
The Basics of Purdue University Financial Aid
Students can receive aid from this university based on merit and financial need.
Purdue University offers Financial Aid in the form of:
Grants
Scholarships
Loans
Work-study programs
Grants at Purdue University
Students attending Purdue University can qualify for the following grants:
Grant Category
Grants
Federal grants

Pell Grant
Supplemental Educational Opportunity Grant (SEOG)
Iraq Afghanistan Service Grant
Teacher Education Assistance for College and Higher Education (TEACH) Grant

Indiana grants

Frank O'Bannon Higher Education Award
21st Century Scholarship
Child of Veteran's and Officer's Fee Remissions (CVO)
Indiana Senior Citizen's Tuition Exemption
Indiana National Guard Supplemental Grant
Adult Student Grant
William A. Crawford Minority Teacher/Special Education Scholarship
The Mitch Daniels Early Graduation Scholarship (MDEGS)
Available Scholarships at Purdue University
The University offers multiple categories of freshman scholarships, such as:
University-wide merit scholarships

Trustees Scholarship
Presidential Scholarship
National Merit Scholarship
National Recognition Programs Scholarship

College-based scholarships
Financial-need-based university-wide scholarships

Marquis Scholarship
Purdue Promise Scholarship (for Indiana 21st Century Scholars)
Purdue University considers you for need-based scholarships automatically after you submit your FAFSA application. The school also has a platform named ScholarshipUniverse for more internal and external scholarship opportunities. You can use the portal to:
Apply for multiple scholarship opportunities at once
Track the application statuses
Receive scholarship recommendations based on questions you answer when you create your profile
Get alerts for new opportunities
Purdue University Financial Aid—Loans
Students can choose between the following loaning options at Purdue University:
Federal loans

Subsidized Direct Educational Loans
Unsubsidized Direct Educational Loans
Graduate PLUS Loans
Parent PLUS Loans
Health Professionals Student Loans

Institutional loans

Purdue Loans
Back a Boiler–ISA Fund

Private loans
Work-Study Programs at Purdue University
Available work-study programs at Purdue University include:
Federal Work-Study—Earn government awards by working in on-campus departments or approved off-campus, non-profit agencies. Students need to seek and secure employment by themselves and receive their pay every two weeks
Student employment—Find internships and jobs using the Purdue University Career Research Portal and acquire extra income
How To Apply for Purdue University Financial Aid
To apply for financial aid, complete your FAFSA, and don't forget to include the federal school code, which is 001825. The priority deadline at Purdue University is March 1, but incoming students are encouraged to submit their financial aid applications by January 1.
How Much Aid Can I Expect From Purdue University?
In 2021, Purdue University:
Awarded non-need-based scholarships averaging $4,708 per student
Met 80% of students' financial needs
Awarded 45% of its first-year students
What Can I Do if Purdue University Rejects My Application?
The best way to approach the rejection and request more financial aid is to write a convincing appeal letter to the University, and we can help you with that! to request more aid from Purdue University in a flash!
Get More Financial Aid From Purdue University With DoNotPay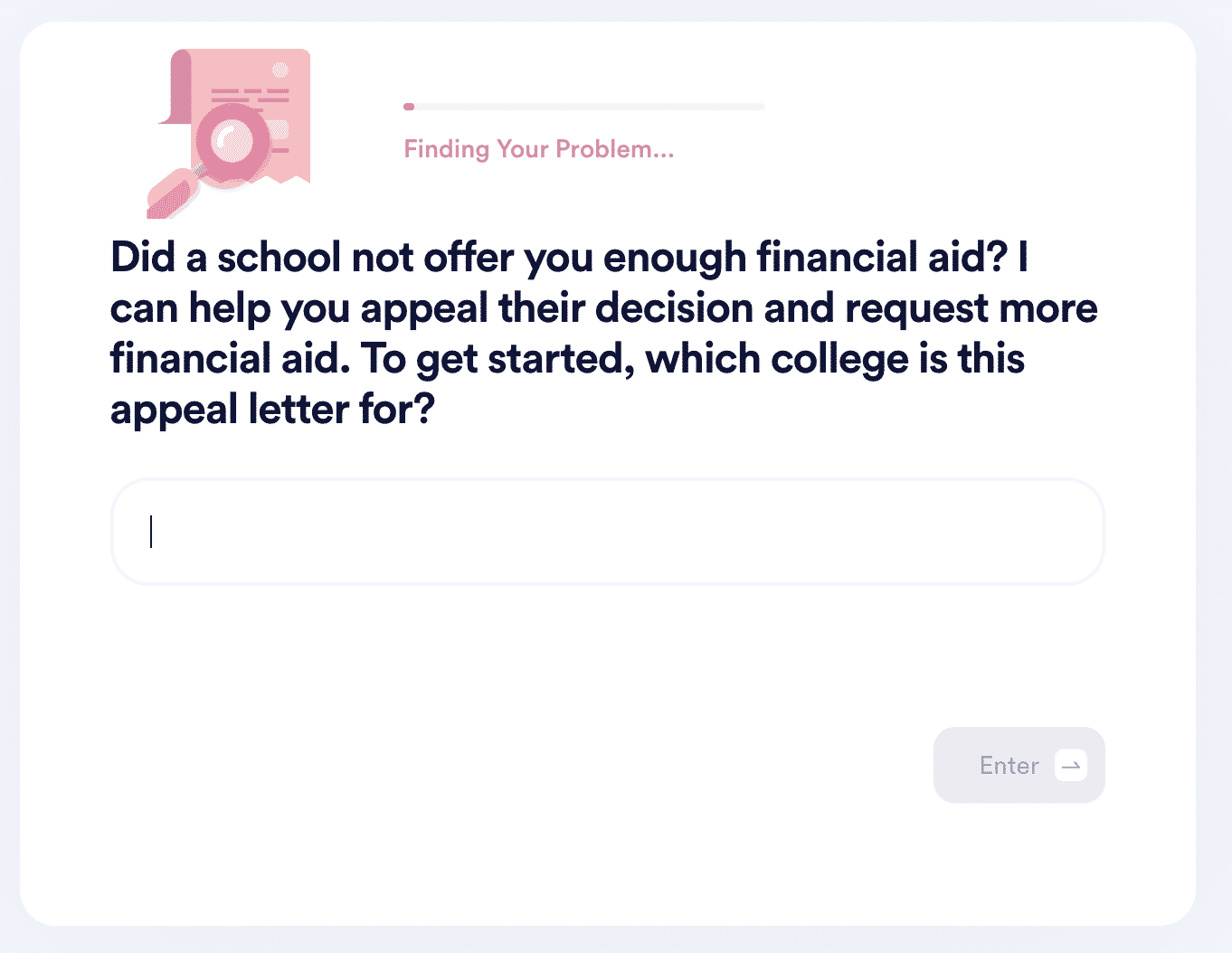 Spare yourself the trouble of writing the appeal letter yourself! With DoNotPay, you can generate and send an appeal to Purdue University in a matter of moments!
To get started:
Search for Appeal for More Financial Aid
Provide some information about your application, such as the responses you got from Purdue University and other schools you applied to and the circumstances that impacted your financial situation
Depending on your choice, we will send the letter to Purdue University or to you so you can forward it yourself.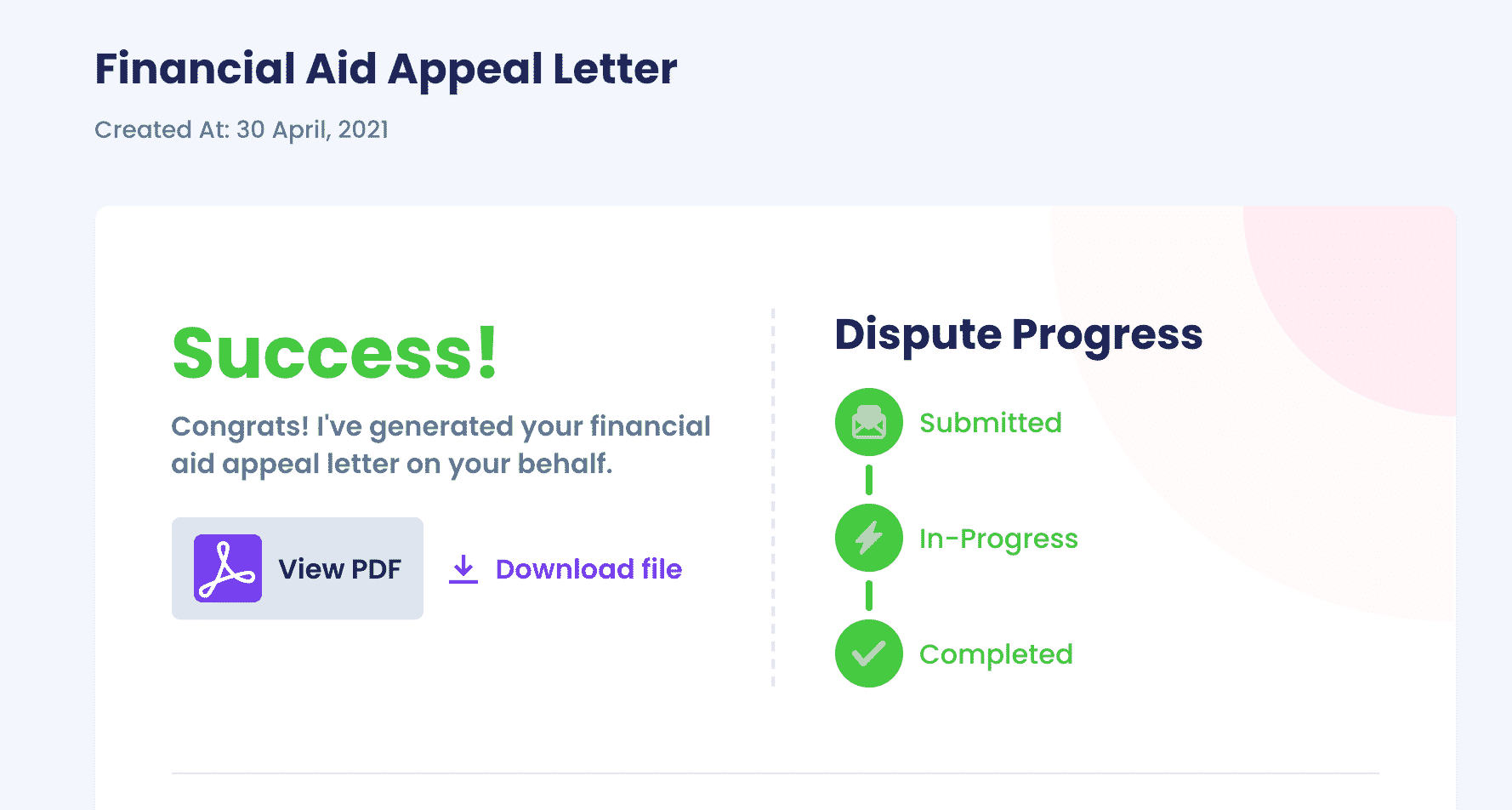 Financial Aid Guides Within Arm's Reach
DoNotPay— your pocket-sized assistant—can answer all of your financial-aid-related questions, such as:
For more help, check out this table of our guides to the most popular colleges and their financial aid programs:
DoNotPay Helps You Deal With Any Administrative Issue Effortlessly
Tedious administrative tasks are always headache-inducing, but they don't have to be if you use DoNotPay. With our AI-powered app, you will be able to:
Solve Any Issues Like a Pro With DoNotPay
DoNotPay is an AI assistant that is able to solve almost all issues you're facing. Whether that be your noisy neighbors, the annoying text and email spam you're receiving, or the frustrating robocalls that won't leave you alone. We'll even cancel your unneeded subscriptions and get you a few extra bucks you've been cheated out of.
The world's first robot lawyer app can help you get: