Boost Up Your Career With Johnson and Johnson Nursing Scholarships
Nursing is one of the noblest career choices in the post-pandemic world, but the rising nursing school tuition is an open invitation for student loans. Currently, a bachelor's degree in nursing can cost you anything between $40,000 and $100,000 annually, and that's without considering your lab supplies, nursing outfit, and basic living expenses.
If you are clueless about how to fund your nursing degree, consider applying for the Johnson and Johnson (JNJ) nursing scholarships and grants. JNJ offers over 340 nursing scholarships across the U.S.—DoNotPay will help you evaluate which ones you qualify for!
A Bird's-Eye View of Johnson and Johnson Nursing Scholarships
JNJ's financial aid options help driven nursing aspirants pursue a flourishing career against all odds. At present, Johnson and Johnson nursing scholarships are issued to meet the following goals:
Provide merit-based or need-based financial assistance to nursing students
Offer tuition fee assistance to economically disadvantaged demographic groups
Assist students in finding brilliant mentors and faculty members
Train nursing professionals for leadership opportunities
Help students get recruited into the finest hospitals and labs
In this table, we answer your common queries regarding the JNJ scholarship structure:
Question
Answer
Are JNJ scholarships available for every U.S. state?

JNJ scholarships are available both on national and state levels, but they may not be available for every state
You need to conduct a search for every individual scholarship to check it's available in your state

Which programs are supported by JNJ?
You can find JNJ scholarships for:
How much are the scholarship rewards?

The reward for Johnson and Johnson nursing scholarships varies across different programs
JNJ offers both partial and full-ride scholarships
The scholarships may be renewable or available as a one-time-only financial assistance
How To Find the Right Johnson and Johnson Nursing Scholarship
If you're looking for a scholarship sponsored by Johnson and Johnson, you can use any of the following methods to browse for relevant options:
Search the website—Johnson and Johnson's dedicated nursing website contains nursing career guides, podcasts, innovative findings, news, and JNJ scholarship info. Keep in mind that JNJ's website search is a time-consuming process and hardly a practical option if you are a busy student or worker. If you want scholarship details directly from the website, do this:

Visit the website and navigate to the scholarships sections
Scan through the 300+ scholarships listed on the website, one at a time

Check with individual schools—If you're looking for a JNJ nursing scholarship in a particular state, you should check each public or private school for state scholarships sponsored by Johnson and Johnson
Use DoNotPay's scholarship finder—DoNotPay offers you an evolved scholarship search tool that matches you with all scholarships that fit your student profile. Our app maintains a database of all the latest scholarships in the U.S., including the JNJ scholarships. All you need to do is and fill out a short student questionnaire with details like your GPA, field of study, special interests, etc. Our AI-supported app will use the data you provide to generate a personalized list of scholarships!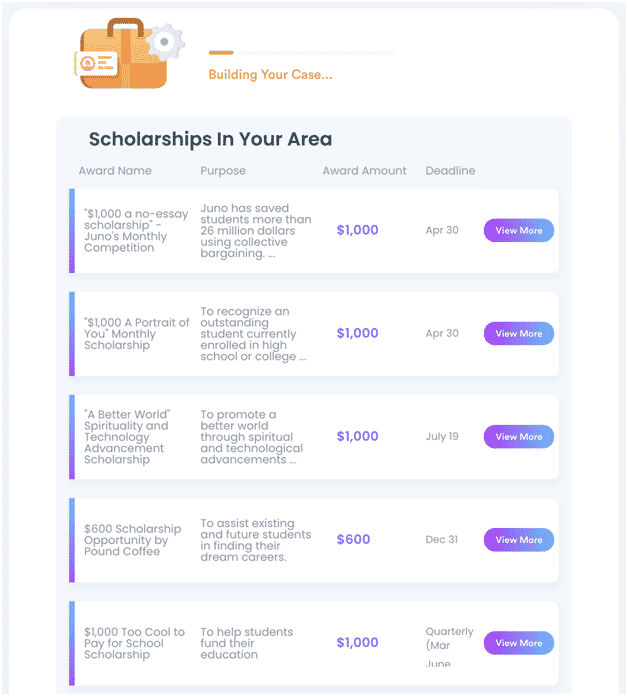 Johnson and Johnson Nursing Scholarship—Keep an Eye Out for Minority Options
Before you start applying for scholarships, make sure you have scanned through all the minority nursing scholarships offered by Johnson and Johnson. Minority scholarships often have lower GPA requirements and may provide greater financial benefits.
Currently, you can find dedicated JNJ scholarships for underrepresented ethnic groups, such as Native Americans, Hispanics, Indians, Africans, and Asians. Remember that the nursing profession has been dominated by women for decades now, so even male nurses are considered a minority for scholarship purposes.
Here are some of the most sought-after JNJ minority scholarships for future nurses:
At the moment, no JNJ scholarships are catering to undocumented or international students in the U.S. If you are one of those students, use DoNotPay's scholarship finder product to find nursing scholarship programs according to your residency status.
Simplify Your Scholarship Search and Application Task With DoNotPay
Many students are only aware of the popular scholarship options—like JNJ nursing scholarships—which make them pass on the other excellent financial aid opportunities. DoNotPay ensures this never happens to you as our refined search results will alert you of every local and out-of-state nursing scholarship available.
There's more—we can also help you apply for all the no-essay scholarships you qualify for! Our app's scholarship application feature lets you browse a list of no-essay scholarships curated as per your student criteria. You can tap the ones that appeal to you, and we will apply for them on your behalf. A confirmation email from us will help you keep track of all your active scholarship applications!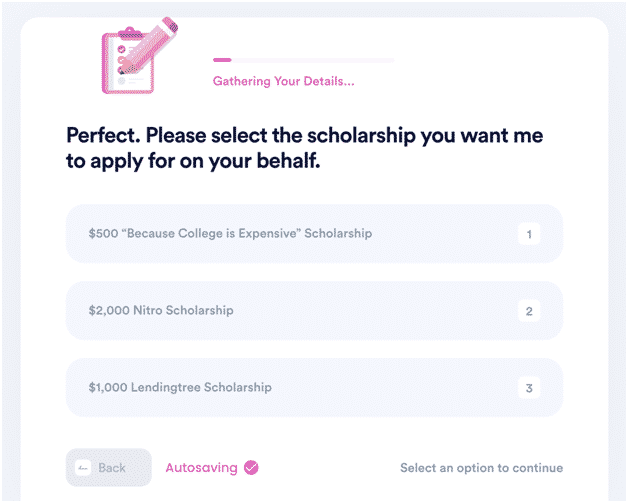 Our multilevel scholarship support services are a couple of clicks away:
and search for Scholarships to access our scholarship finder
Answer a questionnaire to input your student details
Tell us if you want to search or apply for scholarships
Include DoNotPay as a part of your weekly scholarship search and application ritual. That way, you'll stay up to date with the latest scholarships and have a better chance of winning more rewards!
Save Time With DoNotPay
DoNotPay is not done helping you! We offer you assistance in completing a variety of tasks quickly and efficiently, such as:
Canceling Subscriptions Has Never Been Easier!
If you keep getting charged a monthly subscription fee even though you no longer want to use a certain service, don't let your money go to waste! Some companies tend to renew your subscription automatically, but that doesn't mean you have to put up with it—use our app to terminate your membership or subscription in a few clicks!
Do you want to sign up for free trials and create a virtual credit card or a burner phone number to protect your sensitive info? Once you subscribe to DoNotPay, we will walk you through the process of doing all of the above in no time!
You can also count on our assistance if you need to get rid of spam or robocalls.