Citrus College Financial Aid Made Crystal Clear
Citrus College is an attractive choice for students seeking top-quality education and a variety of places to explore in the school's vicinity, such as beaches, nature, Disneyland, Hollywood, and more! Are you an aspiring Citrus College student in need of financial aid? This guide explains how to apply for Citrus College financial aid and if it doesn't work in your favor!
What Types of Financial Aid Does Citrus College Offer?
The Citrus College financial aid package can include:
Grants
Loans
Scholarships
Work-study programs
Grants at Citrus College
Citrus College offers the following grants:
Federal grants

Pell Grant
Federal Supplemental Educational Opportunity Grant (FSEOG)
Bureau of Indian Affairs (BIA) Grant

State grants

California College Promise Grant (CCPG)
Cal Grant
The California Chafee Grant Program
Student Success Completion Grant
Extended Opportunities Programs and Services (EOPS)
Citrus College Financial Aid—Loans
You can opt for one of the following federal loaning programs at Citrus College:
Federal Direct Subsidized Loans
Federal Direct Unsubsidized Loans
Federal Direct PLUS Loans
To be eligible for federal loans at Citrus College, you must:
Complete and submit a FAFSA application
Be enrolled in at least six units in the current academic year
Get the award letter
Complete online entrance counseling and a Master Promissory Note (MPN)
Scholarships at Citrus College
Information about scholarships offered by this school is not available after applications get closed, but you should start checking the official website as soon as you put Citrus College on your wishlist.
You can use the following external scholarship sources to acquire additional funds for attending Citrus College:
FinAid
Edison
FastWeb
eCampusTours
College Board
Scholarships.com
Harry Truman Scholarships
Discover Nursing Scholarships
International Education Financial Aid
Tuition Funding Sources​ (TFS Scholarships)​
The Congressional Hispanic Caucus Institute Scholarship
​​​​​California Health Professions Scholarships
MALDEF ​Scholarships (​for all students, regardless of their immigration status)
Citrus College Financial Aid—Work-Study Programs
If you're seeking part-time employment during your studies at Citrus College, you have two options:
Program
Description
Federal Work-Study
The government reserves funds you can acquire by working on- or off-campus. You should stop working if:

You drop below the unit requirement, which is a minimum of six units during fall and spring and three units during winter and summer
Run out of FWS funds
Reach June 30

If you run out of FWS funds, you can switch to regular employment

Student employment
Students must be enrolled in 12 units to be eligible for regular student employment. You can work on-campus to earn the minimum wage authorized by the State of California
How To Apply for Citrus College Financial Aid
Citrus College requires you to complete three steps to apply for financial aid:
Submit your FAFSA or CADAA application by the final deadline, which is June 30, and include the school's code, which is 001166
Check your Citrus College email account frequently because the school may prompt you to correct mistakes on your application or submit additional documents
Complete all necessary tasks by September 2 and allow 10–15 days for the school to process your application
If you're applying for the Cal Grant, you will need to complete the application on the California Student Aid Commission homepage by March 2.
You can contact the Citrus College Financial Aid Office for more assistance by:
What Can I Do if Citrus College Denies Me Financial Aid?
You can appeal the school's decision, but the process depends on your student status:
Continuing students—Submit an SAP Appeal using your Citrus College account and upload all supporting documentation. The school will review your appeal, and if it accepts it, you will be put on probation during the current semester
Prospective students—File an appeal by writing a letter. A well-written financial aid appeal letter includes reasons why Citrus College is your first choice, offers you received from other schools, and any circumstances that have affected your financial situation since you applied
Writing a convincing appeal letter is no easy task, but DoNotPay can simplify the process tremendously!
Use DoNotPay To Get More Financial Aid From Citrus College
Embark on your academic journey stress-free with DoNotPay! Request more financial aid from Citrus College by generating a custom appeal letter in three steps:
Enter Appeal for More Financial Aid in the search bar
Answer some questions about your financial aid application and the response you got from Citrus College
Choose whether you want DoNotPay to send the letter to Citrus College on your behalf or do it yourself. If you choose to submit the letter yourself, we will send the finished product to your email inbox.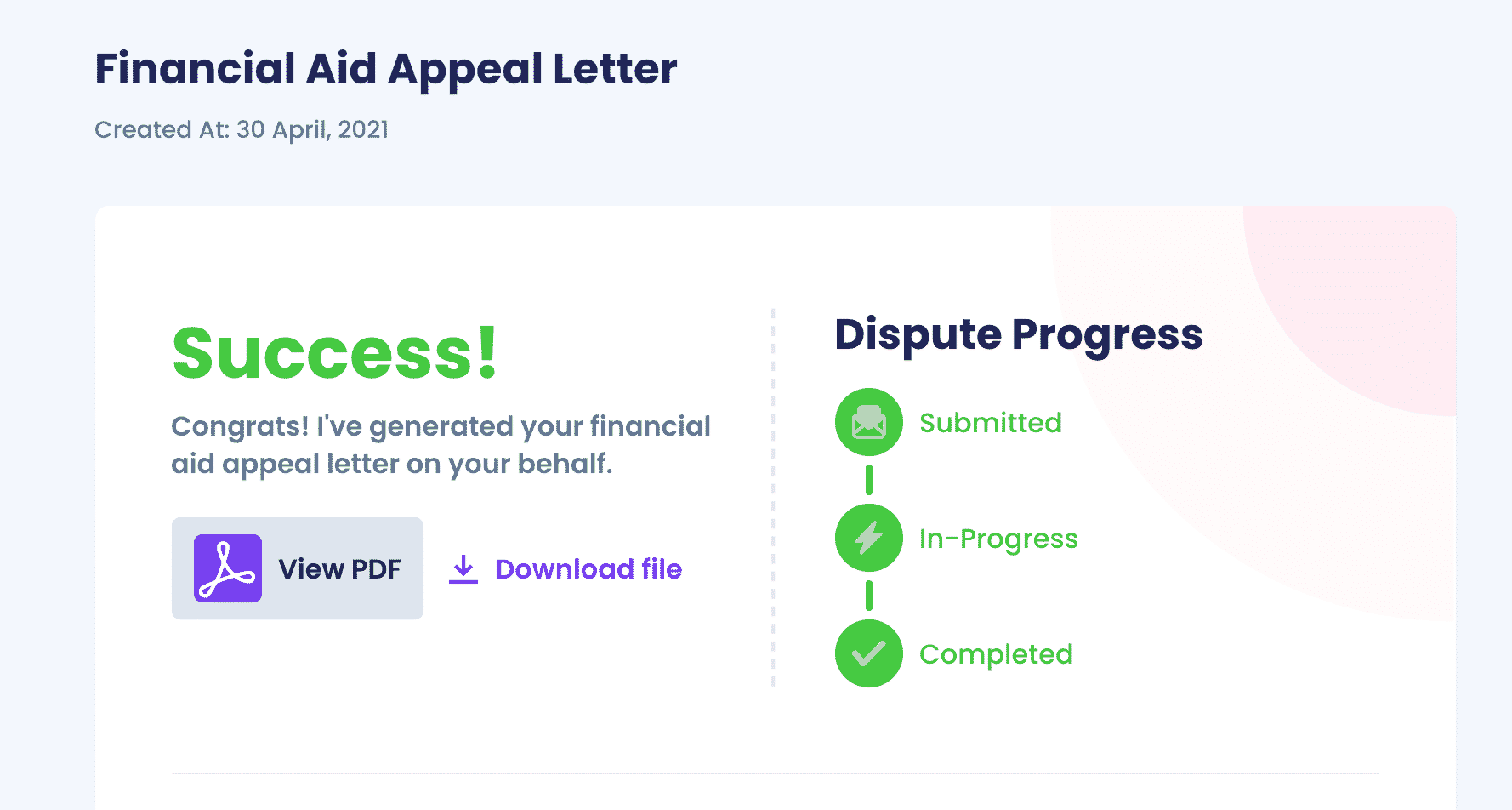 Explore Pocket-Sized Financial Aid Guides at Your Convenience
Browse through our knowledge base to find out:
Don't put all your eggs in one basket—check out our other articles about university-specific financial aid programs:
DoNotPay Turns Your Everyday Hurdles Into a Piece of Cake
Did you receive a faulty or damaged item? Why not return it with your virtual assistant? We can also help you get a late delivery refund and jump the queue if the customer service phone keeps ringing to no avail. The list of handy DoNotPay features that make your everyday life easier goes on.
By subscribing to our platform, you won't have to worry about your tedious neighbors or parking tickets. We can do it all!
Want To Save Money on Lawyers? Use DoNotPay
Most people spend big bucks on expensive lawyers to overcome their bureaucratic obstacles. Don't waste your money on unnecessary fees—use DoNotPay and take care of any legal matter in a few easy clicks! Check out some of the issues the world's first robot lawyer can help you with: