How To Get Money for School Without Financial Aid—Mystery Unraveled
Attending college is a smooth-sailing experience when you have enough money to finance your education, but what if that isn't the case? If you aren't eligible to receive financial aid, you might need alternative ways to pay for your school every year.
How to get money for school without financial aid? Are there any alternatives if you fail to qualify for federal support? What can you do if no financial aid options are available to you? Wait no more—find solutions to all your dilemmas in this article!
How To Finance College Tuition Without Any Type of Financial Aid
Many students manage to qualify for at least one financial aid program if they try hard enough, but what happens if this doesn't work? How can you pay for college if you aren't eligible for any available financial support scheme?
Here are some excellent suggestions for solving the matter without relying on the state, preferred college, or federal government:
Find a job—You may not be able to have a full-time job and study at the same time, but part-time job positions can solve the problem. The money you earn this way can help you finance your tuition, books, housing, and all other related expenses
Put all your personal savings aside—If you can't work while attending college, set aside all the money you get for various purposes—your allowance or birthday money, for example. You should start doing this a few years before enrolling at a college to be safe if you can't obtain other types of aid
Ask for help—Your parents may be unable to support you financially, but it's always possible to ask close people for help. If you have any relatives or friends who can lend you money, don't hesitate to ask them. Your parents' employers may also be willing to give you an outside grant or help you pay for college in another way
Check out military service financial support programs—These are usually offered by the U.S. Armed Forces. Some of them can even cover the costs of the entire schooling at a specific institution. Another option is to earn before you enroll at your preferred college by serving in the Navy, Army, or Air Forces
Contact specific organizations for help—Search for the ones that operate within the field you are interested in and ask them for assistance or check if they offer any contests
Try crowdfunding—Have you heard about GoFundMe and other websites where people can donate for specific purposes? Try creating a profile on some of them and collect donations
What if Paying for College Without Financial Aid Isn't Necessary? Have You Exhausted All Options?
Applying for federal financial aid is a common way of getting additional funds for college expenses. Even though the government encourages everyone to submit a Free Application for Federal Student Aid (FAFSA) by the specific deadline, it doesn't always get approved.
If you don't qualify for the financial support schemes provided by federal sources, make sure you've covered other available options. They are listed in the table below:
| | |
| --- | --- |
| Solution | Explanation |
| Look for outside scholarships | Certain private institutions and organizations offer scholarships you can apply for. The best part is that you don't need to repay them later. You can find the appropriate options by searching the internet—there may be more new programs and opportunities available each day |
| Search for state grants | You may not qualify for federal grants, but that doesn't mean you won't be eligible for the ones provided by the state. Find the contact information of your state grant agency on the U.S. Department of Education website and get in touch with it. Inquire about the available programs and see what requirements you must meet to apply for them. These amounts don't need to be returned |
| Inquire about private student loans | Third-party loans can help you finance the entire academic year. Private lenders may want to see your income info or employment history to determine how much aid you can get. The main disadvantage of loans is that you must repay them after graduation |
If you apply for a specific type of financial aid and get rejected, you shouldn't give up right away. A well-drafted appeal letter can help you explain why you deserve more financial support than offered. You can:
Write it yourself
to write the letter for you
Submit a Financial Aid Appeal in a Heartbeat With DoNotPay
Has your financial aid request got rejected by a specific institution? Don't worry—submitting an appeal doesn't have to be rocket science because DoNotPay can do it for you! Using our Appeal for More Financial Aid tool is the best way to get a second chance and make the particular college or graduate school reconsider its decision.
Our app will:
Compile all the necessary data by asking household and finance-related questions
Compose a fully customized appeal letter
Direct the ready-made claim to the right hands
This means you don't need to create a draft from scratch or look for online templates that are usually unreliable and generic!
To use the tool, follow these steps:
Click on Appeal for More Financial Aid
Specify the college you want to attend
Input the names of other colleges you are considering
Go through a few brief questions about your financial circumstances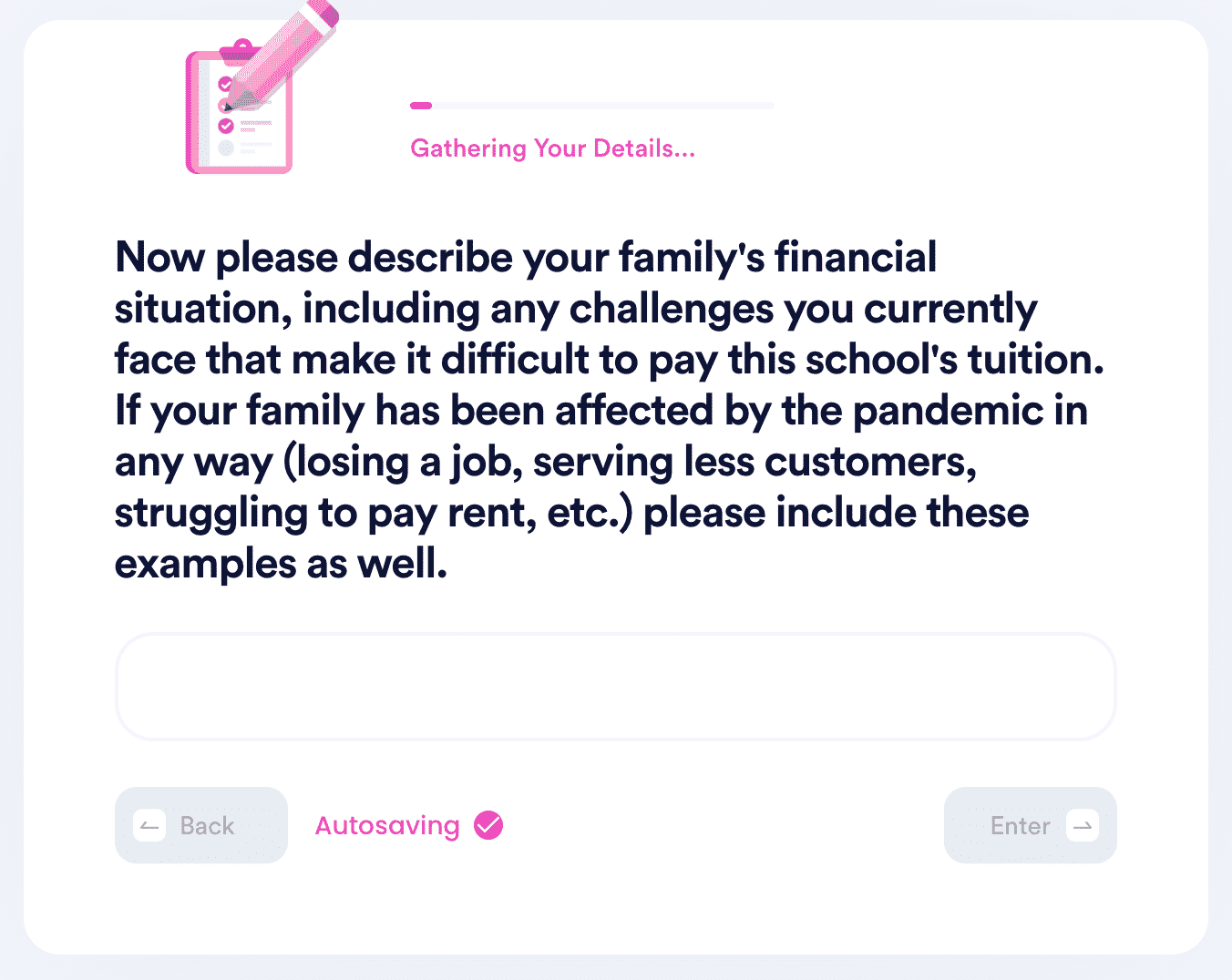 Not only do we help you negotiate your financial aid offers, but we also help you get informed about support application procedures at many renowned colleges, such as: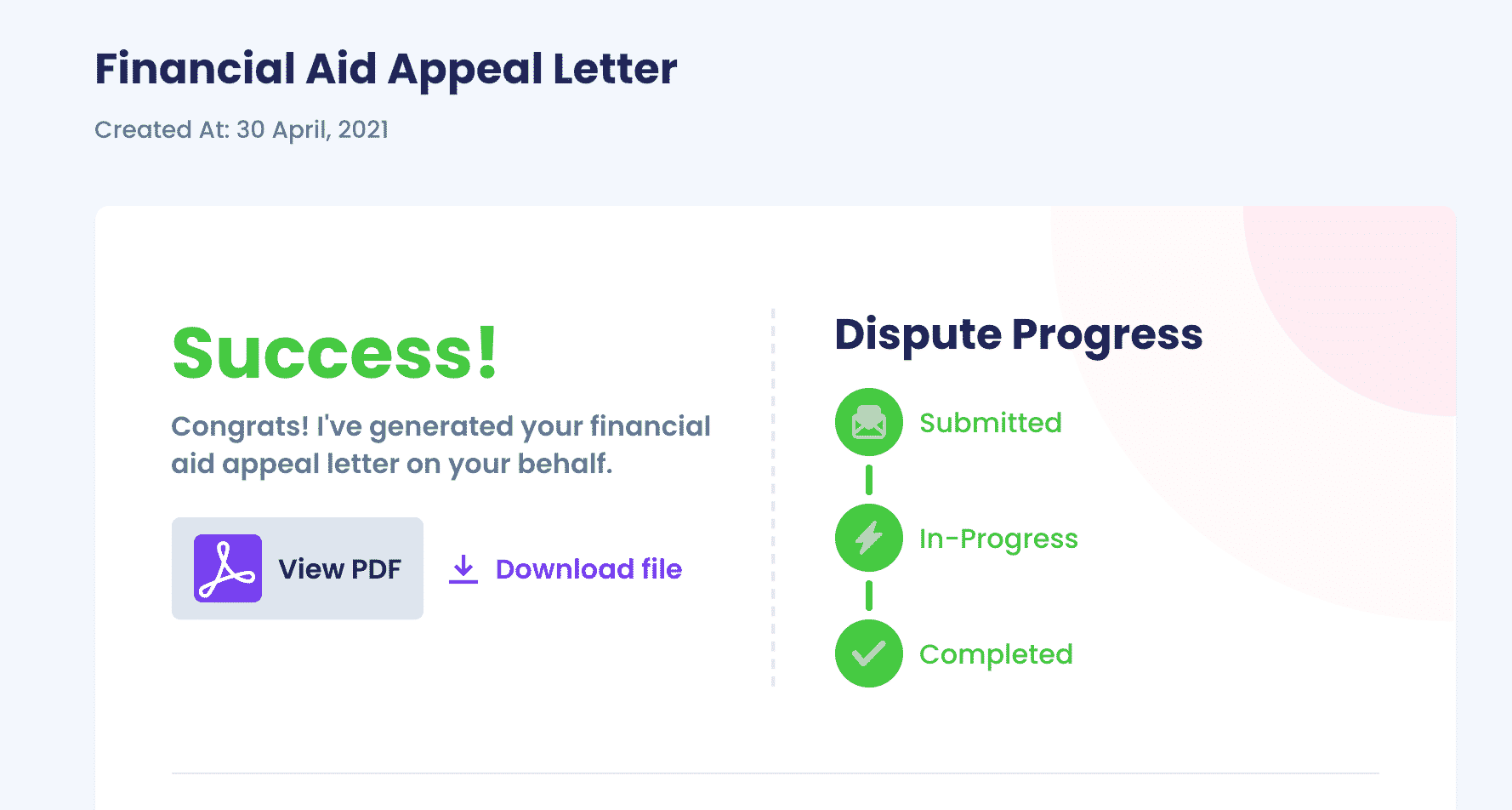 DoNotPay Crosses All Your Tasks Off Your List
Whether you need help with preparing for government tests, online faxing, or getting your documents notarized—DoNotPay will be able to help! Whatever problem you're facing, we'll turn it into a breeze!
Sign up now if you want an easy solution to stop email spam, cancel unneeded subscriptions, schedule DMV appointments, and draw up agreements from the comfort of your home.
We can also help you reduce property taxes, pay bills, appeal parking tickets, and find any unclaimed money.
Improve Your Quality of Life With DoNotPay
The beauty of our platform is that besides bureaucratic issues, it can also assist you with numerous other struggles! To name a few, we can help you:
The list could go on for days!