Check Your Chili's Gift Card Balance and Get Cash Back Like No Place Else
Chili's casual dining is known to be fun, fresh, and flavorful and a Chili's gift card is always welcome.
DoNotPay can show you what to do with your almost-empty card. Here are our tips on how to check your Chili's gift card balance and turn the remaining bucks into cash!
How Does a Chili's Gift Card Work?
You can get either plastic or electronic gift cards that are redeemable at any Chili's outlet or Maggiano's Little Italy restaurant in the U.S. or Guam. This gives you a choice of approximately 1,500 locations countrywide.
Both physical and eGift cards are available in denominations of:
Chili's runs regular promotions on the use of its gift cards, offering incentive vouchers for gift card purchases or discounts when you use a gift card to pay for your meal.
You can use a Chili's gift card to pay for:
In-store dining
Online purchases for store collection
Home delivery with services such as DoorDash
How To Check the Balance on a Chili's Gift Card
If you want to know how much money is left on your card, there are three easy ways to perform a Chili's gift card check:
Online
By phone
In store
Online
Chili's website can tell you how much value is still on your gift card. All you need to do is enter the number on the card and prove you are not a robot.
By Phone
You can contact Brinker Services Corporation (the owner of Chili's) by calling 1-888-532-6092 to find out your balance. Follow the voice prompts to check how much money is still available. You should remember to have the card handy when you call.
In Store
If you present your plastic card or a printout of your eGift voucher in-store, a cashier will be able to scan it to check your balance.
All too often, you will find that the remaining balance on your card is too small to be of any use. At this point, you may be tempted to forget about the card and leave the remaining balance unspent.
DoNotPay has a better alternative—we can show you how to turn your remaining card balance into cash!
What Can You Do With Your Old Chili's Gift Card?
If the balance remaining on your Chili's gift card is only a few dollars, you may be able to redeem the amount in cash.
Chili's states their gift cards are not exchangeable for cash unless required by law, but in 11 states and Puerto Rico, you can redeem up to $5 in cash from the vendor of the gift card (up to $10 in California). There are several ways of doing this:
Redemption Option
Explanation
Kiosk
Many grocery and department stores have machines that will give you instant cash for unused gift cards.

The amount they offer will be a percentage of the remaining value on the card, so you will not receive the full residual balance

Card exchange
Online gift card exchanges swap your gift card for cards of a similar value from other vendors. You may be able to exchange your Chili's card for something more attractive, but you will lose out on the face value of each card
Card purchase websites
Several websites offer to buy gift cards with residual values on them, but they only offer a percentage—typically between 85 and 90%—of the remaining money
Direct from the vendor
You can redeem the full remaining balance on the card if it is under $5 ($10 in California) by going directly to a Chili's or associated outlet. This may be easier said than done, though. To do this, you must:

Be in one of the 12 states with a cash back policy
Travel to the restaurant with your card
Explain the law to a cashier who may or may not be willing to help
If these options sound like a bit too much effort for a few dollars, DoNotPay has the solution. We can in a few clicks!
Get Cash Back From Your Chili's Gift Card With DoNotPay

No matter whether or not you live in one of the cash back states, DoNotPay can redeem the balance on your Chili's gift card for cash. Here's what you need to do:
in your web browser
Go to our Cash Back on Gift Cards product
Give us the details on your card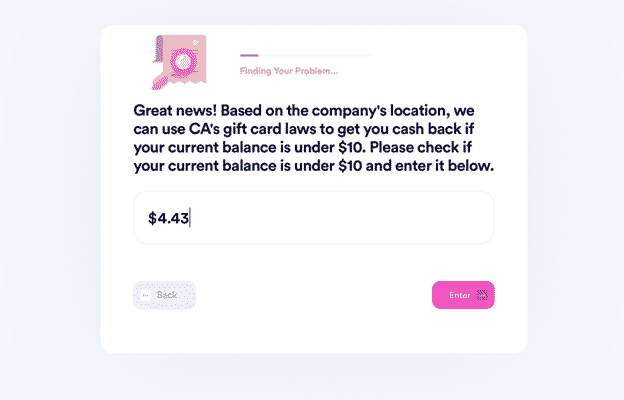 If you live in a state with a cash back policy, we will send your card details to the vendor for them to process. If you live elsewhere, DoNotPay will find the best location in one of the cash back states. You should get your money within 14 days.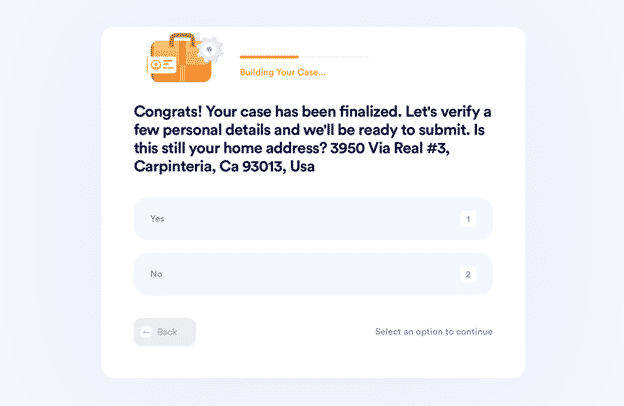 Which Other Vendors Can DoNotPay Help You With?
We deal with the majority of gift cards, and the list is growing constantly—we can even help you learn how to get free gift cards from some of them. Here are some examples of the gift cards we can help you turn into cash:
Money Troubles Got You Down? Use DoNotPay To Get What You're Owed!
If you need help paying bills, you could benefit from our hacks for saving and earning money.
Our app can help you get free trials with no hidden charges, thanks to DoNotPay's virtual credit card. If you want to get rid of a service, we can assist you in canceling it or requesting a refund. We'll get everything done so that you don't have to deal with customer service. In case a company is playing dirty, our award-winning app can help you take it to small claims court.
A slow bureaucratic process shouldn't stop you from getting your money back. This is where DoNotPay comes in! We provide the fastest way of:
Rely on DoNotPay To Manage Different Tasks and Issues
DoNotPay is a multifaceted app making your life easier in numerous ways. Here's how you can benefit from your DoNotPay account: