How To Do an ExxonMobil Gift Card Balance Check Without Trouble
Have you gotten an ExxonMobil gift card and used it already, but you are not sure how much money you have left on it? Don't worry—it is easy to do an ExxonMobil gift card balance check. You will find all the steps in this article and learn if and how you can get cash back with DoNotPay's help!
Basic Info About the ExxonMobil Gift Cards
ExxonMobil gift cards could be a great present for people who commute or love road trips. Here is some useful info about these gift cards:
You can use them to buy fuel, snacks, and even car washes at ExxonTM- and MobilTM-branded stations
You may purchase the gift cards at the same locations or order them online
The denomination on the gift card can be $25, $50, or $100
How To Check Your ExxonMobil Gift Card Balance
Before deciding to make a purchase with your gift card or get cash back, you should check your balance. Finding out what the amount is won't take much of your time. Take a look at the table below to see your options:
Methods
Steps
Visiting the company's website

Open the View Card Balance page
Type in your 19-digit ExxonMobil gift card number in the provided field
Enter a valid security code in the text box
Solve the captcha to prove you are not a robot
Click on Submit

Getting in touch with the customer service

Call 1-800-786-8028
Explain that you want to check your gift card balance
Provide the rep with the info they ask for

Visiting an ExxonMobil gas station

Find the nearest gas station where you can use the ExxonMobil gift card
Tell the employee that you wish to check your remaining balance
Give them the details they ask for
Once you find out how much money you have left on your gift card, you'll need to figure out what to do with the rest. If the balance is too low, you may not be able to purchase anything. So what is the solution? You should consider getting cash back, and we can provide you with the simplest method.
Is It Possible to Get Cash Back From Your ExxonMobil Gift Card?
If you find out that you still have a small amount of money on your ExxonMobil gift card, you may ask to get it back. The company lets you get cash back because used cards with low balances usually don't work at certain stations.
To ask to get the remainder of your balance on the gift card, you need to:
Call 1-800-786-8028
Tell the customer service rep that you wish to get cash back from your gift card
Provide them with the information they ask for
Follow any further instructions about getting your money
If you want to be done with the process fast and without trouble, you should ! Your new virtual assistant will handle the task in a matter of minutes.
Get Cash Back From Your ExxonMobil Gift Card With DoNotPay's Help
If you want to get the remaining cash from your ExxonMobil gift card but it seems like the process is too complicated, you should turn to DoNotPay for help. Our app will deal with the entire process in your stead. You only need to follow these steps and answer a few questions:
in your favorite web browser
Open our Gift Card Cash Back product
Enter the gift card number, company name, and other card info about the card
We will send your request to ExxonMobil. You can expect to receive the money back in the next 14 days.
DoNotPay can help you get cash back even from companies that claim gift cards are not redeemable for cash except as required by law. Our app will do the research and find the company's office in a state that has a cash back policy. This should ensure you get your money back no matter the situation!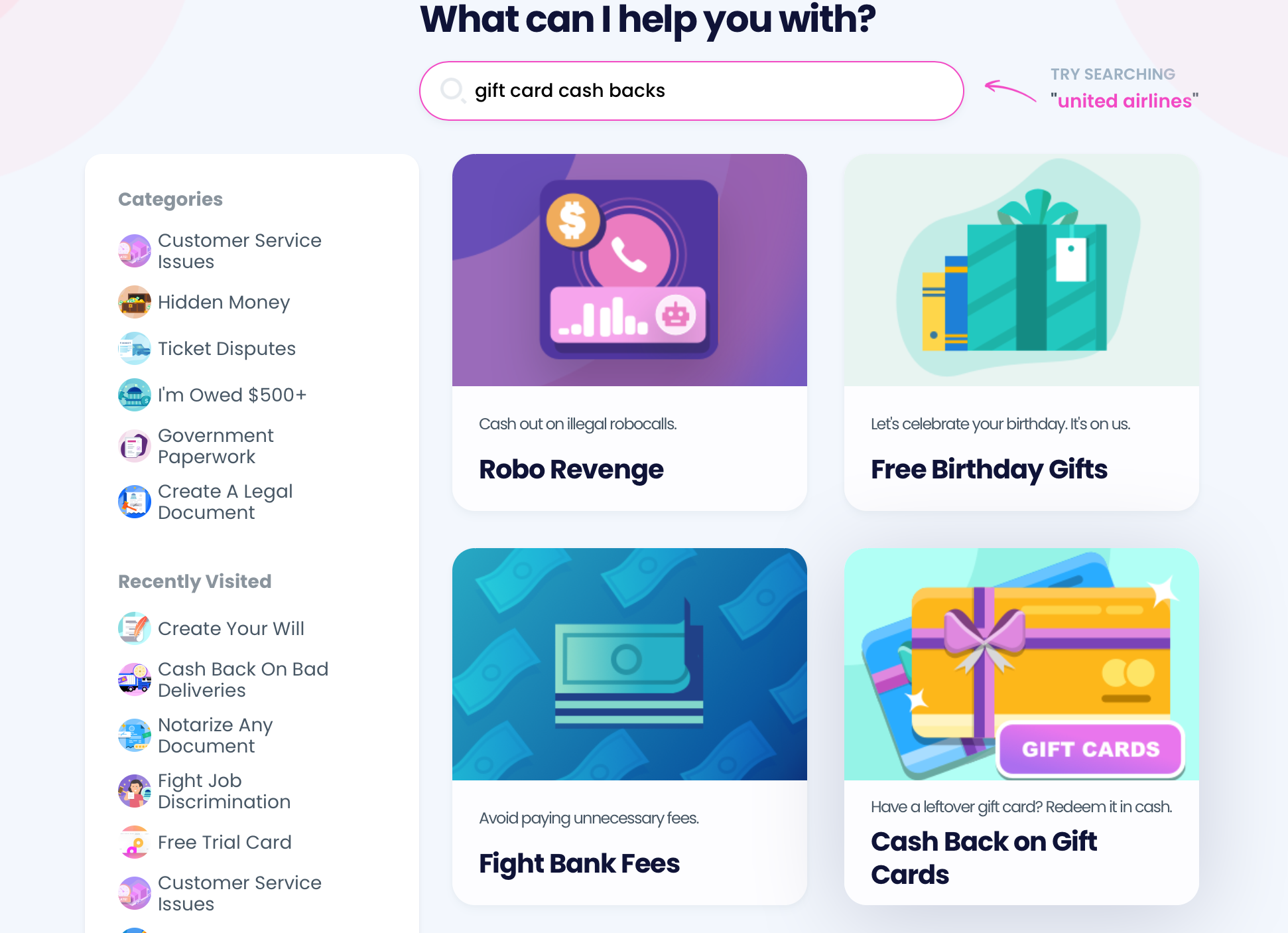 DoNotPay can help you learn how to check your gift card balance for numerous other companies, such as:
Have More Questions About Gift Cards? DoNotPay Has the Answers
In case you are not sure how gift cards function and what you can do with them, DoNotPay will provide you with the answers. Here are some of the questions you may have:
Whatever your trouble may be, we have it covered!
Explore DoNotPay's Products and Save Both Time and Money
Are you sick and tired of spending ages on the phone with customer support trying to get more info about how to return a faulty product and get a refund? Maybe you'd like to cancel memberships you don't use but can't find that unsubscribe button anywhere? DoNotPay can help you sort out all of these issues in a jiffy!
Contest parking tickets, claim your car warranty and insurance, schedule a meeting with the DMV, and handle your other problems through the same app on your tablet or smartphone.
Getting access to public records or drawing up various legal documents with DoNotPay is child's play.
That's Not All!
The first thing you'll notice when you open DoNotPay is that you can use our app for almost anything.
Do you wish to enter raffles or sweepstakes? Are you interested in applying for paid clinical trials and earning some cash? Would you like to send mail without going to the post office? You're in the right place!
We will help you feel safe while browsing the Internet by assisting you in blocking and reporting spam emails, suspicious text messages, and pesky robocalls.