Got Your Amazon Buyer Account Suspended? Here's All You Need To Know
If you've got used to online shopping, having your Amazon buyer account suspended is unpleasant. Luckily, this issue is also solvable!
There are a couple of methods to lodge a complaint and appeal your suspension. If you're looking for the fastest and easiest one, !
Our app helps you compose and send an original and compelling complaint that can get you back on Amazon shopping sprees in a jiffy.
Why Was Your Amazon Buyer Account Suspended?
Numerous issues can become a reason for a suspension from Amazon. You can classify them as follows:
Suspicious location/activity
Problems with personal data
Gift card and credit card issues
Amazon Suspended Due to Suspicious Activity or Location
Suspicious activity or unusual location changes can lead to your account's suspension. Here are some activities and situations that might trigger the Amazon AI:
Your location—Certain countries are blacklisted as having a high fraud rate. Among these countries are Nigeria, India, and China. This means that you should avoid ordering electronics from these countries if you intend to pay with a gift card, or you'll get your Amazon account suspended
Frequent changes of billing/shipping address and name—If the platform's security system detects unusual activity, such as arbitrary and frequent changes in the address details, it will probably suspend your account. If you need to change the address, at least keep the same name or contact customer support for advice
Frequent changes in sign-in location and IP address—Make sure you don't log into your account from numerous different locations since the system will recognize it as highly suspicious
Frequent purchases of expensive electronic equipment—According to the new rules, this sort of behavior can raise suspicion that you are using your personal account in place of a business one
Suspicious activity—Amazon uses artificial intelligence to scan accounts in bulk. It will sometimes take down accounts that, due to one detail, don't fit into what the system recognizes as right
Any form of Terms of Service violation
Problems With Personal Data Featured on Your Amazon Account
Make sure your personal data are correct and congruent on all documentation you share with Amazon. Following problems may cause the account suspension:
Incomplete personal data—If you leave out some of the necessary personal details from your account, you can easily get blocked from the platform
Incorrect personal details—If you deliberately add false information to your personal details on Amazon, it will probably lead to a permanent ban. In case your mistake wasn't intentional, you can still try to appeal Amazon's ban decision
Personal data incongruencies—Make sure your account details match your credit/debit card details
Previously banned accounts—In case Amazon banned one of your basic accounts, you shouldn't try to open another one with a different email address. It may slip by their detectors for a while, but they will eventually discover and ban your IP address
Gift and Credit Card Issues That Can Get Your Amazon Buyer Account Suspended
Make sure the credit cards and the gift cards you use are legitimate. Here are the potential problems with these cards that can cause suspension on Amazon:
Large gift card balance—If the amount on your gift card balance is unusually high, your account will be automatically suspended. In case you file an appeal, be ready to explain to the support team why this amount is so high
Gift card scams—Scammers on Amazon often pose as gift card sellers. They will sell you a gift card and then report that card as stolen. This will get them the card back with the full credit, while you will be blocked from the platform
Credit/Debit card legitimacy issues—Amazon will ban you if you:

Commit credit card frauds
Use hacked/stolen/virtual credit card
Amazon Buyer Account Suspended?—Follow These Steps To Recover It
When your basic Amazon account is banned, it creates numerous other issues. You lose access to your Seller, Associates, Amazon Web Services, Kindle Direct Publishing, and Amazon Payments account. This can bring a lot of problems to someone who started earning through this platform. Unfortunately, if you get permanently banned, there is no way to get unbanned.
To lift the suspension from your account, follow these steps :
Find the account suspension notification in your email inbox
Reply immediately and let the support representative know that you haven't broken any rules. Be professional and don't attack them or blame them for your problem
Wait for their response—it shouldn't take more than 48 hours
Collect all documentation they ask from you, such as credit card statements and purchase receipts (in case of gift card issues)
Send the documentation in the form they require
Wait 48 hours for your account to be reinstated. If nothing happens, have them call you
Wait for another three days for your account to become available
Amazon Buyer Account Suspended? Quit Struggling and Let DoNotPay Help You!
Going back and forth with the customer support of any platform is tiring and frustrating. When the platform has strict rules, as Amazon does, the whole process can become unbearable.
DoNotPay can help you get back on your account in a few simple steps. and let our Unban My Account tool take care of your suspension appeal.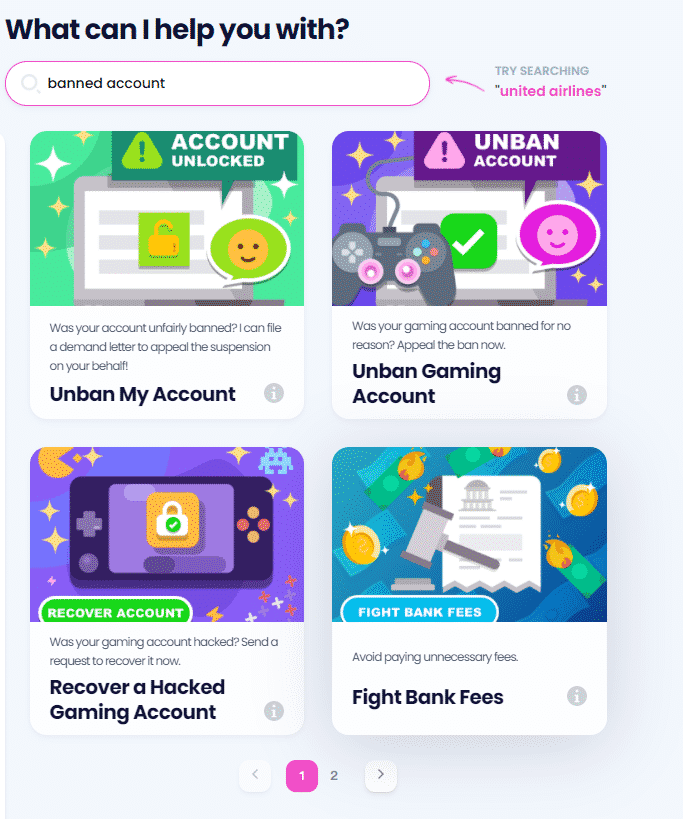 Here is the whole process:
Type in the name of the platform that locked your account
Provide us with the basic account details, such as:

Account ID
Email and phone number connected to it
The date when the problems started

Feel free to share any concerns that you have about being discriminated against on the basis of color, race, gender, nationality, etc.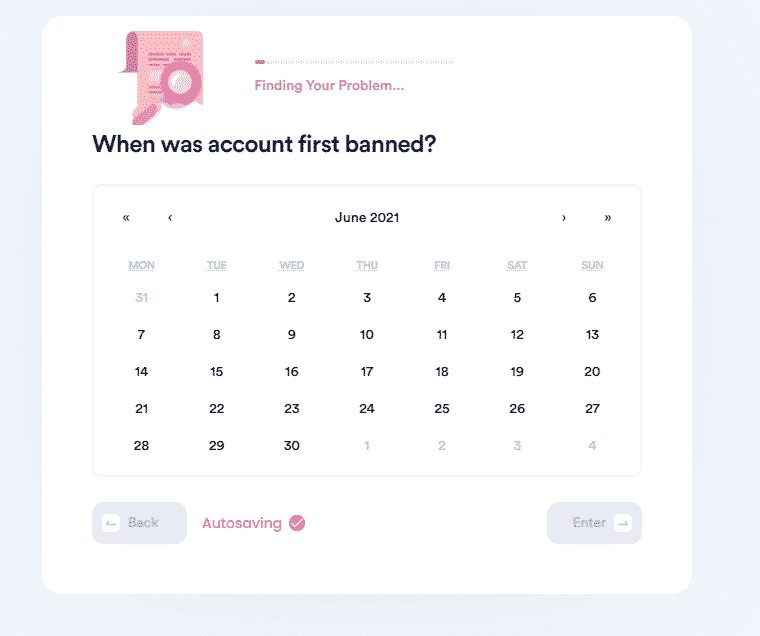 After collecting this data, our app composes a custom complaint letter and sends it to Amazon, giving their team a two-week reply deadline. This will push them to take your complaint seriously and reply as quickly as they can.
In case you have issues with any other platform related to online shopping, don't hesitate to turn to us since we can help you with:
DoNotPay Helps You Lift Suspensions From Various Other Platforms
DoNotPay doesn't specialize only in shopping-related platforms. We can also help you if you've got troubles with your social, streaming, or mailing accounts. Our app also offers the Unban Gaming Account tool that helps you resolve gaming account issues.
Check out the table below for more details:
DoNotPay Is Committed to Solving All Kinds of Problems for You
Are you lost in the sea of administrative tasks? By subscribing to DoNotPay, you gain access to many products and features that can assist you in:
Check Out What Our Robot Lawyer Can Do for You
Not too skilled at drafting contracts and agreements? Keep calm and let DoNotPay, your virtual assistant, do it for you! Our app can generate various legal documents, including divorce settlement agreements, child travel consent forms, and powers of attorney. All it takes is to click a few times or answer several quick questions—we do all the rest!
Besides providing personalized documents, DoNotPay takes over other tiresome legal tasks. These include having your documents notarized, filing lawsuits in small claims court, requesting crime victims' compensation, or submitting HR complaints.