How Does the Albertsons Return Policy Work?
As a customer, it's your lawful right to return a product you're unhappy with and get refunded. That doesn't stop retailers from not wanting to part with your money, which is why they have convoluted return policies. The more complicated the return process is, the likelier it is you'll give up.
In this article, we'll show you how the Albertsons return policy works. We'll also introduce a superior way of returning items—DoNotPay.
If you register for DoNotPay, you'll be able to return an item to a plethora of stores, including Staples, Famous Footwear, and Walmart.
Albertsons Return Policy Explained
If you want to file a return request, you have to do so within 15 days of the purchase date. Albertsons will decline any request made after the deadline. The product must be in its original condition.
You can return any item, except for the following:
Alcoholic beverages
Baby formula
Tobacco
Age-restricted products
Prescription medications
How To Return a Product to Albertsons
Since Albertsons offers only in-store returns, you'll have to visit a store with the products you want to return. You can use the company's Store Locator page to find the nearest one. Once you get there, you need to do the following:
Go to the customer service counter
Give the products
Verify the purchase
Once you verify your purchase, you will have to wait for the store manager to review your request and make a decision.
What Will You Receive?
If the company accepts your request, what you'll receive depends on whether you have a receipt or not:
With a receipt—You'll get a refund on your original method of payment
Without a receipt—You'll receive store credit
In both cases, the amount you receive will be equal to the full price you paid for the product.
Go Through the Return Process Without Hassle Using DoNotPay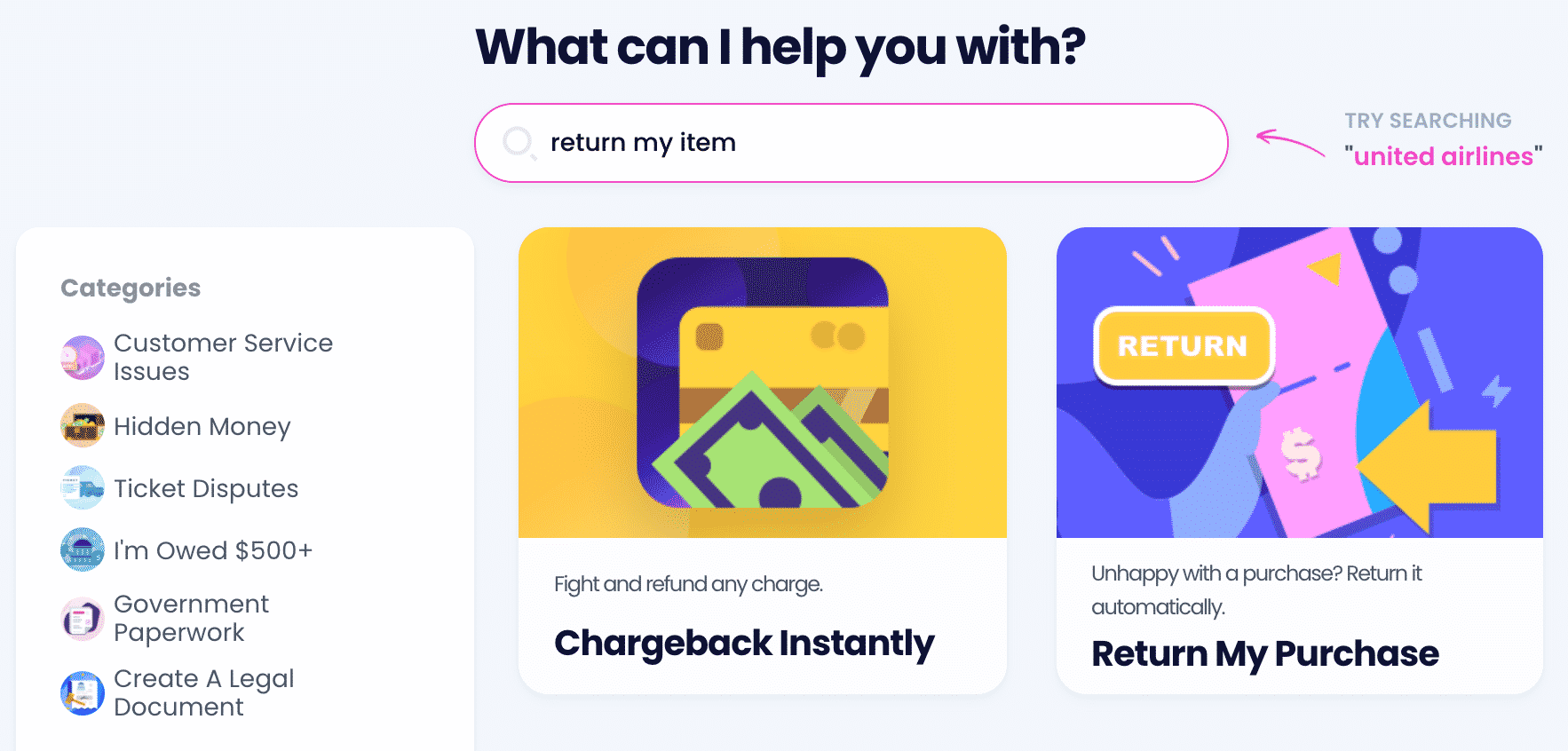 Companies tend to make the return possesses so complex that customers avoid returning faulty products altogether. DoNotPay puts an end to that!
Our app will automate the entire process for you—all you need to do is provide some information about the products you're unhappy with, and we'll file the request on your behalf.
You only need to complete the following steps:
Sign up for DoNotPay via any browser
Navigate to the Return My Purchase product
Answer a few questions from our chatbot and include photos of the product (if necessary)
Submit the return request
Our app will include a deadline by which the company has to respond to your request. We will even include a return shipping label free of charge!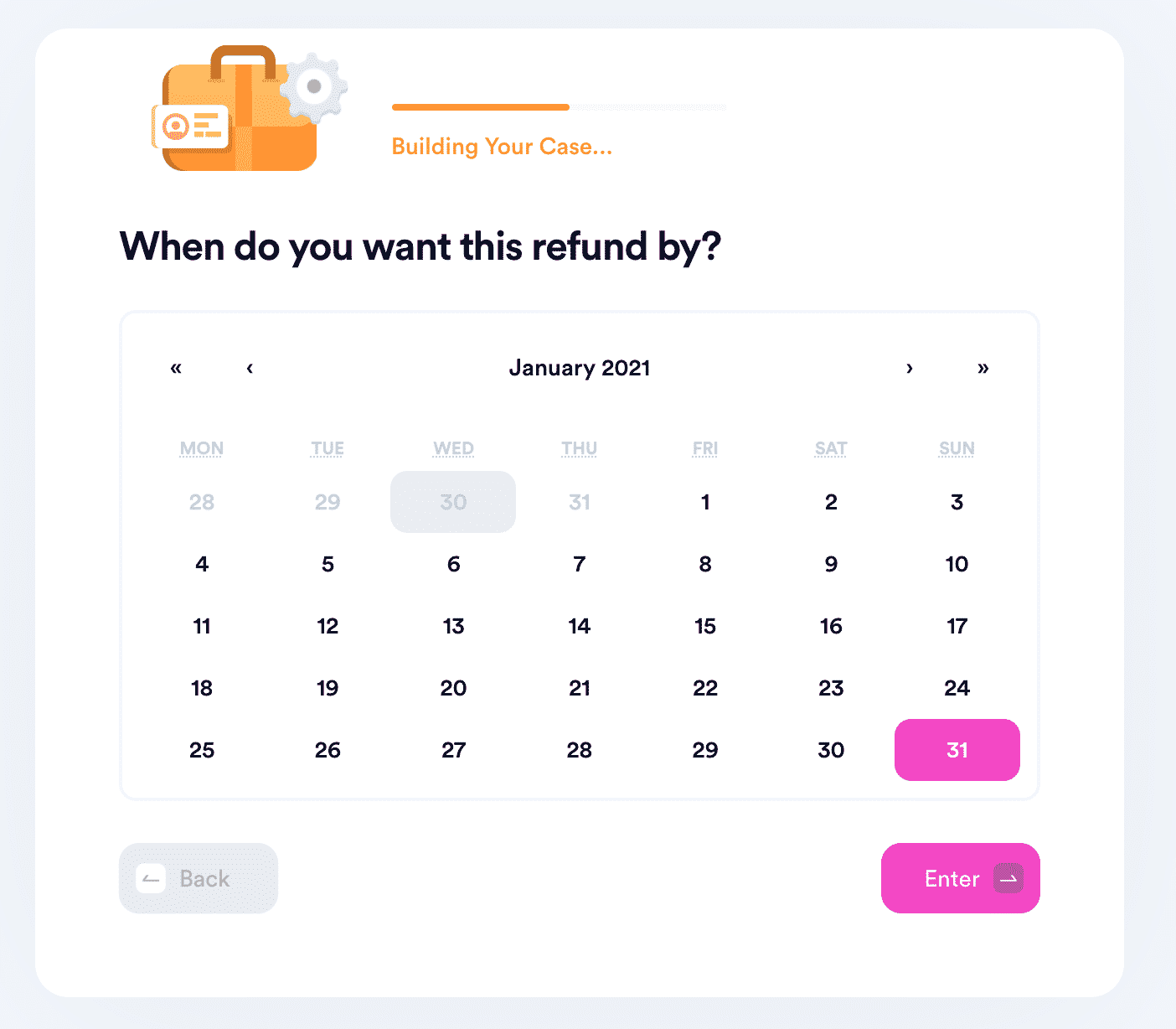 DoNotPay Can Help You Return Faulty Products to Numerous Companies!
Every store has a specific return policy and filing request processes to go through. DoNotPay can help you avoid learning different policies and make requests using the same method for hundreds of companies, including:
Demand a Refund the Easy Way—With DoNotPay!
Requesting a refund is often even more complex than returning faulty items and products that have gone bad. DoNotPay is here to make the process easier for you! All you need to do is sign in to DoNotPay and:
Find the Chargeback Instantly option
Click on Get Protected
Answer a few questions from our chatbot
Click on Sign and Submit
Don't Let Companies Trick You
Companies are known for tricking their customers into making bad purchases, and then they don't even deal with any repercussions. That will no longer be the case once you sign up for DoNotPay—we will protect you from corporations' malicious intents.
If you've ever taken up on a free trial offer that turned into a paid subscription automatically, you know what it feels like to be tricked. With our app, you don't need to worry about that happening ever again—we'll help you make the most of your trials without getting charged by providing you with a virtual credit card.
Too late for that? Use our nifty product to cancel the subscription in a split second and demand a refund. The company refuses to issue one? Sue it in small claims court! We'll help you generate any legal document you may need for the case, get it notarized online, and fax it instantly.
Curious To See What Else We Can Do?
As soon as you sign up for our robot lawyer app, you'll get access to a plethora of useful products that save you time and money and protect you from companies' and individuals' difficult attitudes. Check out how we can assist you in: