The Yankee Candle Return Policy Explained
Did you buy a candle, fragrance, or another Yankee Candle product that you're not satisfied with? If this is the case, you need to follow a specific procedure to return the item you don't want.
This guide will teach you everything you need to know about the Yankee Candle return policy. can help you create a return request and make the return process a breeze!
Everything You Need To Know About the Yankee Candle Return Policy
Yankee Candle accepts returns for all available products under its Happiness Guarantee that allows any customer to change their mind about the purchase they made. If you want to return a candle, fragrance, candleholder, or another item, you can opt for a refund or an exchange.
In case you decide to get a refund for your return, the company will repay the product price to your original payment method.
How To Return Your Product to Yankee Candle
Whether you bought the product online or in the Yankee Candle store, you can:
Return the item to the store
Send the product via mail
Return Your Item to the Yankee Candle Store
If you choose to make a return to the store, you will need to bring:
The item you're returning
Debit or credit card you used for your purchase
Store receipt or order confirmation email
Return Your Yankee Candle Item by Mail
If you can't pay a visit to the local Yankee Candle store, you can return the product by mail to the following mailing address:
Yankee Candle Company
Returns & Exchanges
175 Heritage Drive
Pataskala, OH 43062
To ensure a successful return, you will need to include a note with:
Your contact information
Return address
Info on whether you want a full refund or an exchange
The product you want in exchange for the item you are returning
If you bought the product online and you want to send it by mail, you will also need to include the return form attached to the packing slip found in the original package.
Can You Return Personalized Products to Yankee Candle?
Yankee Candle also allows returns of personalized products. If you bought a personalized candle and want to return it, you can send it by mail. To return your item, mail it to:
Yankee Candle Returns
1 Plain Road
South Deerfield, MA 01373
How To Return Damaged Online Orders
If you ordered an item online that arrived with a defect, damaged, or is missing a component, you need to contact customer service at 877-803-6890 before sending the product by mail. A customer service representative will instruct you regarding the return and may ask for more details about the product in question.
Request a Foolproof Return With DoNotPay in Minutes
You want to return a product you are not satisfied with, but you can't find your way around the return protocol? DoNotPay can help you create a return request in minutes! Follow these steps to start the return process:
in any web browser
Choose the Item Return Request product
Share photos and info about the product you want to return
Tap on Submit
We will send the customized request to the company on your behalf. We will also provide a deadline for the company to respond to the request.
That's not all! DoNotPay makes the return run even smoother by giving you a shipping label so that you can return your item free of charge.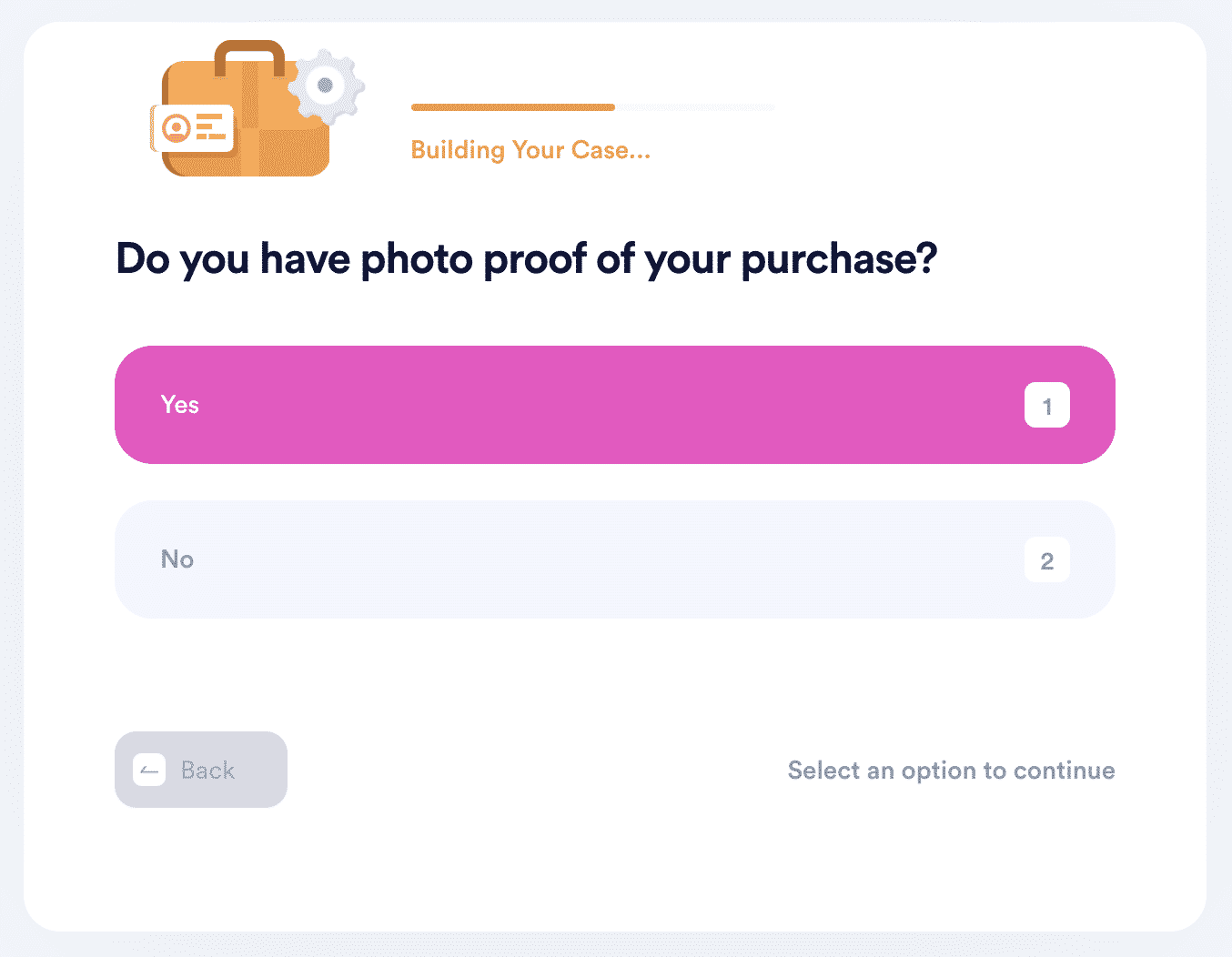 DoNotPay can help with more items you want to return! Check out our guides to learn how to deal with returns for more brands and companies: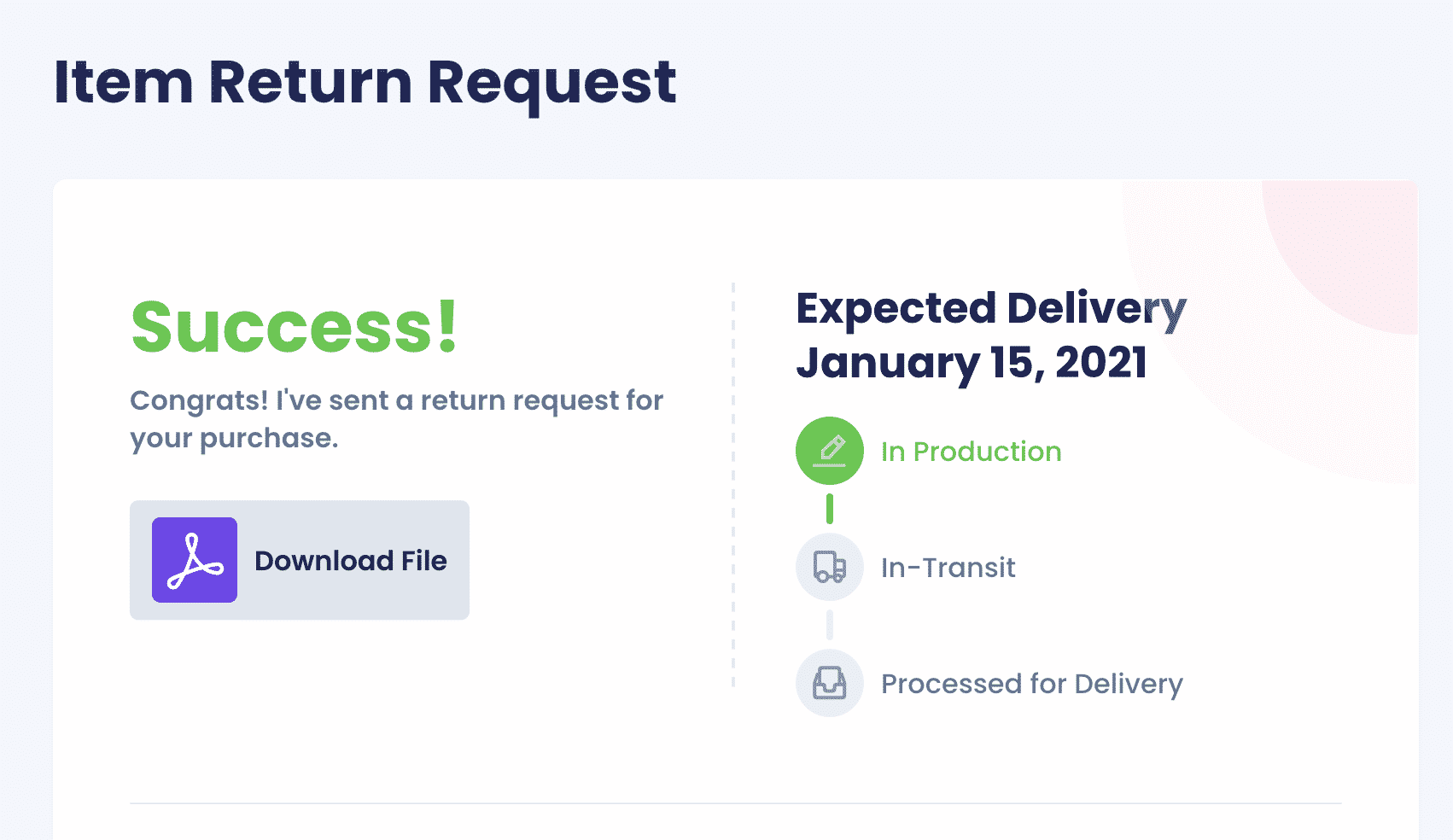 Want To Get a Refund? DoNotPay Can Help!
If you are experiencing problems with getting a refund once you return your item, we can help! DoNotPay can assist you in obtaining a refund and handle all the details while you lay back and relax! All you need to do is:
Navigate to our Chargeback Instantly product
Pick the Get Protected option
Answer a couple of questions regarding your purchase
Click on Sign and Submit
Yankee Candle Did You Wrong? DoNotPay Can Help You Sue the Company in Small Claims Court!
Do you think that your consumer rights have been denied in some way? In case Yankee Candle or any other company wronged you, you can sue it in small claims court and get justice. DoNotPay can help you handle preparing and filing forms and deal with the whole process. Here's what you expect the world's first robot lawyer to assist you in:
Creating a demand letter
Filling all the necessary legal documentation
Collecting crucial paperwork
Filing the complaint
Returned Your Faulty Item? Discover Other Nifty DoNotPay Products!
Apart from being your shortcut through returning your faulty items to merchants, our app can do so much more! From helping you request a refund, get extended warranties, file insurance claims, and find clinical trials in your vicinity to assisting you in creating legal documents, getting them notarized, and faxing them—DoNotPay can do it all.
Do you think you're eligible for a victims of crime compensation program? Our app can help you apply for it. Do you want to get revenge on persistent robocalls, report someone for stalking or harassment, or get your noisy neighbors to be quieter? We got your back!
You Don't Have To Waste Time in Endless Lines
Returning an item may require you to wait in endless lines, but if you sign up for our AI-driven app, you will be able to skip all kinds of queues! You won't have to spend ages waiting in lines at the DMV or in customer support phone queues because DoNotPay will provide an easier way to get what you need.
If you want to skip the hassle of waiting on the phone when canceling a service, requesting refunds or compensation from airlines, requesting a college fee waiver, or connecting with a loved one in prison, you can count on DoNotPay to provide easy solutions.