The University of South Carolina Financial Aid From A to Z
The University of South Carolina goes by many names, including SC, USC, U of SC, Carolina, or South Carolina. To enrol, you'll still need to pay a hefty tuition—$12,688 (in-state) or $33,928 (out-of-state).
If you want to lower the education expenses, you can apply for the University of South Carolina financial aid. DoNotPay will explain how the application process works and what types of assistance are at your disposal. We will also help you file a financial aid appeal if you are not satisfied with the school's offer.
The University of South Carolina Financial Aid Office Phone Number and Other Contact Info
USC's Financial Aid Office staff is available for any questions you may have about financial assistance. You can get in touch with the advisors in the following ways:
Via email—Send an email to uscfaid@sc.edu
Over the phone—Call 803-777-8134
In person—Visit the Office at 1244 Blossom St., Suite 200
The Office staff is at your disposal from Monday to Friday from 8:30 a.m. to 5:00 p.m.
Financial Aid Types You Can Apply for at the University of South Carolina
A staggering 88% of Carolina students receive some form of financial support. The assistance comes from the state, federal, and institutional resources which determine the period you can keep receiving it. You can apply for:
Grants
Scholarships
Loans
Student employment
What Grants Can You Apply for at the University of South Carolina?
Grants are usually awarded based on financial need and don't require repayment. At USC, you can apply for the following grants:
Federal Supplemental Educational Opportunity Grant
Pell Grant
Teacher Education Assistance for College and Higher Education Grant
The State Need-Based Grant
Gamecock Guarantee
USC Access Grant
What Scholarships Are at Your Disposal at the University of South Carolina?
Scholarships are another form of financial aid you don't have to pay back. You can choose between the following:
Scholarships for South Carolina residents
Scholarships for nonresidents
Departmental scholarship
Non-institutional scholarship
Health Workforce Scholarship
What Student Loans the University of South Carolina Offers?
If you decide to seek financial support through college loans, keep in mind that you'll have to repay the sum. You can apply for:
Federal Direct subsidized and unsubsidized loans
Federal Direct PLUS loans
Private loans
S.C. Teachers loans
The interest rates are usually best with federal loans.
What Should You Know About Student Employment Options at USC?
The Federal Work-Study program is created to help students find part-time employment to pay for their education. You can choose between on- and off-campus jobs.
The Essential Information About the FAFSA You Need To Know Before Applying for USC
The Free Application for Federal Student Aid (FAFSA) is a form every student must complete within the set deadlines to compete for financial assistance. The FAFSA will determine whether you qualify for financial aid and how much money you will get to cover your expenses.
Before submitting the FAFSA, you must create a Federal Student Aid ID (FSA ID). You'll get a username and password allowing you to check your FAFSA records and sign your FAFSA online. Make sure to keep your FSA ID because you will need it to submit the FAFSA each year.
You should complete your application by April 1 to be considered for all financial aid resources at USC.
Didn't Get the Offer You Expected From USC? File an Appeal!
Even if the University of South Carolina makes you a disappointing offer or rejects your application, don't give up on financial aid. You can file an appeal, and DoNotPay streamlines the process!
Use DoNotPay To File a Financial Aid Appeal to USC
You will need to compose a financial aid appeal letter and send it to Carolina if you want the school to reconsider its decision. Unfortunately, this mundane task takes a lot of time. The good news is that you don't need to deal with the appeal process yourself because DoNotPay is here to help! We will handle the tiring procedure, and you only need to take these simple steps:
Find our Appeal for More Financial Aid product
Provide us with the info about financial aid offers from all the universities you applied for
Give us the relevant information regarding your family's income and financial status
Once you finish the short questionnaire, DoNotPay will mail the appeal letter to the University of South Carolina.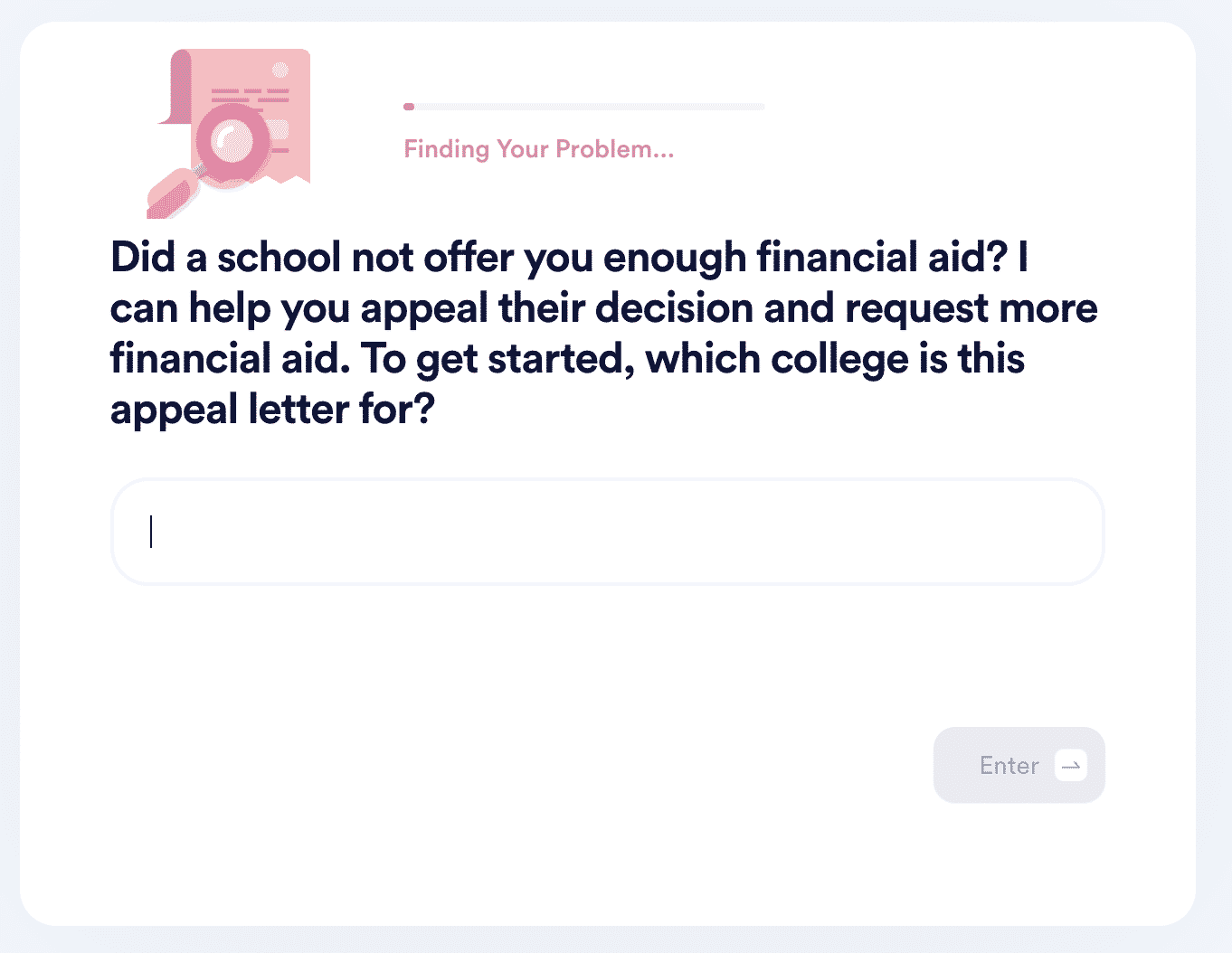 DoNotPay can also tell you:
What About Other Schools? Check Out Their Financial Aid Offers With DoNotPay
You should take a look at what other schools in the country have to offer when it comes to financial aid. DoNotPay prepared comprehensive guides to some of the most popular universities in the U.S.:
DoNotPay Is the Best Solution for Your Bureaucratic Problems!
A wide range of handy features DoNotPay offers can assist you in resolving administrative issues without breaking a sweat! Our app provides the easiest way to:
Get What You're Owed in a Few Taps!
Shopping is fun, but retailing companies can sometimes be difficult to negotiate with, especially when things go wrong. With DoNotPay, you can reach their customer service without spending hours on hold and get a refund fuss-free! Should the merchant refuse to collaborate, we can help you get justice by suing them in small claims court.
Our app can also file an insurance or warranty claim in your name, request gift card cash back, or initiate returns for dissatisfying products.
If you want to check whether you have any unclaimed money in old bank accounts, using DoNotPay is the easiest way to do it!