University of Memphis' Financial Aid Program Explained for the Painless Application Process
The University of Memphis (UofM) is well-known for its law and music programs. The University is also considered the best public school in the area. The total tuition and attendance costs, which can go over $30,000 for out-of-state students, are hard for prospective students to overlook, though.
Learn how the University of Memphis financial aid program works, how to apply for it, and how much aid you can expect!
What Types of Aid Does the University of Memphis Offer?
Continuing and prospective University of Memphis students can qualify for the following types of aid:
Grants and scholarships
Student employment programs
Loans
University of Memphis Financial Aid—Grants and Scholarships
Check out all available grants, their duration, and annual awards at the University of Memphis:
Category
Award
Amount and Duration
Federal
Federal Pell Grant

Up to $6,495 per year
No more than 12 terms or six years

Federal Supplemental Educational Opportunity Grant (SEOG)
State
Tennessee Student Assistance Award

Up to $2,000 per year
No more than eight semesters

Tennessee HOPE Scholarship Program (Lottery Scholarship)

Up to $4,000 per year
No more than four years

Institutional
Community College Transfer Scholarship
N/A
Four-Year University Transfer Scholarship
N/A
UofM students can use the Tiger Scholarship Manager to explore and apply for additional scholarship opportunities.
Student Employment Programs at the University of Memphis
The University offers two student employment programs:
Federal Work-Study—Students can work up to 25 hours per week and hold one job only. Law and undergraduate students must be enrolled at least six credit hours per semester, while graduate students need five graduate hours to remain eligible for FWS the next year
Regular student employment—UofM offers part-time on-campus employment opportunities for students who are enrolled at least part-time. Participants can have more than one job and can check open positions on the student employment page
University of Memphis Financial Aid—Loans
If your student contributions pose a burden to you even after receiving all other types of aid, you can get the following loans at the University of Memphis:
Subsidized Stafford Loan
Unsubsidized Stafford Loan
Federal Direct Parent Loan for Undergraduate Students (PLUS)
UofM also takes any private loans you borrow into account.
How Much Aid Can I Expect From the University of Memphis?
In the academic year 2020/2021, the University of Memphis awarded:
94% of first-year students with some type of financial aid, averaging $15,884 per student
78% of all students with grants and scholarships averaging $7,575 per student
How To Apply for University of Memphis Financial Aid
To apply for University of Memphis financial aid, prospective students need to:
Complete their Free Application for Federal Student Aid (FAFSA)—school code 003509
Check their myMemphis account regularly for tasks, such as correcting mistakes on their FAFSA, submitting additional documentation, and more
Check this table to find out the application deadlines at the University of Memphis for first-time financial aid applicants:
| | |
| --- | --- |
| Term | Deadline |
| Fall | February 1 |
| Spring | October 1 |
| Summer | March 1 |
Keep in mind that the Tennessee Student Assistance Award (TSAA) deadline is February 17. Any applications submitted after that date won't be considered.
If you're having trouble with the application process, you can reach the University of Memphis Financial Aid Office by calling 901-678-4825, faxing 901-678-3590, or using the TigerHelp request form.
What Can I Do if the University of Memphis Offers Insufficient Aid?
If the offer you got from the University of Memphis doesn't work for you, you can appeal the school's decision. Students can file an appeal using their myMemphis account and include a convincing appeal letter. If you don't have the student service account, you can still deliver a letter to the University of Memphis Financial Aid Office and request reconsideration for more aid.
to get a rock-solid appeal letter ready to go to the University of Memphis in a flash!
Request More Financial Aid From the University of Memphis With DoNotPay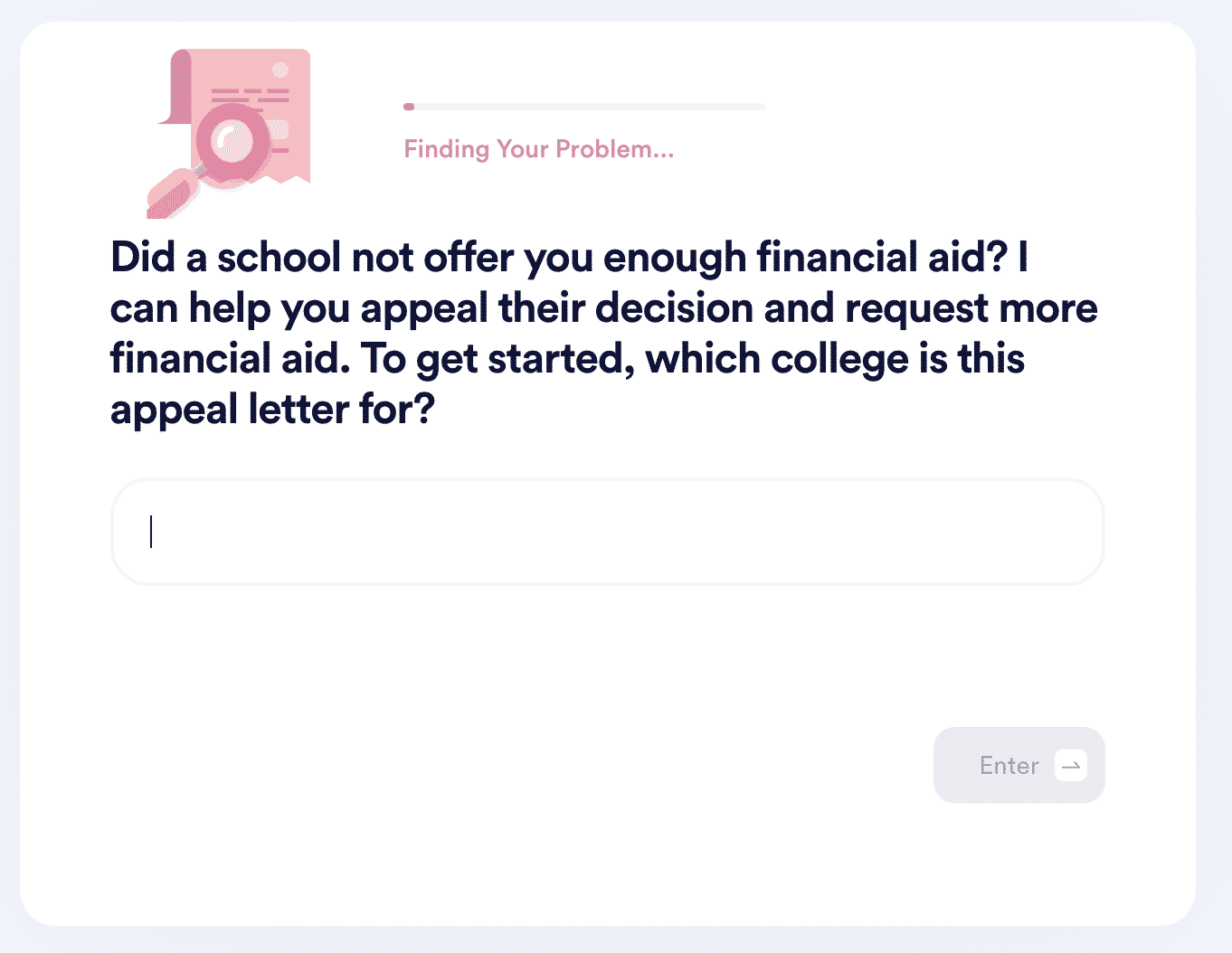 With DoNotPay, your appeal letter will be on its way to the University of Memphis in a few minutes! To get started:
from any web browser
Search for Appeal for More Financial Aid
Explain why you need more aid from the University of Memphis
After you complete the final step, we will generate a letter you can use to request more aid from this or any other school!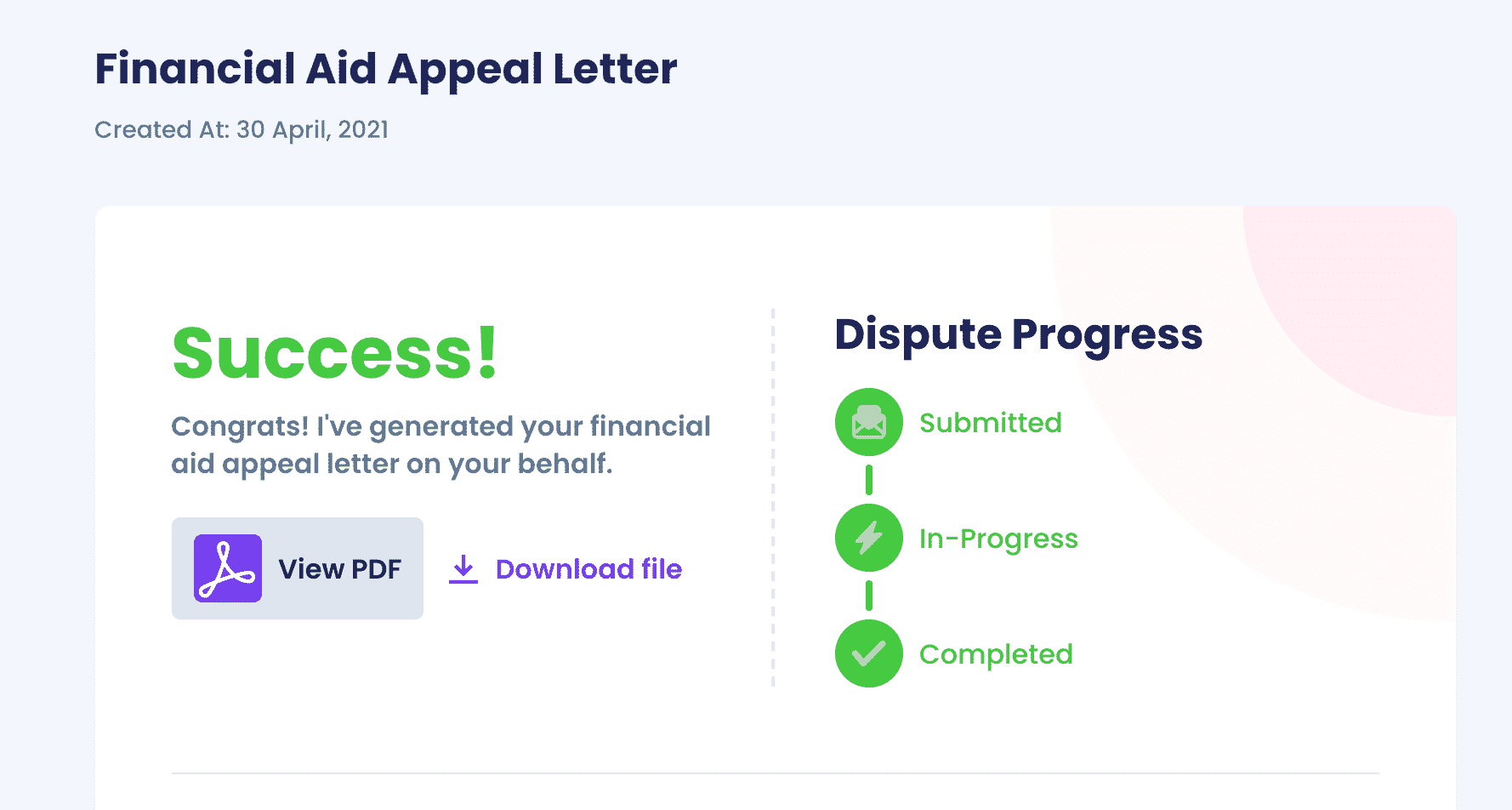 Are you curious whether independent students get more aid or have other questions about financial aid programs? Explore our learning center to get answers to all of your financial-aid-related questions!
Alternatives to the University of Memphis
If the University of Memphis doesn't offer enough financial relief, you can check out other colleges and their financial aid programs to see if they work better for you. Some of them include:
Solve All of Your Bureaucratic Issues With DoNotPay
Do you need to file an insurance or warranty claim? Need help with setting up DMV appointments or appealing parking tickets around the U.S.? Don't worry because your AI-based helper can step in!
We can help you get professional powers of attorney and divorce agreements, so you don't have to waste money on expensive lawyers! Once we draw up these documents for you, we'll set you up with an online notary, and you can get them notarized in no time!
Subscribe to Various Services Hassle-Free With DoNotPay
Did you ever get charged by a subscription service after using their free trial? DoNotPay can put a stop to that once and for all! We can get you a virtual credit card or a burner phone number, which you can then use to subscribe to any service stress-free! When you want to cancel a subscription, turn to your virtual assistant for help, and we'll do it for you in seconds!
If the company is giving you a headache, we'll hook you up with their customer support or even sue them in small claims court. Possibilities with DoNotPay are endless!
DoNotPay can also turn mailing into a piece of cake and save your inbox from email and text spam!