All You Need To Know About UMass Amherst Financial Aid
Being the largest public research university and having more than 28,000 enrolled students in 200 different programs, it's no wonder that the University of Massachusetts, Amherst (also known as UMass or UMass Amherst) is a popular choice for prospective first-year students.
If you're one of them, use this guide to learn who qualifies for the UMass Amherst financial aid program, how to apply for it, and how to if you're not satisfied!
What Types of Aid Does UMass Amherst Offer?
UMass Amherst offers the following financial aid options to its students:
Grants and scholarships
Student employment
Loans
UMass Amherst Financial Aid—Grants and Scholarships
Check this table for information about grants and scholarships UMass Amherst students can qualify for:
Award
Description
Federal Pell Grant
UMass Amherst students demonstrating financial need can receive the Pell Grant
MASSGrant Program
Undergraduate students must take a minimum of 12 credits to be eligible for this need-based award
FSEOG (Federal Supplemental Educational Opportunity Grant)
The Grant is for Pell Grant recipients showing immense financial need
University awards
UMass Amherst awards both half- and full-time undergraduate students seeking their first bachelor's degree with:

Grants
Scholarships
Tuition credits

State grants
The State of Massachusetts offers the following grants:

Foster Child Grant
Massachusetts Cash Grant
MASSGrant & MASSGrant Plus
Massachusetts Part-Time Grant
Massachusetts Public Service Grant
Paraprofessional Teacher Preparation Grant
Massachusetts Gilbert Matching Student Grant
Here's a list of scholarships Massachusetts residents can apply for:
Paul Tsongas Scholarship
Agnes M. Lindsay Scholarship
Moving to College Scholarship
High Demand Scholarship Program
John and Abigail Adams Scholarship
One Family Inc. Scholarship Program
Early Childhood Educators Scholarship
Christian A. Herter Memorial Scholarship
Student Employment at UMass Amherst
UMass Amherst students can participate in the Federal Work-Study program under the following terms:
Students usually work between 10 and 15 hours but should not exceed 20 hours per week
Work-Study earnings are taxable but don't count as income on your next year's FAFSA
Students can work two jobs as long as they don't exceed the allowed 8 hours per day and 20 hours per week
Payments disburse bi-weekly
UMass Amherst Financial Aid—Loans
You can get the following loans at UMass Amherst:
William D. Ford Federal Direct Subsidized Loan
William D. Ford Federal Direct Unsubsidized Loan
William D. Ford Federal Direct PLUS Loan
Students can resort to alternative loaning options, but the University requires them to submit a Private Education Loan Applicant Self-Certification Form to the lender. Without the form, UMass Amherst won't acknowledge your loan.
How To Apply for Financial Aid at UMass Amherst
To apply for the UMass Amherst financial aid program, complete your FAFSA by the following deadlines:
Priority deadline—March 1
State of Massachusetts deadline—May 1
Don't forget to include the University's federal school code, which is 002221.
If you require assistance with your application, contact the UMass Amherst Financial Aid Office by calling 413-545-0801 or writing an email to finaid@finaid.umass.edu.
How Much Financial Aid Does UMass Amherst Award per Student?
In the academic year 2020/2021, UMass Amherst awarded:
82% of all incoming students with an average financial aid offer valued at $17,628
991 students with federal aid averaging $7,847 per student
73% of all students with grant aid averaging $9,768 per student
4,107 students with scholarships with an average value of $7,847
What To Do if UMass Amherst Rejects Your Financial Aid Application
Did UMass Amherst reject your application or hardly offer any aid? The tuition and attendance costs, which can go up to $53,500 for out-of-state students, are difficult to handle without financial aid.
The University's decision doesn't have to be final—you can appeal it with a letter that explains:
Why UMass Amherst is your primary choice
What unfortunate circumstances impacted your family's budget
Why you can't enroll without aid
The process of writing an appeal letter may seem tedious, but DoNotPay can help you create and send one to UMass Amherst in no time!
Use DoNotPay To Make UMass Amherst Reconsider Your Financial Aid Application!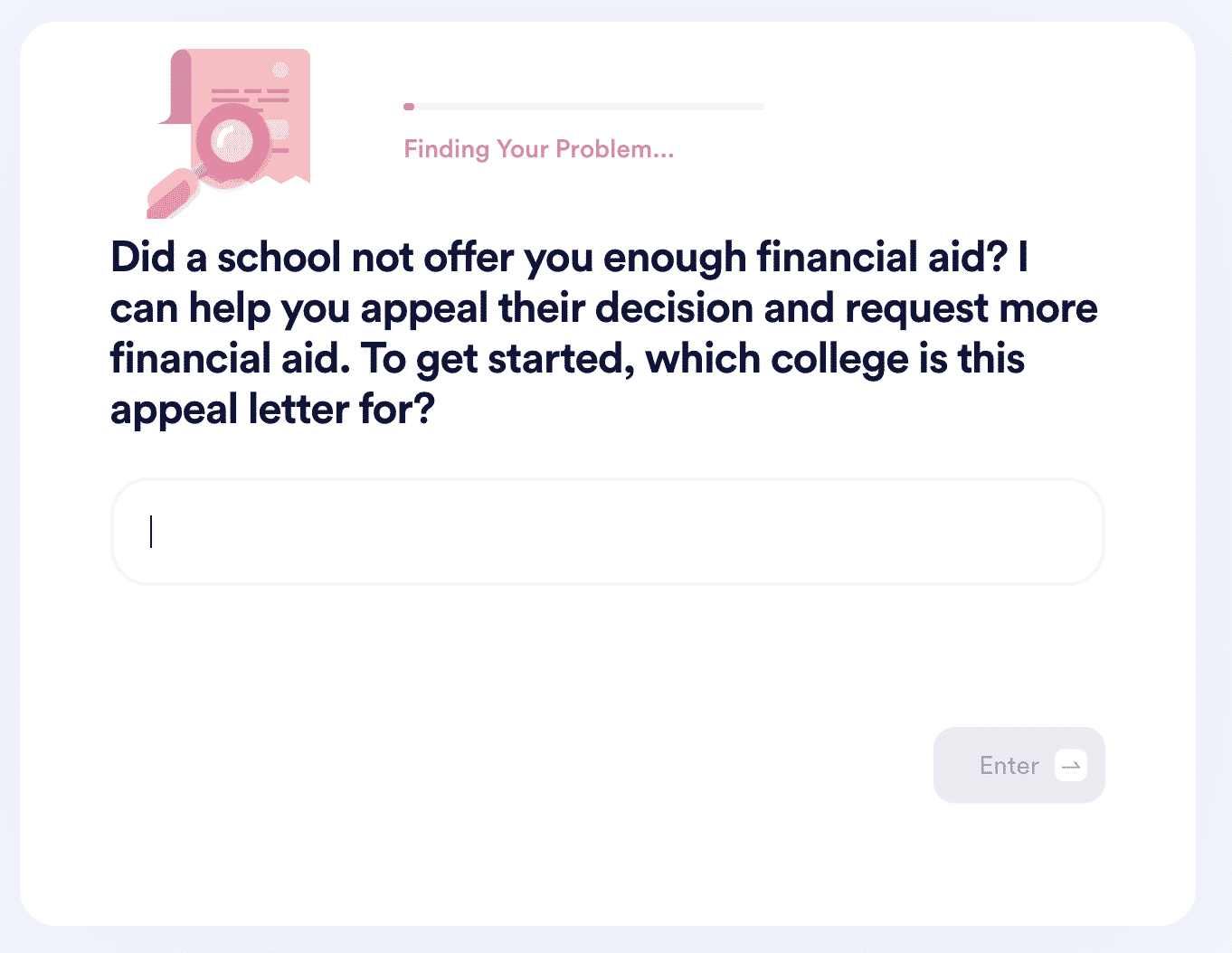 Follow these steps to create a convincing letter and get more aid from UMass Amherst in a matter of moments:
Type Appeal for More Financial Aid
Answer a few questions about your circumstances
All you need to do afterward is send the letter to UMass Amherst, and you can do that with our help or by yourself.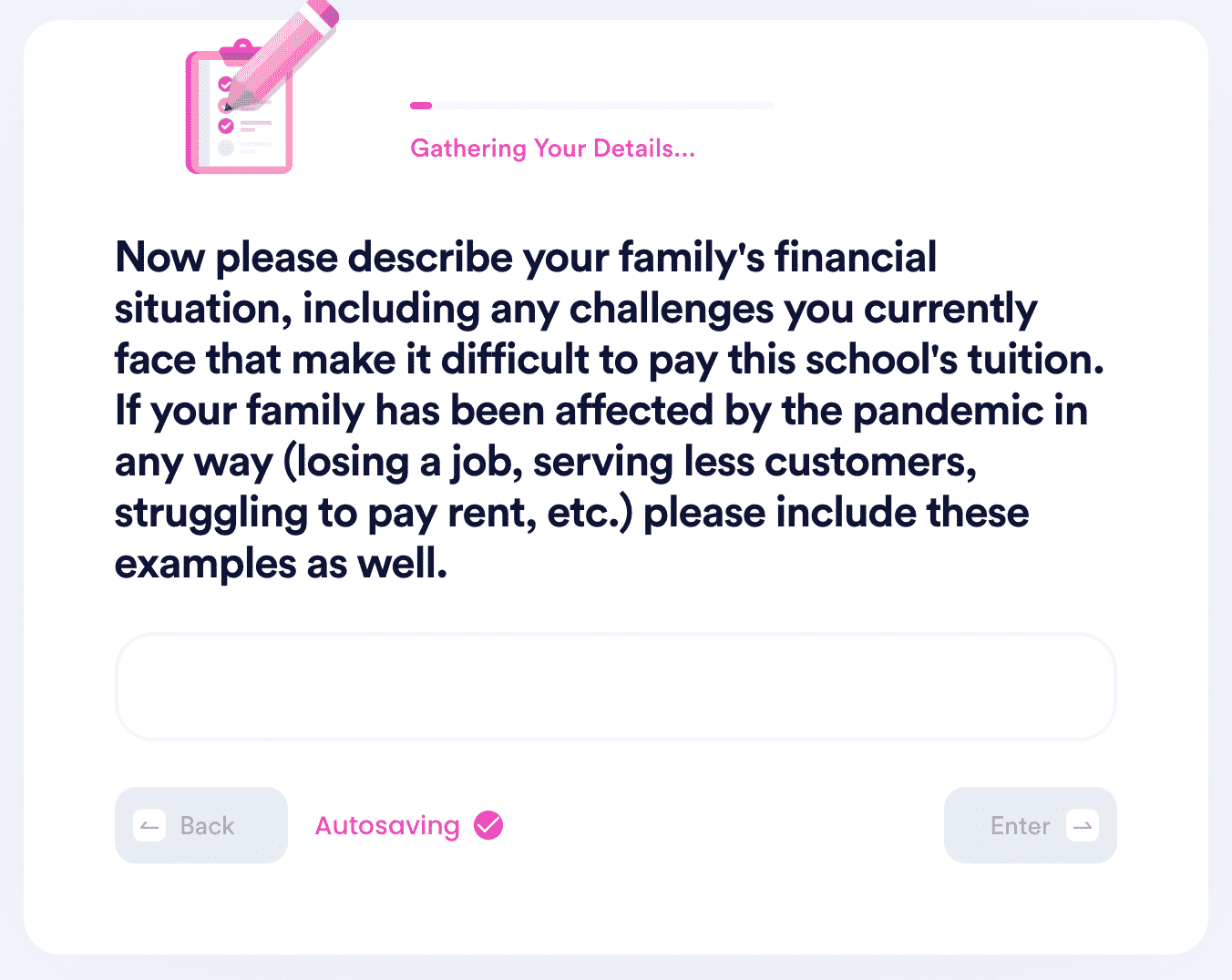 Browse through our learning center to level up your financial aid knowledge with guides about:
Alternatives to UMass Amherst
Before you apply to any college or for any financial aid program, you should research all available options, and we can help you with that! Here are some well-known schools whose financial aid programs we explained:
DoNotPay Turns Your Everyday Hurdles Into a Piece of Cake
Did you receive a faulty or damaged item? Why not return it with your virtual assistant? We can also help you get a late delivery refund and jump the queue if the customer service phone keeps ringing to no avail. The list of handy DoNotPay features that make your everyday life easier goes on.
By subscribing to our platform, you won't have to worry about your tedious neighbors or parking tickets. We can do it all!
Want To Save Money on Lawyers? Use DoNotPay
Most people spend big bucks on expensive lawyers to overcome their bureaucratic obstacles. Don't waste your money on unnecessary fees—use DoNotPay and take care of any legal matter in a few easy clicks! Check out some of the issues the world's first robot lawyer can help you with: