Everything You Should Know About University of Oregon Financial Aid
The University of Oregon is one of the upper-scale schools with annual tuition ranging from $15,000 to $42,000. If you are unable to afford it, you should consider applying for financial aid.
In case you are wondering what financial aid is, who can apply for it, how much aid you can get, and how long you can receive it, you've come to the right place!
Subscribe to DoNotPay, and we will help you get all questions about University of Oregon financial aid answered and show you how our app can help you receive more aid.
Types of Financial Aid at University of Oregon
The financial aid at the University of Oregon is based on merit or need. That depends on the type of aid you are applying for. In this school, financial aid falls under these categories:
Grants
Loans
Work-Study
Scholarships
Tuition Equity
Studying Abroad
Summer Aid
Federal Grant Programs at University of Oregon
Federal grant programs are financial aid you don't have to return, and the University of Oregon offers several of them:
| | | |
| --- | --- | --- |
| Federal Grant Name | Explanation | Who Is Eligible |
| Federal Pell Grant | Grant based on financial need | Undergraduate students |
| Federal Supplemental Education Opportunity Grant | Grant with limited funds. It is also need-based, but it is not available every year | All students who completed FAFSA before the deadline (March 1) |
| Teacher Education Assistance for College and Higher Education (TEACH) Grant | Grant awarded to students who agree to teach a certain subject in low-income schools for four years | Students who wish to pursue a teaching career |
| Iraq and Afghanistan Service Grant | Grant available for students whose guardian or parent died while serving the U.S. Army in Iraq or Afghanistan after 9/11 | Undergraduate students |
State Grant Programs at University of Oregon
State grants are usually available for citizens of a specific state. The University of Oregon offers Oregon residents these grants:
Oregon Opportunity Grant—Available for Oregon citizens, undergraduate students with no previous bachelor's degree, out-of-state Native American students, and those in financial need. It is one of the largest state grant programs in the U.S.
University of Oregon Tuition Grant—This is a need-based grant available for eligible students who completed the FAFSA before March 1
PathwayOregon Program—Based on academic achievement and financial need
University of Oregon Federal Loans
While loans may cover the biggest portion of your education expenses, you should be cautious when it comes to this type of financial aid. Before you submit your loan application, take a look at all of the loans the University of Oregon has to offer:
Type of Loan
Loan Name
Explanation
Who Is Eligible
Federal loans
Federal Direct Loan—Subsidized
Need-based loan with interest that starts accumulating after you stop receiving the funds
Graduate and undergraduate students
Federal Direct Loan—Unsubsidized
It is not based on need, and once you receive the funds, the interest will also start accumulating
Graduate and undergraduate students
Graduate PLUS Loan
Available to all graduate students with completed FAFSA. It is not need-based
Graduate students
Federal Direct Parent PLUS Loan
Loan that the UO offers to parents
Parents of the dependant undergraduate student
Alternative loans
Private Loans
Non-government funded loans that are not based on need
Graduate and undergraduate students
Work-Study Financial Aid
In case your financial plan for college includes a part-time job, you should apply for a work-study program. In the Oregon University, this program is funded federally.
You will be able to work up to 25 hours per week, but work shouldn't affect your class schedule.
University of Oregon Scholarships
Scholarships at Oregon University are reserved for both new students and those who are already attending classes. Depending on whether you hold the status of undergraduate or graduate student, you could be awarded:
Incoming Freshman Scholarship
Graduate and Law Student Scholarship
Current and Transfer Student Scholarship
International Student Scholarship
Aside from that, each college department has its scholarship program. This is the type of aid that you don't have to return.
University of Oregon Summer Aid
Summer aid includes all other types of financial aid the University of Oregon has to offer. You can apply for loans, while work-study and grant programs are only partially available. To apply for summer aid, you will have to be admitted to Oregon University and have a good academic stand.
Financial Aid To Study Abroad
In case you need University of Oregon financial aid to move abroad and start your education there, you will have to:
Fill out the FAFSA form
Be admitted to the Affiliated Study Abroad program
Meet guidelines of enrollment
Request financial aid adjustment
To study abroad, you can use any aid you would use in the U.S.
FAFSA Application—Basic Requirement for University of Oregon Financial Aid
The step you cannot omit if you wish to receive financial aid from your college is Free Application for Federal Student Aid (FAFSA). This is a form that you have to complete every year in October to apply for loans, grants, scholarships, and work-study programs.
The end date for FAFSA applications is March 1, and after you apply, the University of Oregon will send you a financial aid offer.
The Offered Amount Is Lower Than You Expected? Use DoNotPay To File an Appeal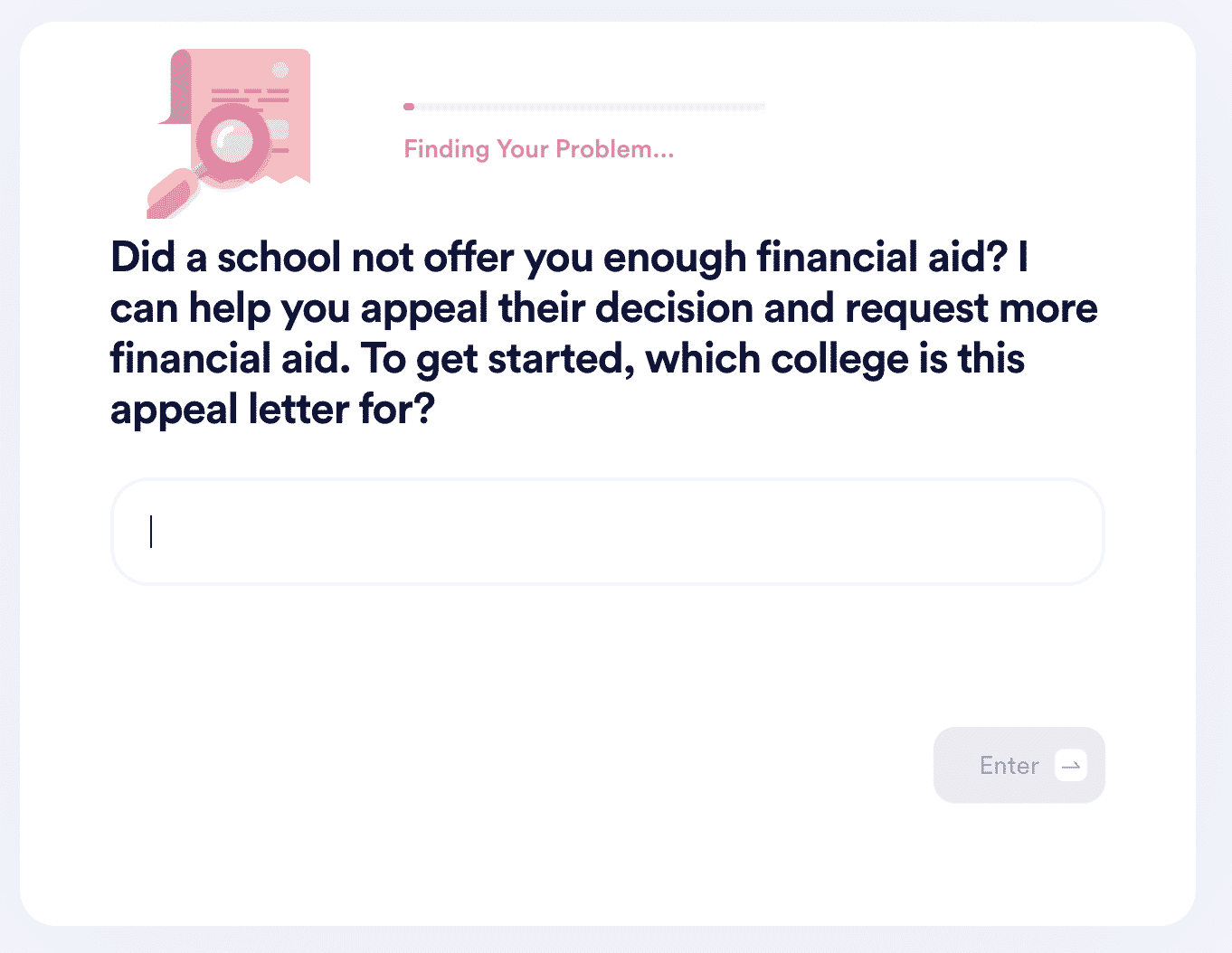 If you consider that your financial aid should be higher or the University of Oregon dismissed your financial aid application, do not hesitate to file an appeal. Does writing an appeal letter seem like too much trouble or something you don't know how to do? Use DoNotPay!
Our app will create the appeal letter within a couple of minutes. All you need to do is:
Use any browser to log in to your DoNotPay account
Locate the Appeal for More Financial Aid product
Provide us with a few basic information
Within a couple of minutes, you will have your appeal letter ready for sending.
The University of Oregon is not the only educational institution we can help you with:
Get an Extra Buck or Two With DoNotPay
Besides being able to assist you with almost any legal issue, DoNotPay can also help you get some extra money! We can cancel any unused memberships and prevent you from being charged after free trial periods are over with our virtual credit card.
Can't claim a warranty or get cash back for a gift card? Subscribe for DoNotPay and consider it done! We can also help you return items to almost any company or even help you get a refund in a few clicks!
Helping you jump the customer service queues is also not a biggie for us, as well as taking the company that wronged you to small claims court!
No Problem Is Unsolvable for DoNotPay
By subscribing to our platform, you get access to a plethora of handy features that can help you with: