Everything You Should Know About the UCSC Financial Aid Advisors
The University of California has ten campuses across the State, and the University of California, Santa Cruz (UCSC or UC Santa Cruz) is one of them.
If you wish to attend the UCSC, bear in mind the tuition you will need to pay—$13,991 (in state) and $43,745 (out of state). You should explore your UCSC financial aid options by contacting the UCSC financial aid advisors.
DoNotPay will provide you with the necessary info to get in touch with them. Our app files an appeal in your stead if you are not satisfied with the financial aid you're offered.
UCSC Financial Aid Contact
If you want to learn about the best options for your specific case regarding financial aid, you should get in touch with the UCSC Financial Aid Office. There are a few ways you can contact the advisors of this school, including:
Phone
Email
Zoom
In person
What Is the UCSC Financial Aid Office Number?
If you want to get info about financial aid over the phone, follow these steps:
Call 831-459-2963
Introduce yourself and explain your situation
Provide the advisor with the info they ask for
Ask everything you wish to know about financial aid
You can contact the Office from Monday to Friday between 10 a.m. and 4 p.m.
How To Get in Touch With the UCSC Financial Aid Office by Email
If you prefer to correspond via email, follow these steps:
Compose a formal email
Include all the relevant info about your family income and academic success
Ask all the questions about financial aid that you may have
Send the email to finaid@ucsc.edu
Keep in mind that it can take up to 72 business hours to get a response. Here are the busiest months:
| | |
| --- | --- |
| Season | Busy Period |
| Spring | March 1–March 31 |
| Summer | June 1–June 30 |
| Fall | September 1–October 1 |
| Winter | December 10–January 15 |
How To Get Information From the UCSC Financial Aid Office Over Zoom
You can also choose to join one-on-one virtual advising sessions with a UCSC financial aid advisor over Zoom. It is important to show up during the scheduled time between 10 a.m. and 1 p.m. from Monday to Friday.
Here is the info you will need:
Meeting ID—916 6733 8597
Passcode—538831
You will be placed in a virtual waiting room until the host invites you. There is a 30-student maximum capacity due to limited resources, and advising sessions last for 20 minutes.
How To Get Info From the UCSC Financial Aid Office in Person
You can always get the info you need the old-school way by visiting the University. Here are the steps to follow:
Go to the 201 Hahn Student Services Building
Explain why you came
Provide the advisor with the info they ask for
Ask any questions you might have about financial aid
What Types of Financial Aid Does the UCSC Offer?
UC Santa Cruz offers its students a plethora of choices when it comes to financial aid. Depending on your financial need and academic success, you will be able to get a certain amount of financial aid. You may apply for:
Grants
Scholarships
Student loans
Work-study programs
Emergency aid
Before you can get any type of financial aid, it is important that you complete the Free Application for Federal Student Aid (FAFSA) on time. Here are the federal deadlines to keep in mind for the 2020–2021 and 2021–2022 academic years.
It could happen that you get rejected or don't get the offer you were hoping for. In such situations, you shouldn't worry—sending an appeal letter can help you get more financial aid.
DoNotPay Can Generate a Financial Aid Appeal Letter for You
You don't need to trouble yourself with writing an appeal letter on your own. DoNotPay can create a rock-solid appeal letter that covers all the essential information in minutes. You only need to follow these simple instructions:
Search for our Appeal for More Financial Aid product
Include the amount of financial aid other schools offered you in case you applied to more than one
Provide essential info about your family's income and financial status
DoNotPay will send the appeal letter to the UC Santa Cruz Financial Aid Office on your behalf.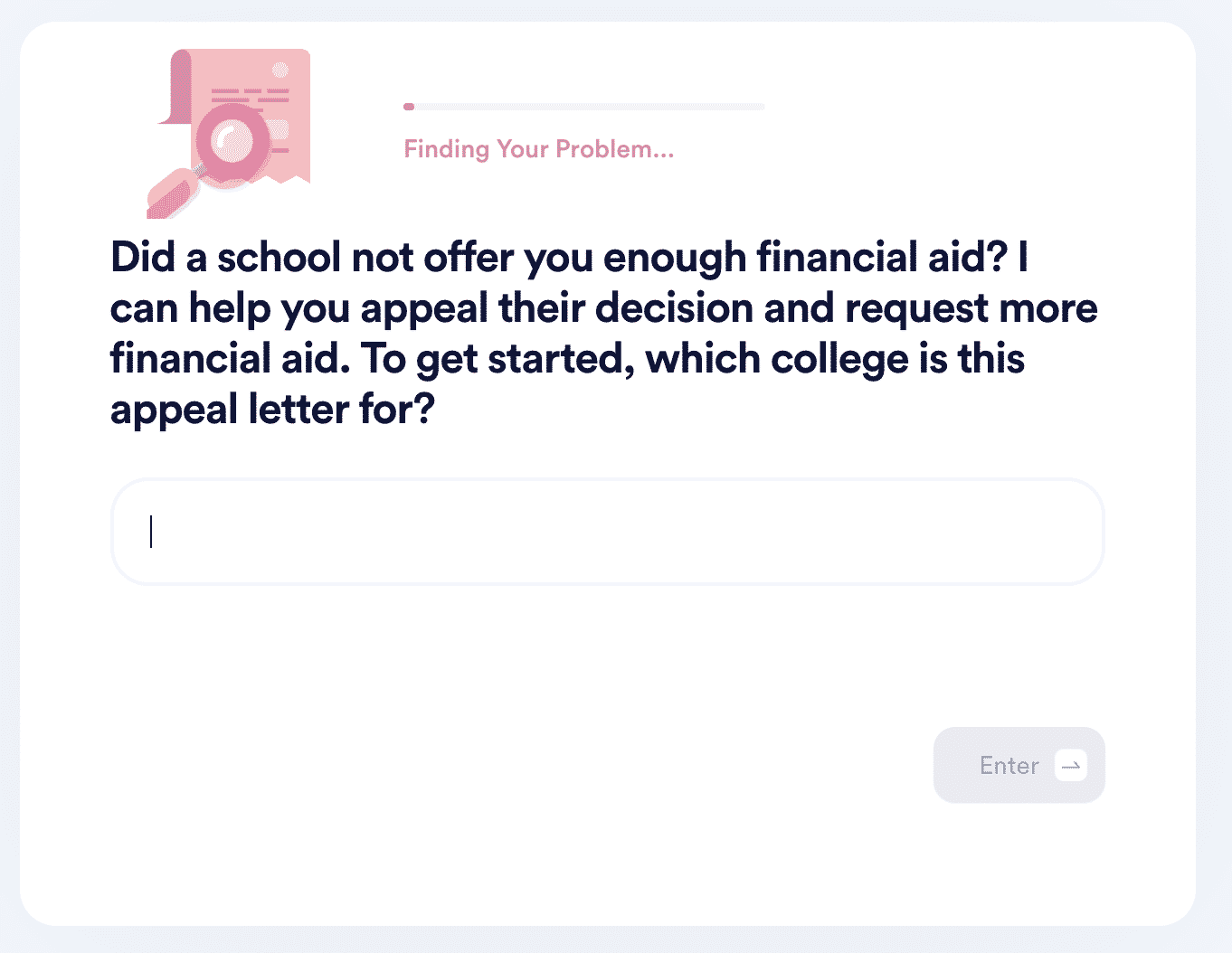 to get answers to more financial-aid-related questions, such as:
Want to learn more about other universities' financial aid programs? Rely on our guides:
Do More With DoNotPay's Useful Features
DoNotPay offers a unique service when it comes to filing for divorce or drafting a divorce settlement agreement, but we don't stop there! Our app can also help you draft, fax, and get other legal documents notarized in a flash! From powers of attorney to child travel consent forms—we assist you every step of the way!
If you need to file an insurance claim, fight workplace discrimination, or sue a company in small claims court, you can use our app to get it done with ease.
Deal With Companies Stress-Free
If you like to shop and you often make purchases, you know that companies can cause all kinds of issues along the way. DoNotPay has a trick up its sleeve that helps you deal with any issue a company causes like a pro!
Wasting hours waiting for a customer support rep to pick up becomes a thing of the past once we get involved. We'll show you how to request a refund, cancel a subscription, apply for free trials, use a virtual credit card, and claim a warranty easy-peasy!
If your package is damaged or missing, we'll show you how to track it and file a missing package claim.