Details About the Carnegie Mellon Financial Aid You Should Know
Carnegie Mellon University (CMU) was founded in 1900 and has a great reputation. This private research University has seven colleges and independent schools. Unfortunately, if you want to be one of the 15,000 students in this school, you will need to set aside a whopping $57,119 for tuition.
In case you can't pay that much but wish to have a good-quality education, there is no need to despair—you can apply for Carnegie Mellon financial aid!
DoNotPay can help you understand how to receive financial aid help. We'll also assist you with filing an appeal if you get rejected or need more funds.
Carnegie Mellon Financial Aid—Essential Info
Carnegie Mellon University offers need-based financial aid to students. This means that the school only looks at the students' financial needs and does not acknowledge grades or test scores as eligibility criteria.
To get financial aid from the CMU, you need to be one of the following:
U.S. resident
Permanent resident
Deferred Action for Childhood Arrivals (DACA) student
Carnegie Mellon highlights that applying for financial aid will have no effect on your chances for admission.
Carnegie Mellon University Financial Aid—What Types of Aid Are Available?
You have multiple types of financial aid to apply for. The aid you can get depends on various factors, such as your financial situation or the state you are a resident of. Take a look at the table below to see what financial aid options are at your disposal:
Financial Aid Type
Brief Explanation
Grants
This type of aid doesn't need to be repaid and is offered to students who demonstrate significant financial need. Grants are funded by:

The federal government
State government
Carnegie Mellon

Scholarships
If you get a scholarship, you don't have to repay it. This kind of financial aid is available to students who meet the specific criteria proposed by the donor
Loans
Loans are a type of aid that requires repayment. You can choose between these options:

Federal direct student loans
Federal direct PLUS loans
Private loans

Student employment
You can sign up for several types of work-study programs available at the CMU. You can look for and apply for on- and off-campus jobs and internships through Handshake
What Is a Carnegie Mellon Financial Aid Calculator?
The net price calculator is a tool created for students to get an estimate of their financial aid offer before applying to Carnegie Mellon. It is available to individuals who haven't yet applied to the university and are:
U.S. citizens
Eligible non-citizens
Permanent residents
Bear in mind that the net price calculator won't show you the exact offer you may get. The actual results will depend on official academic information, institutional policy changes, and verified family financial information.
What Carnegie Mellon Financial Aid Deadlines Should You Keep in Mind?
When you are applying for financial aid, you need to think about certain deadlines.
If you are an early decision applicant, you need to submit the necessary documents by November 15. Regular decision applicants should send in their documents by February 15. The CMU will keep taking documents after these dates, but it can end up delaying your financial aid offer.
Forms That You Will Need To Complete To Apply for Financial Aid
Free Application for Federal Student Aid (FAFSA) is a must every university requires students to complete before applying for financial aid. It is a document that will help the school determine whether and how much financial aid you can get.
The CMU is one of the universities that require additional documentation—the CSS profile and Institutional Documentation Service (IDOC). These documents are similar to FAFSA but are more detailed and require you to answer additional questions.
Carnegie Mellon Financial Aid Contact
If you have more questions about financial aid available at the CMU, you can contact the student financial services office. You can get in touch with them:
In person—by going to Carnegie Mellon University

5000 Forbes Avenue Warner Hall (Lower Level) Pittsburgh, PA 15213

Over the phone—by calling 412-268-8186
What if Your Financial Aid Application Gets Denied?
In case your financial aid application gets rejected or you receive an offer that doesn't seem sufficient, you can file an appeal.
The process of writing an appeal letter can be complex and time-consuming if you do it on your own. The good news is that you don't need to go through the ordeal by yourself—DoNotPay is here to help!
DoNotPay Can Help You Send an Appeal Letter in a Flash
DoNotPay generates a financial aid appeal letter containing all the essential info in minutes. You only need to complete four simple steps:
Search for the Appeal for More Financial Aid product
Include how much financial aid other schools offered you if you applied to more than one
Provide us with the info about your family's current financial status
DoNotPay will make sure the CMU gets your appeal letter as soon as possible.
You can also count on our app for help with learning about financial aid for graduate school and figuring out for how long you can keep receiving this aid.
Check out the table below for detailed guides to the financial aid programs on different universities: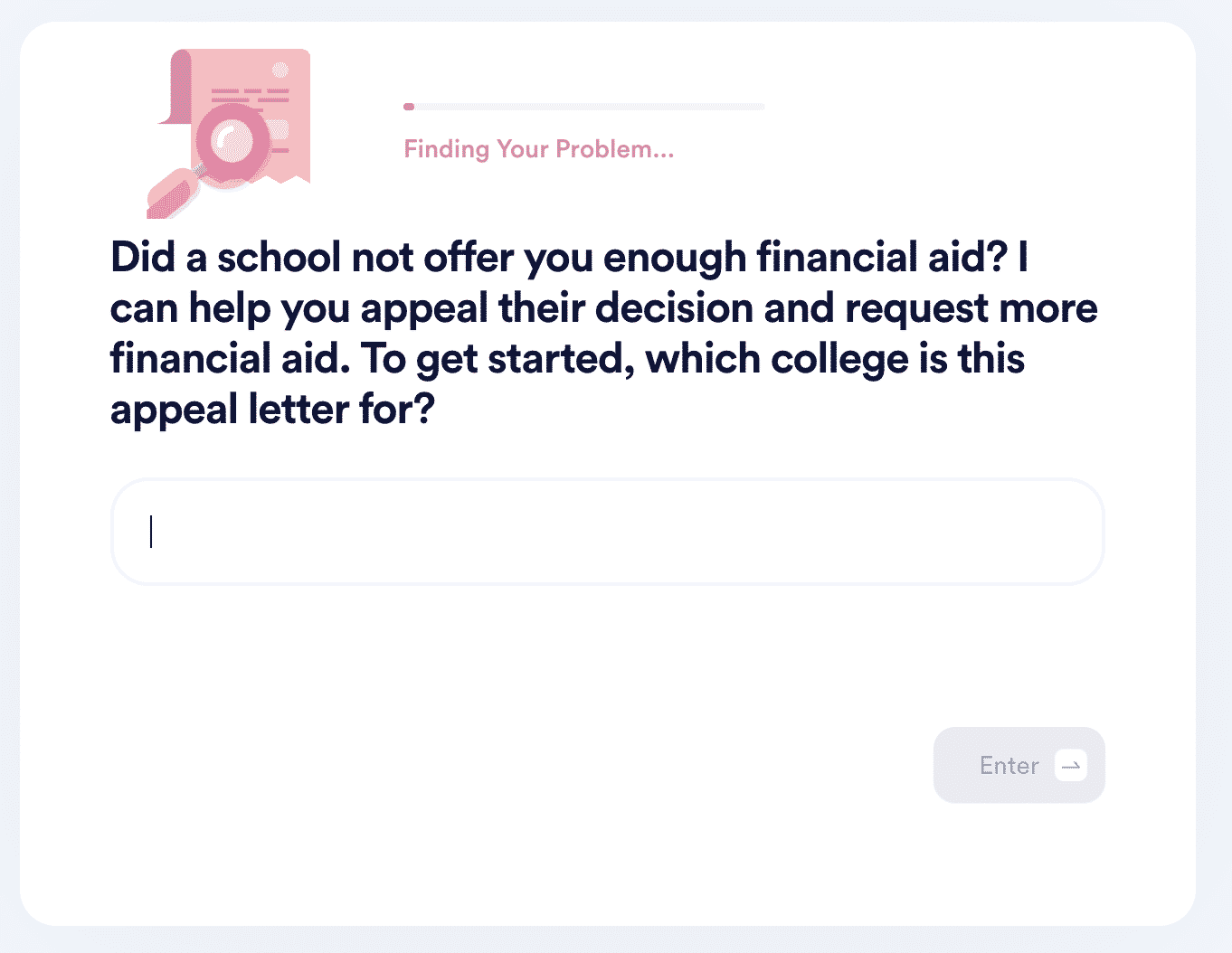 Work Smarter, Not Harder!
Although there are certain tasks that are a pain but can't be avoided, such as paying your property taxes, you don't have to do them the hard way. There is always a way to make the overbearing bureaucratic procedures a bit easier. DoNotPay can find a loophole and help you cut through the red tape!
Reducing your property taxes is only one in the sea of tasks our app will make super easy to do! You can also use DoNotPay to:
Explore DoNotPay's Other Neat Features
DoNotPay offers a plethora of useful products to make your day-to-day life easier and enjoyable! Consult the list below to see what you can do using our app: