A-to-Z Guide to Brown Financial Aid
Getting admitted to Brown University means you will have to figure out how to pay its outrageous tuition every year. You will probably try to apply for financial aid at this Ivy League college, but scholarships may not be enough to cover your education expenses.
Don't stress about it! Sign up for DoNotPay and find a way to get more funds in a matter of minutes!
To make the most out of the Brown financial aid, we created this comprehensive guide filled with essential information. Whether you want to learn more about the types of aid available or how to file an appeal, you will find it all here.
Types of Financial Aid Offered at Brown University
To help you deal with its high annual tuition, Brown University offers these types of aid:
Scholarships and grants
Student loans
Other types of financial aid
Scholarships and Grants at Brown University
At Brown, almost all aid is based solely on the financial needs of the students. The exceptions are scholarships and grants, such as Supplemental Educational Opportunity Grant and Pell Grant, which are funded from outside sources. They can be merit-based or require certain academic achievements.
To become eligible for these types of aid, you will have to complete your Free Application for Federal Student Aid (FAFSA), especially if you are applying for federal grants.
Brown University Loans
Aside from federal loans, like the Direct Loan and the Perkins Loan program, Brown University offers institutional student loans. All of them are based on need and offered to students who either have high financial needs or are not eligible for federal loans.
Institutional loans are available for both undergraduate, graduate, and medical students.
Other options are parent loans, private loans, and educational financing.
Other Types of Aid Available at Brown University
Brown University also has other financial aid options, such as:
| | |
| --- | --- |
| Financial Aid | Explanation |
| Campus Employment or FWS (Federal Work-Study) | Program that allows you to work for 10–12 hours per week and earn $2,800 |
| UTRA (Undergraduate Teaching and Research Assistantship) program | Funded opportunity to research your subject and collaborate with faculty on various projects |
| Army ROTC | The U.S. Army finances this college leadership program that awards students with a full-tuition scholarship |
Brown University Financial Aid—Application Process
To apply for Brown financial aid, you will need to submit your application according to the Brown financial aid deadline. Early applicants can apply by November 2, while regular applicants can send their requests by February 1.
If you are not familiar with the application process, here is what you need to do:
Apply for Brown admission
Complete and submit the FAFSA form. This will make you eligible for federal loans and grants
Create and submit the College Scholarship Service (CSS) Profile. It may include data about your family's financial situation and help determine your financial need
Submit additional documents—income tax form or similar documents to support your application
Who Is an Eligible Candidate for Brown University Financial Aid?
To determine whether you are an eligible candidate for financial aid or not, Brown University will:
Measure the financial stability and strength of your family by reviewing the information you provided in the FAFSA form and the CSS Profile
Verify information from FAFSA and CSS with income tax returns
Check the marital status of your parents (guardians), the number of children pursuing a college education, as well as federal, state, and local taxes. The university might also check whether you suffer from a medical condition that causes you to incur considerable medical expenses or not
How Long Does Brown Financial Aid Last?
Brown financial aid is available for graduate and undergraduate students, student veterans, citizens of the U.S., and eligible foreign students. It requires that students apply for it every year by filling out the FAFSA form.
What Is the Expected Aid Amount?
Brown University states it can award students with the University Scholarship if their family income is less than $100,000. The University also states that it will cover the demonstrated financial need of a student in its entirety with an aid package that doesn't include loans. This package should include financial aid in the form of a scholarship and work-study.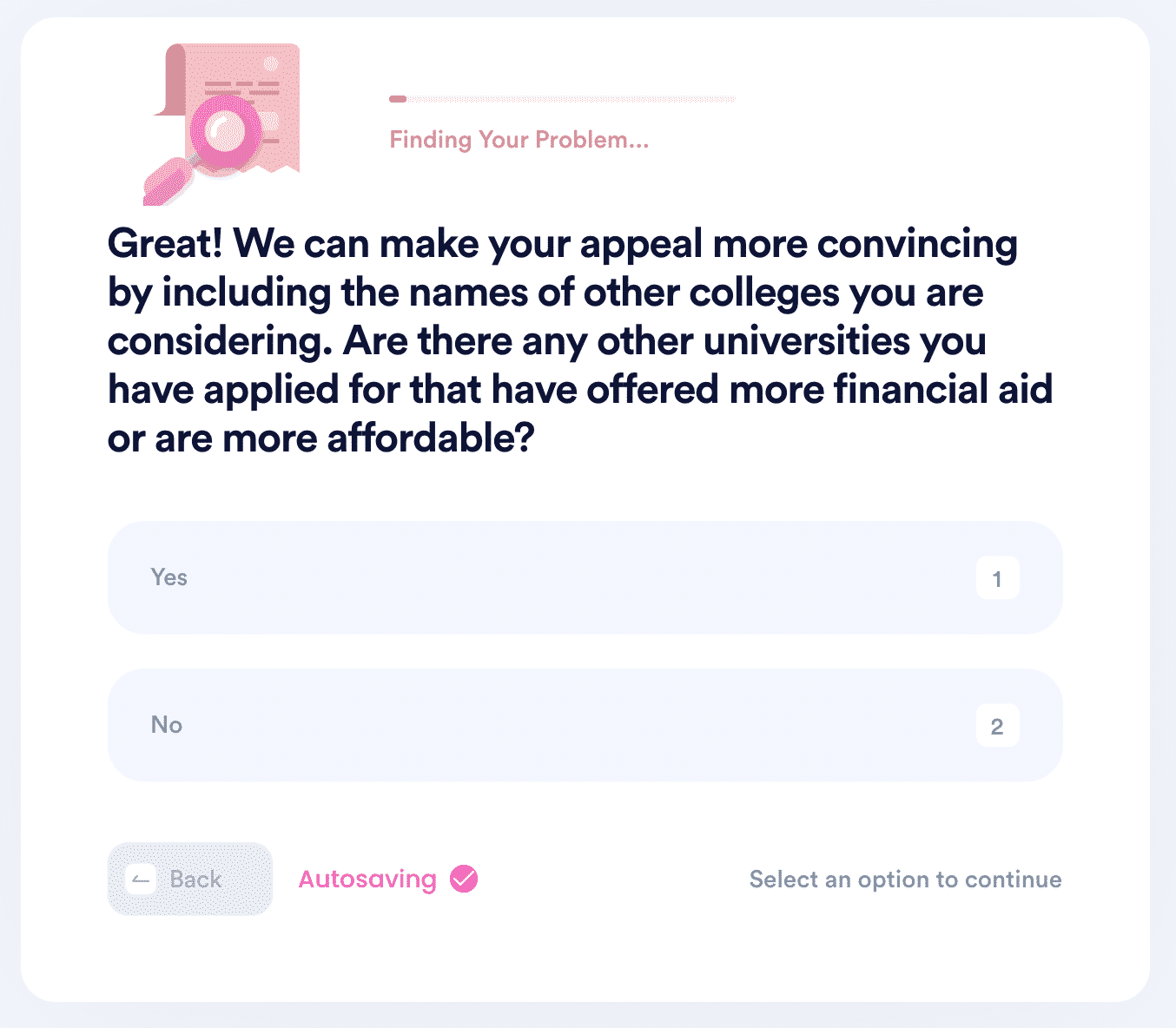 Use DoNotPay and File an Appeal to Brown Hassle-Free
On the official website, Brown University states that it will cover 100% of your demonstrated financial need. Does it seem like your need is greater than what Brown's offering? If it does, file an appeal and ask for the financial aid amount that meets your needs.
If you don't know how to write an appeal letter, DoNotPay can help. You will not have to waste one second more because our app will generate the appeal letter instead of you in no time.
All you need to do is to:
Locate the Appeal for More Financial Aid feature in our app
Provide us with some basic information
After that, DoNotPay will generate your appeal letter.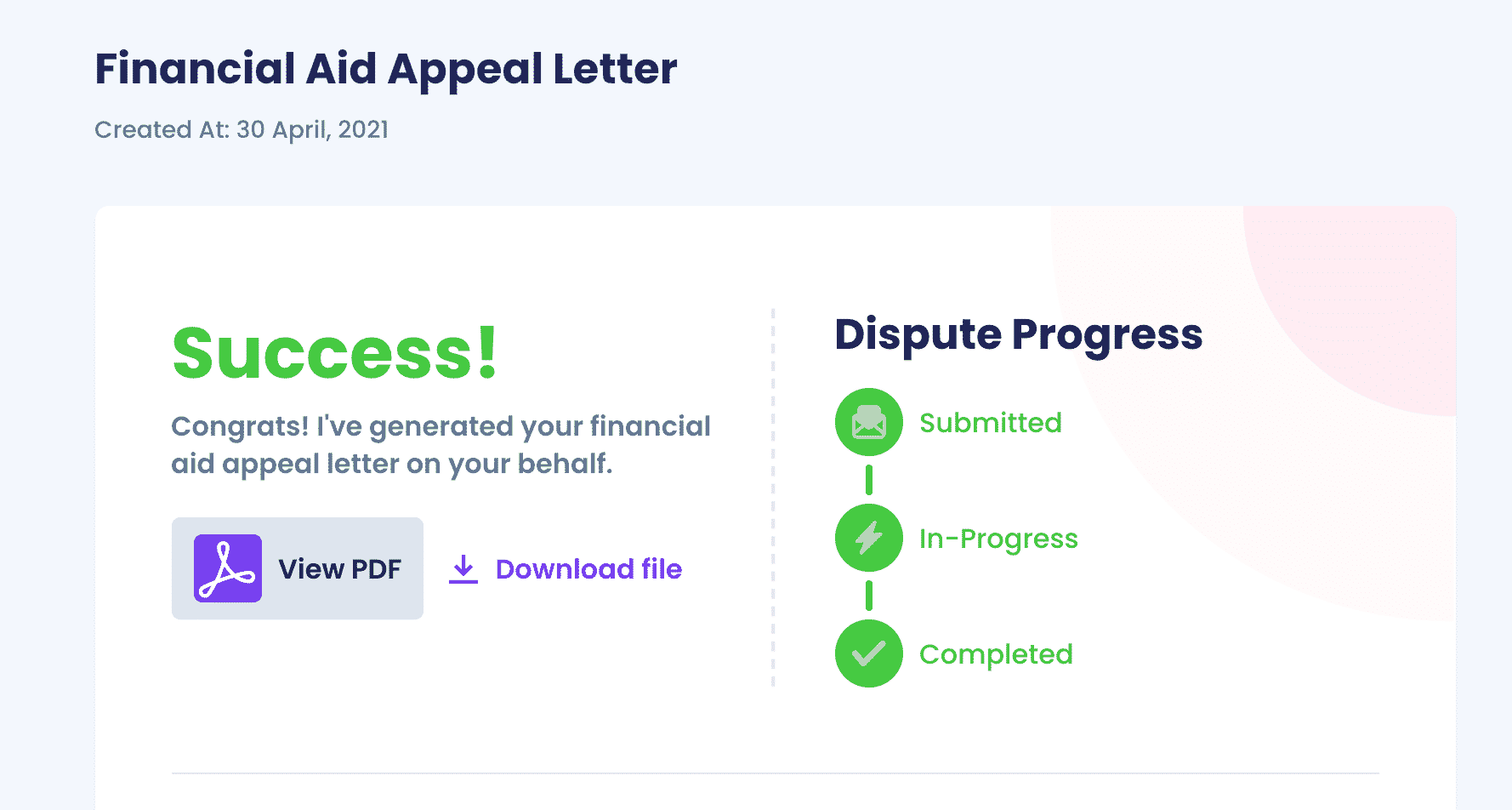 Brown University is not the only school you can send an appeal to. You can rely on DoNotPay in case other universities did wrong by you as well:
DoNotPay Helps You Deal With Any Administrative Issue Effortlessly
Tedious administrative tasks are always headache-inducing, but they don't have to be if you use DoNotPay. With our AI-powered app, you will be able to:
Solve Any Issues Like a Pro With DoNotPay
DoNotPay is an AI assistant that is able to solve almost all issues you're facing. Whether that be your noisy neighbors, the annoying text and email spam you're receiving, or the frustrating robocalls that won't leave you alone. We'll even cancel your unneeded subscriptions and get you a few extra bucks you've been cheated out of.
The world's first robot lawyer app can help you get: