Everything You Need To Know Before Applying for the American University Financial Aid
The American University (AU) in Washington, D.C., is one of the United States' most prestigious schools. To be admitted to this student-centered research institution, you must have significant academic achievements and pay a large sum of money for tuition. Since most students are unable to cover all the costs, the University created a strong financial aid program.
Look no further if you want to learn everything about the American University financial aid and let DoNotPay assist you in receiving a sufficient financial award!
What Type of Financial Aid Does the American University Offer?
The American University offers a variety of financial aid options, which are divided into three categories:
Need-based aid:

Federal grants:

Federal Pell Grant
Federal Supplemental Educational Opportunity Grant
Teacher Education Assistance for College and Higher Education Grant

American University (AU) grants:

AU Grant
Supplemental AU Grant

Loans:

Federal Direct Subsidized and Unsubsidized Loans
Federal Direct Parent PLUS Loan
Alternative Credit-Based Loans

Merit-based aid:

Freshmen merit awards and scholarships:

First-Year (Freshman) Merit Awards
Frederick Douglass Distinguished Scholars Program
American University District Scholars Award
United Methodist Scholarship
American University National Merit Scholarships
Athletic Scholarships
Tuition Exchange Scholarships
Restricted/Endowed Awards

AU Transfer Scholarships:

Phi Theta Kappa Scholarship
Southern Management Scholarship
United Methodist Scholarship
Athletic Scholarships
Tuition Exchange Scholarships

AU Graduate Scholarships:

United Methodist Graduate Scholarship
Hart A. Massey Fellowship
Restricted/Endowed Awards

Frederick Douglass Scholarship Program
Outside Scholarships

Student employment:

On-campus student jobs
Professional jobs and internships
Part-time/neighborhood jobs
If you are interested in applying to one of the programs mentioned above and need detailed information, contact the University's Financial Aid Office.
See the table below to get a basic understanding of each of the three categories:
| | |
| --- | --- |
| Type of Aid | Explanation |
| Need-based aid | Grants are awarded only to students who demonstrate financial need, while loans may be available regardless of it |
| Merit-based aid | Merit awards and scholarships are designed for students with strong academic qualifications and extraordinary leadership skills |
| Student employment | The money earned through work-study jobs must be used solely for educational reasons |
Who Is Eligible for the American University Need-Based Aid?
To qualify for a grant, scholarship, or loan offered by the American University, you must belong to one of these categories:
Prospective freshman students
Prospective transfer students
Washington Semester Program students
Current undergraduate students
Online Graduate Program students
Graduate Certificate Programs: Premedical Program
Prospective international students
You are qualified to receive need-based aid only if you are a U.S. citizen, permanent resident, or an eligible noncitizen living in the States for reasons other than studying.
Graduate students who are enrolled at least half-time (Master's or Ph.D. program) can qualify for federal work-study or federal loans, while online graduate students enrolled at least half-time in a Master's program can qualify only for federal loans.
If you are a student attending the AU Washington Semester Program, you should contact your home institution to apply for financial aid.
How To Apply for the American University Financial Aid
To apply for financial aid, you must take the following steps:
Apply for AU
Fill out the Free Application for Federal Student Aid (FAFSA)
Complete the College Scholarship Service (CSS) Profile
Additionally, you'll need a:
Parent and Student Federal Student Aid Identification
Parent and student Social Security numbers
Federal tax forms
Non-custodial parent contact information
Deadlines for applications for the financial aid and award notifications depend on your student status—i.e., whether you are applying:
On Regular Decision
On Early Decision
As a transfer student
As a current student
Regular Decision Freshman Applicants
First-year student applicants must submit their applications by January 15. They will get notified about their reward by April 1.
Early Decision I Applicants
Early Decision students who also want to apply for need-based financial aid must submit their application by November 15. They can expect a notification about their reward by December 31.
Early Decision II Applicants
Early Decision II students must submit their applications by January 15. They will get notified about their reward by February 15.
Transfer Applicants
All transfer applicants have to submit the FAFSA and CSS Profile by May 1. They can expect a notification about their reward after May 1.
Current American University Students
Current students must submit their applications by May 1. They will get notified about their reward in late June. Financial aid awards are usually made for one academic year.
After you review the offer, you may accept or decline it (fully or partially). The amount of aid you get depends on your FAFSA form.
The procedure becomes final when you send all the required documents to the American University Financial Aid Office and sign an award letter. You can also accept your award on myAU Portal.
What if You Get Rejected or the Financial Aid Isn't Enough?
When the Financial Aid Office evaluates your application, it may decide to deny your request or grant you less than you anticipated. If this occurs, you have the right to appeal the University's decision.
In case you don't know how to write an appeal letter, sign up for our service. DoNotPay can help you save time and effort by writing and sending it on your behalf.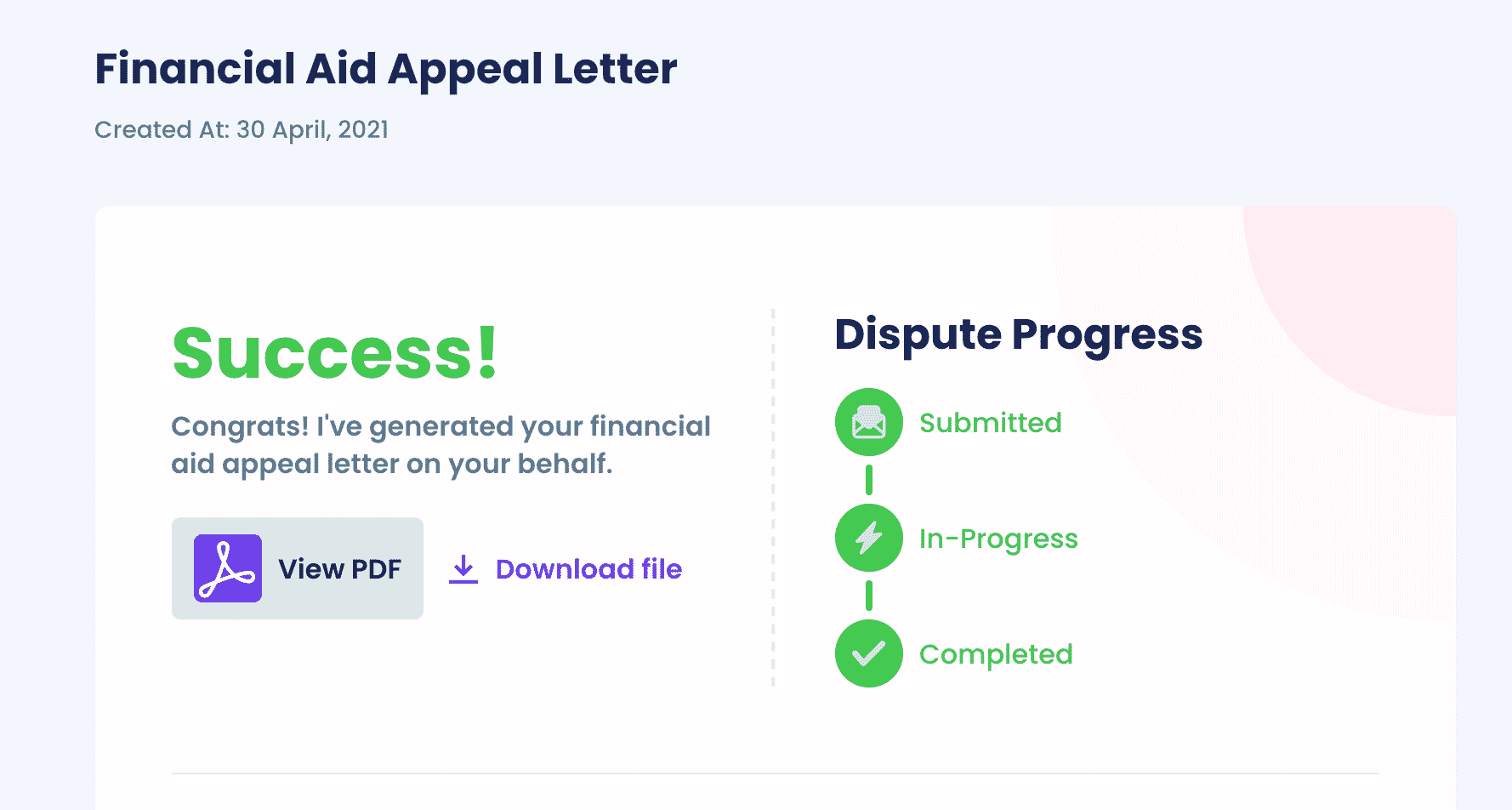 Let DoNotPay Compose Your Appeal Letter!
To get your appeal letter in a split second, all you need to do is:
Select the Appeal for More Financial Aid product
Enter the name of the university you want to attend, along with the names of other universities that offered you a higher support amount
Answer a few simple questions from our chatbot
After you do that, our app will generate a customized letter and make sure it reaches the American University Financial Aid Office in no time!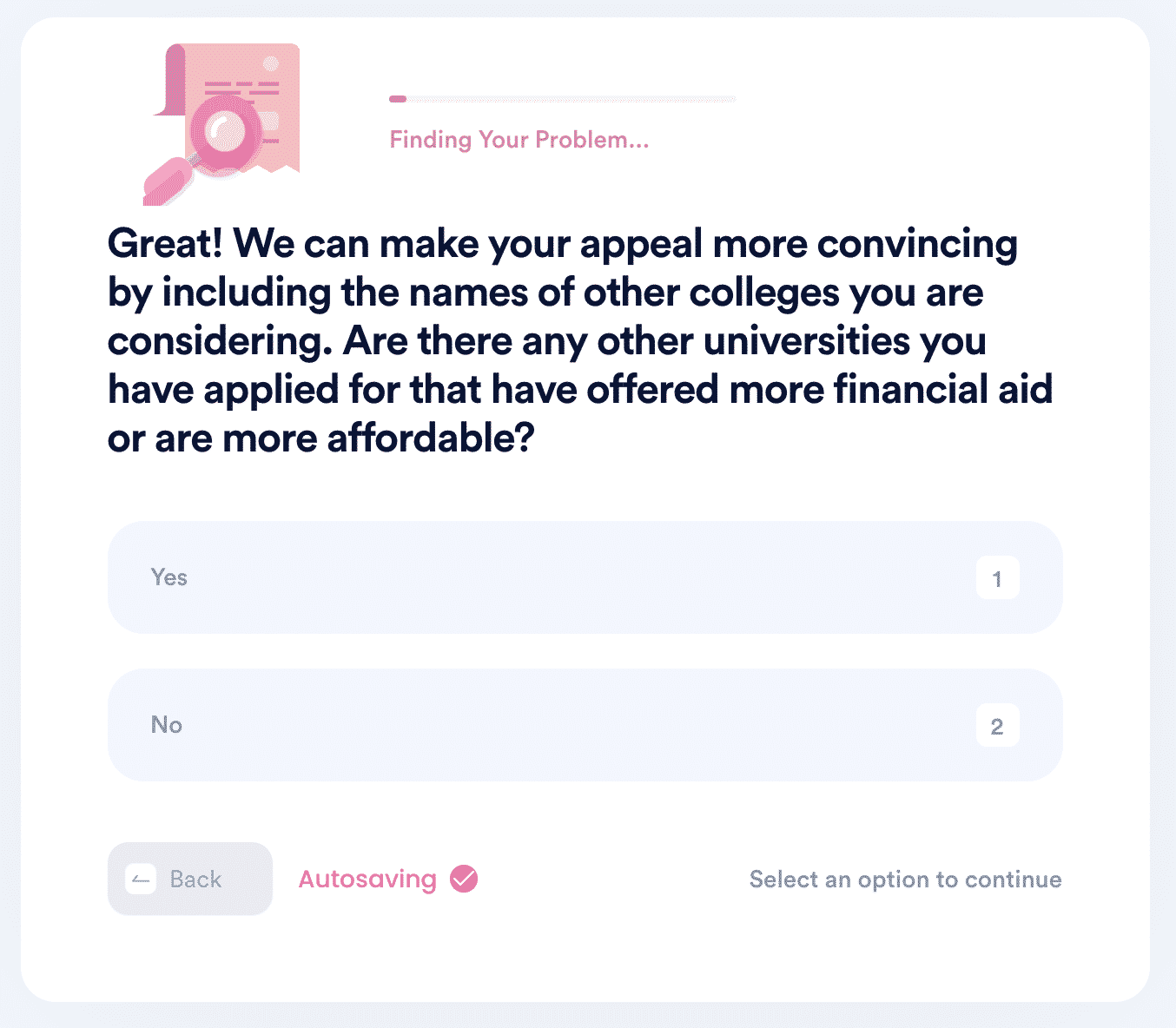 Check out a few more guides that teach you how to get more financial aid from various colleges, such as:
DoNotPay Is an App for Everyone
Whether you need help with drafting paperwork, searching through government databases, or managing your bills, DoNotPay has a feature that'll make your life easier. The number of features keeps growing, and you can check out a table showcasing some of them:
| | | |
| --- | --- | --- |
| Solving Legal Issues | Saving Money | Protecting Privacy |
| | | |
Get More Done With Our Do-It-All Platform
DoNotPay can take care of any daily hurdle you come across. For a small yearly subscription fee, you get access to various features that you'll find handy on a daily basis. Besides everyday chores, signing up for DoNotPay will help get you:
The list could go on for days. You can even get in touch with an inmate or fight for discrimination at your workplace!