Find Out When Payday Is—The UC Davis Financial Aid Disbursement Plan
Did you apply for the University of California, Davis (also known as UCD or UC Davis) financial aid plan? This guide will help you find out when your aid payments are due and explain all you should know about the UC Davis Financial Aid Disbursement Plan!
How Does the UC Davis Financial Aid Disbursement Work?
This school disburses aid quarterly, ten days prior to the beginning of the following term. Take a look at this list to check the term start dates at UC Davis:
Fall Quarter—around September 28th
Winter Quarter—around January 4th
Spring Quarter—around March 25th
To ensure you receive your financial aid disbursement, make sure to:
Check the Actions Required regularly on the MyAwards service
Meet all financial aid terms and conditions, which require you to:

Have a completed financial aid application
Be enrolled in classes for the current academic term
Complete all financial aid requirements on MyAwards
The Federal Pell Grant and Cal Grant disbursement amounts depend on the total number of enrolled units counted each quarter of the academic year.
Check out the following table to see how the UC Davis financial aid disbursement plan works:
| | | |
| --- | --- | --- |
| Number of Quarters | Enrolled Units | Disbursement |
| 1 | Less than 6 | 25% |
| 2 | 6–8.5 | 50% |
| 3 | 9–11.5 | 75% |
| 4 | 12 or more | 100% |
After receiving your disbursement, you're responsible for keeping track of the tuition and attendance cost payment deadlines.
Check out this table to find the payment due dates for each term at UC Davis:
| | |
| --- | --- |
| Term | Payment Due Date |
| Fall quarter/semester | September 15th |
| Winter quarter | December 15th |
| Spring quarter | January 15th |
| Spring semester | March 15th |
| Summer session I | June 15th |
| Summer session II | July 15th |
How Long Does It Take for Financial Aid To Reach My Direct Deposit Account?
UC Davis financial aid funds should be available the same day the school disburses them.
If you don't receive your financial aid or have any issues with your direct deposit account, contact UC Davis Student Accounting by:
Do UC Davis Students Receive Disbursements During the Summer?
Yes, students will receive most of their summer session financial aid from UC Davis on the following dates:
Summer I—around June 11th
Summer II—around July 23rd
The Summer Advantage Grants program requires UC Davis students to be enrolled in at least ten units, and disbursements occur in the following timeframes:
Summer I—between July 16th and 23rd
Summer II—between August 27th and September 3rd
Can I Refund UC Davis Financial Aid Disbursements?
Yes, and the amount you can refund is the Estimated Financial Aid on your Award Letter minus the aid due on your direct deposit account. UC Davis processes financial aid refunds 3–5 days of disbursement.
How Many Students Receive Financial Aid at UC Davis?
With a total of 35,186 students, UC Davis awarded the following amounts of financial aid in the 2020/2021 academic year:
59% of first-year students received average financial aid plans valued at $25,055 per person
32% of freshmen (2,016 students) got federal grants of $5,043 per student on average
56% of freshmen (3,528 students) received scholarships averaging $9,231 per student
65% of undergraduate students (19,956 students) were awarded grants averaging $17,958 per student
What Can I Do if UC Davis Offers Little Aid or Rejects My Application?
If UC Davis denies you aid or offers an insufficient amount, you can politely request an application reconsideration by writing an appeal letter, which should include:
Reasons why UC Davis is your first choice
Obstacles you faced since you filed your application that affected your financial situation
Financial aid offers you received from other schools
to generate a custom letter to send to UC Davis in a matter of moments!
Use DoNotPay To Send an Appeal to UC Davis if It Offers Little or No Financial Aid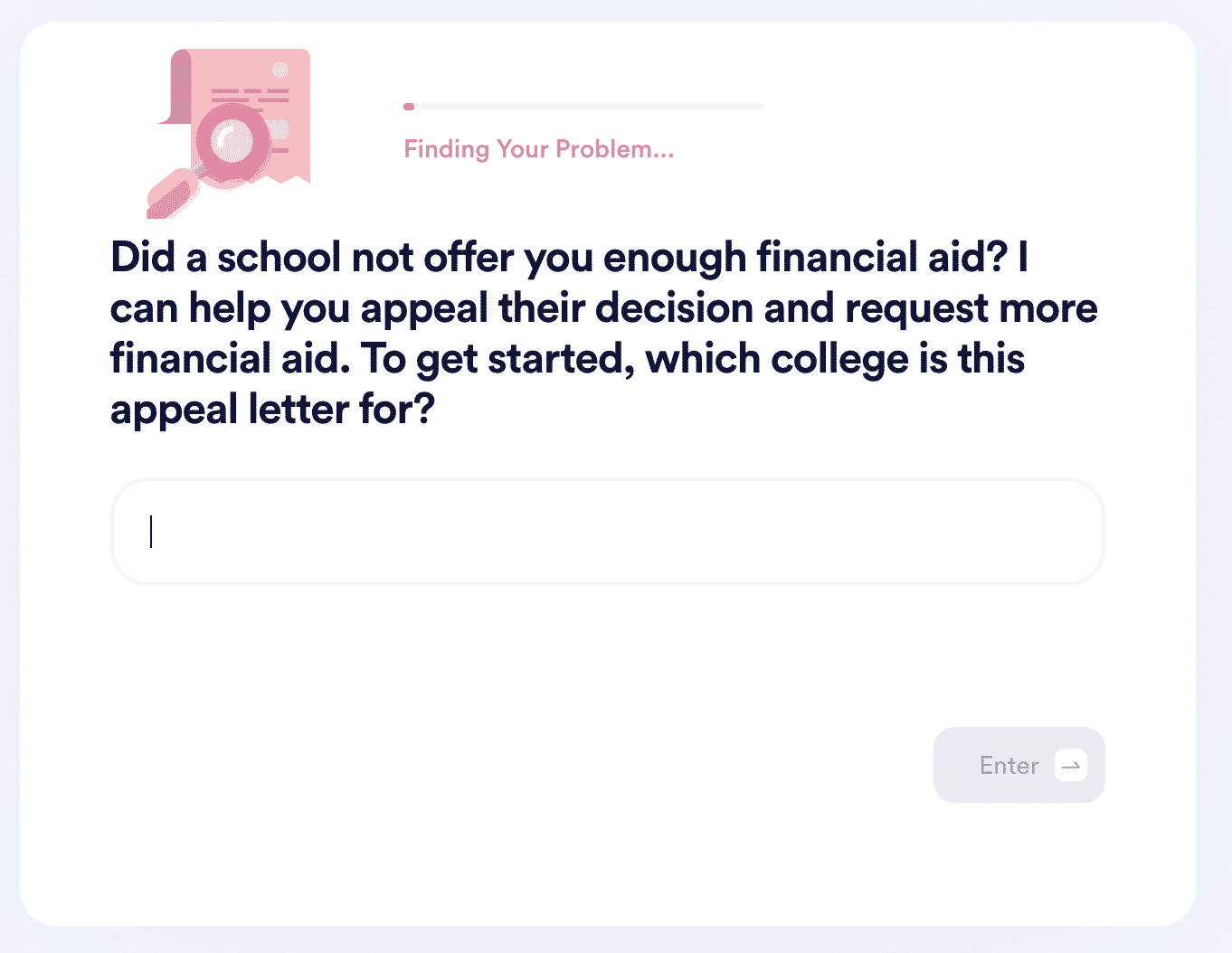 Do you feel like UC Davis misjudged your financial need? With DoNotPay, requesting more financial aid is a three-step process:
in any web browser
Enter Appeal for More Financial Aid in the search bar
Answer a few brief questions about your financial aid application and the response you received from UC Davis
Our product will generate a custom appeal letter, and you can choose whether you want to:
Send the letter to UC Davis immediately
Receive the letter via email so you can submit it yourself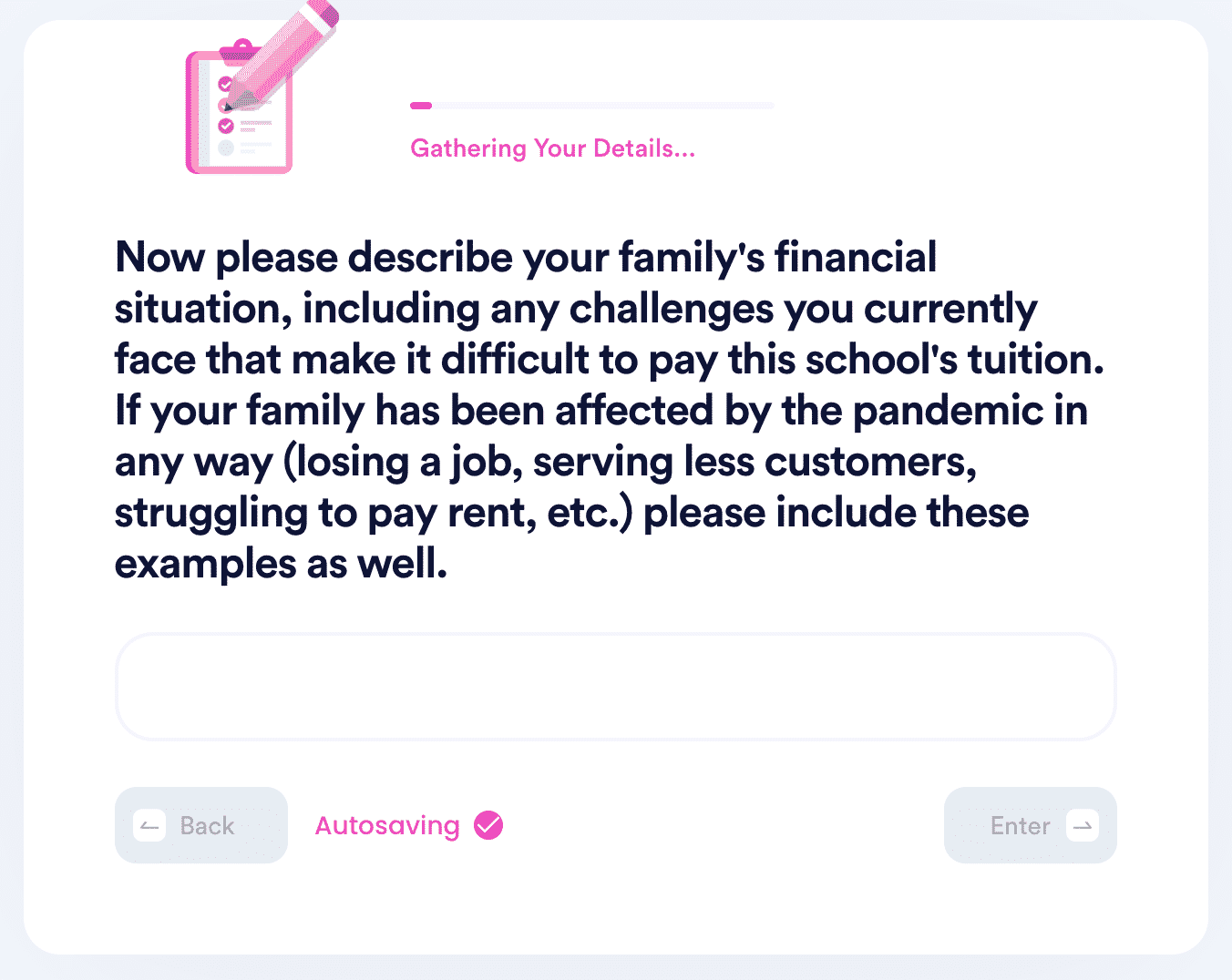 Check out more of our financial-aid-related guides that explain:
If you're a future or transfer student, check out other schools and their financial aid programs to see which suit you best:
DoNotPay Turns Your Everyday Hurdles Into a Piece of Cake
Did you receive a faulty or damaged item? Why not return it with your virtual assistant? We can also help you get a late delivery refund and jump the queue if the customer service phone keeps ringing to no avail. The list of handy DoNotPay features that make your everyday life easier goes on.
By subscribing to our platform, you won't have to worry about your tedious neighbors or parking tickets. We can do it all!
Want To Save Money on Lawyers? Use DoNotPay
Most people spend big bucks on expensive lawyers to overcome their bureaucratic obstacles. Don't waste your money on unnecessary fees—use DoNotPay and take care of any legal matter in a few easy clicks! Check out some of the issues the world's first robot lawyer can help you with: