Sick of Streaming? Here's how To Refund Twitch Subscriptions
Twitch is an online video streaming platform and a community for gamers and gaming fans. Amazon bought it in 2014 and the platform currently has over one million streamers. It offers free access with ads and other restrictions, so a lot of people opt for its paid subscription. Twitch is supported by ads, streamers' subscriptions, and one-time donations. 
How Can You Request a Twitch Refund With DoNotPay?

You can request a Twitch subscription refund with DoNotPay in just a few clicks. Before you can do so, you need to create your DoNotPay account via your web browser. Then follow the instructions below:
Go to the Get Protected option under the Chargeback category

Enter your bank's details

Type in the payment details you wish to have refunded

Insert your Twitch details

Verify the information

Choose whether to send the demand letter yourself or have DoNotPay do it for you
What makes DoNotPay stand out among the other available options is that we send additional documentation to strengthen your case. We fax your request to your bank automatically and also gather evidence that increases your chances of winning. We submit all the necessary VISA and Mastercard codes that can be crucial for your case.
Can I Request a Twitch Refund on My Own?
You can submit a refund request on your own, but keep in mind that doing it with DoNotPay is much quicker.
If you prefer requesting a Twitch refund on your own, here is how you can do it:
| | |
| --- | --- |
| Can You Request a Refund Via | Yes / No |
| DoNotPay | Yes |
| Email | Yes |
| Phone | No |
| Letter | Yes |
| Website | Yes (online contact form) |
| In-person | No |
How Do You Request a Twitch Refund via Email?
If you want to take your chances with emailing Twitch, you can do so by sending your request to purchasesupport@twitch.tv. Be sure to provide as many details about your request as you can. 
The issue with this option is that they do not tell you when you can expect to hear from them.
Can I Send My Request in a Letter?
Yes, you can. If you are old-school, you can mail in your request. The same applies here—send as many details as you can to increase your chances of having an approved request. Use the address below:
Purchase Support
Twitch Interactive, Inc.
350 Bush Street, 2nd Floor
San Francisco, CA 94104
How Can I Request a Twitch Refund via Their Website?
If you choose to submit your refund request by using Twitch's website, what you should know is that there is not a specific option for refunds. You can only submit it by filling out the online email contact form.
You can do that by following the instructions below:
Go to the Twitch contact support page

Enter your name

Enter your Twitch username (if you have one)

Type in your email address (it's best to use the one you connected with a Twitch account)

Choose the Purchase category from the drop-down menu

Choose a Sub Category from the drop-down menu (what you want to have refunded)

Explain why you are contacting them in the Subject field

Explain your request in the Description field

Add an attachment if you have any additional information (a screenshot of the issue, an invoice, etc.)
You should receive an automatic response to confirm they received your request and to tell you when they will be able to get back to you. It should take between five to seven days.
What Are the Twitch Terms And Conditions for Refunds?

Officially, Twitch does not offer any kind of refunds in their Terms of Sale. All items you purchase or receive as a gift on Twitch cannot be refunded or turned into any sort of credit. Once you complete your purchase, it becomes final. It also states that Twitch may change the policy any time they see fit.
Should you subscribe for multiple months to a channel that becomes unavailable at some point, Twitch still cannot offer you a refund. Instead, you can be upgraded to a Turbo subscription for the remaining months. To get the upgrade, you need to contact the Twitch customer support.
You will not be able to get refunds on Twitch for:
Donations

Subscriptions

Twitch Prime sub
If an error occurs with confirming an order or one of the Twitch services, Twitch can offer you a refund, unless they deem a credit in the same amount would suffice. In this case, you would need to cancel your order.
Twitch Donation Refund
Since you cannot request a donation refund from Twitch, what you can do is contact the streamer directly and request a donation refund. It will be up to the streamer to decide, so be careful when sending donations.
How Long Will It Take to Receive a Twitch Refund?
Since Twitch has a policy that officially does not offer refunds, they also do not have a specified time as to how long it would take to receive one. They only give a timeframe of five to seven business days to respond to your request.
Can I Check the Status of My Twitch Refund?
You can reach out to the Twitch customer support for information like this. You can choose how to do that—either by emailing them at purchasesupport@twitch.tv or by submitting the online contact form.
You can check out the detailed instructions on how to complete the online form above.
How Can I Avoid Requesting Subscription Refunds?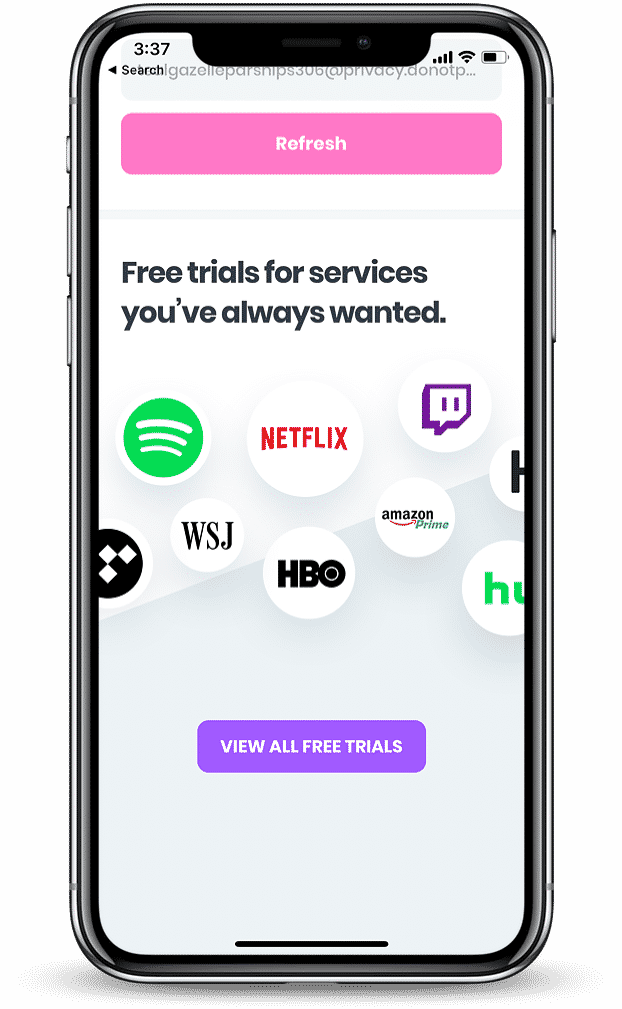 If you want to subscribe to a service that offers free trials, be careful with automatic recurring payments. Research shows that 84 percent of Americans underestimate how much they spend on subscription services. One month's subscription isn't a big deal, but it can take a toll when it becomes more than one month, or if you didn't plan to pay for it in the first place. 
One Reddit user had a similar issue. They got charged for a monthly subscription without even knowing it because the subscription was set to auto-renew. They sent an email but did not hear from Twitch's customer support.
You can let DoNotPay deal with this issue for you! We have developed a virtual credit card to keep you safe from wasting money on auto-renewable subscriptions. 
You usually do not get notified when your free trial ends, so you pay for at least one month before you cancel it. What you can do is use our virtual credit card when signing up for a subscription. It is generated to be used only once, and you do not input any of your data or link it to any bank account. You can use DoNotPay's virtual credit card generator to quickly create a new credit card you can use once and forget about those pesky unwanted charges.
What Else Can DoNotPay Do for Me?

DoNotPay can make your life easier in many ways! It can help you get an Origin refund, contact Ubisoft Customer Support, cancel World of Wordcraft, and much more. You just need to sign up using your web browser. 
Check out what services DoNotPay offers below:
Disputing traffic tickets fast

Contesting speeding tickets