Roku Account Suspended—How To Get It Back
Are you getting a Roku Account Suspended notification when trying to add channels to your Roku? Don't stress yourself out because many Roku users faced this issue and solved it efficiently.
Check out this easy-to-read guide and find out the top reasons for getting a suspension. DoNotPay will also provide you with step-by-step instructions on how to restore your account and offer assistance in appealing your suspension.
and get your account back in a jiffy!
Why Was My Roku Account Suspended?
Check out the table below to find out the most common reasons for getting a suspension from Roku:
| Most Common Reasons for a Suspension | Explanation |
| --- | --- |
| Incorrect login attempts | If you type in the wrong password more than five times, your account will get suspended for the next 24 hours |
| Being inactive | Roku will suspend your account if it has been inactive for more than six months because they don't want to send new updates to inactive accounts |
| Not verifying your account | It is important to verify your account through your email to avoid a suspension |
| Not updating your outdated payment method | You should add a valid payment method to continue using your Roku account. Entering fake data may cause a permanent ban |
According to the Roku Website Terms of Use and Community Guidelines, other possible reasons for suspension are:
Using automated technical tools to collect information or content from the site
Attempting to gain unauthorized access to any part of the site, its services, or other systems or networks connected to Roku and its servers
Bypassing authentication measures on the site or any network connected to the site
Scanning or testing the vulnerability of the website or any network connected to it
Disrupting the operation of the Roku website
Disobeying regulations, procedures, or policies of the networks connected to Roku
Misrepresenting or impersonating any other individual or entity
Collecting and storing information about other Roku users
Copying or redistribution of certain content
Spamming
How To Recover My Suspended Roku Account
In case of more than five wrong login attempts, there is nothing you can do to avoid a suspension—you will have to wait for 24 hours to get access to your account. Once the specified time passes, you'll be able to log in using the correct password. Keep in mind you can always reset it in case you forgot it by following these steps:
Visit the Roku login page
Select Forgot Password
Type in your email address to receive a link for resetting your password
Open your inbox and click on the link within one hour of receiving the email from Roku
Type in a new password and confirm it
If your account was suspended because you forgot to update your payment method, you can restore it by yourself doing the following:
Log in to your Roku account
Update your payment method to ensure it is current
Restart your Roku device
For all other issues, you should contact Roku Customer Support via chat, email, or phone. Another option is to opt for our app and let us send an appeal letter in your stead.
Get Your Suspended Roku Account Back With DoNotPay!
If you feel like you did not deserve to get suspended, you should use your right to appeal.
You have already turned to Roku Customer Service for help but are not getting a response? Don't worry—DoNotPay can step in and make sure your issue is solved as soon as possible.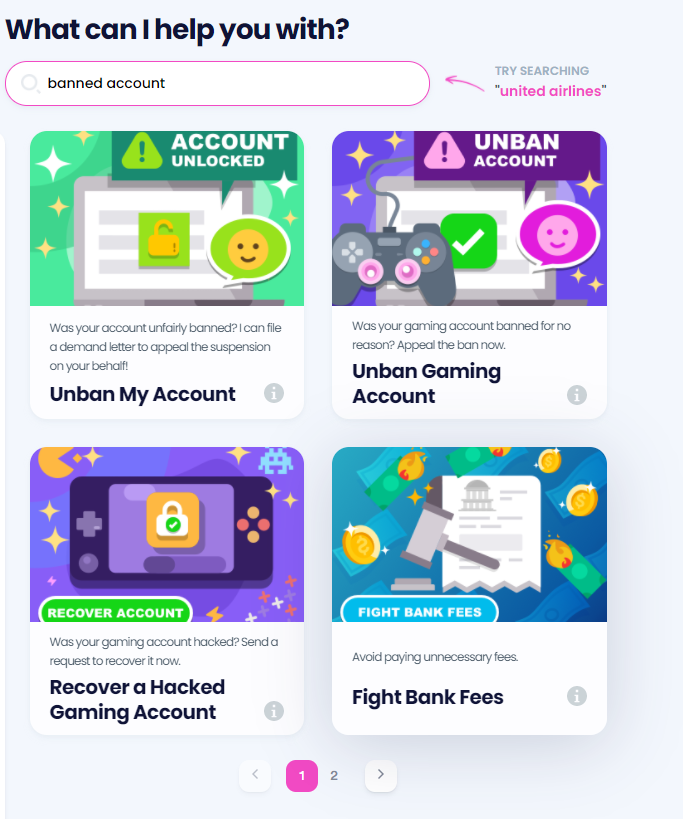 What you need to do is:
Find the Unban My Account feature
Provide us with the following info:

The name of the platform or company that suspended you
The date of your suspension
Your address
The cause for your suspension
The type of service you use (paid or free)
Your username

Tell us if you want a refund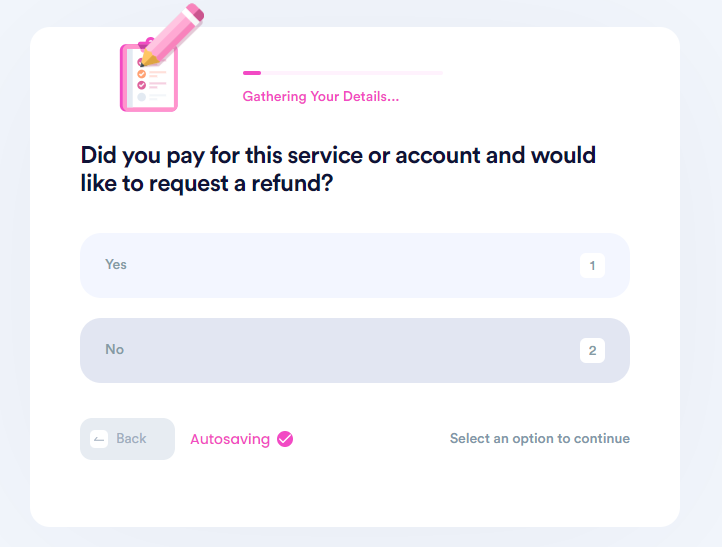 After you complete all the steps, sign the document with a digital signature. We will draft a personalized appeal letter and send it directly to Roku, giving the company a deadline of two weeks to solve the issue.
Keep in mind that there's no point for DoNotPay to send an appeal to Roku if you've already appealed and got a response that you need to wait for your suspension to expire. We can only help you with your initial appeal.
DoNotPay—The Best Solution for Appealing Suspended and Banned Accounts
Choosing DoNotPay to help you get unbanned on any platform is the safest choice because of the legal pressure we put on companies. If you've experienced issues with platforms other than Roku, we can help you solve them as well and answer the questions such as:
Why was my account suspended/banned?
What types of suspensions/bans are there?
How can I tell if I'm suspended/banned?
How can I appeal my suspension?
Check out our other guides on appealing suspended or banned accounts, which are linked in the table below:
Tackling Administrative Issues Has Never Been Easier
DoNotPay was created to help you deal with burdensome everyday tasks you would rather skip. The features we offer will make sure you can:
Dealing With Legal or Security Issues? DoNotPay Will Make Them Go Away
Has a company refused to issue a refund you are entitled to? Sue it in small claims court and get your money back with the help of the world's first robot lawyer! You can also turn to us if you want to protect your work from copyright violation, prevent stalking or harassment, or get virtual credit cards to avoid disclosing your credit card info.
Besides assisting you in seeking justice and security, DoNotPay can help you arrange DMV appointments, contest parking tickets, prepare divorce settlement agreements, and compose various legal documents.