Is Your PUBG Banned for No Reason? Your Appeal Process Is Smoother With DoNotPay!
In recent months, many players have had their accounts on PUBG banned for no reason. Game developers or platforms often don't retract bans on accounts, but this time, the company owned up to the bug-induced mistake and set out to make amends. They unbanned all mistakenly restricted accounts in a fairly short time.
If you believe your situation is similar and your account is suspended or banned without justification, here are a few pieces of advice on how to resolve the issue.
if you'd like to quicken your appeal process and receive a response in two weeks.
Why Is My PUBG Banned for No Reason?
The players can often make minor violations of the Terms and Conditions without knowing or noticing. Gaming companies are strict in this respect, and their ban decisions can be based on any unacceptable action stated in their T&C.
Here are some player behavior guidelines you may not have been aware of that can lead to an account ban:
Using any software to bypass or monitor the game's services
Making unauthorized changes to the game client, servers, or data
Employing cheats, macros, etc. created for other games
Using unauthorized hardware devices
Taking advantage of the game's bugs and glitches
Forming teams in ways that the PUBG system does not allow
Stalking other players
Manipulating game results by paying to gain an unfair advantage
Creating inappropriate, vulgar, obscene, discriminatory, offensive, copyright-protected, or misleading nicknames
Using inappropriate language, such as profanity, insults, or any form of verbal abuse (belittlement, mockery, or criticism of specific regions, religions, races, disabled people, etc.)
Obstructing normal communication on chat channels by flooding them with excessive and/or repetitive content
Selling accounts without PUBG's approval
Generating profit via game's services without PUBG's approval
Attempting any form of account, cash, or in-kind transactions through a nickname
Copying, duplicating, modifying, translating, publishing, or otherwise providing the information obtained through the game to others without approval from PUBG
Using your account for activities not related to the game, such as advertising, promotion, sales, or making a profit
How Can PUBG Get Unbanned?
Wondering if you can appeal your suspension or ban and what's the best way to get unbanned?
Unlike Steam, Xbox, or PlayStation that do not acknowledge appeals against account bans, PUBG differentiates between temporary and permanent bans. If the potential misconduct the system recorded wasn't a serious violation of T&C, you should be able to get your account back relatively quickly.
Whether you play on a mobile device, PC, Xbox, or PlayStation, the go-to way to contact PBUG support is via a ticket.
If you are playing on a mobile device, your app will offer a link for filing a claim. In case you are playing on your PC or any of the consoles, the easiest way to open a support ticket is to:
Visit the official PUBG website
Hover over the Support drop-down menu
Choose the platform on which you got banned from PUBG
Find the Submit a ticket link in the upper right corner
Fill out the required data in the contact form
Click on Submit
You Got Banned From PUBG for No Reason? Rely on DoNotPay To Make Your Complaint Top Priority for PUBG Support!
Going about your banned account complaint through the customer support system can be frustrating. Yes, gaming companies have millions of users, and you have to wait for days on end for a resolution.
DoNotPay's Unban Gaming Account tool can help you push PUBG's support to process your complaint letter sooner.
We create an effective unban demand driving the company to prioritize your case and reply within a two-week deadline.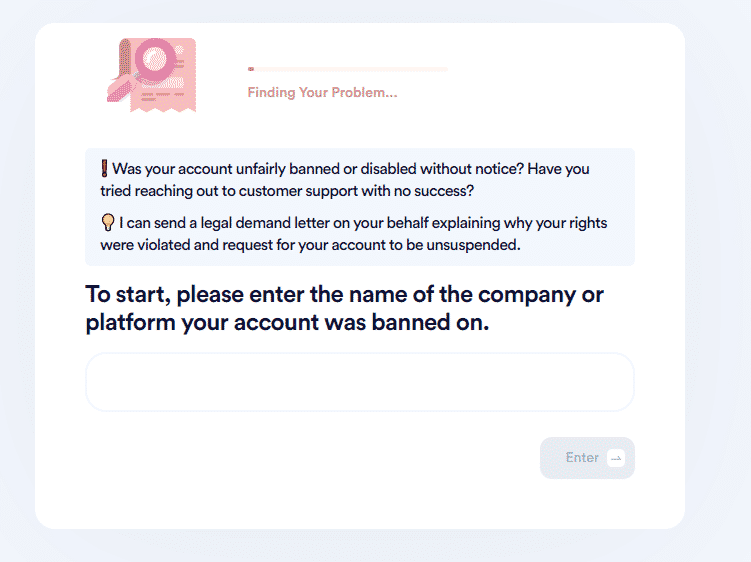 Here's how you can use the Unban Gaming Account tool to your advantage:
and tap Unban Gaming Account
Answer several questions regarding your PUBG-related problem, like:

Your ID and other account information
When your account got banned
Whether you made any payments to the company and whether you want a refund

Let us know if you feel you are being discriminated against (on the basis of religion, gender, race, etc.)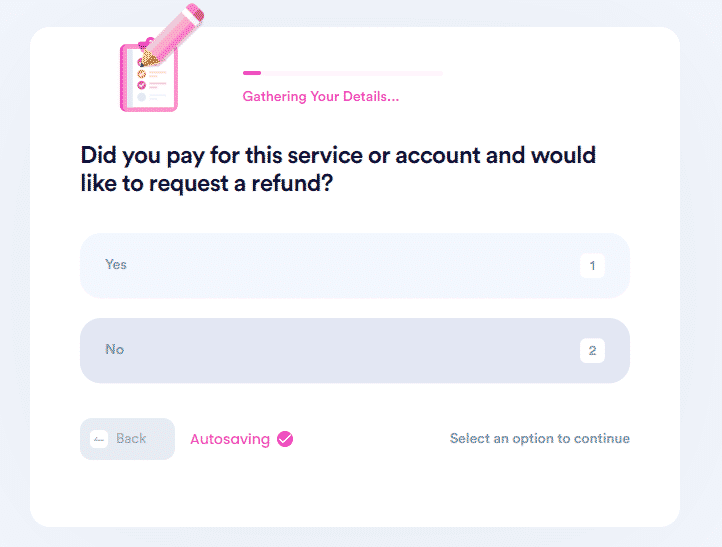 Our app will create a personalized complaint letter and send it to PUBG Corporation immediately.
DoNotPay Is Here To Help With Bans and Suspensions Regardless of the Platform
Besides PUBG, DoNotPay can help you appeal against bans in various other games, such as:
With our Unban My Account tool, you can appeal suspensions or bans on social media, online shopping, and many other platforms. Check out the table below for further details:
DoNotPay Is Committed to Solving All Kinds of Problems for You
Are you lost in the sea of administrative tasks? By subscribing to DoNotPay, you gain access to many products and features that can assist you in:
Check Out What Our Robot Lawyer Can Do for You
Not too skilled at drafting contracts and agreements? Keep calm and let DoNotPay, your virtual assistant, do it for you! Our app can generate various legal documents, including divorce settlement agreements, child travel consent forms, and powers of attorney. All it takes is to click a few times or answer several quick questions—we do all the rest!
Besides providing personalized documents, DoNotPay takes over other tiresome legal tasks. These include having your documents notarized, filing lawsuits in small claims court, requesting crime victims' compensation, or submitting HR complaints.