A Comprehensive Guide to Tennessee Homeschool Umbrella Schools
Tennessee homeschool umbrella schools are among the most popular homeschooling options in the state. Despite that, getting informed about them can be tricky, as there is a sea of opposing information online.
explains how to take out your kid from the public school and transfer them to this type of homeschooling painlessly. We also help you draft a letter of intent to homeschool to take some initial paperwork off your back!
What Homeschooling Types Are Available in Tennessee?
Parents who want to homeschool their children in Tennessee have three available options:
Starting homeschooling independently, which entails teaching the children themselves or finding an experienced educator
Enrolling the child in an accredited online school
Registering with a local umbrella school
What Are Umbrella Schools?
Umbrella schools are specialized educational institutions offering homeschool programs for children. They enable homeschooled students to comply with the educational requirements proposed by the local government. Some only assist in meeting those criteria and let parents coordinate the curriculum and other aspects of the program. Others provide specific teaching plans and materials, organize field trips, and offer testing methods. The concept is similar to traditional private schools.
These institutions are often operated by religious organizations or associations and must meet specific accreditation standards to become a proper homeschooling place.
What To Do Before Starting Homeschooling in an Umbrella School in Tennessee
Once you decide to homeschool your youngster, you must prepare for this transition and make it as smooth as possible. Here are some items you should add to your to-do list:
Step
Explanation
Decide what curriculum to use
Choose whether you want to determine the teaching method and curriculum or leave it to the school
Do thorough research
Tennessee has various umbrella schools all around the state. Find the local ones in your district and check:

Conditions
Flexibility
Number of required homeschooling classroom hours
Current curriculum type

If you know other parents of homeschooled students, ask them for advice and get first-hand recommendations. Homeschooling support groups and co-ops are excellent starting points

Check whether you need a letter of intent to homeschool
While some states don't require you to send the notice to the school that your child is switching to home-based education, others do. If you must notify the officials, submit the letter on time because your child might be considered absent or truant
Do Homeschool Umbrella Schools in Tennessee Have Specific Rules?
State laws regulate education in the U.S., but umbrella schools have much freedom in choosing the teaching methods and setting specific rules. They all have the following in common:
The schedule and attendance requirements are the same as in local public schools. In most cases, it's at least four hours per day during 180 school days
They must meet regular state vaccination standards
The Tennessee State Board of Education isn't allowed to influence the creation of their curriculums
Schools must keep attendance records
Choosing an Umbrella School in Tennessee
To determine what school is the best for your child, you must study the regulations and operating procedures of each institution. Here's what you should ask school officials before deciding:
What are the costs?
Is a statement of religious faith required? (for religious-based schools)
Do you or your child need to be a part of a specific organization to start homeschooling in the institution?
What kind of support does the school offer to homeschoolers?
What subjects and activities are available to the students?
Do you need to keep records, and what should you include in them?
Can homeschooling start in the middle of the current year, or do you have to wait for the beginning of the next school year?
How Can DoNotPay Help You Create a Notice of Intent To Homeschool?
Not all U.S. states require a letter of intent, but if they do, composing such a document isn't easy. The process can be time-consuming, but DoNotPay has come up with a practical solution!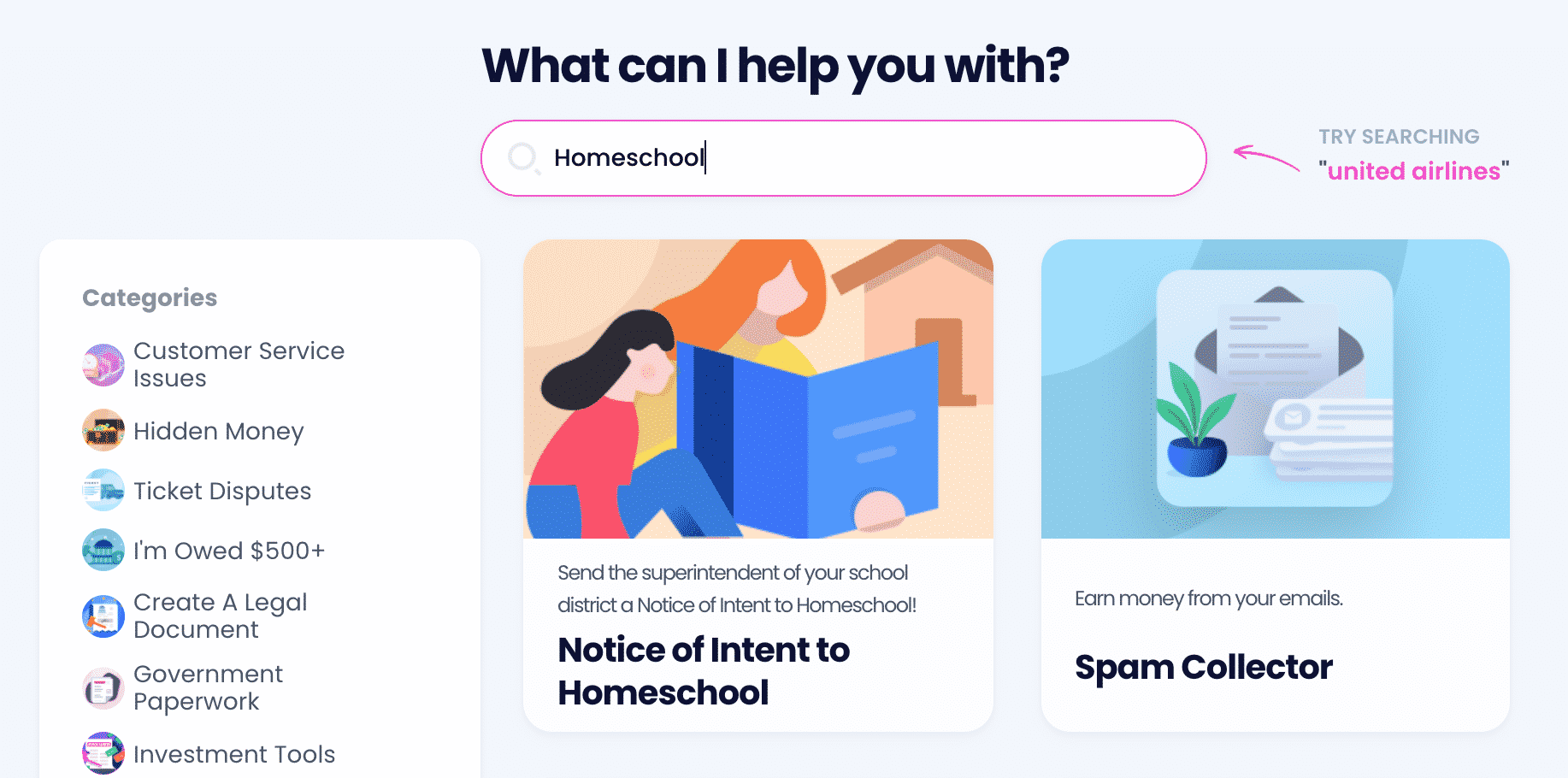 Our Homeschool Notice of Intent feature enables you to generate a letter of intent to homeschool in only a few taps. You don't need to draft even a single part yourself—provide us with the essential details, and we will take care of the rest. We can also help you have it notarized upon completion via our online notary partners.
Here's what to do:
Choose Homeschool Notice of Intent
Select your school district
Provide the relevant info about you and your child
We will send a PDF version of your letter for download or forward the notice to the appropriate institution on your behalf.
DoNotPay offers numerous helpful articles to help you figure out who can homeschool your child or what states are the best for homeschooling.
Don't Let Admin or Legal Issues Wear You Down—Hand Them Over to DoNotPay
Do you believe you may have some missing assets? Use DoNotPay's nifty product before the government claims them! Have you ever wanted to enter sweepstakes without purchasing anything? Our app will sign you up for them quickly! Trying to figure out how to reduce your property taxes or utility bills? DoNotPay can show you the way. Want to avoid getting charged for free trials that never fail to auto-renew into paid subscriptions? We'll help you cancel them before they expire.
Anything else you may need? Check out how our app can:
Check Out Our Other Robust Products
It doesn't stop there—DoNotPay can help you send a defamation demand letter, create passport photos, get gift card cash back, get any document notarized, request access to public records, claim insurance and warranty, request a college application fee waiver, appeal parking tickets, and much more.
Sign up now to get access to any of our products for one low monthly fee!