Contacting the Rutgers Financial Aid Office in Newark Made Simple
Are you thinking about applying to Rutgers University–Newark and need some information about financial aid? This guide will show you the easiest way to contact the Rutgers Financial Aid Office in Newark and answer the most important questions you want to ask!
How To Contact the Rutgers Financial Aid Office in Newark
You can contact the Rutgers Financial Aid Office in Newark in several ways:
Email—Use the support form on the Rutgers University–Newark homepage or write an email to newark_aid@ofa.rutgers.edu
Call—Contact the Office by calling (973) 353-1766
Text—Ask any questions by texting (973) 556-7779
What Types of Financial Aid Does Rutgers University—Newark Offer?
Rutgers University—Newark offers the following types of financial aid:
Scholarships
Grants
Loans
Work-study programs
Scholarships at Rutgers University—Newark
Students attending Rutgers University can receive scholarships based on either merit or need.
The University offers the following scholarships:
TheDream.US Scholarship
National Merit Scholarships/College Sponsored Merit Award
The New Jersey Student Tuition Assistance Reward Scholarship (NJ STARS) II
Francis B. and Paige D. L'Hommedieu Scholarships
Phi Theta Kappa Scholarships
Theodore J. and F. Elizabeth Kirsch Southern California Scholarship
Class Endowed Scholarships
The Chancellor Scholarship
Rutgers James Dickson Carr Scholarship
BA/MD Presidential Scholarship
RU-N to the TOP Scholarship
RUN Rising Scholarship
Rutgers University—Newark Grants
The following federal and state grants are available at the University:
Federal Pell Grants
Federal Supplemental Educational Opportunity Grant (FSEOG)
New Jersey Tuition Aid Grant (TAG)
The New Jersey Educational Opportunity Fund Grant
Disadvantaged Student Fund (for students of Rutgers Biomedical and Health Sciences)
State Aid for Undocumented Students
Loans at Rutgers University—Newark
You can opt for one of the following loaning options at Rutgers University—Newark:
Direct Subsidized Loan
Direct Unsubsidized Loan
Grad PLUS Loan
Parent PLUS Loan
Rutgers Newark allows students to take private loans, but they have to bring the required documentation to the financial aid office for processing so the loan shows up on their bill.
Rutgers University—Newark Work-Study
Rutgers University—Newark students who get the Federal Work-Study Program (FWSP) offer as a part of their financial aid package must complete a Federal Work-Study Job Application they got in their financial aid offer letter.
The school will then contact them with instructions on how to search for jobs. Students participating in FWSP can work both on- and off-campus.
The Job Location and Development Program (JLDP) offers students employment opportunities regardless of financial need. You can't apply for employment opportunities that:
Are based on volunteering
Occur at a private residence
Are advertised by a hiring agency
Require an initial investment by students
Are commission-based with no hourly rate of pay
Consist of payment for participation as a research subject
Students participating in either work-study program cannot work more than 20 hours per week during the academic year and 40 hours during breaks.
How To Apply for Financial Aid at Rutgers University—Newark
All you need to do to apply for financial aid at Rutgers University—Newark is to complete and submit your Free Application for Federal Student Aid (FAFSA) by the following deadlines:
Rutgers Priority Deadlines—January 15 for returning Rutgers students and December 1 for incoming ones
State Grant Deadlines—April 15 for renewal applicants and September 15 for non-renewal ones
How Much Aid Can I Expect To Receive From Rutgers University—Newark?
The amounts matter. If you want to find out how realistic your expectations about how much aid you can get are, check out the statistics below:
74% of incoming students
61% of first-year students with federal and state grants that average $5,523
68% of undergraduate students with an average amount of $12,772 in grants and scholarships
What Can I Do if Rutgers University—Newark Offers Insufficient Aid?
If the financial aid offer you received from Rutgers University—Newark doesn't cover your expenses, you can by writing a financial aid appeal letter.
DoNotPay makes filing an appeal much less of a hassle by generating a letter based on your information in a matter of moments!
Get More Aid From Rutgers University—Newark With DoNotPay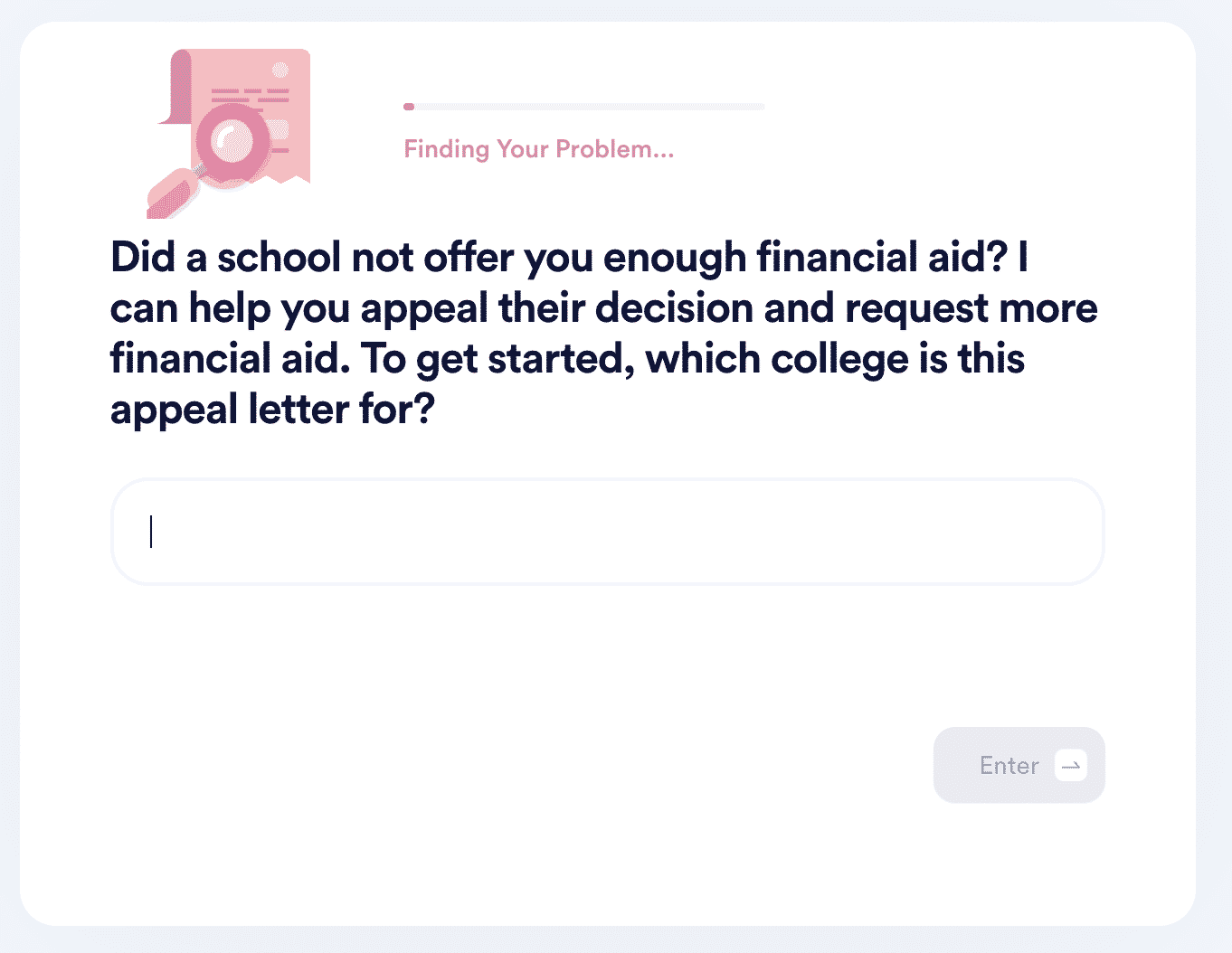 Follow these steps to generate your custom financial aid appeal letter and get more financial aid from Rutgers University—Newark:
Search for Appeal for More Financial Aid
Answer a couple of questions about your financial aid application and the response you got from the University
Choose between sending the letter directly to Rutgers or receiving it via email to print it out and hand it over yourself.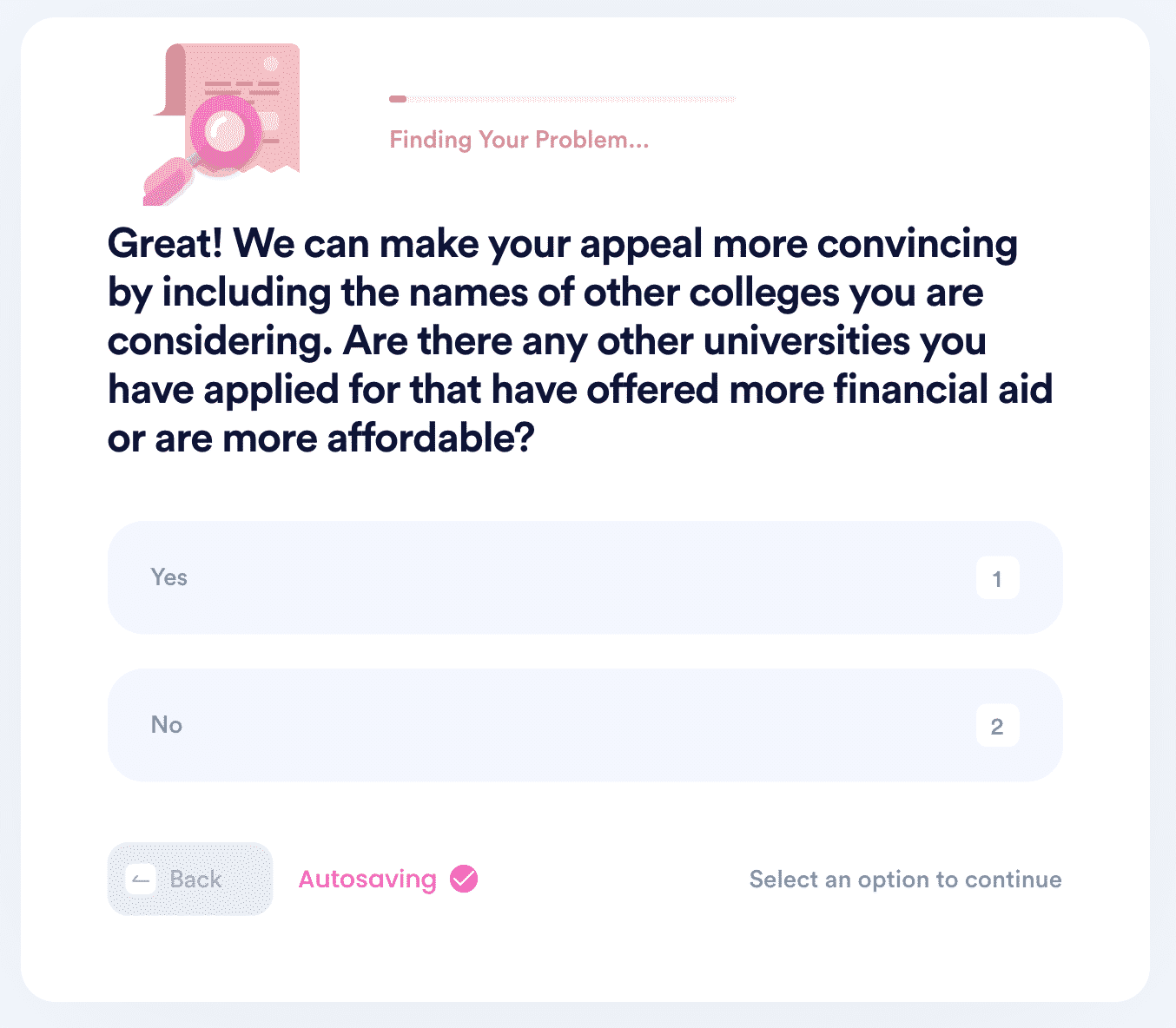 If you have more financial-aid-related questions, refer to our knowledge base. Some of the most popular questions we can answer include:
Explore Other Education Opportunities and Financial Aid Programs
If Rutgers isn't offering you enough funds, check out several other schools whose financial aid programs we wrote about:
Solve All of Your Bureaucratic Issues With DoNotPay
Do you need to file an insurance or warranty claim? Need help with setting up DMV appointments or appealing parking tickets around the U.S.? Don't worry because your AI-based helper can step in!
We can help you get professional powers of attorney and divorce agreements, so you don't have to waste money on expensive lawyers! Once we draw up these documents for you, we'll set you up with an online notary, and you can get them notarized in no time!
Subscribe to Various Services Hassle-Free With DoNotPay
Did you ever get charged by a subscription service after using their free trial? DoNotPay can put a stop to that once and for all! We can get you a virtual credit card or a burner phone number, which you can then use to subscribe to any service stress-free! When you want to cancel a subscription, turn to your virtual assistant for help, and we'll do it for you in seconds!
If the company is giving you a headache, we'll hook you up with their customer support or even sue them in small claims court. Possibilities with DoNotPay are endless!
DoNotPay can also turn mailing into a piece of cake and save your inbox from email and text spam!