Securing an Oakland University Scholarship Made Easy
All universities in the United States come with tuition fees that students have to pay, and Oakland University is no different. The costs of attendance at the University can be too high for students to pay on their own. Luckily, they can rely on many forms of financial aid available to them.
In this guide, we'll show you the best way to get an Oakland University scholarship and explain:
What types of Oakland University scholarships exist
What the application process looks like
How DoNotPay can help you discover and apply for scholarships in no time
College students at Oakland University—or high school seniors who intend to enroll there—can look forward to two types of scholarships and grants:
Merit-based
Need-based
Merit-Based Oakland University Scholarships
If you're a high-flying student who can prove academic merit, you can apply for merit-based awards. You can show your academic excellence by:
Getting a high GPA
Having impressive ACT or SAT scores
Being at the top of your class
Being recommended by your mentors or other prominent members of the University
Writing an essay on career goals and other topics
Submitting a resume of extracurricular activities and personal achievements
Oakland University runs programs for incoming freshmen and transfer students.
Scholarships for Freshmen
Check out this table to learn about some Oakland University scholarships dedicated to newcomers:
Scholarship Name
Eligibility Requirements
Yearly Award Amount
Oakland University Presidential Scholarship—Platinum

High school GPA of at least 3.9
SAT score of at least 1450
ACT score of at least 33

$12,000
Oakland University Presidential Scholarship—Gold

High school GPA of at least 3.9
1390–1440 SAT score
31–32 ACT score

$9,000
University Recognition Award

High school GPA between 3.0 and 3.84

$1,000
Talent Scholar Award

High school GPA of at least 3.8
1200–1290 SAT score
25–27 ACT score

OR

3.7–3.79 high school GPA
SAT score of at least 1200
ACT score of at least 25

OR

High school GPA of at least 3.9
Test scores not required

$3,500
Geographic Region Award

High school GPA of at least 3.0
Residents of Michigan counties, excluding Macomb and Oakland
Living in University housing

$1,500
Transfer Student Programs
If you're joining the University from a different college, you can find information about Oakland University transfer scholarships in the following table:
Scholarship Name
Eligibility Requirements
Yearly Award Amount
Presidential Transfer Award

College GPA of at least 3.8
At least 56 transferable credits
Must be coming from a Michigan community college

$5,000
Nonresident Award
In-state tuition rates
Phi Theta Kappa Award

College GPA of at least 3.5
At least 24 transferable credits

$2,500
Talented Transfer Award

College GPA between 3.0 and 3.49
At least 24 transferable credits

$1,000
Need-Based Oakland University Scholarships
If you can't meet the criteria for a merit-based Oakland University scholarship but can prove you're facing significant financial difficulties, you can obtain a need-based grant. You have to fill out the Free Application for Federal Student Aid (FAFSA) form or create the College Scholarship Service (CSS) Profile to do that.
This way, you can demonstrate your Expected Family Contribution (EFC), which is what grant providers take into account when deciding on your eligibility. Need-based awards for Oakland University students include:
OU Transfer Grant
Federal Pell Grant
Federal Supplemental Educational Opportunity Grant (FSEOG)
Michigan Gaining Early Awareness and Readiness for Undergraduate Program (GEAR UP)
Michigan Tuition Grant
Finding the Perfect Oakland University Scholarship
Oakland University scholarships come from three main sources:
The University
Federal and local government
Companies and private donors—outside scholarships
Outside programs offer help to students of all levels of study—undergraduates, graduates, and doctoral students. The best way to secure an award is to find a scholarship that suits your student profile the best. Financial aid programs cater to various groups of students, such as:
The research process for scholarships is a tiresome task, and you will need to invest a lot of time and energy in it. To optimize your hunt, you can begin searching in some of the following places:
You can use DoNotPay to bypass the entire research process and get a personalized list of all scholarships you're eligible for. and answer a few questions, and we'll do the legwork.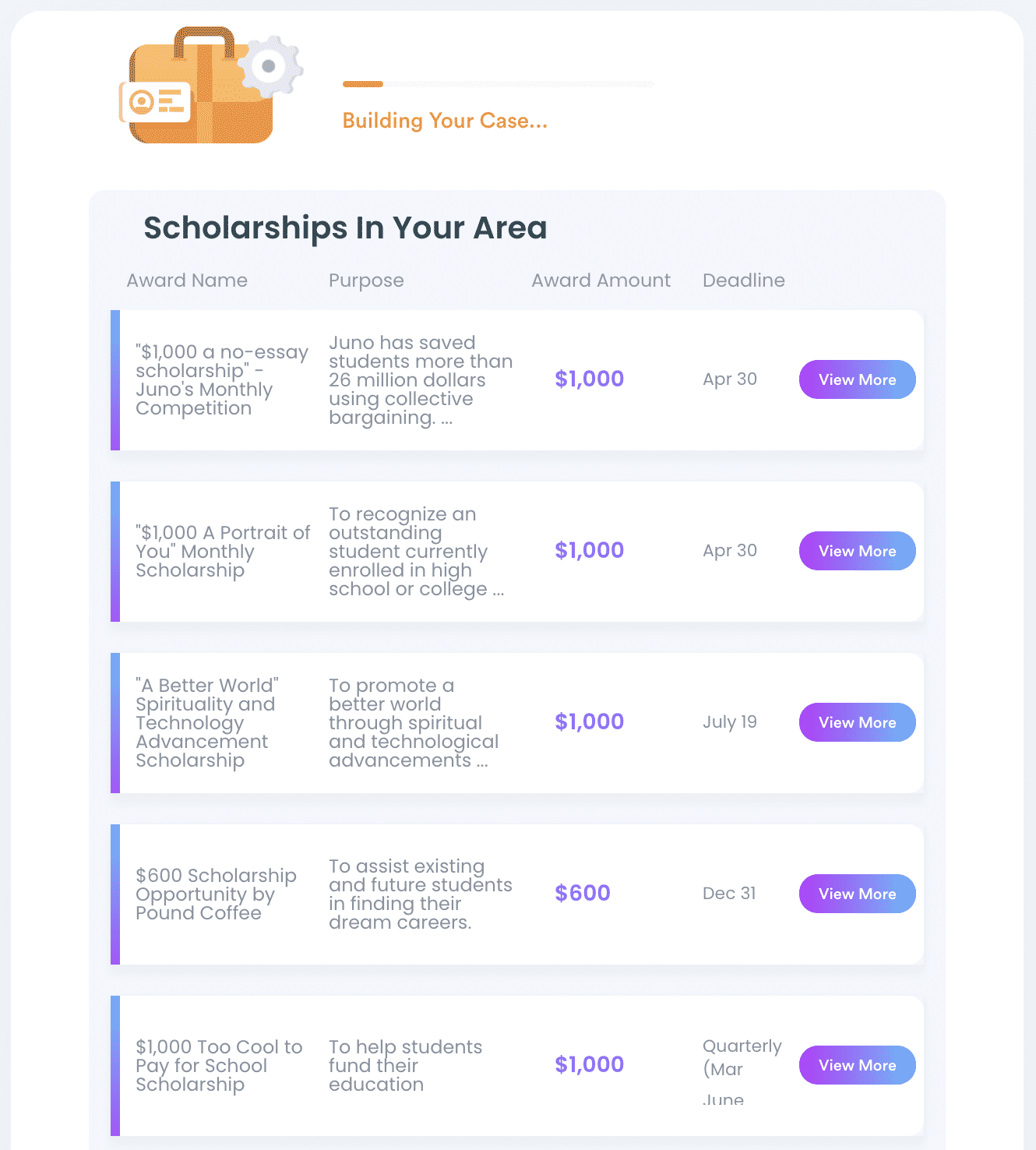 How To Apply for Oakland University Scholarships
The application process varies from one award to another, depending on the requirements the providers ask for. In general, you should always make sure:
You're eligible for the award
The deadline hasn't passed
You have prepared all the necessary paperwork
Using DoNotPay To Search and Apply for an Oakland University Scholarship Effortlessly
If you search for Oakland University scholarships the traditional way, you can spend weeks or even months and still not find out about the full extent of the opportunities you're eligible for. With DoNotPay, you will learn about all available scholarships for which you meet the requirements in under five minutes.
You only need to:
via any browser
Navigate to the Apply for Scholarships product
Answer a few questions about your academic performance and financial standing
Choose the type of scholarship you're interested in
With the information you provide, our app will generate a list of scholarships and include all the necessary information about the requirements, deadlines, and award amounts.
If the list contains no-essay scholarships, you can apply directly within the app. You just need to select which ones interest you, and we will apply on your behalf.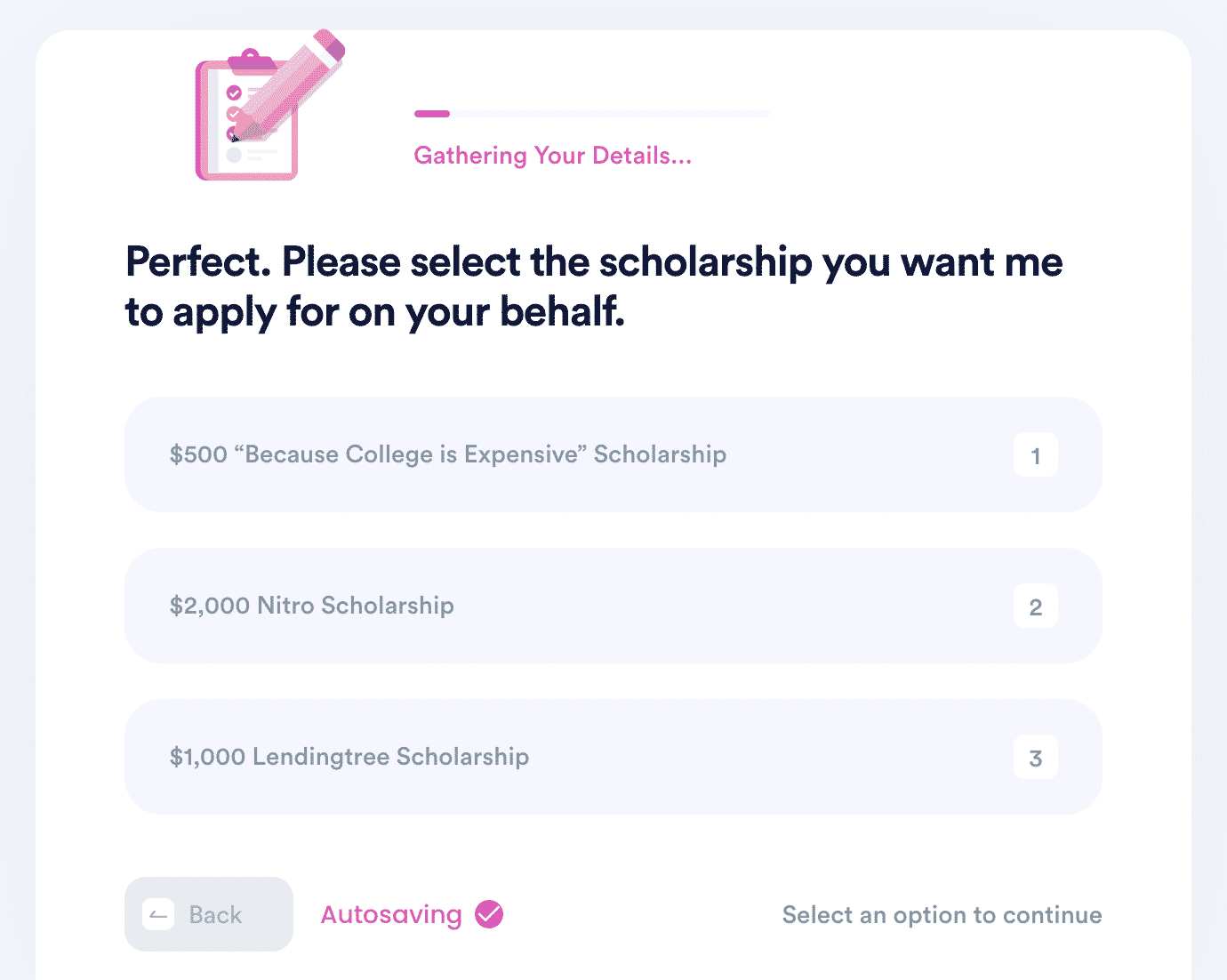 DoNotPay Turns Any Tiring Task Into a Piece of Cake
Are you tired of dealing with bureaucratic or legal matters on your own? You no longer have to—as soon as you subscribe to DoNotPay, we'll take any exhausting task off your plate.
Our app is capable of drawing up legal documents—including marital settlement agreements, child travel consent forms, powers of attorney, defamation demand letters, and affidavits to homeschool—getting them notarized remotely, filing complaints against companies, suing any individual or corporation in small claims court, sending FOIA requests, and so much more.
The World's First Robot Lawyer Offers So Much More
DoNotPay's capabilities don't end there—we can also:
Help you get a tourist visa