The Breakdown of the Oakland University Financial Aid
Oakland University distributes over $150 million in financial aid every year. You can be one of the lucky students who get monetary help if you know how to approach the financial aid application.
The tuition of about $27,000 a year is a burdening cost. Receiving funds from the school can help you get the education you deserve stress-free.
DoNotPay will tell you everything you need to know about the Oakland University financial aid. We'll even help you appeal a disappointing offer if you sign up for our app.
Oakland University Financial Aid Types
Students who plan to enroll at Oakland University or attend one of its programs have a chance to fill the financial gap with:
Scholarships
Grants
Loans
Work-Study Programs
The State of Michigan also offers financial aid, which you can review on its website.
If you want to get an estimate for how much financial assistance you can get, use the OU Net Price Calculator. The tool will ask you to provide information about your:
Nationality
Living arrangement
State
Country
Age
Marital status
GPA
STA score
Expected Family Contribution (EFC)
Scholarships
The school offers scholarships based on academic achievement, and they don't require repayment. The available scholarships are:
Platinum Presidential Scholar Award
Gold Presidential Scholar Award
Distinguished Scholar Award
Talented Scholar Award
Academic Achievement Award
University Recognition Reward
Geographic Region Award
Non-Resident Award
Grants
Grants are awarded based on students' financial needs. They also don't need to be paid back. The available types of grants are:
OU grants

Golden Grizzlies Tuition Guarantee
Golden Grant
Housing Grant

Federal grants

Pell Grant
The Federal Supplemental Educational Opportunity Grant (FSEOG)
Loans
Your financial eligibility determines whether you'll get a loan. You must repay it with interest. The loans you can consider are:
Federal loans

Student loans
Parent loans

Private loans
Work-Study Programs
The federal work-study programs help students find on-campus employment. They are delegated in accordance with financial need and on a first-come, first-served basis. You can review your employment options on the Handshake page.
What Makes a Candidate Eligible for Oakland University Financial Aid?
Federal student aid has certain eligibility requirements that students must meet for any type of monetary help. You can apply for financial aid if you:
Show financial need
Are a U.S. citizen or an eligible noncitizen
Have a valid Social Security number
Are enrolled or accepted as a regular student of an eligible program at a college or university
Have a high school diploma or an acceptable equivalent
Are registered with Selective Service—if you're a male between the age of 18 and 25
How To Apply for Financial Aid at Oakland University
To get a financial aid offer, you first need to apply by taking these steps:
Apply for admission
Create an FSA ID
Complete the Free Application for Federal Student Aid (FAFSA) form (use the code 002307)
When do you need to apply for financial aid? For the 2021/2022 year, the deadline is June 30, 2022.
Oakland University Financial Aid Office Contact
If you need assistance with any part of your application, contact the Financial Services staff by:
Going to their office located in:
North Foundation Hall, Room 120
318 Meadow Brook Road
Rochester, MI
Calling them at (248) 370-2550
Sending an email to finservices@oakland.edu
They are available from Monday to Friday, 8 a.m.–5 p.m.
How To Check the Status of Your Financial Aid Application at Oakland University
Once your offer is put together, the University will send you an email with instructions on how to view it. The award will show your net cost and the amount of aid the school can provide.
You can also check your financial aid award status by going to MySAIL and logging in with your NetID.
What if the Financial Aid Offer Doesn't Meet Your Needs?
Do you want more financial aid, or did your application get rejected? You can appeal the University's decision. This applies to institutional financial aid—not federal, state, or private offers.
The appeal process goes as follows:
The student writes an appeal letter to the Director of Financial Aid
The Director investigates and revises the issues
The Director can ask for additional information if necessary
The student needs to provide the requested information by the set deadline
The student will receive a response within 14 days
If you want your appeal to have a chance, you need to write a convincing letter—DoNotPay can help you with that!
Get the Offer You Want With DoNotPay!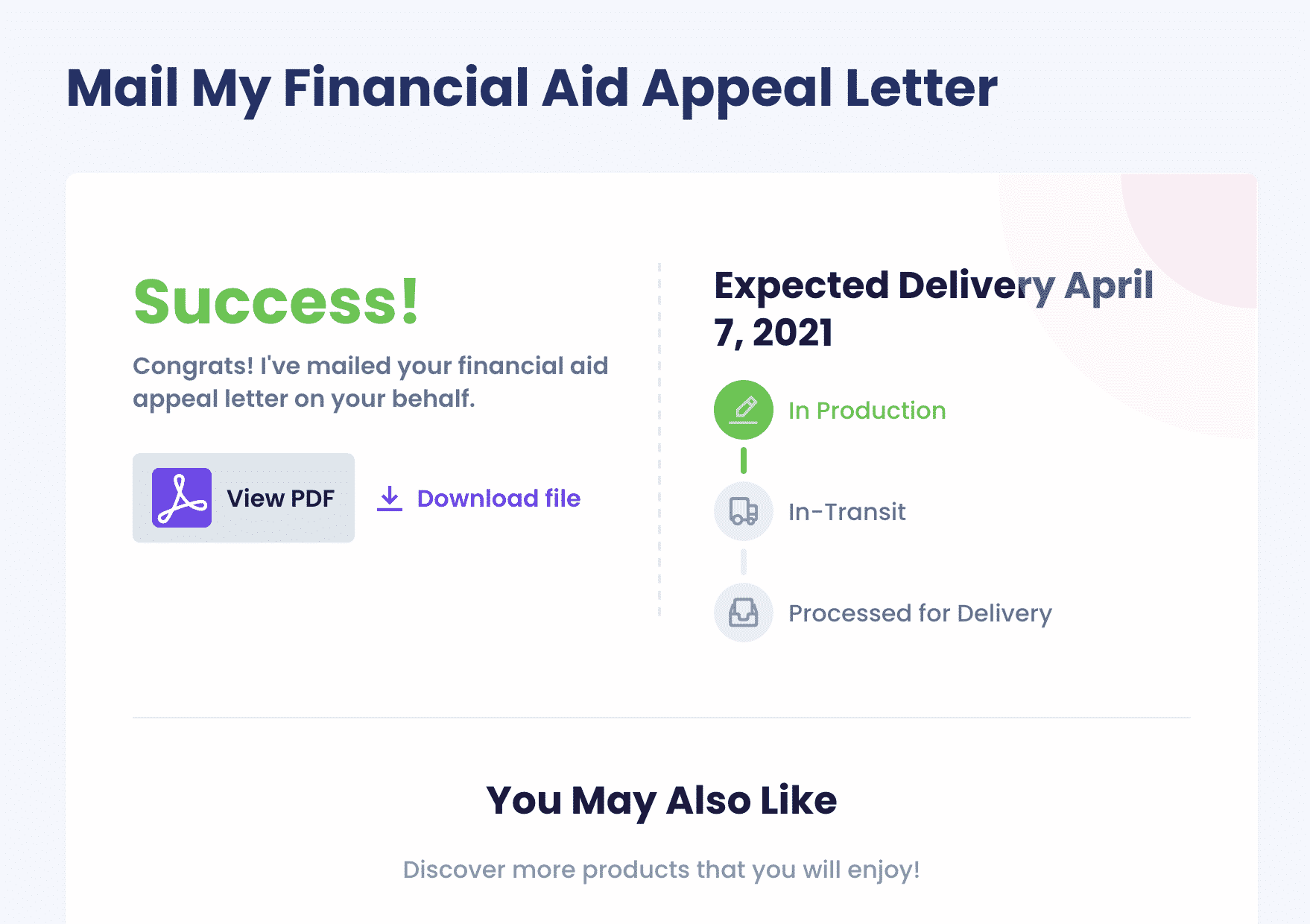 Our app can create a comprehensive appeal letter and save you a ton of time if you:
Go to the Appeal for More Financial Aid product
Provide information about your reasons for appeal, your family's current financial situation, and other offers you've received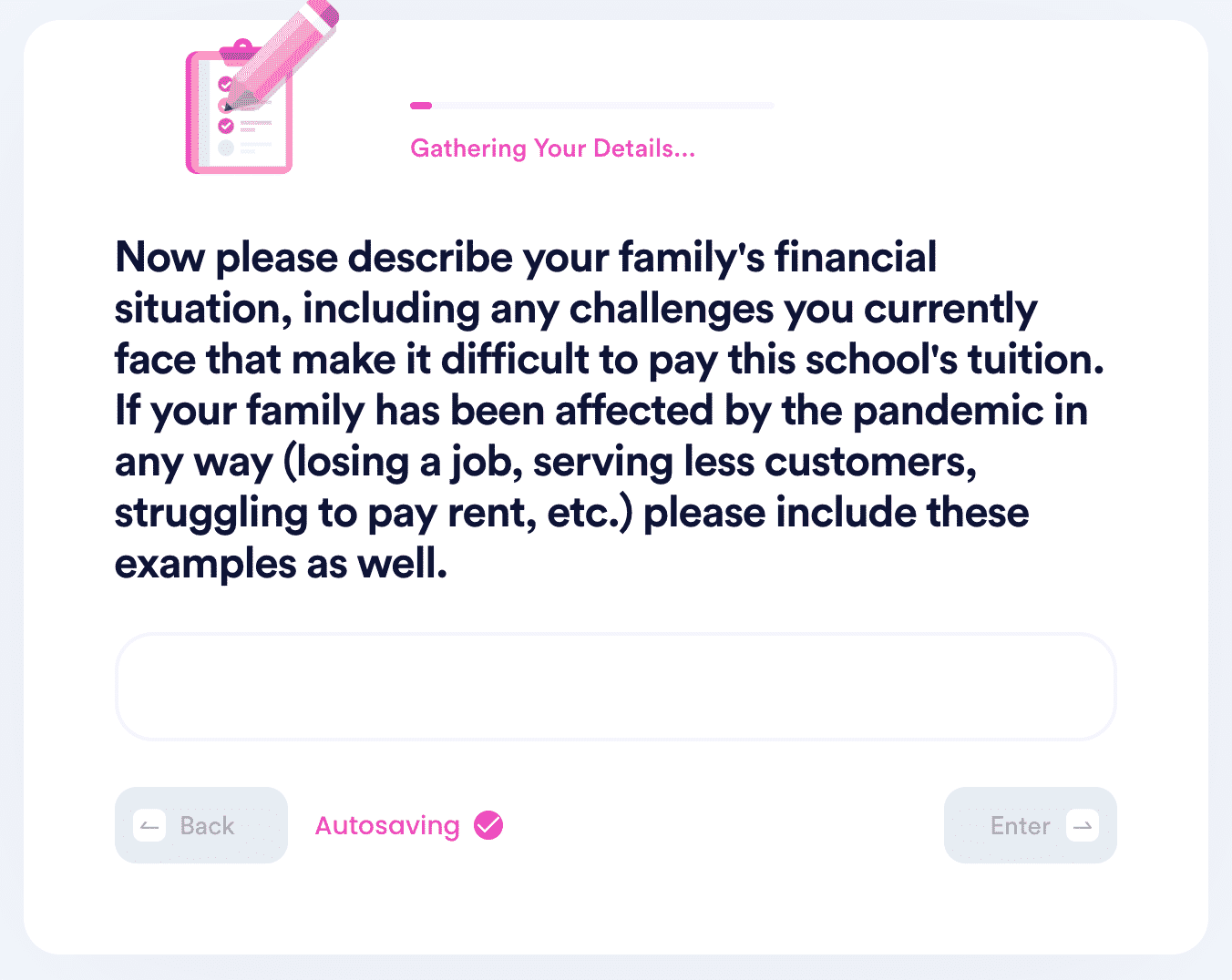 DoNotPay will generate and send the letter in a flash! You can also choose to get the letter sent to your email and mail it to the University yourself.
DoNotPay Can Help You Understand How Financial Aid Works
Do you have any other questions about financial aid? We can help you figure out how long you can receive financial aid and whether you can get financial aid in grad school.
Our knowledge base can also guide you through the financial aid programs of various prestigious schools:
DoNotPay Is an App for Everyone
Whether you need help with drafting paperwork, searching through government databases, or managing your bills, DoNotPay has a feature that'll make your life easier. The number of features keeps growing, and you can check out a table showcasing some of them:
| | | |
| --- | --- | --- |
| Solving Legal Issues | Saving Money | Protecting Privacy |
| | | |
Get More Done With Our Do-It-All Platform
DoNotPay can take care of any daily hurdle you come across. For a small yearly subscription fee, you get access to various features that you'll find handy on a daily basis. Besides everyday chores, signing up for DoNotPay will help get you:
The list could go on for days. You can even get in touch with an inmate or fight for discrimination at your workplace!