Discover the Easiest Way To Connect With an Online Notary in Tyler, TX
Since the traditional notarization process is impractical and usually time-consuming, most states—including Texas—allowed their residents to have their documents notarized remotely. If you'd like to get your contracts notarized by an online notary in Tyler, TX, in a few steps, you should . We will connect you with a remote notary in Texas and help you get documents notarized in a flash!
Duties of a Notary Public in Tyler, TX
Notaries in Tyler, Texas, are authorized by the state to perform the following acts:
Taking proofs and

acknowledgments

Taking depositions of witnesses

Administering oaths and affirmations

Certifying copies of documents

Protesting notes and bills
People in Texas usually need notaries public to verify signatures on various documents, including:
Without notarization, these documents don't carry any legal weight.
Texas Notary Fees Explained
The State of Texas limits the highest amount that notaries can charge for notary services, as well as travel and location fees:
Notary Service
Travel Fees
Location Charges

Taking proofs and acknowledgments—$6 for the first signature and $1 for each additional signature

Administering oaths and affirmations—$6 per document

Taking depositions of witnesses—$0.50 for 100 words

Swearing witnesses to depositions—$6 per witness

Notarizing copies of documents—$6 per copy

Protesting bills or notes—$4 per document and $1 for every additional notice of protest

Protesting in other cases—$4

Travel fee—$25

Each mile—$1

After hours notarization (from 6 a.m. to 9 a.m., from 6 p.m. to 9 p.m., and on weekends)—$30

Late-night and emergency notarization (from 9 p.m. to 6 a.m.)—$60

30 minutes in hospitals and nursing homes—$50

One hour in jails and detention centers—$100

An hour of waiting time—$45

DFW Airport terminals—$75
Texas notaries are obligated to display their fees in the office or on the website and inform the clients about the total cost before notarization.
Notarization Options in Texas
Residents have a few options to choose from when it comes to document notarization in Texas. They can visit a standard or electronic notary, hire a mobile notary, or rely on an online notary platform.
Standard Notarization
Standard notaries notarize documents in their offices. Most notaries in Texas perform this type of notarization. The procedure can be rather tedious since it includes the following steps:
Finding a Texas notary

by issuing a "notary nearby" query on Google, using

123notary.com

or a similar website, or visiting one of these places:

Making an appointment a few days in advance

Showing up in the notary's office with your documents

Providing your ID

Telling the notary that you know what you're signing and that you're signing the documents voluntarily

Paying

notary fees

Signing the contracts in front of the notary public

Waiting for a notarial certificate marked with

notary signature

and official stamp
Electronic Notarization
Electronic notarization requires the same steps as the traditional one as you have to appear in person. The only difference is that e-notaries notarize documents in digital form, while standard notaries notarize paper documents. Your contracts will be marked with a notarial certificate, signature, and stamp in digital form.
Mobile Notarization
If you need to have your documents notarized in a cafe, hospital, or your home or office because you're unable to visit a notary, you should hire a traveling notary. Besides meeting the regular notary fees, you will also need to pay a fee for travel costs. The notary you choose will inform you about the total amount of the notarization before scheduling a meeting.
Online Notarization
Remote notarization allows you to get your contracts notarized from the comfort of your home, which can help you save a lot of time. Once you sign up for one of the online notary platforms, you'll be connected with a notary via a video call. He or she will verify your identity, witness the signing virtually, and provide a certificate in digital form.
Bear in mind that most platforms charge a pretty penny for each document notarization. They can also be complicated to navigate, which can make them more complicated than the traditional procedure. The good news is—you can rely on DoNotPay as it is one of the most practical and time-efficient online notary platforms on the market.
Find an Online Notary in Tyler, TX, in a Few Easy Steps With DoNotPay
Do you like the idea and convenience of online notarization, but you don't want to spend too much money? DoNotPay has a product for you! We created the Notarize Any Document product to help the citizens of Tyler or any other city in the U.S. find a remote notary stress-free.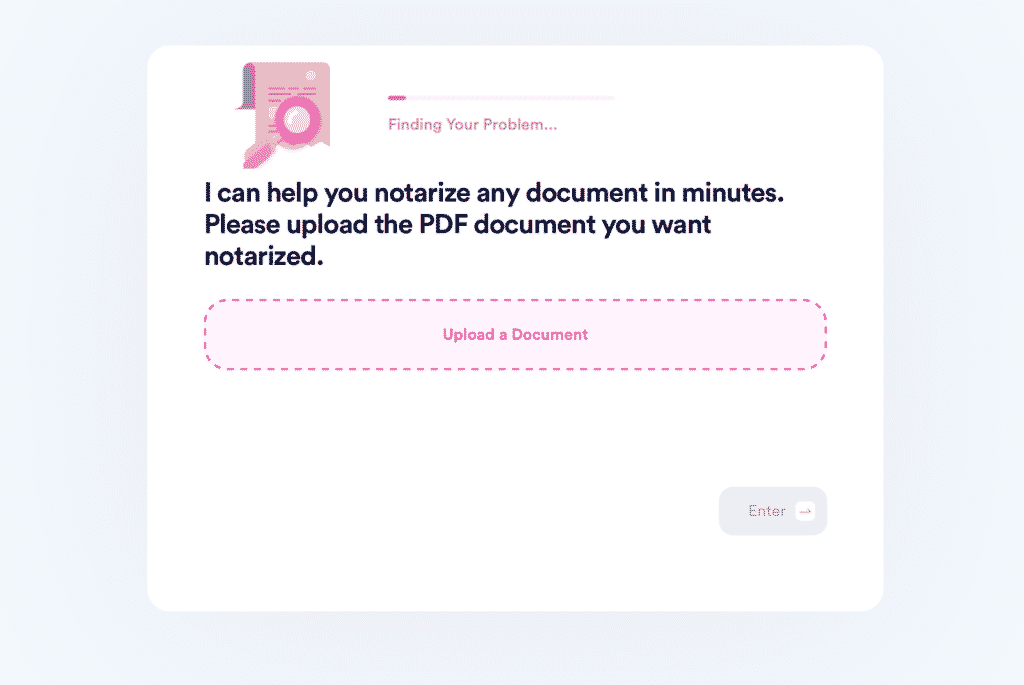 To get your documents notarized from your PC, smartphone, or any other device in under five minutes, follow these simple steps:
Choose the

Notarize Any Document

product

Upload your document

Enter your email address

Open the email you receive from DoNotPay and click on the link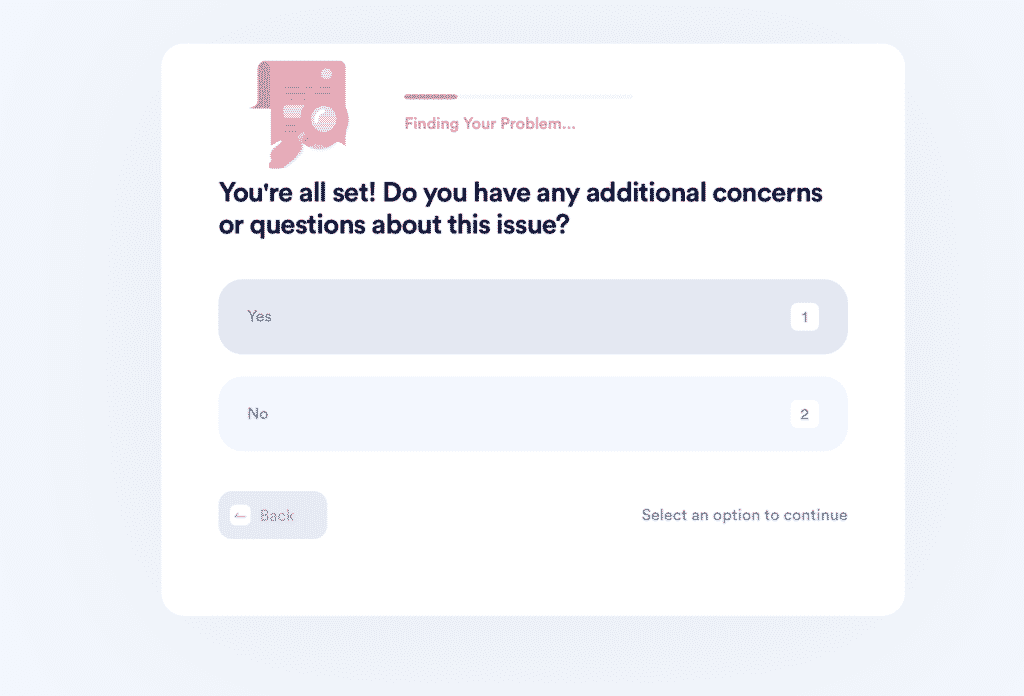 You will be taken to a webpage that enables you to make an appointment with one of the 24/7 notaries. With DoNotPay, the entire notarization process will take a few minutes, whether you're looking for a notary in Tyler, TX, or another city or state, including:
Write Legal Documents With DoNotPay and Save Time and Money!
Apart from making the notarization process a child's play, DoNotPay also helps you draw up various legal documents in two minutes without hiring a lawyer. With us, you can create a bill of sale, non-compete agreement, independent contractor agreement, or any other contract and get it notarized through the same app! Resolve all your administrative hurdles quickly and effortlessly with DoNotPay.
Clear Your Schedule With the Help of DoNotPay
DoNotPay is renowned for making our users' lives infinitely easier. Not only can we root out unwanted subscriptions for you—you don't need to do it manually one by one any longer—but we can unsubscribe you from unwanted email and snail mail lists.
Fire up our app and let it navigate the phone tree instead of you or use it to make a DMV appointment at your earliest convenience. Forget about googling clinical trials near you—DoNotPay can sort them out according to your needs and their individual eligibility criteria.
We can fill out the paperwork that you need to file at your local small claims court to initiate a dispute. You can work around the U.S. penal system and have DoNotPay locate an imprisoned loved one instead of you trying to reach individual prisons attempting to do it yourself.
You don't need to go to great lengths to get in touch with a counselor to sign your college fee waiver either—DoNotPay does it for you and then forwards the necessary documents on your behalf.
DoNotPay Never Ceases To Amaze
Where there's one useful feature, there are nifty features galore!
Use our Virtual Credit Card to sign up for free trials and stop robocalls and spam text messages from reaching your phone. If you feel a free trial unrightfully turned into an expensive paid membership, we can help you request a refund or chargeback for the inconvenience.
We can further assist you in exercising your consumer rights by making a warranty claim in your place and verifying your online accounts with temporary phone numbers.
We can also break down the Freedom of Information Act for you and introduce you to online fax options and property tax reductions.