Is Going to a Notary in Wilmington, NC, in Person the Only Option You Have?
Document notarization is not a fun activity, but getting your contracts notarized is necessary if you want them to carry legal weight. While North Carolina doesn't allow remote notarization, visiting a notary in Wilmington, NC, doesn't have to be your only solution.
DoNotPay is here to tell you all about online notaries and provide the best option for contract notarization. to learn how to get your documents notarized in two minutes from your preferred device!
How To Find a Notary Public in Wilmington, NC
Before heading over to a notary office to get your documents notarized, you need to find an available notary and schedule a meeting. You can look for a notary in Wilmington by:
Searching for the nearest notaries on Google

Using various websites, such as:

Visiting one of the places that offer

notary services

, including:
North Carolina Notary Options
These are the available notary options in North Carolina:
| | |
| --- | --- |
| Notary Options in NC | Description |
| Standard notary | Regular notaries work in their offices and notarize paper documents in person. If you choose to get your contracts notarized by a standard notary, you need to gather all your documents and bring them to the notary's office, which can be bothersome |
| Mobile notary | If you don't have time to go to a notary's office, you can schedule a meeting with a mobile notary. He or she will come to an agreed location (your home, office, nearby cafe, or similar) to notarize your contracts |
| Electronic notary | E-notaries perform notarization of documents in electronic form. This means that you still have to head over to a notary's office, but instead of bringing your documents, you can send them via email |
While most states in the U.S. allow remote online notarization, North Carolina citizens don't have that privilege. Online notarization in NC was available only during 2020 and the first two months of 2021 because of the COVID-19 pandemic. As of March 1, 2021, all notarizations must be performed in person.
What Is a Notary in North Carolina Authorized To Do?
Notaries in Wilmington and other cities in North Carolina can perform the following notarial acts:
Administer oaths and affirmations

Take

acknowledgments

Execute proofs or verifications
Once you show up for your appointment with the notary, he or she needs to:
Verify your identity

Make sure you're familiar with the contents of the document

Determine whether you're signing the document willingly

Ensure there are no missing pages or blank spaces in your document

Witness the signing of the document

Write a notarial certificate that includes valuable info regarding the performed act and a

notary signature

and stamp
How Much Can NC Notaries Charge?
North Carolina notaries can't charge more than $5 per signature or more than $10 per signature for electronic notarization. As opposed to mobile notaries public in most states, traveling notaries in NC can't charge travel fees.
The Flaws of the Traditional Notarization Process
The standard notarization process in any state—including North Carolina—is usually annoying and time-consuming. The entire procedure can take a few days, which is too long, considering that most people need to have their documents notarized as soon as possible.
The process becomes even more tedious if you make a mistake or forget your ID because it means that you have to schedule another meeting and wait even longer. That's why many states decided to allow online notarization since it is the most convenient solution for both notaries and their clients.
You can have your documents notarized remotely by a notary from another state even if you're a North Carolina resident, and DoNotPay will tell you how!
Get Your Contracts Notarized From the Comfort of Your Home—Rely on DoNotPay
DoNotPay has created a handy product that will connect you with a remote notary from another state to help you get your documents notarized in minutes. Some of the states that allow online notarization are: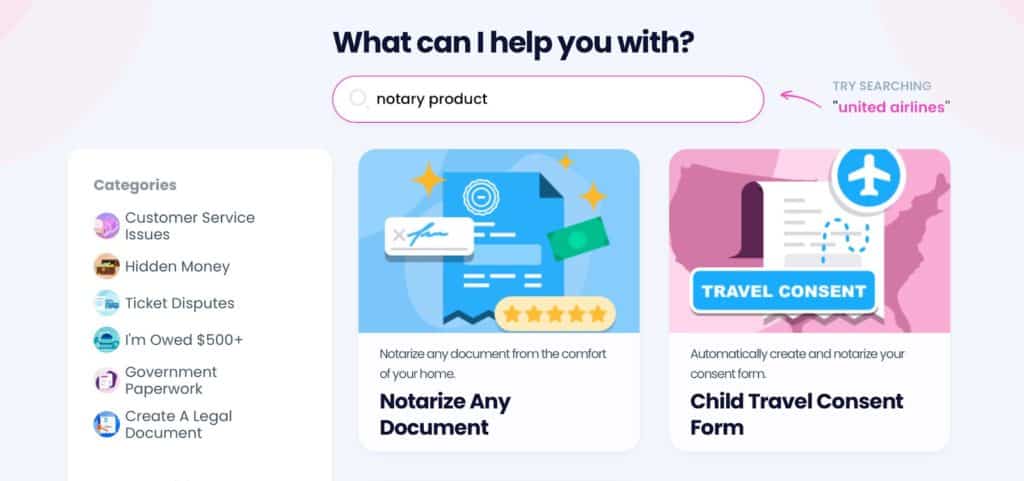 With us, you can get any document—including wills, affidavits, car titles, and similar—notarized in a few clicks from your tablet, smartphone, or any other device. To try out our product, and follow these steps:
Open our

Notarize Any Document

feature

Upload your document

Open the email we send you

Schedule a meeting with an online notary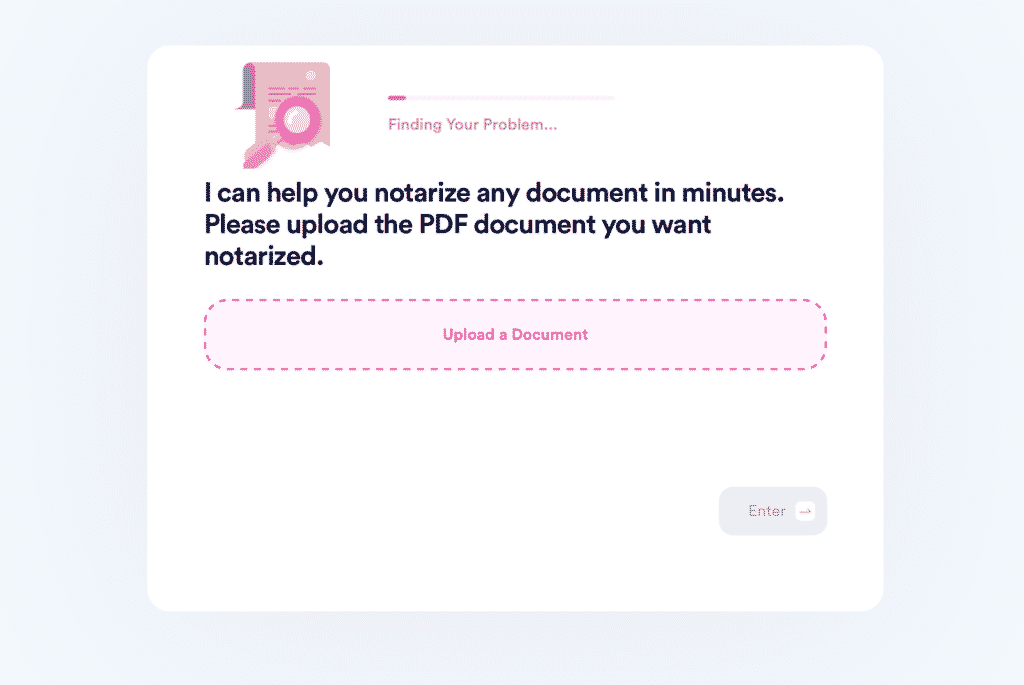 When we connect you with one of the notaries, he or she will witness your signature virtually (via a video call) and provide a notarial certificate. You can use our product wherever and whenever you want as the notaries we connect you with operate 24 hours a day.
If you need help creating legal documents before having them notarized, you can use our app for that too. Draw up lease agreements, bills of sale, business contracts, or any other document in two minutes and get them notarized through the same app!
What Else Can Our Award-Winning App Do for You?
If you think that's impressive, wait until you've heard about other features we boast!
Our powerful app can draft paperwork for you, locate unclaimed funds under your name, cancel subscriptions, sue robocallers, and protect you from stalkers and harassers—all in one nifty browser app!
Our services have been recognized by the esteemed ABA Brown award, serving as a testament to our abilities to assist you with your small claims issues, college fee waivers, public records, copyright protection, and much more!
More Benefits of DoNotPay
DoNotPay is a useful tool for handling many otherwise annoying life's trifles, including: