A Guide to Understanding Fresno Notary Services
Whether you need a notary's signature for your contract, translation, or affidavit, you must go through a lengthy and often frustrating process to get it. To ensure a successful notarization, you should learn how the procedure works.
DoNotPay will answer all your questions about Fresno notary services and help you find out more about location-specific notary options. We can also teach you how to arrange a meeting with an online notary in a snap and have your documents notarized digitally!
How Much Can a Fresno Notary Public Charge?
According to Section 8211 of the California Government Code, notary fees in Fresno shouldn't exceed the predetermined maximum costs shown in the table below:
| | |
| --- | --- |
| Services | Maximum fee |
| Acknowledgment or proof of a deed | $15 for each signature |
| Oath or affirmation | $15 per signer |
| Jurat | $15 |
| All deposition-related services | $30 |
| Signatures on vote by mail ballot identification envelopes and other voting-related materials | Free |
| Power of attorney | $15 |
| Pension, compensation, or insurance applications for veterans | Free |
How To Find a
Notary Public in Fresno
You can use several search methods to find a notary public in this city, including:
Combing through local yellow pages

Using online notary locators, such as:

Checking out business review websites, such as

Yelp

Flipping through Californian

notary public listing

Contacting the institutions and companies that employ notaries, including:
How Does a Notary in Fresno Perform Notarization?
All notarization procedures in Fresno must comply with California notary-related rules. Here's a table explaining each phase:
Steps

Details

Finding a notary public near you

Scheduling an appointment with the notary

Most companies and notary offices allow you to book a meeting via phone or online

Meeting with the notary and confirming your identity

If you choose regular notaries, you must show up at their office in person

Should you opt for a mobile notary, they will come to your preferred location

You must provide a valid ID and the original document that requires notarization

Verifying the document

The notary must confirm that you are signing the document of your own free will and that no one forced you to do it

They must revise your document to check if it meets the state-specific notarization requirements

Signing the document

The notary must be present while you are signing the document

They must provide their signature and seal

Completing a notarial journal

Each Californian notary must create a notarial journal entry right after validating your document

They should note a few essential details about your case, such as fees, document category, etc.
DoNotPay Connects You With an Online Notary Fast
If you are wondering what the easiest way to notarize your documents without visiting a notary office is, we have the answer!
DoNotPay—the world's first robot lawyer—will make all your notary-related worries go away. We developed an AI-based system that lets you arrange a meeting with an online notary in less than five minutes. The notary will confirm your identity during a video call and put a digital signature and seal on your document.
Here's what the scheduling procedure looks like:
in any web browser

Find the

Notarize Any Document

feature

Attach a digital copy of the document you want to validate

Disclose your email address

Choose a suitable time for your online meeting from a timetable we'll send in an email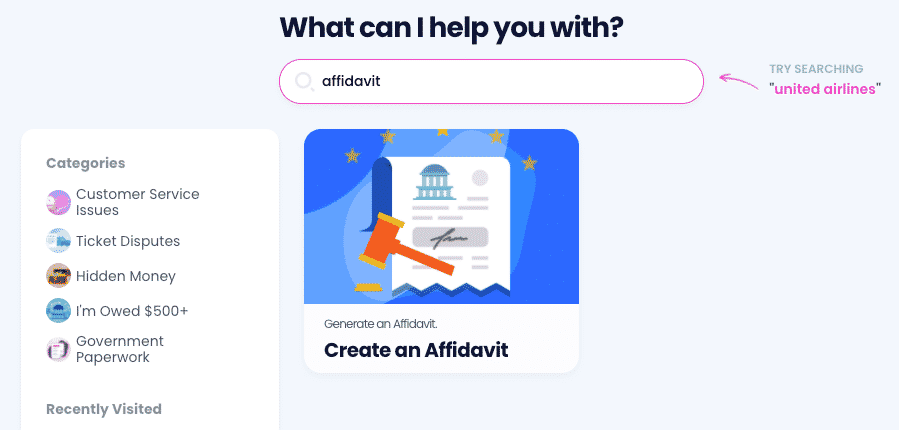 Our knowledge base also helps you find out if you can:
Draft and Notarize Your Contracts in the Same App
Do you want to draw up your lease, separation, or loan agreement but can't handle legal terms? DoNotPay generates personalized contracts in your stead! We offer great customizable templates you can turn into a valid document within minutes.
Here's how to do it:
Find a suitable document template by entering the keywords in the search box—

general affidavit

or

lease agreement

, for example

Give us the details you want to include in your contract
As soon as your document is ready, you can proceed with the notarization by using our Notarize Any Document service and avoid long and tiresome processes!
Here's a list of available contract templates:
LLC Operating Agreement

Promissory Note

Bill of Sale

Residential Lease Agreement

Non-Disclosure Agreement

Quitclaim Deed

Independent Contractor Agreement

Child Care Authorization Form

Parenting Plan (Child Custody Agreement)

Estoppel Certificate

Prenuptial Agreement

General Affidavit

Intent to Purchase Real Estate

Non-Compete Agreement

General Business Contract
Need Help Fighting Bureaucracy? Use DoNotPay!
As the world's first robot lawyer, DoNotPay can help you resolve a plethora of tedious administrative issues. Our app will assist you in getting justice in small claims court, getting refunds from merchants, reporting annoying spam emails and text messages, reporting copyright infringement, bypassing phone number verification, and so much more!
You can also rely on DoNotPay's help when it comes to subscriptions. If you want to sign up for a free trial, cancel a service you no longer use, and skip the phone queue when doing so, our app will provide its assistance.
Our App Saves You Time and Money
Are you unable to pay your bills? Use the world's first robot lawyer app to cover them! Do you want to appeal your traffic or parking tickets? DoNotPay will help you appeal them in the blink of an eye.
Our app can do so much more than that, though—with DoNotPay by your side, you can sign up for clinical trials, ace government tests, claim any type of warranty, schedule an appointment with the DMV, and handle any other bureaucratic task.