Is Visiting a Notary Public in Springfield, MA, Worth Your Time?
Finding a notary in Springfield, MA, and getting your documents notarized without spending big bucks and wasting hours of your time during the process is an impossible task—or at least it was before remote online notarization came to be.
Our app will provide you with the latest information on notary services and connect you with a notary in Springfield, MA, in a flash!
What Is a Notary Public in Springfield, MA, Authorized To Do?
A notary in Springfield is authorized by the state of Massachusetts to increase the legal weight of documents by placing their signature and seal on them. They can notarize a variety of documents, including:
Executorships

Court documents

Trusts

Advanced directives

Custody agreements

Contracts

Legal documents
Where To Find a Notary Public in Springfield, MA
To go through the laborious process of notarization by yourself, you'll first have to locate a notary public in Springfield. Finding a notary means that you'll either have to visit certain institutions or check if they're available on specific websites.
Locations at Which You Can Find a Notary Public
To find an in-person notary, you'll have to:
Check if nearby

banks

have notaries public on their staff

—for example:

Visit places such as:

Tax preparations firms

Real estate

agencies

Police departments

Public libraries
Websites You Can Use To Find a Notary Public
Here are some websites and platforms you can use in your search for a notary public:
How To Get Ready for a Visit to a Notary Public in Springfield, MA
Even if you find an available notary in Springfield, the process of getting your documents notarized will give you a headache. It's tedious, and it takes a lot of time, but if you want to know what to expect when you visit a notary, we'll explain it thoroughly.
Here's what you'll need to do after you find a notary:
Schedule a meeting

—you have to agree on a time that works for all parties by calling a notary office or visiting it in person. Notaries can also charge you certain fees if you cancel your appointment on short notice or are late for it

Inquire about the cost of the notary service

—make sure to ask ahead and find out about all the fees you'll be charged before you go to your scheduled meeting

Prepare your documents in advance

—ensure that you prepare the documents you need to have notarized as you don't want to waste more time by having to come back

Have your ID ready

—bringing your ID or other valid proof of identity, such as a passport or a driver's license, is a must
What Does the Notarization Process Look Like?
When you show up at the notary's office, their duty will be to:
Confirm your identity by:

Checking your ID

Asking you a couple of authorization questions

Make sure that you're signing the document willingly and that you're not under any influence

Witness the signing

Add their

signature

and seal the document with a notary stamp
DoNotPay Enables You To Get Your Documents Notarized From Home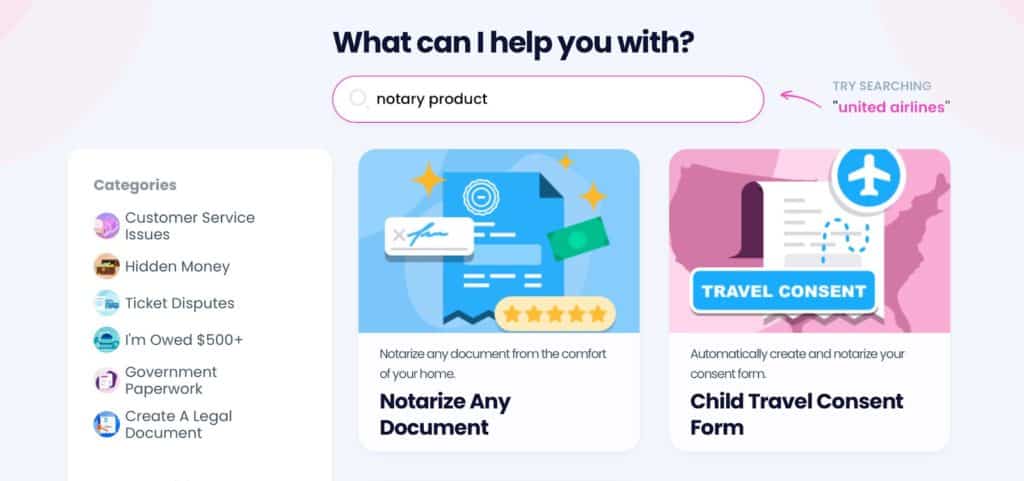 If you're looking for a simple and effective way to have your documents notarized, use DoNotPay! Instead of going to a notary public in Springfield, our app's neat Notarize Any Document product will help you set up an appointment with a remote online notary in minutes!
Remote online notarization with DoNotPay is a perfect solution because it's:
Practical

—you'll be able to complete the whole notarization process via an audio-video call

Safe

—as you don't need to visit the notary in person and spend time among other people, you won't have to worry about catching

COVID-19

Fast

—you can get your documents notarized in a couple of minutes with online notarization

More secure

—online notaries use advanced technology that makes it easier for them to detect any forgery or suspicious activity
How To Use DoNotPay's Notarization Product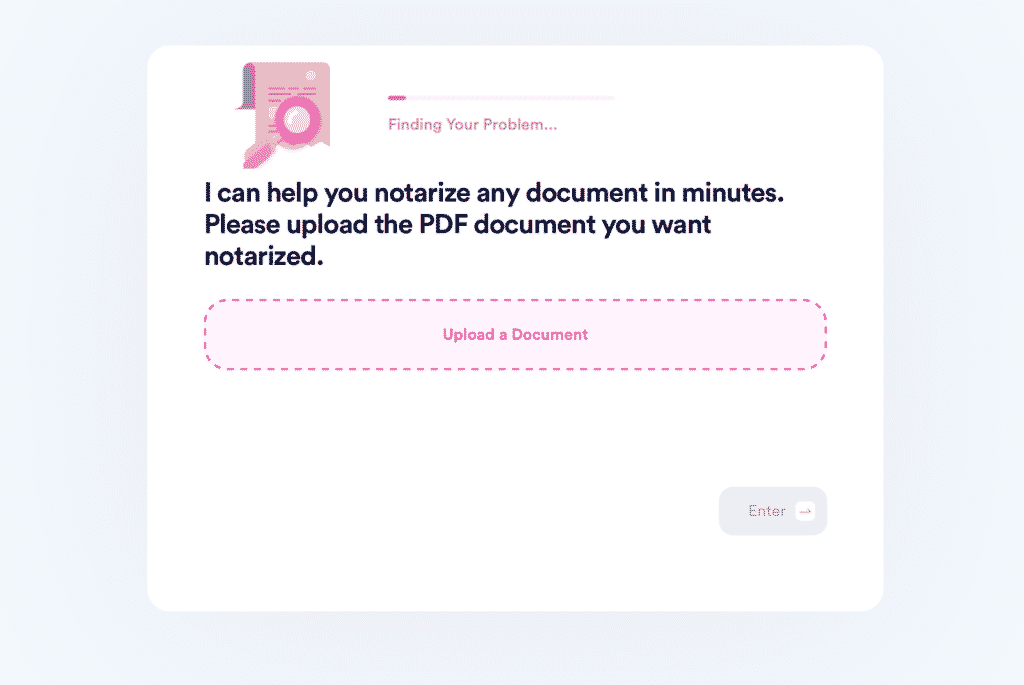 DoNotPay allows you to complete the notarization process in just a few easy steps. All you need to do is:
Find our

Notarize Any Document

product

Upload the document that you want to get notarized

Enter your email address
We will then send you an email containing a link that you should click on to schedule an online appointment with a remote notary.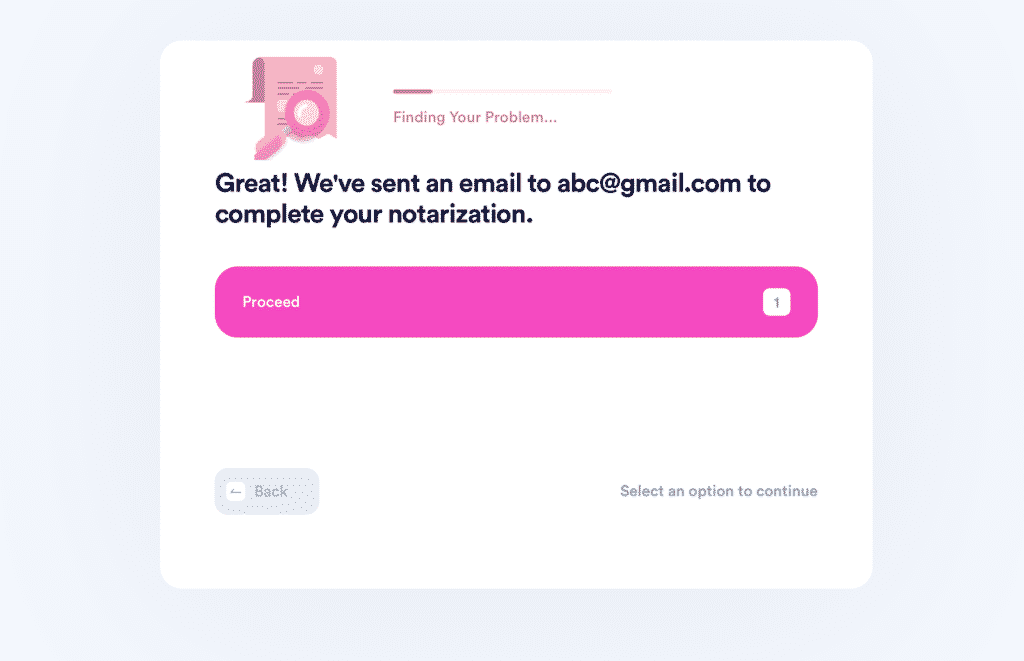 In case you need additional information about notary services, DoNotPay has you covered:
| | |
| --- | --- |
| Notary Services by State | Other Types of Notary Services |
| | |
Money Troubles Got You Down? Use DoNotPay To Get What You're Owed!
If you need help paying bills, you could benefit from our hacks for saving and earning money.
Our app can help you get free trials with no hidden charges, thanks to DoNotPay's virtual credit card. If you want to get rid of a service, we can assist you in canceling it or requesting a refund. We'll get everything done so that you don't have to deal with customer service. In case a company is playing dirty, our award-winning app can help you take it to small claims court.
A slow bureaucratic process shouldn't stop you from getting your money back. This is where DoNotPay comes in! We provide the fastest way of:
Rely on DoNotPay To Manage Different Tasks and Issues
DoNotPay is a multifaceted app making your life easier in numerous ways. Here's how you can benefit from your DoNotPay account:
| | |
| --- | --- |
| Complete a Task | Solve a Problem |
| | |