Get a Notarized Letter Template for Child Travel in a Snap!
If your child is a minor traveling without both parents or one or all of their legal guardians, you will need to get a minor travel consent form for them and get a notary signature on it.
If you aren't sure what the form looks like or how to fill it out, we've got you covered!
In this article, you'll learn:
What a child travel consent form is

When you need it

Why it's important

How to fill out and notarize the form
What Is a Notarized Letter of Consent for Child Travel?
Children under the age of 18 must present a notarized letter of consent or a consent form when traveling abroad or within the country. 
Depending on where your child is traveling, immigration officers might not need a notarized letter of consent, but it's still advisable to have a notary signature on it. That way, authorities won't question the authenticity of the form or letter.
It's also recommended that both parents or all legal guardians sign the consent.
When Does Your Child Need a Travel Consent Letter?
Your child needs a letter of consent for child travel or a form that serves the same purpose when they're traveling:
Alone

With one parent

With an organization

With a friend or relative
Why Does Your Child Need a Letter of Consent To Travel?
U.S. Customs and Border Protection (CBP) requires a form or letter of consent for child travel to fight various criminal offenses, such as abduction or human trafficking.
The Letter of Consent for Child Travel Template
A letter of consent for child travel includes:
Full name of the parent and their signature

Full name and date of birth of the child

Full name of the person or organization that will travel with the child if applicable

Dates when the child will begin and end the travel

Details about the method of travel, such as airline name and flight number

Contact information of the parent giving consent

The date when the letter is written
Of course, the letter will also have the notary public's signature if you want it to be valid.
Here's an example of what the letter of consent for child travel can look like:
"I [First and last name of the parent] authorize my child [The child's first and last name and their date of birth] to travel with [Full name of the individual or organization that's accompanying the child on the travel] to [Travel location] from [Date] to [Date].
[Include details about travel, like airline name, flight number, or tour guide]
Parent [Your information in the blank spaces]
Contact
Address
City, State, and Zip Code"
You should then sign the letter and get it notarized.
You can write or type out the letter and print it or download a sample letter online.
How To Fill Out a Child Travel Consent Form
You may also stumble upon a child travel consent form. It is usually more detailed than a letter.
Whether you are using a form or a letter, you need to sign it in front of a notary. You can fill out the document beforehand, but the notary public needs to witness you signing it before they put their seal and signature on it.
Check out what sections child travel consent forms must contain and what information to give in the table below:
Section

What It Includes

The parent or legal guardian

Statement from the parent, parents, or legal guardians giving consent

Full name of the parent

Child

Child's full name

Date and place of birth

Passport details, such as number, country of issuance, and expiration date, if applicable

Alone or with an accompanying person

Boxes for whether the child is traveling alone or with someone that you need to check

Name of the person or organization that is accompanying your child (if applicable) and their passport details

Relationship with the child—cousin or teacher, for example

Itinerary 

Travel location

Date when the travel begins

Date when the travel is expected to end

Signatures

Name and signature of the parent, parents, or legal guardians giving consent

Date when the form is filled out

Notary public's signature
How To Notarize a Consent Form or Letter
If you're wondering how to notarize a document the easiest way possible, you should go with an online notary.
Getting any document notarized the traditional way takes too much time. You have to:
Research the notaries near you and compare the prices

Schedule and wait for your appointment

Show up in person with your document and identification documents

Wait for the notary to do their job
If you find you don't have time to make it to your appointment with a notary public, you need to wait days or weeks, in some instances, to get the next one. DoNotPay can help you get a quick online notary appointment so you can run the errand from the comfort of your home. When you get a DoNotPay account, you won't have to waste time going to a notary's office ever again.
Note that not all states recognize remote notarization. Double-check the rules and regulations for your state before you notarize the consent form or letter online.
Notarize Your Document With DoNotPay Right Away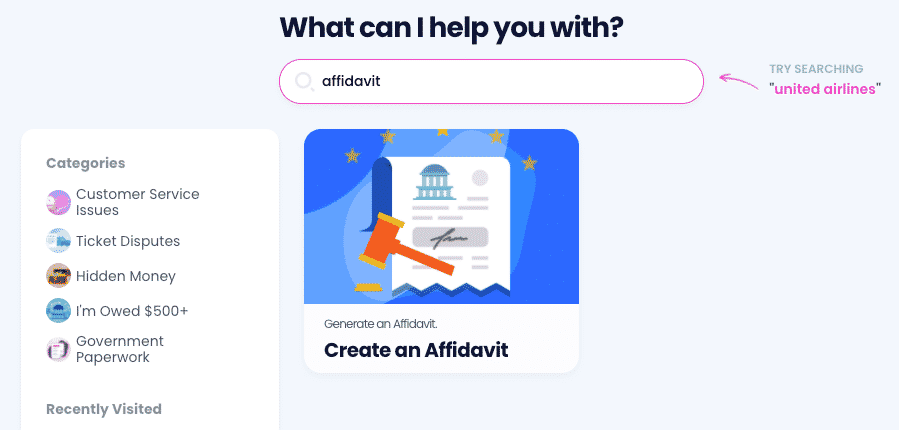 Whether you need to notarize an affidavit, a letter of consent for child travel, or any other document, DoNotPay helps you find the best notary service in a flash!
You only need to go through this short four-step process:
Navigate to the

Notarize Any Document

feature

Upload your consent form or letter for child travel

Give us your email address
DoNotPay will send you a link to your email address right away so you can schedule your notary appointment. 
Do You Know What Else You Are Eligible For?
DoNotPay is a handy virtual assistant that can reveal a world of possibilities that you may not have even been aware of. We've perfected our algorithms to identify opportunities for you to save up and take charge of your rights. 
Here's a fraction of what we can do for you:
What Else Is New With DoNotPay?
DoNotPay boasts several new features that can help make your everyday life so much easier. 
Have you been wondering how to file an insurance claim but weren't sure where or who to turn to? We'll gladly do it for you. 
Are you tired of outdated faxing practices and manual documentation? Our app can provide you with an online fax solution and draft all your legal paperwork in no time at all.
Do you need a safe place to prepare for your upcoming government test? DoNotPay will give you all the prep tests you need.
We can help out with locating an imprisoned loved one and keeping correspondence with them via our virtual mailbox.
See what else DoNotPay has in store by accessing our web app in any browser.