DoNotPay Connects You With a Notary Public in Fayetteville, NC
Almost everybody has to work with a notary at some time. Legal documents are in every part of our lives, and most need to be notarized to carry legal weight.
Finding a notary doesn't need to be difficult. DoNotPay is here to help you with the quickest way to get a notary signature on your important documents from a notary public in Fayetteville, NC.
Why Do I Need a Notary?
Whatever the legal document, getting it notarized makes it stronger and more difficult to contest.
Legal documents come in many forms, including:
Wills

Car titles

Real property documents

Contractor agreements

Contracts

Separation agreements
In some cases, documents only become legally binding once they have been notarized. Even if this is not the case, notarization adds legal weight to a document.
Where Do I Find a
Notary in Fayetteville, NC
?
Notaries are available in numerous locations in Fayetteville, and you have three options to get your documents notarized:
In-Person Notary
You can make an appointment to visit a notary in person at many different places in Fayetteville. Typical places where you can find notary services are:
City or county clerk's offices

Courthouses

Police departments

Public libraries

Banks

, such as

Wells Fargo

or

Bank of America

Shipping facilities, like

UPS

Accountancy practices

AAA

stores

Realty agents

Law firms

Car dealerships
You should bear in mind that an appointment will be required, and you may need to wait in line for some time. If you factor in the wait for an available slot, the travel, the time spent waiting, and the possibility of forgetting your ID or one of the documents you need, in-person notarization can be highly inconvenient.
Mobile Notary
A mobile notary travels to your location to notarize your documents, making this option considerably more convenient than an in-person notary.
Mobile notaries are often booked out, though, so you may wait a considerable time to get an appointment. If your document requires urgent notarization, this may not be a viable option.
Mobile notaries also often charge higher rates than normal notary fees.
Online Notary
North Carolina is not one of the 28 states that have passed laws allowing online notarization, but the state has passed an interim law to allow you to get documents notarized online as a response to the COVID-19 pandemic.
Even when this interim law expires—as it is expected to do on 31st December 2021—North Carolina will recognize out-of-state notarizations, meaning that you can use an online notary from a different state to have your documents notarized.
The states that allow online notarization are:
Alaska

Missouri

Idaho

Iowa

Tennessee

Minnesota

Montana

Nebraska

North Dakota

Vermont
If you are in doubt whether you can have your documents notarized online in Fayetteville, you can seek advice from the Notary Department of the Secretary of State's Office.
What Does Notarizing a Document Entail?
The process of notarizing a document in Fayetteville is as follows:
Procedure
Explanation

Verification of identity

The notary verifies that you are the person you claim to be, so you will need to bring a current form of ID that includes your photo and your signature. This could include:

Current driver's license

Current passport

Any government-issued ID

Proof of authority

You will need to prove to the notary that you are entitled to sign the document you are having notarized, so the notary will verify:

Your age

Your capacity in relation to the document (author, signatory, or affected party)

Your fitness to sign (you should testify that you are of sound mind)

Ensuring understanding

The notary will require you to prove that you know what you are signing, what it contains, and how it affects you
Once you have completed these checks, the notary will watch you sign the document and will stamp and sign it as proof that it has been notarized.
Can DoNotPay Help Me Notarize Documents in Fayetteville, NC?
DoNotPay wants to take the hassle out of getting your documents notarized, so we have developed an online notarization service that does the job in a few clicks.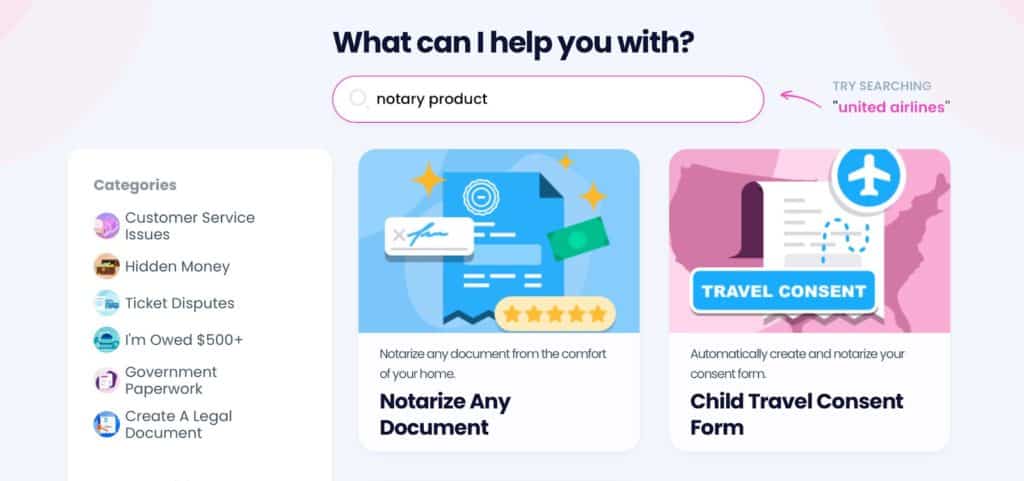 All you have to do to use our notarization service is:
with DoNotPay in your web browser

Go to our

Notarize Any Document

product

Upload the document you want notarized

Fill in your email address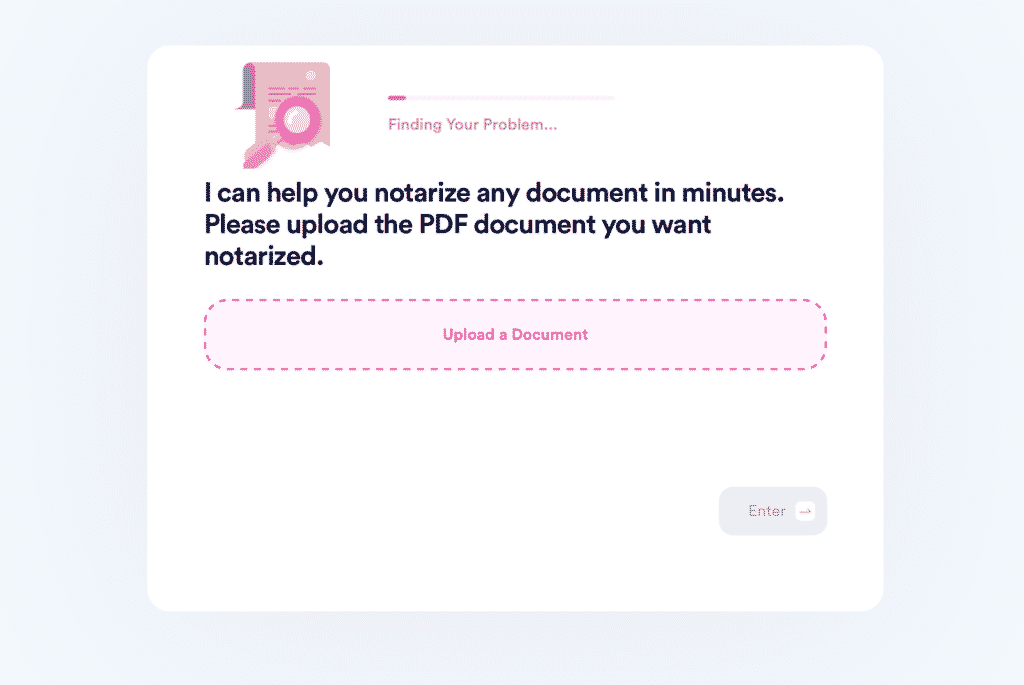 We will get back to you quickly with a link to schedule an appointment with one of our online notaries.
What About Creating Legal Documents?
DoNotPay can help you create the legal documents you need. We have a range of contract templates, agreements, and documents that you can customize to your needs.
Getting your customized legal document is easy:
Navigate to DoNotPay in your web browser and

Enter the name of the document in the search tool

Fill in the details you want included

Wait while DoNotPay generates your document
Our range of documents is expanding rapidly and includes:
Property
Business
Personal

Lease agreement

Real estate purchase agreement

Estoppel certificate

Quitclaim deed

Intent to purchase real estate

Bill of sale

Independent contractor agreement

Operating agreement

Non-disclosure agreement

Non-compete agreement

General business contract

Custody agreement

Prenuptial agreement

General affidavit

Promissory note
Explore the Full Range of DoNotPay's Services
Don't let annoying bureaucracy stop you from exercising your rights or finding new opportunities. DoNotPay—the world's first robot lawyer—comes with a diverse portfolio full of practical shortcuts for:
Struggling with finances? Our app will help you manage unpaid bills, find and claim lost money in any state, or get college application fee waivers.
Minimize Paperwork With DoNotPay
Writing letters, filing claims, sending requests—these chores are nobody's idea of fun. Thanks to DoNotPay, you can bypass these menial tasks with a few clicks in your browser.
Our platform is full of useful tips and features for filing insurance and warranty claims, dealing with parking tickets, getting refunds and chargebacks, or writing harassment cease-and-desist letters.
DMV offices don't have to be the place where hope goes to die. With DoNotPay, you will be able to schedule any DMV appointment without the nightmare of waiting in lines. While you're at it, you can check out our guides and practice tests for the best driving exam preparation!