Your Documents Notarized Easily With a Notary Public in Chula Vista
Everybody needs a document notarized at some point. Whether you are signing a lease agreement, finalizing a bill of sale, or engaging an independent contractor, your document becomes more resilient in court once it has been verified by a notary.
You have many options to get your documents notarized by a notary public in Chula Vista, and DoNotPay can help you find the easiest and most cost-effective way.
What Does Notarization Mean?
Notarization is the process of officiating over the signatures on a document by:
Verifying the identities of the signatories

Ensuring they understand what they are signing

Witnessing the signing of the document
A notary signature and stamp on your document give it legal weight and make it more difficult to contest in court. Many documents such as wills, contracts, affidavits, car titles, and property deeds require notarization, but almost any document can benefit from the added power of being notarized.
Where Can I Find a Notary in Chula Vista?
If you are looking for a notary in Chula Vista, you have three options:
In-Person Notary
Visiting a notary is the most common way to have your documents notarized. You will normally need to make an appointment, travel to the notary's offices, wait for your slot, and remember to take all the documents you need with you.
You can look for a notary in your area on the following websites:
Alternatively, you can find notaries in many of the following places:
Banks

, such as

Wells Fargo

or

Bank of America

AAA

stores

Law firms

Courier firms like

UPS

City or county clerk's offices

Courthouses

Police departments

Public libraries

Accountancy practices

Realty agents

Car dealerships
Mobile Notary
A mobile notary comes to you at a fixed time, meaning you don't have to leave your home or office.
Mobile notaries are often difficult to get appointments with, though, and you may have to wait for an available time. If your document is urgent, this may not be viable. Mobile notaries are also often more expensive than office-based officials.
Online Notary
California does not allow you to have your documents notarized online, but you can use an out-of-state notary. The notarization will be legally acceptable in California.
The states that currently allow online notarization are as follows:
An online notary verifies your documents via video conferencing, meaning that you can complete the notarization process quickly, conveniently, and without having to come into contact with anybody.
What Happens During a Notarization?
The process of notarizing a document is simple and runs as follows:
Procedure
Explanation

Identity verification

The notary verifies your identity, so you must bring a valid form of ID that includes your photo and your signature. The ID could be a driver's license, a current passport, or another form of government-issued ID that fulfills the criteria

Competency check

You will have to prove you are competent to sign the document you want notarized, meaning:

You are old enough (over 18 in California)

You are of sound mind

You are the author, a valid signatory, or a party affected by the document to be notarized

Understanding check

The notary will verify that you:

Understand the contents of what you are signing

Are not under any pressure or duress to sign
Once these criteria have been fulfilled, the notary witnesses your signature, countersigns the document, and affixes a notary stamp to it. Your document is now notarized.
Can DoNotPay Help Me With Notarization in Chula Vista?
DoNotPay has a quick and easy online notarization service that allows you to have your documents notarized in a few clicks. Here's what you need to do: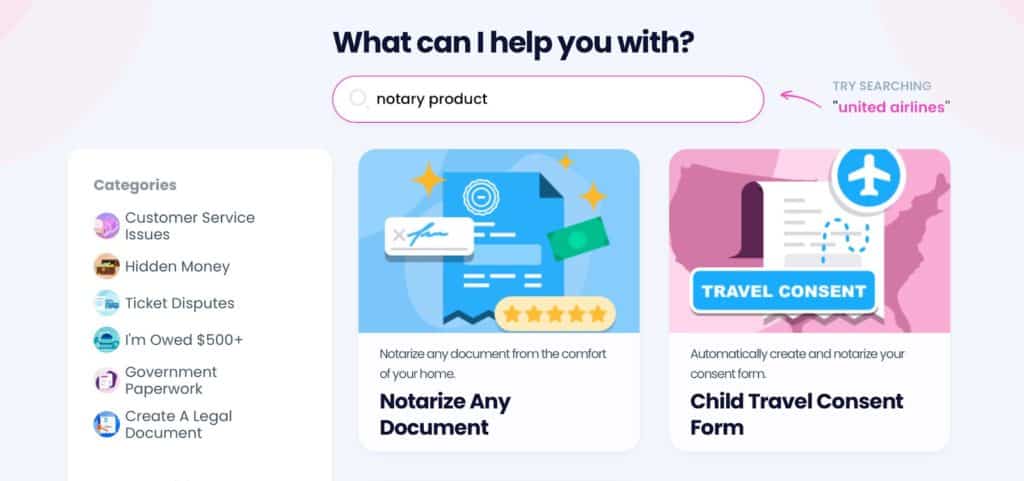 Navigate to DoNotPay and

Go to our

Notarize Any Document

product

Upload the documents you need to be notarized

Give us your email address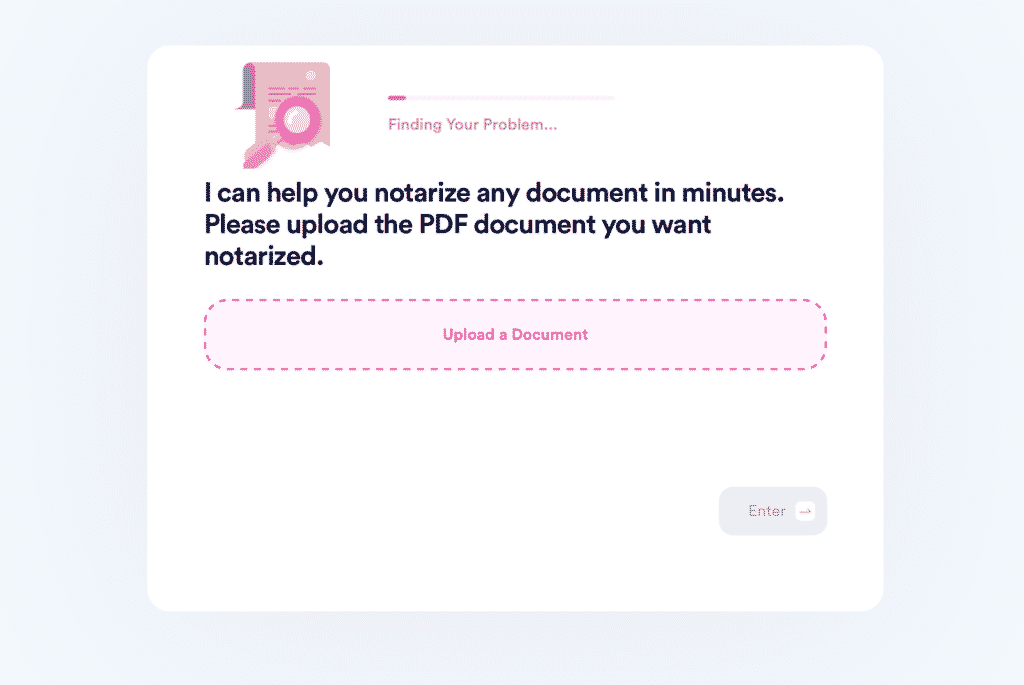 In no time, we will send you a link for you to arrange an appointment with an online notary. It's as simple as that!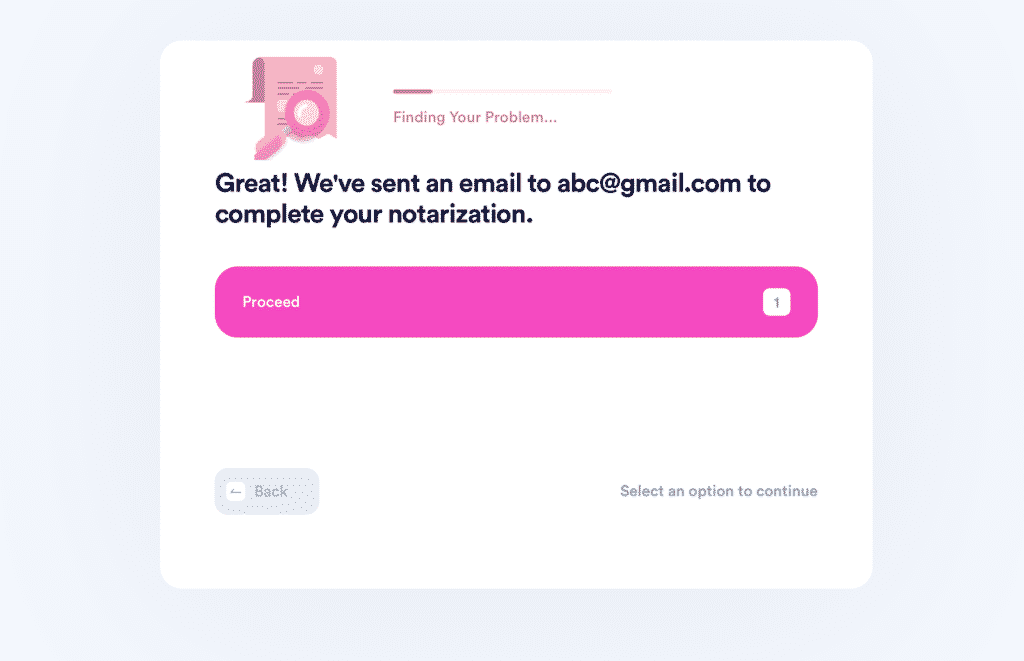 What Other Legal Help Can DoNotPay Offer?
If you need to create a legal document before you have it notarized, DoNotPay can help as well. We have a range of documents and contract templates to suit most needs—you can access them by doing the following:
Go to DoNotPay in your web browser, sign in, or

Enter the document you're looking for in the search bar

Fill out the details you want included

Wait while your document is created
Here are some examples of documents we can customize for you:
Business:

Operating agreement

Independent contractor agreement

Non-compete agreement

Bill of sale

Non-disclosure agreement

General business contract

Property:

Real estate purchase agreement

Lease agreement

Estoppel certificate

Quitclaim deed

Intent to purchase real estate

Personal:

Custody agreement

General affidavit

Prenuptial agreement

Promissory note
DoNotPay—The Easy Way To Save Money
If it looks like your wallet has a hole and the money keeps pouring out for unnecessary expenses, it might be time to come up with a better saving strategy.
DoNotPay uses AI-powered technology to identify the best opportunities for some serious penny-pinching or earning a few extra bucks:
Do You Need Help With All That Paperwork?
Saving money is great, but cutting the time wasted on bureaucracy sometimes sounds even better. DoNotPay joins the best of both worlds and helps you avoid boring paperwork while preventing future unnecessary charges and expenses.
With our help, you can enjoy free trials without any risk, file insurance claims, or handle issues with credit cards.
You won't have to waste time on researching the right procedures or pay for help if you need to stop stalkers and harassers or put together all sorts of legal documents.