The Easiest Way To Find an Online Notary in Lancaster, PA
If you've ever had to search for a notary in Lancaster, PA, and schedule a meeting, you know how challenging that task can be. The standard notarization process is usually complicated and takes too much time. For that reason, many Lancaster citizens look for more convenient solutions.
This guide will tell you all about other notarization options and explain why hiring an online notary is the most efficient solution. and discover the quickest way to get your documents notarized remotely!
The Duties of Notaries in Lancaster, Pennsylvania
The Department of State authorizes all Pennsylvania notaries to perform these notarial acts:
Witness signatures

Take

acknowledgments

Administer oaths and affirmations

Take verifications on oaths and affirmations

Note protests of negotiable instruments

Notarize copies of documents

Certify depositions
Once you appear before the notary, he or she will have to:
Confirm your identity (you must provide your ID unless you know the notary personally)

Ask you if you're signing the contract voluntarily

Determine whether you're familiar with the contents of the document

Review the document to check for missing pages and blank spaces

Witness your signature unless you're notarizing an acknowledgment, in which case you can sign it before coming to the notary's office

Write a notarial certificate

Place his or her

notary signature

and official stamp
If the notary notices something suspicious—e.g., that you're intoxicated, mentally incapacitated, or forced to sign the document—he or she will refuse to notarize your contract.
Should All Documents Be Notarized in Pennsylvania?
Not all documents require notarization, but most of them do. Your first step should be finding out whether a certain document needs to be notarized to be valid.
In Lancaster, Pottstown, and other Pennsylvania cities, people usually get the following documents notarized:
Notary Fees in Pennsylvania Explained
While every notary charges different fees for his or her services, the State of Pennsylvania prohibits notaries from charging more than:
$3 for notices of protests of negotiable instruments

$5 for other notarial acts
The maximum administrative fees—such as copying, postage, phone calls, and travel expenses—aren't imposed by the state. Notaries can determine how much to charge independently, but the costs need to be reasonable. Each client must be informed about the total cost of notarization before scheduling a meeting.
Notarization Options in Lancaster, PA
Lancaster citizens can get their documents notarized by:
Going to the office of a standard or

electronic notary

Hiring a

mobile notary

Signing up for an

online notarization

platform
Standard and Electronic Notaries
Both the traditional and electronic notarization procedures require you to appear in front of the notary in person and have your contract notarized in his or her office. The only difference is that standard notaries can notarize solely paper documents, while e-notaries public notarize contracts in digital form.
Mobile Notaries
Hiring a traveling notary can be convenient if you're on a tight schedule or unable to go to the notary's office for any other reason. A mobile notary can come to your preferred location—be it a cafe, hospital, airport, or your home or office—and notarize your documents there. This type of notarization is more expensive as you'll have to cover both standard notary fees and travel expenses.
Online Notaries
Notarizing your documents remotely is always the most convenient solution, especially during the COVID-19 pandemic. Remote notarization doesn't require in-person presence—an online notary can identify you, witness your signature, and provide a certificate virtually via a video call.
Explore DoNotPay—The Quickest Online Notarization App
If you like the concept of online notarization and want to get your documents notarized from any device, you should . Our easy-to-use app can connect you with a remote notary in a matter of minutes, which will help you save a significant amount of time.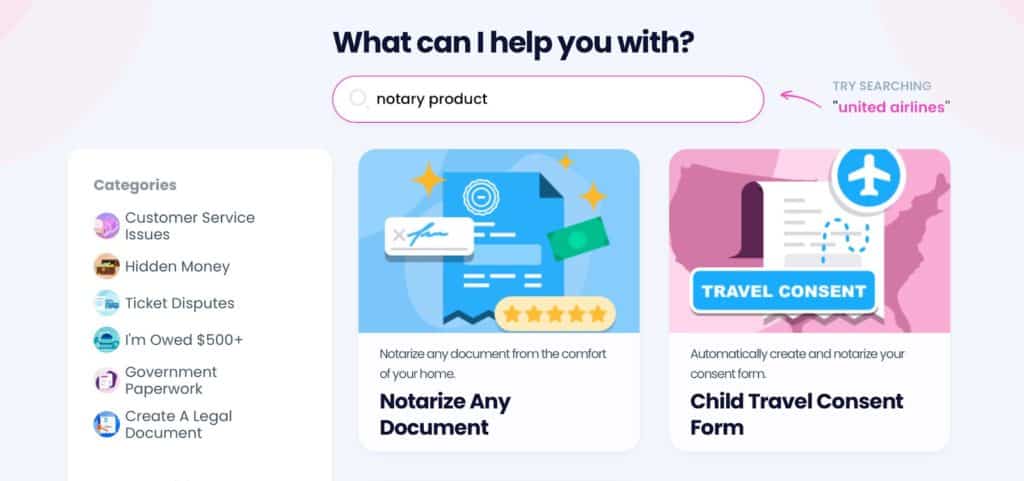 Once you open your DoNotPay account, you can handle document notarization by following these steps:
Select our

Notarize Any Document

product

Upload your document

Enter your email address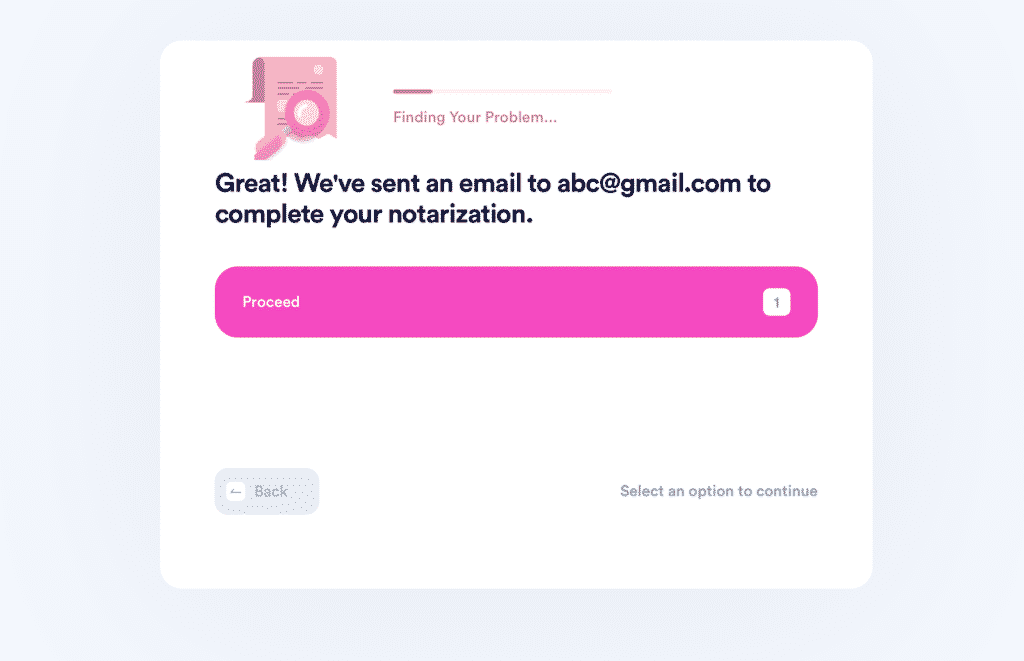 DoNotPay will send you a link via email. Click on the link to set up an appointment with a 24/7 online notary.
With us, you can notarize documents in any city or state in the U.S., including:
Use DoNotPay To Create Legal Documents and Save Time and Money!
DoNotPay has created many useful products that can make your everyday hurdles easier to handle. Our Legal Documents feature is a fantastic option if you have to draw up a lease, child custody, non-compete, or any other agreement without hiring expensive lawyers.
We want to make administrative issues less complicated for you. That's why we have integrated the Notarize Any Document product with the Legal Documents one to enable you to write contracts and notarized them right away! You can even use our Online Fax product to send your notarized business contracts in a flash.
DoNotPay Has the Most Convenient Solution to Most of Your Problems
Whether you want to cancel subscriptions, request refunds for services, purchased items, or late delivery, or enjoy free trials without being charged, DoNotPay has a product for you.
We strive to help you users solve their issues as quickly and effortlessly as possible. With us, you can enter various raffles and sweepstakes, claim warranties or insurance, report copyright infringement, and reduce your property taxes in less than five minutes.
Protect Your Privacy With DoNotPay
Protecting your privacy can be challenging nowadays since most platforms require your phone number and email address upon registration. DoNotPay is here to ensure your personal info stays as secure as possible. Choose our Burner Phone product to register for services without phone verification or our virtual credit card if you want to use a randomly generated email address and payment details.
By using a fake phone number and email address, you can also avoid receiving annoying spam emails, text messages, and shady robocalls. DoNotPay can even make correspondence with inmates safer. If you don't feel comfortable sharing your address with an inmate, DoNotPay can receive the letters for you, scan them, and forward them to you risk-free.