Book an Appointment With a Notary in Austin, TX Without Hassle
Getting your documents notarized can be time-consuming and complicated. Many states impose different rules and procedures.
To know what to expect of a notary in Austin, TX, use DoNotPay as your guide. We offer explanations of various notary services you can pick.
Our app can also schedule your appointment with an Austin notary and help you get your documents notarized!
What Documents Can You Get Notarized?
You are legally required to notarize specific documents, especially the ones defining legal rights or containing financial transactions. Check out what documents you can and cannot get notarized:
Can Be Notarized (Non-Exclusive)
Cannot Get Notarized

Trusts

Medical records

Loan documents

Title escrow closings

Real estate documents

Transfer of property ownership

Photographs

Birth certificates

Death certificates

Copied or faxed signatures

Documents that are not complete and have blanks

Documents with names not matching the name on the ID
Although not all documents need to be notarized, it is advisable to do it since notarization confirms the signature's authenticity on legal documents.
Prepare for a Visit to a Notary in Austin
Notaries are people appointed by the government to perform the notarization process. They:
Ensure signature authentication

Defer fraud by verifying and confirming who the signer of documents is
A notary cannot notarize your documents if:
The signer is absent

The notarial certificate is not complete or is blank

The document includes missing pages or blank spaces

The signer seems confused or under the influence of substances

The signer cannot be identified using a valid government-issued ID

The document is not original or does not have the original signature of the signer
You should not expect notaries to provide advice on how to complete or create a contract or any other document. If you need advice on this matter, to use our Standardized Legal Documents feature or get in touch with an attorney.
Common Fees of a Notary Public in Austin, TX
The state sets maximum fees a Texas notary public can charge you. We provide an example of some general notary services and fees:
Notary Service

Possible Fee

Protesting a bill or note

Protesting in additional cases

$4

Certified copy

First signature per person

Administering an affirmation or oath

Swearing a witness to a deposition

$6

Apostille first document

Single loan closing (including a 15-mile journey)

$150
If you would like a notary public to come to your office or home to provide a notary signature, you should make an appointment with a mobile notary.
How Much Does a Mobile Notary in Austin Charge?
You can expect the following prices if you ask a mobile notary to show up at a convenient place to notarize your documentation:
Place/Time
Fee

$25

After business hours or over weekends

$30

$60

$50

$75

Prisons

Detention centers

$100
Notary fees may vary, so to avoid any surprises, you should inquire about the precise fees before you make an appointment.
Go on a Search for a Notary in Austin, TX
If you are looking for a notary in Austin, you can use various platforms to locate one that is suitable for your needs:
You can opt for other ways to find a notary in Austin, TX, including:
Visiting a nearby

bank

, financial institution, or law office

Choosing DoNotPay to handle the entire notary procedure for you
DoNotPay Locates a Remote Notary Public in Austin, TX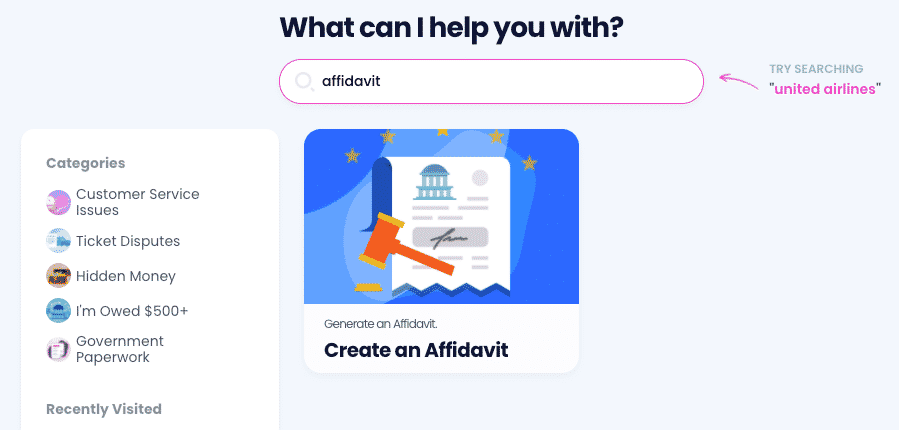 Isn't it frustrating when you have to waste time in traffic rushing from a law office with a stack of documents to an appointment with a notary public? You do not have to do that any longer!
DoNotPay provides an easy way to get your documents notarized from the comfort of your home or office!
Here are simple steps you need to take:
Choose the

Notarize Any Document

feature

Upload your document

Go to your email and click on the link we emailed you
The link will lead you to an appointment timetable where you can select the time that fits your schedule. Do you think you should drive somewhere at the agreed time? No, there is no need for that! You will have a video call with an online notary public who will perform the whole notarization process remotely. With DoNotPay, your document can also get notarized quickly with an extra charge.
DoNotPay uses the latest advancements in technology to simplify lots of bureaucratic processes. Do you know what's best? Our features are fast, easy, and efficient, and you can use them all at the price of only one subscription!
How Else Can DoNotPay Help You Find and Save Cash?
Our Missing Money feature helps you find any unclaimed assets in your name in any state. An additional perk is that you can claim your money right in the app—no need for further research!
We can also make sure you don't pay for any unfair parking citations and get the rightful compensation from airlines for any canceled or delayed flight.
Don't let big companies scare you into not claiming your warranties or insurance. DoNotPay helps you file these claims and appeal any rejections in minutes, which brings you closer to getting your money.
We can also delay your bill payments, get your college fees waived, or sign you up for paid clinical trials to earn some extra cash!
DoNotPay Keeps the Spammers Away
Whether you're dealing with email spam, text scammers, robocalls, or severe harassment, DoNotPay can help.
Use our virtual credit card or the Burner Phone feature to sign up for free trials safely—without revealing your real info. DoNotPay will make sure that no company can reach you when you use our tools.
We provide a fake email address, credit card info, and phone number that are in no way connected to your real data.
We can also help you cancel services or request a refund without you having to contact the company directly.