Does a Power of Attorney Need To Be Notarized in Pennsylvania—The Info You Need
If you google "does a power of attorney need to be notarized in Pennsylvania," you may come across conflicting pieces of info. This is because the regulations regarding powers of attorney change. We'll break down the most recent requirements for a power of attorney in Pennsylvania, including whether this document needs to be notarized.
Making Your Power of Attorney Official
Once your power of attorney (POA) document is ready, you need to follow the PA regulations to make it a valid document. Here are the criteria you need to meet:
A POA needs to be dated

The principal must sign it

Two people aged 18 or older need to witness the signing

A notary should notarize it
In case the principal—the person giving the authority to another (the agent)—is unable to sign the POA, they can add a mark, such as an X, or direct another person to sign it for them.
If another person needs to sign it, two witnesses need to be present. This person signing instead of the principal cannot be the notary or the two witnesses that are already required.
Do I Have To Get a POA Notarized?
Notarization used to be just an option, but since 2015, Pennsylvania requires citizens to have a notarized POA. This regulation is meant to serve as protection for the principal. With a notary public present during the singing of a POA, situations including fraud or coercion are less likely to take place.
The types of POA that are excluded from this rule are those used in commercial transactions and those limited to health care.
Where Can I Get a Notary?
If you want to find a notary on your own, you can check certain places that often offer notary services or look for a notary through different websites:
Public Places
Websites

AAA

stores

Courthouses

Credit unions

Police departments

Money transfer stores

Tax preparation firms

Accountant offices

Office supply stores

Law offices

Real estate agents

Insurance agents
How Much Are Notary Services in PA?
The state of Pennsylvania imposes a limit on the notary fees that the notaries public can charge their clients. The cost depends on the notarial act that needs to be performed:
Taking acknowledgments for each additional name—$2

Noting a protest of a negotiable instrument (charged per page)—$3

Taking acknowledgments—$5

Administering oaths or affirmations—$5

Taking verification on oath or affirmation—$5

Witnessing a signature (charged per signature)—$5

Certifying a copy or deposition (charged per certified copy)—$5
Aside from the cost of the notarization itself, notaries are allowed to charge for travel, administrative, or other expenses.
Can I Get a Document Notarized Online in Pennsylvania?
Yes, you can! Due to the COVID-19 pandemic, since 2020, PA notaries are allowed to become online notaries and perform remote online notarization acts.
For this type of service, a notary must:
Be in Pennsylvania, as opposed to the signer who can be anywhere

Notify the Department of State that they will perform a remote notarization

Use the approved communication technology

See and hear the signer during the notarization

Verify the signer's identity by:

Personal connection

Credible witness's testimony

Usage of identity-proofing technologies

Record the notarization

Keep the recording for at least ten years
Want To Notarize Your POA Online? DoNotPay Is the Way To Go!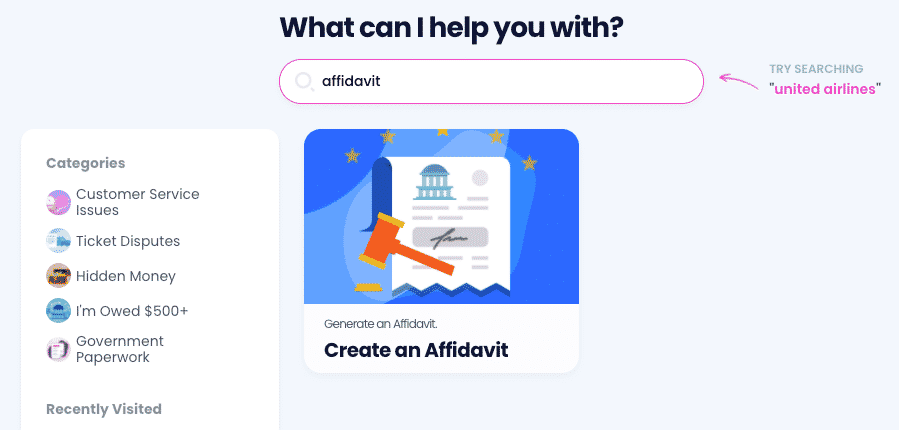 Our app can match you with an online notary within minutes! All you have to do is and follow these steps:
Navigate to the

Notarize Any Document

product

Upload the POA or another document

Provide your email address

Click on the link we send you via email
Follow the instructions and arrange your appointment with a notary.
Not only can we assist you in getting a notary's signature, but we also provide tips and guidance regarding notarization. Visit our learning center to find answers to numerous questions, including:
Use DoNotPay To Draft and Notarize Documents in a Flash
Once you , you can reap the benefits of all the nifty products we offer. You don't have to wait to use DoNotPay when it's time to notarize a document. You can turn to our app to generate numerous legal documents, such as:
Document Types
List of Documents

Real estate

Estoppel Certificate

Intent To Purchase Real Estate

Residential

Lease Agreement

Quitclaim Deed

Business

Non-Compete Agreement

General Business Contract

Non-Disclosure Agreement

LLC Operating Agreement

Bill of Sale

Independent Contractor Agreement

Other

General Affidavit

Prenuptial Agreement

Parenting Plan (Child Custody Agreement)

Promissory Note

Child Care Authorization Form
Fighting Administration Is Easier With DoNotPay
Bureaucracy is a disease of the modern world, and we finally have a cure. Thanks to artificial intelligence, DoNotPay knows how to handle numerous rules and regulations and make your life so much easier.
Our bots ask you a few questions, gather the necessary info, and off they go! Filing warranty and insurance claims, requesting property tax reductions, getting access to public records, or claiming unclaimed funds under your name—you can deal with these bothersome tasks from the comfort of your home and within minutes!
If you need to get in touch with customer service representatives to ask for refunds or contact airline companies regarding compensation, our platform will make the process painless and care-free.
Don't hesitate to put our app into service if you need to contest parking tickets or avoid long lines at your local DMV!
How Else Can We Help?
Not only does DoNotPay handle bureaucracy, but it also saves you money in the process. Whether you're looking for the best learning materials for government tests or planning to comb through and cancel streaming subscriptions you don't use, DoNotPay can give a helping hand.
Our platform grows every day and comes with user-friendly features that will help you manage unpaid bills, stop copyright violation, or solve problems with credit cards faster than ever!