WV Notary Services Explained
Getting a document notarized in any state can be a stressful endeavor. DoNotPay has some tips and tricks on using WV notary services without issues. We can tell you how to handle the process the fastest way.
Where Should You Look for a
Notary Public in WV
?
The first step of getting a document notarized is finding a notary. In West Virginia, like in other states, you can find notaries' offices at various public spots. Some of the common places include:
Public libraries

Tax preparation firms

Money transfer stores

Insurance agents

Law offices

Office supply stores

AAA

stores

Accountant offices

Real estate agents

Police departments
You can always take a look at some websites to find notaries close to you. The most popular online directories include Yelp, 123notary.com, or the American Association of Notaries. Once you locate a notary, you should learn about the notary services you can expect.
What Does a Notary Public in WV Do?
Notaries public usually have the power to perform several notarial acts, as established by state legislation. Those notarial acts in West Virginia include:
Taking acknowledgments

Certifying document copies

Performing a jurat

Witnessing signatures

Administering oaths and affirmations
The notary public will also make sure you are of sound mind when signing the document and that you're doing so willingly. You will need to provide some proof of identity so the notary can make sure everything is legal.
What Documents Should You Get Notarized?
Not all documents require a notary's stamp and seal to become legally binding, but notarization helps with ensuring the document protects your interests when needed. Some of the documents that you should take to the notary include:
Wills

Consent forms

Trusts

Employment contracts

Real estate deeds

Business contracts

Loan documents
You should also be aware of how much notary services will take out of your pocket. Luckily, West Virginia is not among the expensive states.
How Much Are Notary Services in West Virginia?
The maximum fee in West Virginia is $5 for:
The same amount applies to any other notarial act performed.
These costs vary between the states, and you can check out some of our guides if you are interested in learning about notarization in Ohio, Florida, Texas, New Jersey, Nevada, Pennsylvania, or any other state.
The options for getting a document notarized also vary between the states. West Virginia adapted to the current times and introduced more convenient notarization methods.
How Can You Get a Document Notarized in West Virginia?
Until recently, West Virginia allowed only in-person notarization. This process involves the client going to a notary's office and bringing the required documents with them. All the notarial acts are performed on the spot.
In 2020, West Virginia joined the states that allow remote notarization. The global COVID-19 pandemic was the reason for this major change. The Governor issued an Executive Order which suspended the personal appearance requirements for a document to be notarized.
This way of notarization was established to protect the health of notaries and other residents of West Virginia. Notaries are allowed to use electronic audio and visual technology to witness a person's signature. The individual then needs to send the document to the notary for them to put the official notary stamp.
DoNotPay can help you find an online notary in no time!
DoNotPay Can Help You Get a Document Notarized in a Jiffy
DoNotPay understands how important online notarization has become. Not having to worry about health risks or travel expenses of visiting a notary who is far away has finally become a reality. The entire procedure is straightforward, and you only need to follow these directions:
in any web browser

Navigate to the

Notarize Any Document

product

Upload the document you want to get notarized

Enter your email address in the provided field
DoNotPay will send you an email with a link to confirm your meeting with the notary.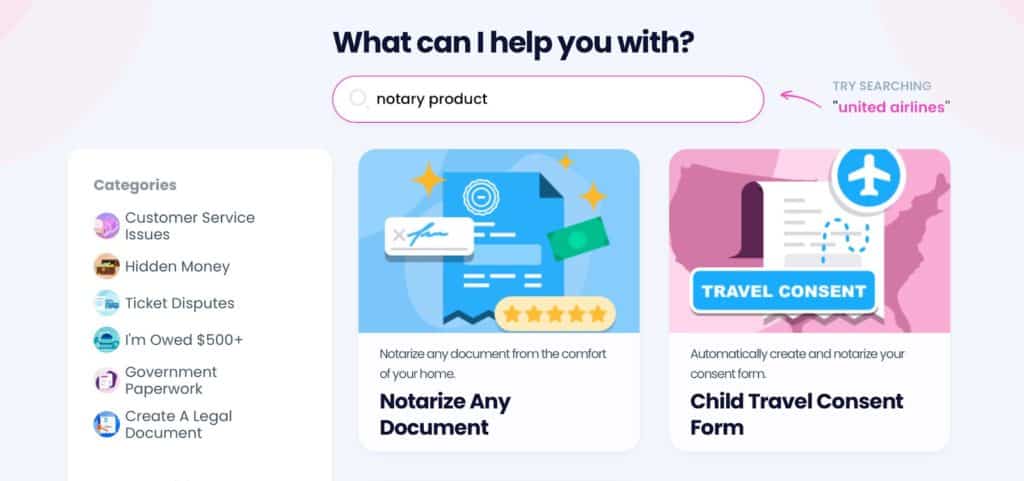 DoNotPay has another feature that is closely connected to the Notary product. You can use our app to create legal documents before you get them notarized.
Need a Legal Document ASAP? DoNotPay Can Help You!
When you from a web browser, you can find our Standardized Legal Document product. From there, you can choose what legal document you want to create. We have an extensive database that keeps on growing:
Real Estate
Business Agreements
Other

Quitclaim Deed

Residential Lease Agreement

Intent To Purchase Real Estate

Estoppel Certificate

Bill of Sale

Non-Disclosure Agreement

General Business Contract

Non-Compete Agreement

LLC Operating Agreement

Independent Contractor Agreement

General Affidavit

Prenuptial Agreement

Parenting Plan (Child Custody Agreement)

Promissory Note
You can also find out everything you want to know about numerous other legal documents, such as:
Settlement Agreements

Room Rental Agreements

Arbitration Agreements

Confidentiality Agreements

Weekly Rental Agreements

Purchase Agreements

Postnuptial Agreements

Car Rental Agreements
DoNotPay Is the Champion of Customer Advocacy
If you've never experienced an issue with a purchased item, you should consider yourself extremely lucky. When shopping goes wrong, you usually have to brace yourself for unpleasant and annoying exchanges with customer support centers.
DoNotPay is here to make exercising your consumer rights easy. Long holds when calling customer service reps and incessant marketing spam emails can stay in the past. We will help you avoid irritating text messages from online retailers by teaching you how to bypass phone verification when signing up.
Ask for refunds, claim warranties, fix credit card issues, or sue retailers in small claims court—these are just some of the services our platform provides.
With DoNotPay, you can start free trials for new services risk-free. If you want to get out existing subscriptions, canceling them has never been easier!
Wait, There's More!
Our full portfolio includes features as diverse as contacting inmates and requesting college application fee waivers for students from low-income families.
If you have a problem with bureaucracy, the chances are DoNotPay knows how to fix it with your minimal involvement.
Leave the grunt work and unnecessary expenses behind. We will help you pass various government tests with flying colors, find unclaimed money in all states, or get out of parking tickets before you know it!