A Breakdown of Notary Fees in PA
When you need to get a document notarized—a will, affidavit, or a power of attorney—you're probably considering two main points—the price and convenience. We'll break down notary fees in PA, show you all your options for notarizing documents, and suggest the best one.
Who Sets the Notary Fee in PA?
The Pennsylvania Department of State sets the fees for all notary services. Notaries can choose not to charge for their services, but they cannot charge or receive more than what the state imposes. A notary must display their fees in a visible place in their office and/or inform their client of the fees prior to notarization.
PA Notary Fees
Check the table below for an overview of notary fees in Pennsylvania:
| | |
| --- | --- |
| Notarial Act | Fee |
| Taking acknowledgments | $5 |
| Taking acknowledgments for each additional name | $2 |
| Administering oaths or affirmations | $5 |
| Taking verification on oath or affirmation | $5 |
| Witnessing a signature (charged per signature) | $5 |
| Noting a protest of a negotiable instrument (charged per page) | $3 |
| Certifying a copy or deposition (charged per certified copy) | $5 |
Can a PA Notary Charge Additional Fees?
PA notaries are allowed to charge extra for additional services they provide, such as:
Copying documents

Mailing documents

Traveling

Making phone calls
These are considered clerical fees, and they are not set by the Pennsylvania Department of State. Even though these fees aren't limited, they must be reasonable considering the area where the notary and the client live. The notary must inform the client of these fees, and they need to agree to them.
Where To Look for a Notary in PA
Aside from the outdated phonebook, you can turn to various websites and search for a notary. You can also check certain businesses and public places that often employ notaries.
Here are your options for finding a notary by yourself:
Websites
Places

Banks

, such as

Wells Fargo

and

Bank of America

AAA

stores

Courthouses

Credit unions

Police departments

Money transfer stores

Law offices

Real estate agencies

Insurance companies

Tax preparation firms

Accountant offices

Office supply stores
Is Remote Online Notarization Allowed in PA?
Yes, it is. Pennsylvania passed remote online notarization into law in 2020 due to the COVID-19 pandemic. Unlike other notaries—regular, mobile, or electronic—online notaries don't have to be in the same room as their clients.
Here are the requirements a PA online notary must meet:
Be in Pennsylvania

Use an approved audio-visual communication platform

Be able to see and hear a client during notarization—all parties must have a webcam, microphone, and a stable internet connection

Inform the Department of State that they will notarize a document online

Verify the client's identity by:

Personal connection

Credible witness's testimony

Usage of identity-proofing technologies

Ensure the signer is of sound mind

Check the signer's document for blank spaces and signs of fraud

Record the notarization (audio and video) and keep the recording for at least ten years

State in the notarial certificate that remote online notarization was performed

Add an electronic

signature

and seal
Use DoNotPay To Get a Document Notarized Online
Online notarization is the easiest method of notarizing documents, and our app makes it even more convenient. With DoNotPay, you don't have to search for notaries. In several clicks, we'll match you with an online notary and schedule your appointment.
Here's how it works:
Select our

Notarize Any Document

product

Upload your document

Type in your email address
We'll send you a link you can follow to choose the date and time of your online notary appointment.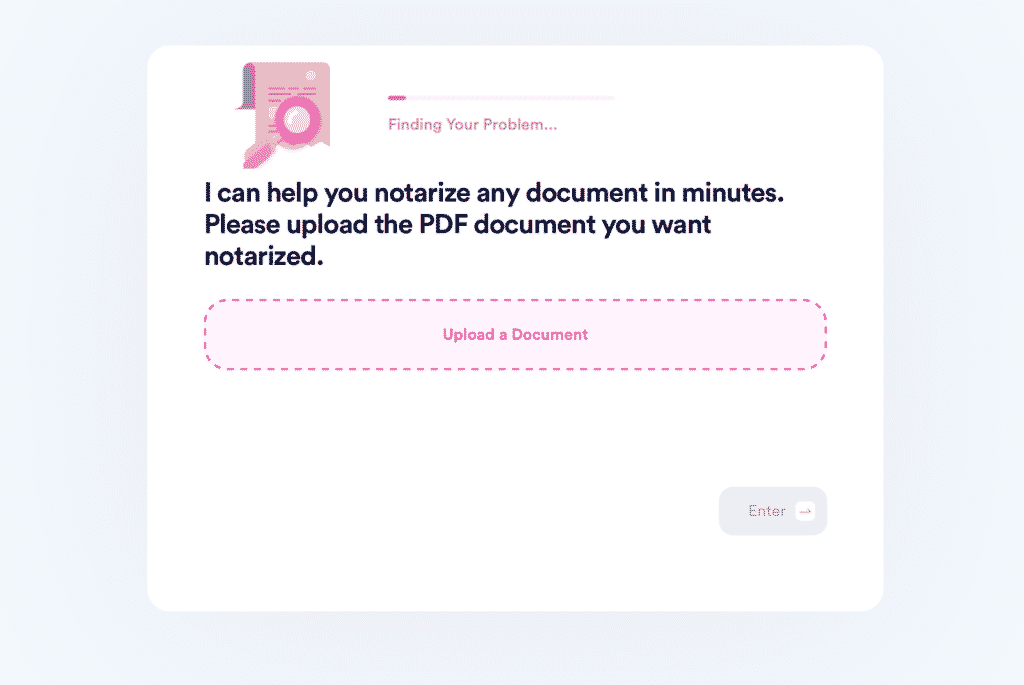 Learn More About Notarization With Our Help
If you're wondering about other notary-related details except fees, we can help! Our learning center provides answers to numerous questions, including:
DoNotPay Can Draw Up Legal Documents for You
Fast and easy online notarization isn't the only reason to . Our product galore is available to you for a small monthly fee.
One of our features can generate legal documents. You can count on DoNotPay's assistance when you need to draft the following contracts and agreements:
Types

List of Documents

Real estate

Quitclaim Deed

Estoppel Certificate

Intent To Purchase Real Estate

Residential

Lease Agreement

Business

LLC Operating Agreement

Bill of Sale

Non-Compete Agreement

General Business Contract

Non-Disclosure Agreement

Independent Contractor Agreement

Other

Parenting Plan (Child Custody Agreement)

General Affidavit

Prenuptial Agreement

Promissory Note

Child Care Authorization Form
Use Our Robot Lawyer To Eliminate Pesky Tasks
Administrative tasks are often time-consuming, which is why many people give up on them before even trying to tackle them. Requesting refunds, canceling services, signing up for clinical trials, reporting stalkers and robocalls, and trying to find unclaimed money are all processes that would usually take a long time to resolve.
With the help of DoNotPay, though, all of these admin hurdles become a piece of cake. In just a few minutes, our app can assist you in appealing parking tickets, getting in touch with your imprisoned loved one, getting an extended warranty, reporting copyright infringement, and so much more!
Don't Break the Bank—Sign Up for DoNotPay!
Our app can save you lots of money by helping you get a refund from any airline, sign up for a free trial without your credit card info, earn off persistent and illegal spam emails, and get an application fee waiver for a college you apply to.
With DoNotPay, you can even schedule a DMV appointment or jump the phone queue when getting in touch with a customer service representative without breaking a sweat!