Can I Get a Document Notarized Without Visiting a Notary Public in Huntsville, AL?
When your documents—such as affidavits or contracts—need to be notarized, you may search for a notary public in Huntsville, AL, that you can visit, but there are many other options. We'll go over different methods of notarizing documents in Huntsville and across Alabama. Follow our guide and find out why DoNotPay is the best way to fast-track notarization!
What Can a
Notary
in
Huntsville, AL,
Do?
Notaries in Huntsville are appointed by the probate judge of Madison County. Once they are appointed, notaries can perform the following notarial acts:
Taking an

acknowledgment

Administering an oath or affirmation

Noting a protest of a negotiable instrument
Before a notary can add their stamp and signature to a document that requires notarization, they need to verify the signer's identity. The signer has to show their ID and answer several questions. The notary must conclude that the signer is of sound mind and signing their document voluntarily. The signer has to sign the document in the presence of the notary who serves is an impartial witness.
Does Alabama Permit Online Notarization?
Alabama didn't allow remote online notarization (RON) until the COVID-19 pandemic. In 2020, notaries who are licensed attorneys or who operate under the supervision of licensed attorneys were permitted to become online notaries and provide their services remotely. Alabama only authorized RON temporarily and may not pass it into law. If this is the case, DoNotPay has got it covered. Our AI-driven app will assist you in scheduling an appointment with an out-of-state online notary as soon as you .
Remote Online Notarization Explained
During RON, the notary and the signer communicate via a video call. Online notaries need to:
Use the state-approved online platforms

See and hear the signers in real-time

Have a digital seal and signature

Record the video call
As you don't need to leave your house or print your document for this type of notarization, it is by far the most convenient one.
What Other Types of Notaries Are There?
There are different kinds of notaries depending on the type of service they provide. Apart from traditional in-person notaries and online notaries, there are also the following:
| | |
| --- | --- |
| Type of Notary | Brief Description |
| Electronic notary | They offer in-person notarization at their offices. The only difference from the traditional ones is that electronic notaries notarize documents in digital form and sign and stamp a document electronically |
| Mobile notary | Mobile or traveling notaries come to their clients' homes or a previously agreed-upon location to perform notarial acts on paper documents in person |
| Notary signing agent | Notary signing agents need to go through special training to be able to witness the signings of loan documents |
How Much Do Notaries Charge?
Notaries in Alabama can charge no more than $5 for all notarial acts. The notary fee limit is set forth by the state notary statute.
Where To Find Notaries in Huntsville on Your Own
If you want to find a notary the old-fashioned way, you can check a phonebook or ask around for a notary near you. There are also multiple websites you can use to search for notaries, such as Notary.net, 123notary.com, American Association of Notaries, and American Society of Notaries.
You can also check out certain offices in your area that usually employ notaries, including:
Shipping centers

Tax service offices

Insurance agencies

Translation services

Event planning offices

Law offices

Real estate offices

Travel agencies
Want To Notarize a Document Online? DoNotPay Swoops In!
DoNotPay takes the convenience of online notarization to the next level. You won't have to search for online notaries with the AI assistant extraordinaire by your side. Once we match you with a notary, all it's left for you to do is pick the time of your virtual appointment.
Here's how it works:
Choose our

Notarize Any Document

product

Upload the document that needs to be notarized

Provide your email address

Click on the link you receive via email to book the appointment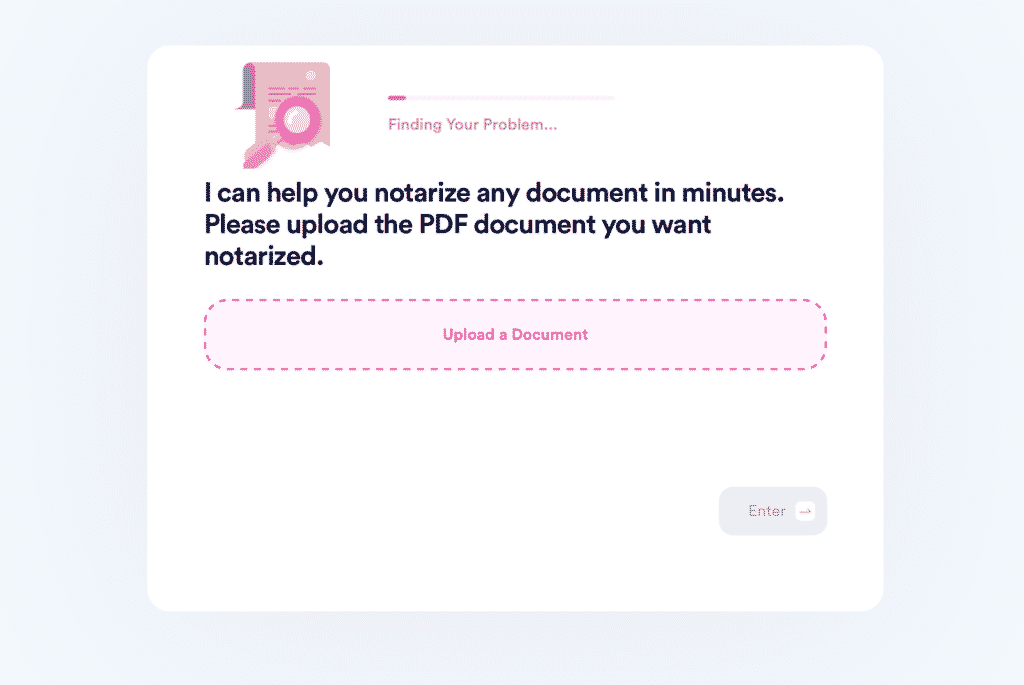 DoNotPay Helps With Documents in More Ways Than One
DoNotPay is a multifaceted app that provides an array of features for its users. We can help you:
Draw up

Fax

Notarize your document
Follow these steps and let our app generate numerous contracts and agreements on your behalf:
Open DoNotPay

Type in the name of the document

Answer several questions to customize it
Check the table below for a list of documents we can draft for you:
Types

List of Documents

Real estate

Intent To Purchase Real Estate

Quitclaim Deed

Estoppel Certificate

Residential

Lease Agreement

Business

General Business Contract

Non-Disclosure Agreement

LLC Operating Agreement

Bill of Sale

Non-Compete Agreement

Independent Contractor Agreement

Other

Prenuptial Agreement

Promissory Note

Parenting Plan (Child Custody Agreement)

General Affidavit

Child Care Authorization Form
Admin Issues Giving You a Headache? Resolve Them With DoNotPay!
Scheduling a DMV appointment, applying for clinical trials, requesting refunds from companies, and getting in touch with your loved ones in prison are all difficult and time-consuming tasks. You have to take many steps before you can get any of these over with, and that's why our robot lawyer app is here to help.
No matter if you need assistance with appealing parking tickets, signing up for free trials, canceling various subscription services, or maybe preparing for government tests, DoNotPay will provide you with easy solutions.
Having Financial Struggles? Rely on the World's First Robot Lawyer
Many Americans struggle to make their ends meet at the end of each month. With that in mind, we've created plenty of features that will save you both time and money in the most efficient way.
Using our AI-driven app, you can get help with bills, get refunds from airlines, find unclaimed money in any state, or earn off annoying robocalls or stalkers and harassers. If you want to fight for your right, DoNotPay will also assist you in suing any person or company in small claims court.
No matter the admin task at hand, our robot lawyer will provide swift and effective assistance.