How To Notarize a Document in NJ—No Hassle
This article will help you understand how to notarize a document in NJ with minimal effort.
Having a notary signature on your document is virtually the only way you can get the document to be enforceable by law. Whether you're dealing with wills or affidavits, you need to employ notary services to make them legitimate.
Since people have to go to a notary too often these days, online notaries have become increasingly more popular because they make the process more convenient.
Not all states in the U.S. recognize the practice of remote notarization—is New Jersey among them? If not, how can you get your document notarized in NJ? Find out in this article!
Can You Notarize a Document Online in New Jersey?
As of April 2020, the state of New Jersey allows notary publics and notarial officers to perform online notarial services, including:
This decision to allow the practice of online notarization was made due to the global health emergency and remains in force indefinitely.
The short answer to whether you can notarize a document in New Jersey online is that, currently, you can. You should be careful, though, to check whether this decision is active at whatever time you need your document notarized in NJ. The general opinion is that e-notarization is here to stay.
Notaries who own a mic and a webcam can connect with a signer online and notarize documents as long as they:
Record the appointment and keep the video for ten years

Note in writing that the service was performed using communication technology

Have evidence of the signer's identity, such as a passport, a driver's license, or a government-issued ID

Can guarantee and confirm that the document they notarized is the same as the document an individual signed
Where To Find a Notary Public in NJ
While it's great news that you can now have your document notarized in NJ without leaving your house, there are some restrictions. Notaries public and notarial officers cannot notarize documents that are connected to family law matters or that were issued by the Uniform Commercial Code online. If you are dealing with these types of documents, you will have to:
Locate a notary public

Schedule an in-person meeting

Go to the office with your document and identification evidence

Sign the document in front of the notary

Wait to have your document notarized

Pay the fee
The process is cumbersome, to say the least.
If you are wondering where you can find a notary in NJ, check out this table:
Where To Find a Notary

State of New Jersey

official website

You can do a quick search on the website to locate a notary near you

Shipping companies

Many shipping companies, including

UPS

, provide notary services to customers

Banks and other financial institutions

Banks also offer notary services in their branches.

Wells Fargo

and

Bank of America

are common examples. If you are a client of a bank that offers notarization services, you may be able to have your document notarized free of charge

Law offices and real estate companies

You can find a notary public operating in a law office or a real estate company
How Does Online Notarization Work?
The majority of documents can be notarized online, and you should take advantage of that. Usually, when you need to officiate a document—by having it notarized—you need that signature urgently. Having to go to a notary public and complete the task in a traditional way costs you not only cash but also a great deal of time and patience.
Remote notarization is a convenient alternative for getting the job done quickly and without leaving the comfort of your house.
If you are curious about the online notarization process, here's how it goes:
You schedule an online appointment with a notary

The notary sends you a link you can use to access the virtual room

You present a scanned proof of your identity

The notary may ask you additional questions to verify your identity, based on the information about you that's available in databases

The document that's to be notarized is displayed on the screen

You sign the document electronically

The notary seals the document with their signature
The encrypted digital certificate that the notary applies to the document makes it impossible for anyone to alter the document in any way without those attempts being noticeable.
Is Online Notarization Cheaper Than In-Person Notarization?
You might have expected online notarization to cost less than an in-person one, but that would be incorrect. Notary costs are often higher when you notarize your documents online than when you do it in person.
This is why has designed a feature that helps you get your document notarized online without spending a fortune.
How To Notarize Documents in New Jersey Using DoNotPay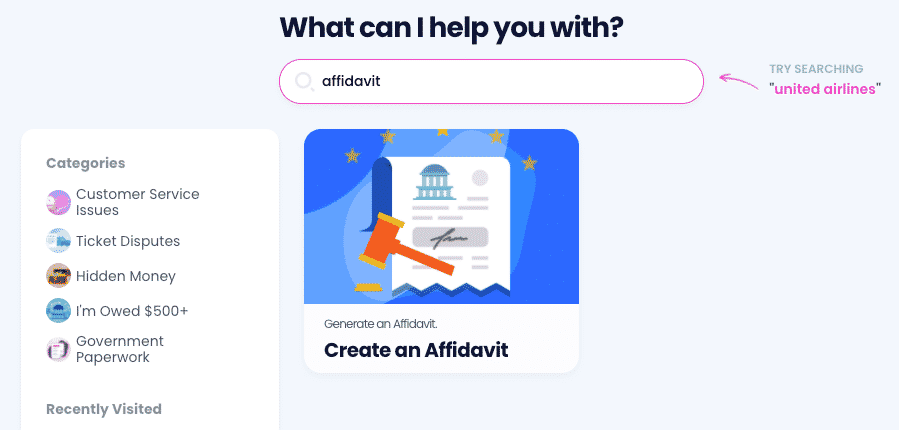 The Notarize Any Document service allows you to schedule a virtual meeting with a notary any time, any day, and in just a few seconds.
You only need to:
using any web browser

Go to

Notarize Any Document

Upload your document

Give us your email address
When you get an email from us, you can schedule your online appointment with a notary—no muss, no fuss. Best of all—there are no exorbitant fees when you use our app, and you get access to all of our other products as well!
DoNotPay Helps You Scam Scammers
DoNotPay helps you stay safe from scammers and fraudsters!
We have developed a Virtual Credit Card product that helps you sign up for free trials without revealing your real banking information to any suspicious company. We've joined our most popular feature with a Burner Phone functionality that allows you to verify online accounts with a temporary phone number.
That way, you'll be free to enjoy services while they're free of charge, eliminate the possibility of robocalls, robo texts, and spam emails from the shady companies, and forget about canceling the subscriptions altogether—our product does it for you!
DoNot Pay can even shield you from cyberstalking and online harassment and get you compensation for the crime you've suffered. We'll even help you take individuals or businesses to small claims court by drafting the relevant paperwork for you, accessing any public records that might bolster your case, and supplying you with a court script that you can read to the judge on the day of the hearing.
DoNotPay Is Helping You Out Left and Right
Not only can DoNotPay handle bureaucratic nuisances on your behalf, but we can make your daily life easier too!
No more waiting in endless phone queues to make a warranty claim for a faulty product or wasting the day away in mile-long DMV lines—our app will do the hard work for you! We'll call the reps of any company—even major airlines—and schedule appointments on your behalf in a matter of minutes!