We'll Show You the Way to the Notary in Kansas City
If you don't know how to get a document notarized—be it a will, trust, affidavit, car title, copy of a high school diploma, or any other—you're in the right place. Our article will tell you everything about notaries in Kansas City—what they can do, how much the notary fees are, and how to find a notary in Kansas City.
What Does a Notary Public in Kansas City, MO, Do?
The roles and responsibilities of a notary public in Kansas City are determined by the laws of Missouri. The law allows notaries to perform the following notary services:
Taking

acknowledgments

Performing jurats

Certifying copies of documents

Administering oaths and affirmations

Witnessing signatures

Putting a

signature

and stamp on documents
How Much Can You Expect To Pay for Notary Services in Kansas City?
For Kansas City notary services, you can't pay more than the amounts set by the state of Missouri. The maximum fees you can expect to pay for notary services are listed in the table below:
| | |
| --- | --- |
| Notarial Act | Notary Fee |
| Acknowledgment | $5 per signature |
| Signature witnessing | $5 per signature |
| Jurat | $5 per signature |
| Certified copy | $1 per page but certified with a minimum total fee of $3 |
| Oath or affirmation | $5 |
How Much Can a Mobile Notary Charge?
Mobile notaries charge the regular notary fees plus their travel expenses. The travel expenses cannot exceed the federal mileage rate of 56 cents per mile, and the expedited convenience fee cannot go over $25.
How To Find a Notary Public in Kansas City, MO
You can find a notary in Kansas City in several ways, but not all of them are simple. You can look for a notary by:
Checking with local businesses and institutions for an in-house notary

Searching Google

Using one of the specialized platforms
Businesses and Institutions Offering Notary Services
There are various businesses and institutions that have notaries on their staff since they need notarized documents daily. You can check in:
Locating a Kansas City Notary using Google
Check out some of the Google results for notaries public in Kansas City:
| | | |
| --- | --- | --- |
| Notary Public | Address | Contact Information |
| Notary by Cindy | 806 Southwest Blvd, Kansas City, MO 64108 | 816-241-8989 |
| KC Notary Pro | N/A | 816-783-7868 |
| KC Notary Associates, LLC | 4727 Euclid Ave, Kansas City, MO 64130 | 816-585-5368 |
| The UPS Store | 6320 Brookside Plaza, Kansas City, MO 64113 | 816-363-3456 |
| Denisse's Notary & Services MO | 1311 E 13th St Suite D, Kansas City, MO 64106 | 816-845-7485 |
| Metro Notary Services | N/A | 913-417-3240 |
The notaries that show no address on Google usually offer only mobile services. It would be best to call them if you want to schedule an appointment.
Platforms for Finding a Notary in Kansas City
You can use some of the following platforms to find a notary in Kansas City:
Can a Notary in Kansas City Perform Online Notarizations?
Notarization has become exceedingly difficult due to the COVID-19 pandemic. For that reason, 28 states introduced remote online notarization (RON), and Missouri is one of them. This means that you can find an online notary in Kansas City who will perform notarial acts for you without a meeting in an office.
Notary in Kansas City can perform notarial acts online under the following conditions:
The notary has to inform the Missouri Secretary of State that they're performing a remote online notarization

The notary must be in the State of Missouri while performing notarial acts, and you don't

Your notary must record the notarization and keep the recording for a specific amount of time

The notary must use their

electronic

signature and stamp
Use DoNotPay and Find an Online Notary in Kansas City
DoNotPay makes online notarization simple and convenient for our subscribers. With our platform, you won't have to search for an online notary by yourself—we will find one for you. All you need to do is and follow the three steps below:
Find the

Notarize Any Document

product

Upload the document you want notarized

Enter your email address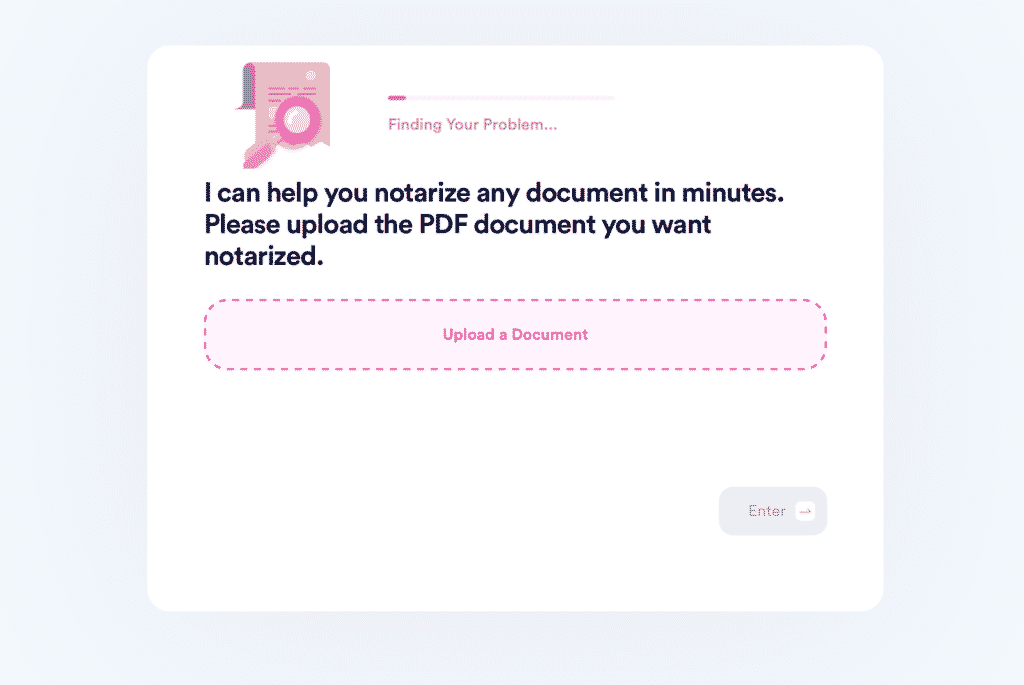 We will send you a link, which you will use to schedule an appointment with your online notary. During the live video call, the notary will check your identity and witness your signing of the document. The whole process will take less time than visiting a notary in person!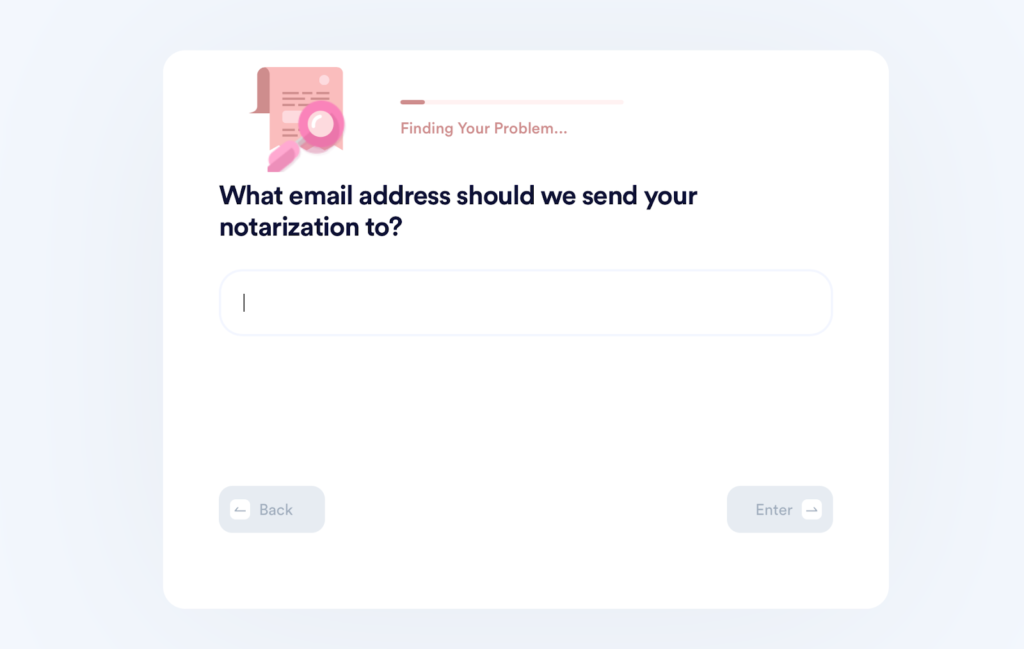 If You Need Additional Information About the Notarization Process, We Have It!
You can go through our learning center to learn more about notarization in general. When you , you'll find answers to the following questions:
What else should I know about

notaries in Missouri

?

Are there notaries that

work 24/7

?
Use DoNotPay's Features to Your Advantage!
DoNotPay offers a myriad of helpful services you can use to resolve your everyday hurdles.
Do you need help paying bills or finding and claiming missing money? Are you interested in applying for clinical trials in your area? We can help you solve these and many more issues in no time!
Here are some other problems you can handle effortlessly with our help:
Hiring a Lawyer Can Cost a Small Fortune—Rely on DoNotPay Instead
If you're on a tight budget and can't pay a lawyer to help you create legal documents, file a claim in small claims court, or handle stalking and harassment, DoNotPay has a solution for you.
Our app will help you create various documents, including child travel consent forms and complaint letters for a problematic neighbor.
Are you a victim of a crime and need help applying for reimbursement of your crime-related expenses? You can sign up for DoNotPay and allow us to handle your crime victims compensation on your behalf.
DoNotPay can also connect you with an online notary and enable you to get your documents notarized from the comfort of your home.