Monroeville Notary Services From A to Z
Notarization is often necessary but can bring numerous difficulties if you don't know how it works. All U.S. states, including Pennsylvania, impose specific notarization rules. Getting informed will help you obtain a notary signature without mistakes or complications.
This article will shed light on Monroeville notary services and show you the best way to handle notarization as smoothly as possible! Check out our tips and find out how to schedule a meeting with an officer in four super easy steps!
What Notary Services Does Monroeville Offer to Its Residents?
Before you start looking for a notary, you must decide what notary service will work best for you. As a Pennsylvania resident, you can choose among four available options:
Type

Details

Regular notaries

Work in larger companies, institutions, and separate notary offices

Have fixed working hours

Require the physical presence of the signer

Mobile notaries

Notarize documents at the signer's chosen location

Impose additional mileage fees

Notarize mortgage closings, leases, powers of attorney, and third-party mail services

Remote notaries

Perform notarial acts remotely using audio-video technology

Require documents to be in electronic form

Provide digital notary signature and seal

Electronic notaries

Are similar to standard notaries, except they notarize electronic documents exclusively

Require the physical presence of the signer

Provide electronic signature and seal
What Are the Prices of Notary Services in Monroeville?
The fees set by Monroeville notaries must comply with the maximum notary costs proposed by the Pennsylvania Department of State. According to these regulations, the notaries at this location may charge:
$5.00 for taking acknowledgments

$5.00 for administering an oath or affirmation

$2.00 for each additional signature on an acknowledgment

$5.00 per signature for witnessing signatures on various documents

$5.00 for certifying a copy of a document

$5.00 for certifying a deposition

$3.00 for noting a protest of a negotiable instrument

$25.00 for any notarial act performed remotely (online)
The only costs the state can't limit are the additional expenses related to phone calls, traveling (for mobile notaries), mailing or copying documents, etc.
How To Locate a Notary in Monroeville by Yourself
Once you choose a convenient notary service, it's time to consider the most effective ways to find an officer in Monroeville. Here are some suggestions:
Leaf through local yellow pages or phonebooks

Find the lists of best notaries in the vicinity on

Yelp

Google the keywords related to the service you need and check out the results on the first Google page

Search through various online registries, such as

Notary.net

,

American Association of Notaries

,

123notary.com

, or the

Department of State official website

Ask a nearby

bank

—

Citibank

,

Huntington Bank

,

Bank of America

, etc.—if they have an on-site notary

Contact law firms, insurance companies, accountant offices, and real estate agencies in your vicinity to check whether they offer notary services
DoNotPay Is Your Way to a Simpler Notarization Procedure
Even though remote notarization is less burdensome than the regular one, it's not perfect. You may get confused by the unclear instructions or complicated interface of online notary platforms. This can be a huge waste of your time and energy, but we can help.
DoNotPay features a user-friendly tool that lets you schedule an appointment with an online notary with zero complications! Our simple interface and easy-to-follow instructions will help you avoid confusion and connect with an officer in no time.
The best part is that you can use our service regardless of working hours or holidays—we're there for you 24/7!
To book a virtual meeting, follow these steps:
Pick the

Notarize Any Document

option

Provide us with an e-copy of the document

Type in your email address
Once you are done, we will send an appointment-scheduling link to your inbox. All you need to do is pick the time slot that works best for you! The procedure works for all documents that may need notarization, such as: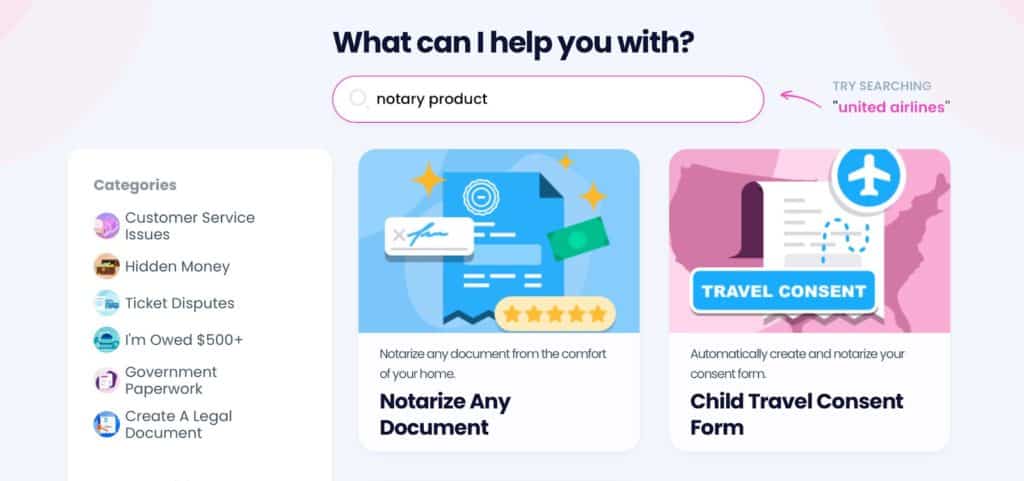 Our Learning Center Offers the Answers to All Your Notary-Related Questions
DoNotPay's vast knowledge base provides loads of handy articles that can help you understand notary services better. from any device, check out our manuals, and get responses to the most common questions, such as:
Let DoNoPay Help You With Your Paperwork
Why waste time on bureaucracy if you can rely on DoNotPay to handle pesky tasks for you? Cancel all your subscriptions at once, find unclaimed funds in a matter of minutes, appeal parking tickets hassle-free, and discover the best way to get your documents notarized remotely.
In case you need help paying bills or you want to earn some money by participating in paid clinical trials, DoNotPay is here to help you out!
Fighting workplace discrimination is of utmost importance, but the entire procedure seems rather complicated. The same goes for the crime victims compensation application in most states. DoNotPay is here to change that. We will help you file a report, request compensation, and create numerous other documents.
Keep Your Online Safety in Check!
While internet safety should be one of your top priorities, staying anonymous while surfing the web is almost impossible. If you want to avoid giving out your number when registering for services, you should try out our Burner Phone product.
DoNotPay can also protect your credit card info, name, and email address, all through our handy virtual credit card. Sign up for free trials without worrying about unexpected charges.
With our app, you will learn how to deal with stalkers and harassers and how to access public records the easy way.
DoNotPay offers many other useful products that can help you prepare for government tests, have your college fees waived, and manage any annoying issue in minutes.