The Easiest Way To Get a Massage Envy Gift Card Refund
Having a Massage Envy gift card is pretty useful—not many people would say "no" to a free massage! What if your remaining balance doesn't cover the therapy you need? How can you use the remaining balance? Can you return your gift card for cash? We'll answer all your questions!
Subscribe to DoNotPay to get a Massage Envy gift card refund in a breeze!
How Does a Massage Envy Gift Card Work?
Massage Envy offers two types of gift cards:
Standard gift cards—plastic gift cards that can be purchased at any Massage Envy franchised location
eGift cards—digital gift cards you can buy on the official website
You can choose the amount on the card—starting at $50—and you can redeem it at any spa chain franchised location for:
Skincare treatments
Facial massages
Full body stretches
Rapid tension reliefs
Customized massages
The company often offers free promotional cards on its website.
What Is the Massage Envy Refund Policy?
According to the company's terms and conditions, you cannot redeem a used gift card for cash or get a refund unless it's required by law. If that is the case, the refund (or cash back) policy states that the company has to reimburse the unused gift card funds in cash.
This policy has certain balance limitations that differ from state to state.
Where Is the Gift Card Law Effective?
The gift card law is effective in Puerto Rico ($5) and 11 U.S. states. Below, you can find the list of states and their predefined balance limits:
Maine ($5)
Oregon ($5)
Rhode Island ($1)
California ($10)
Colorado ($5)
New Jersey ($5)
Vermont ($1)
Connecticut ($3)
Missouri ($5)
Washington ($5)
Massachusetts ($5)
How Can You Check Your Massage Envy Gift Card Balance?
To get a refund on a gift card, you have to figure out if there's any unused money on it. You can do that with a quick Massage Envy gift card balance check. Consult the following table for instructions on how to check the remaining balance:
Balance Check Method
Details
Via email
Unlike most companies, Massage Envy doesn't offer gift card holders an opportunity to check their remaining balance with a single click of a button. Instead, you have to contact customer support. Here's what you should do:

Write an email containing your gift card number and PIN
Inquire about the leftover money on your gift card
Send the email to customer support at gift@massageenvy.com

Over the phone
Even though it's not stated on the website, you can always contact customer service to inquire about the remaining balance on your gift card. You should call 480-366-4100 and ask the representative if they can check your balance. Keep in mind that it's not guaranteed that this method will work
In person
If you don't feel like talking or sending emails, you can check your gift card balance in person. Use the online locator to find the nearest spa center or massage parlor and head down there. When you arrive, ask the attendant to check the balance for you and give them the necessary information
Check Your Massage Envy Gift Card Balance With DoNotPay
To bypass the tedious procedures, let us check your balance for you. Here's how it works:
Access DoNotPay

and pick the

Check Gift Card Balance

tool

Upload a photo of your card (front and back)
Confirm your email address
We'll let you know how much money you have left in no time.
Let DoNotPay Get Your Money Back From Any Gift Card
The balance check uncovered some unused money on your gift card—now what? There's probably not enough for another massage or spa treatment, so the best option you have is to turn the gift card into cash. Luckily, we have the right service for you!
DoNotPay developed a product that helps gift card holders get unused cash in three steps, regardless of where in the U.S. they live.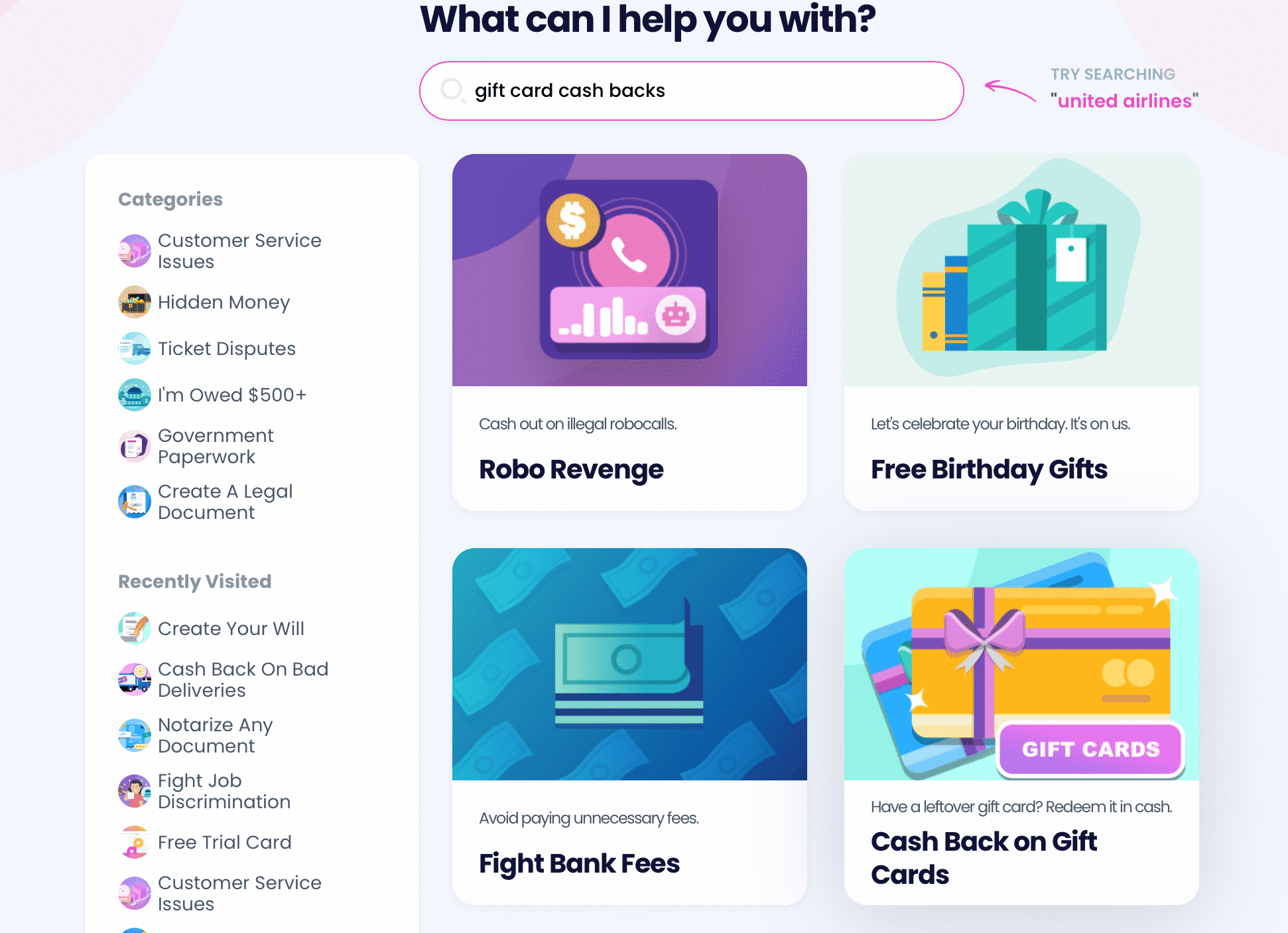 Here's how it works:
Choose the Gift Card Cash Back feature
Answer our questions and provide the required information—the gift card number, company name, and remaining balance
We'll check if your state has a gift card cash back policy. If it doesn't, we'll send the request to the Massage Envy franchised location in one of the states that do have it.
You can expect your cash or check in your mailbox no later than two weeks after sending the request.
What Else Can You Do With a Used Massage Envy Gift Card?
You should explore some alternatives to getting a refund on your gift card. Here's what else you can do with your used Massage Envy card:
Reload the balance—Send an email to gift@massageenvy.com or visit the closest Massage Envy location to add value to your card. This way, you can continue using the card for free massages
Trade your card—Find a reliable gift card exchange group and ask someone if they'd like to switch cards with you
Give it as a gift—While often a necessity, massages can feel like a privilege sometimes. That's why you should consider giving your gift card to someone who might need it more if you no longer use it
Sell the card—If you no longer want to have a Massage Envy gift card, one of the options is to sell it. You can do that by listing it on an eMarketplace
Get Refunds From Other Gift Cards With DoNotPay's Help
Whether your gift card is from a bakery, pet shop, clothing store, or restaurant, you can rely on DoNotPay to get your money back. Here are some of the many companies we can help you with:
DoNotPay Covers All the Bases
From getting you ready for various government tests to helping you reduce your property taxes, DoNotPay offers valuable assistance with the tasks that make most people at least roll their eyes. Dealing with bureaucracy isn't fun, but it also doesn't have to be as difficult as it is.
Every product in DoNotPay's portfolio is designed to efficiently deal with a specific issue within a few minutes and without sacrificing your comfort. Take a look at the tasks our app can make much more simple:
A Little More Money Never Hurt Anybody
Hardly anyone would turn down a chance to earn some more cash. That's why DoNotPay not only protects your rights and interests but also offers great opportunities to improve your financial situation.
With our help, you can find paid clinical trials, locate your missing money in any state, get your cash back from used gift cards, or enter various raffles and win great prizes.