An Extensive Guide to Loyola University Financial Aid
Loyola University Chicago (LUC or Loyola) was established in 1870. This is a private Jesuit research university that has around 17,000 students. The tuition for attending this school is a whopping $45,543.
If you are among the majority of people who can't pay that much for education at LUC, you can apply for Loyola University financial aid. DoNotPay has the tips and tricks you will need for the application process. We can also assist you in filing an appeal if the school rejects your financial aid application or doesn't offer enough funds!
Loyola University Chicago Financial Aid—What Forms of Financial Assistance Are Available?
You can choose between a few financial aid types at Loyola. Financial assistance can come from federal, state, and institutional resources. The amount you'll get and the period during which you can receive financial aid depend on the type of aid you apply for and its source. Here are your options:
Grants
Scholarships
Loans
Work-Study programs
Grants You Can Apply for at Loyola University
A grant is a financial award that does not require repayment. At Loyola, you can apply for:
Loyola Grants
Federal Pell Grant
Federal Supplemental Educational Opportunity Grant (FSEOG)
Teacher Education Assistance for College and Higher Education (TEACH) Grant
Illinois Monetary Award Program (MAP) Grant
Scholarships That Are at Your Disposal at Loyola
Scholarships are another form of "gift aid." Depending on the type of student you are, you can apply for the following scholarships at LUC:
Undergraduate Scholarships
Continuing Students Scholarship
Transfer Scholarships
Research Scholarships
External Scholarships
Graduate Scholarships
Adult and Continuing Education Scholarships
ROTC Scholarships
You can check out the detailed description of the scholarships and the application process on the school's website.
Student Loans You Can Apply for at Loyola University
Student loans are funds that you borrow and need to repay with interest. You can apply for:
Federal Direct:

Subsidized loans
Unsubsidized loans
PLUS loans

Private loans
Work-Study Programs at Loyola
The Federal Work-Study (FWS) program is another form of need-based financial aid available at Loyola. FWS provides you with part-time employment to help you pay for your education. You can choose between working on-campus or off-campus.
What You Should Know About Applying for LUC Financial Aid
All students need to follow a specific application procedure if they want to receive financial aid at Loyola. The first and mandatory step is completing the Free Application for Federal Student Aid (FAFSA). The information you include in this form is what determines your financial aid eligibility. You will also need to include the Loyola University school code when completing the FAFSA—001710.
If you want to be considered for all resources available, you should submit your FAFSA as early as possible after October 1 because some need-based aid has limited funding. The federal deadline for submitting a FAFSA form for the 2021–2022 academic year is June 30, 2022.
Loyola University Chicago Financial Aid Office
If you have any more questions about financial aid at Loyola, you can get in touch with the school's Financial Aid Office in the following ways:
Via email—Send an email to lufinaid@luc.edu
Over Zoom—Join the Zoom meeting anytime between 9:30 a.m. and 11:30 a.m. CST from Monday to Friday
In person—Visit Loyola's Lake Shore Campus at the Student Services HUB in the Sullivan Center (6339 N Sheridan Rd. Chicago, IL 60660). You will need to follow strict COVID-19 guidelines
Over the phone—Call 773-508-7704
Loyola's Financial Aid Office working hours are between 8:30 a.m. and 5 p.m. on Mondays, Tuesdays, Thursdays, and Fridays. You can reach the financial aid advisors from 9:30 a.m. to 5 p.m. on Wednesdays.
What if Loyola Makes You an Unsatisfactory Offer?
If Loyola makes a dissatisfying financial aid offer or rejects your application, you should file an appeal. Writing and sending appeal letters to all the schools you applied to can be tiring and time-consuming. You can speed up the process if you !
Send LUC a Financial Aid Appeal Letter With DoNotPay
You don't have to waste your time or nerves writing a financial aid appeal letter on your own—DoNotPay is here to help you! Our app will generate a professional and comprehensive letter for you and send it to the school on your behalf. You should only follow these simple steps:
Find our Appeal for More Financial Aid product
Inform us about financial aid offers from all the schools you applied to
Provide the relevant info about your family's income and financial status
We guarantee Loyola University Chicago will contact you soon after you complete our short questionnaire!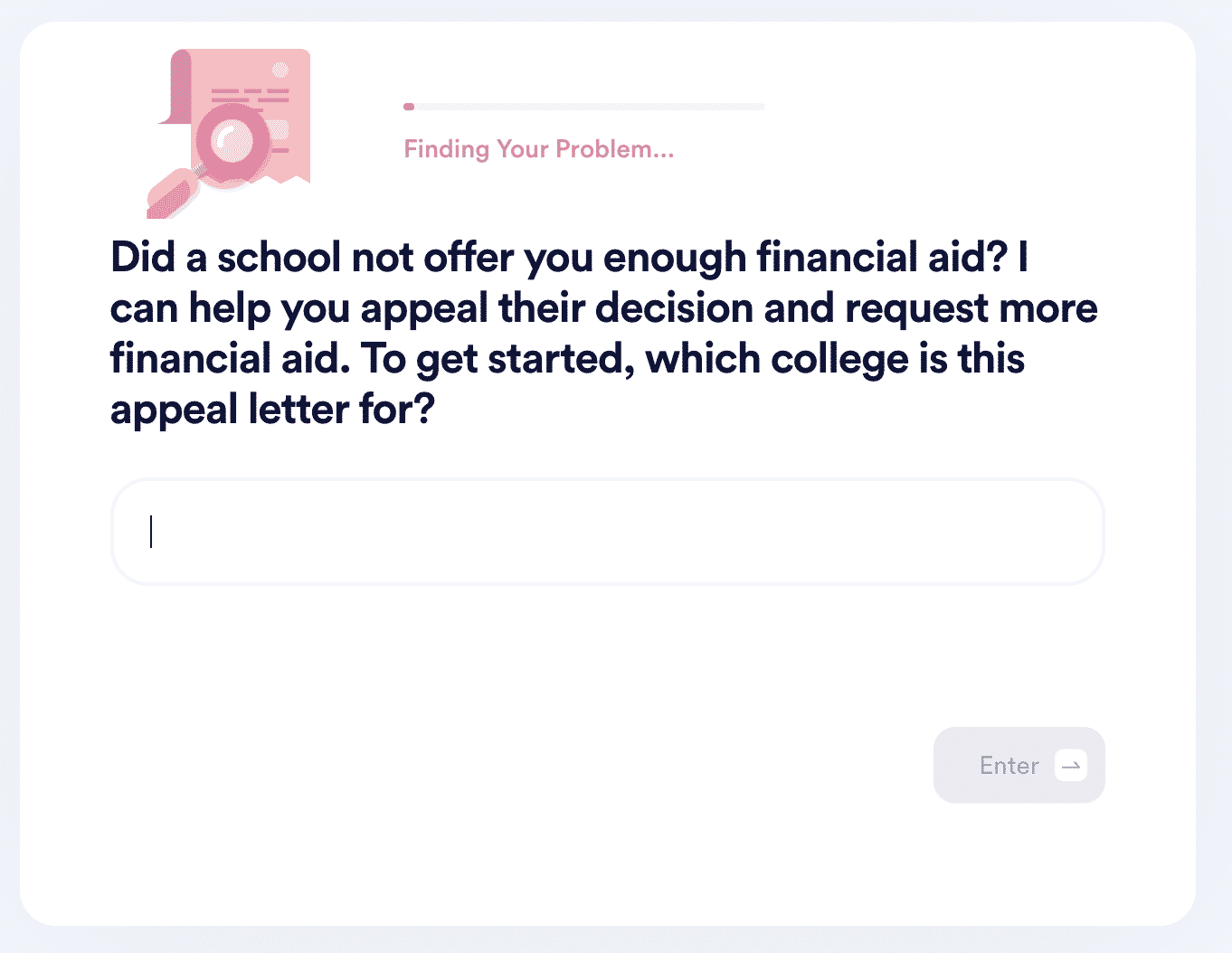 DoNotPay can also answer the following questions:
Financial Aid Options Available at Other U.S. Universities
If you want to learn about financial aid offers from other schools, check out DoNotPay's guides in the table below:
DoNotPay Is the Best Solution for Your Bureaucratic Problems!
A wide range of handy features DoNotPay offers can assist you in resolving administrative issues without breaking a sweat! Our app provides the easiest way to:
Submit a property tax assessment appeal

Compose power of attorney documents
Get What You're Owed in a Few Taps!
Shopping is fun, but retailing companies can sometimes be difficult to negotiate with, especially when things go wrong. With DoNotPay, you can reach their customer service without spending hours on hold and get a refund fuss-free! Should the merchant refuse to collaborate, we can help you get justice by suing them in small claims court.
Our app can also file an insurance or warranty claim in your name, request gift card cash back, or initiate returns for dissatisfying products.
If you want to check whether you have any unclaimed money in old bank accounts, using DoNotPay is the easiest way to do it!