Financial Aid for Graduate School—Limits and Eligibility Criteria Explained
The biggest expense when applying to colleges and universities is tuition, both for undergraduate and graduate students. Schools usually offer a few different types of financial aid used to help students cover their expenses and make their education more affordable.
If you're wondering how much aid you can get as a graduate student and want to learn about financial aid for graduate school limits and requirements, we've got you covered!
We can also help you understand the application process and deal with filing an appeal.
What Are the Graduate School Financial Aid Limits for Loans?
Both undergraduate and graduate students are offered financial aid loans, but they come with certain limits. Students can't borrow any amount they want but the amount that is already set for them.
The federal loan programs that students can apply for also differ depending on the year of studies. Check out the table below for more specifics on how much financial aid you can get:
Student
Loan Type
The Amount Students Can Borrow
Undergraduate students

Direct Subsidized Loans
Direct Unsubsidized Loans

$5,500 to $12,500 per year

Graduate Students

Direct Unsubsidized Loans
Direct PLUS Loans

Up to $20,500 per year (unsubsidized)
$138,500 total (no more than $65,500 may be in subsidized loans)
Maximum Financial Aid for Graduate Students and Eligibility Criteria
Maximum financial aid for graduate students is the amount graduate students are allowed to borrow annually. If you're a graduate student enrolled in certain health profession programs, you may be eligible to receive an additional Direct Unsubsidized Loan. It's best to check with the financial aid office of the school you're enrolling at for more details.
To be eligible for financial aid, you have to meet certain eligibility criteria that include:
Having financial need
Being a U.S. citizen (or an eligible non-citizen)
Being enrolled in an eligible degree or program of your school
If you aren't satisfied with the proposed amount and you're looking to get more financial aid, you can apply for other financial aid types.
What To Do if Graduate Financial Aid Limits on Loans Prevent You From Covering College Expenses
Although there is a cap on loans you can borrow as a graduate student, you can look for other financial aid types to cover the necessary college costs. The other common financial aid types offered by most schools are:
Grants
Scholarships
Work-Study
Aid Type
Description
Programs
Grants
You can receive a certain amount in federal or state-funded grants that you don't have to repay

Fulbright Grants
Teacher Education Assistance for College and Higher Education (TEACH) Grant
State Grants

Scholarships
Scholarships are granted to students who make satisfactory academic progress or whose financial circumstances make them eligible

Boren Fellowship Awards for International Study
Bank of America Merrill Lynch MBA Diversity Fellowship Program
NSF Graduate Research Fellowship
Fulbright U.S. Student Program – English Teaching Assistantship
Dr. Nancy Foster Scholarship Program

Work-Study programs
If you want to earn money while studying, you can apply for Work-Study programs that allow you to get part-time jobs

On-campus positions
Off-campus positions
Applying for financial aid usually requires you to fill out and submit the Free Application for Federal Student Aid (FAFSA). FAFSA helps the college board of the school you're applying to decide whether you meet its financial aid eligibility criteria based on your financial circumstances.
Application deadlines vary depending on the college or university. It's best to check when to apply by calling the school's financial aid office or visiting its website.
You can also find other useful info about financial aid by checking out our guides, such as:
Did Your Financial Aid Application Get Rejected? Appeal the Decision With DoNotPay!
It's not uncommon for colleges and universities to reject an application or offer an insufficient financial aid amount. That doesn't mean you have to accept what they offered! You can use DoNotPay to appeal the decision in three quick steps!
We'll cut your work in half by composing a financial aid appeal letter in your place! All you need to do is answer a few simple questions, and we'll handle the rest:
Select the Appeal for More Financial Aid feature
Provide us with the required info about the college you want to enroll at and your family's financial situation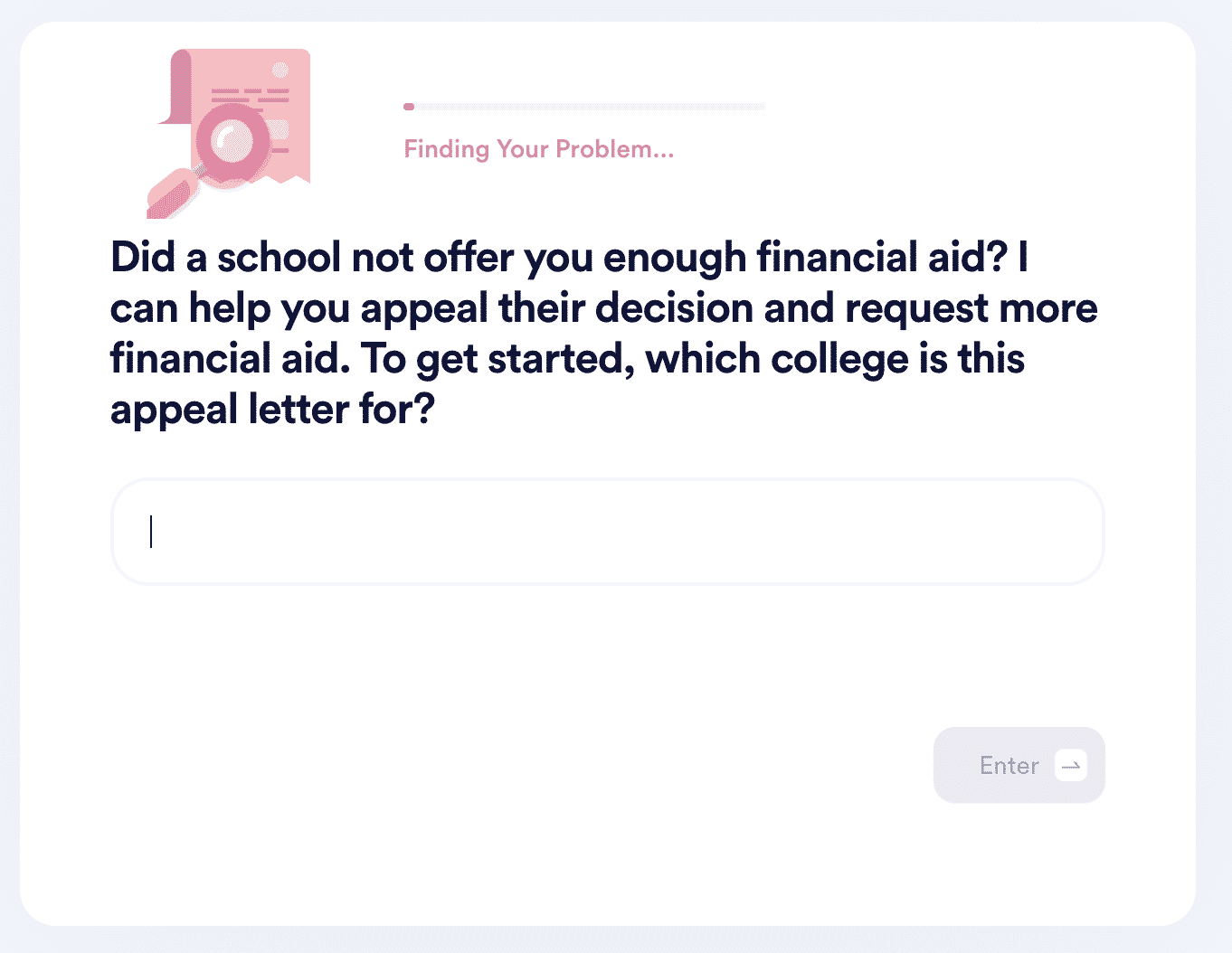 After you complete our questionnaire, we'll create your appeal letter and send it to the financial aid office of the school in question.
There is no shortage of universities and colleges can help you get financial aid from! We can assist you in receiving financial aid from the following schools and more:
Tackling Administrative Issues Has Never Been Easier
DoNotPay was created to help you deal with burdensome everyday tasks you would rather skip. The features we offer will make sure you can:
Dealing With Legal or Security Issues? DoNotPay Will Make Them Go Away
Has a company refused to issue a refund you are entitled to? Sue it in small claims court and get your money back with the help of the world's first robot lawyer! You can also turn to us if you want to protect your work from copyright violation, prevent stalking or harassment, or get virtual credit cards to avoid disclosing your credit card info.
Besides assisting you in seeking justice and security, DoNotPay can help you arrange DMV appointments, contest parking tickets, prepare divorce settlement agreements, and compose various legal documents.