How To Tell if You Are Banned From a Twitch Chat and Get Unbanned
If you suspect a streamer banned you, we'll show you how to tell if you are banned from a Twitch chat for sure.
DoNotPay is sharing tips and tricks from weathered Twitch users about recognizing and resolving channel bans.
To get help with removing your Twitch account suspension, subscribe to our service and to accelerate the account recovery process.
Why You Got Banned From a Twitch Chat
Streamers have full control over the other users' access to their channel.
They should follow community guidelines regarding their followers' behavior in the channel's chat. Streamers are expected to ban spammers and users posting racial, violent, or otherwise abusive messages.
The rest of the chat rules are completely up to the streamer to create and enforce. Stream owners and moderators can even ban people without any other reason at all.
Once you figure out why you got banned from a chat, you can try to appeal this restriction. Keep in mind that you can only appeal to the streamer directly, not to the platform—and only if they provided you with a way to do it.
It's up to the streamer's goodwill to grant you the right to actively participate in their chat.
What Happens When You Get Banned From a Twitch Channel?
You'll be able to use your account the way you did before a channel owner banned you. This is why a channel ban can easily go unnoticed if you're not looking for the signs, which are:
Not seeing the steamer who banned you in your Following list
Not being able to see or access the chat on the said steamer's channel
Being unable to whisper, refollow, host, or buy gifted subs on that channel
Viewing experience won't change for you—you'll be able to watch this streamer's content without other restrictions.
Can I Get Unbanned From a Twitch Channel?
The authorized way to appeal your suspension on a Twitch channel is by filing an Unban Request to the streamer directly through the chat column. Here's how to do it:
Go to the channel from which you're banned
Navigate to the chat column
Find the Request Unban button in its interface
Check your email for confirmation that you've sent the request
You may have to wait for some time before you can submit the Unban Request as the streamer might have set a cool-down period that has to pass before you get the chance to appeal. They also decide how long your ban will be—temporary or permanent.
Bear in mind that if after some time you still can't access the channel in which you are interested, it may also be because the streamer you were following got suspended. There is an easy way to check this.
How To Check Who Is Banned on Twitch
If you suspect that you cannot access a certain channel because the streamer's account has been suspended, here's how to check who is banned on Twitch:
Go to TwitchInsights website
Click the Other Insights drop-down menu
Select Check User Status
Type in the nickname or ID of the user you want to check
Can I Evade Any of the Suspensions?
Don't try to circumvent any of the suspensions, including a channel suspension, since it is against Twitch T&C. If you disregard these rules, you can end up on this list of the suspended users and even have your Twitch account banned indefinitely. With the IP address ban included in this sanction, you'll have no way of getting back on the platform.
If you already got in trouble and had your account temporarily suspended, DoNotPay might help you file an effective complaint letter and get unbanned.
Your Twitch Suspension Is More Serious, and You Can't Access Your Account? DoNotPay Helps You File an Effective Complaint!
Although DoNotPay can't help you get unbanned from individual chats since the streamers have the final say in this, we can help you resolve bigger issues such as a platform-wide ban.
Whether you think you know the potential reason behind your account ban, or you believe you got banned from Twitch for no reason, DoNotPay's got your back.
and let the Unban My Account tool do the rest of the job.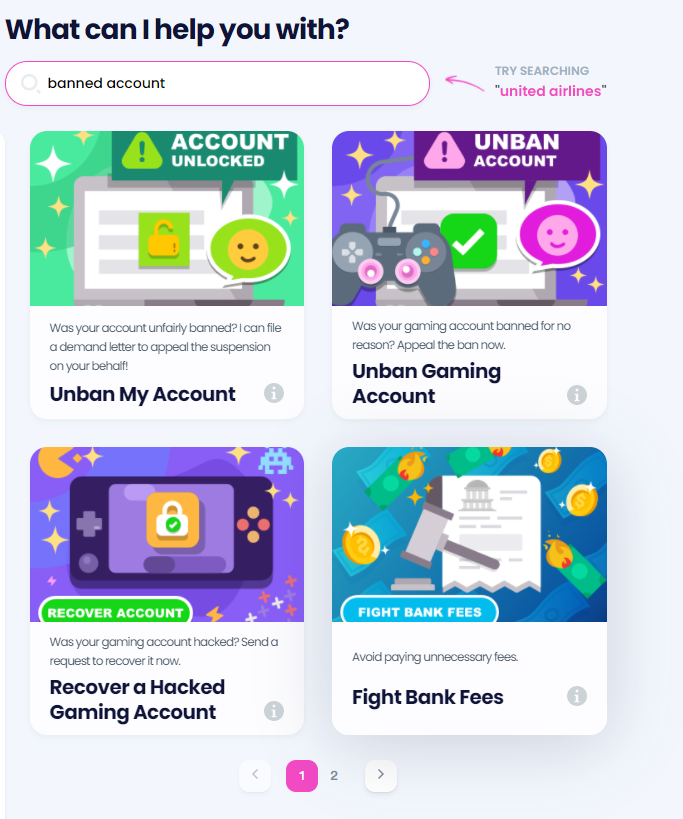 Here are the detailed steps for filing a suspension complaint via DoNotPay:
Fill out the name of the platform on which you are banned or suspended
Type in your account details

ID
Email address
Phone number
Other identifying details
The date when you got suspended

Share your concerns, if you have any, about being discriminated against on the basis of your nationality, race, religion, gender, etc.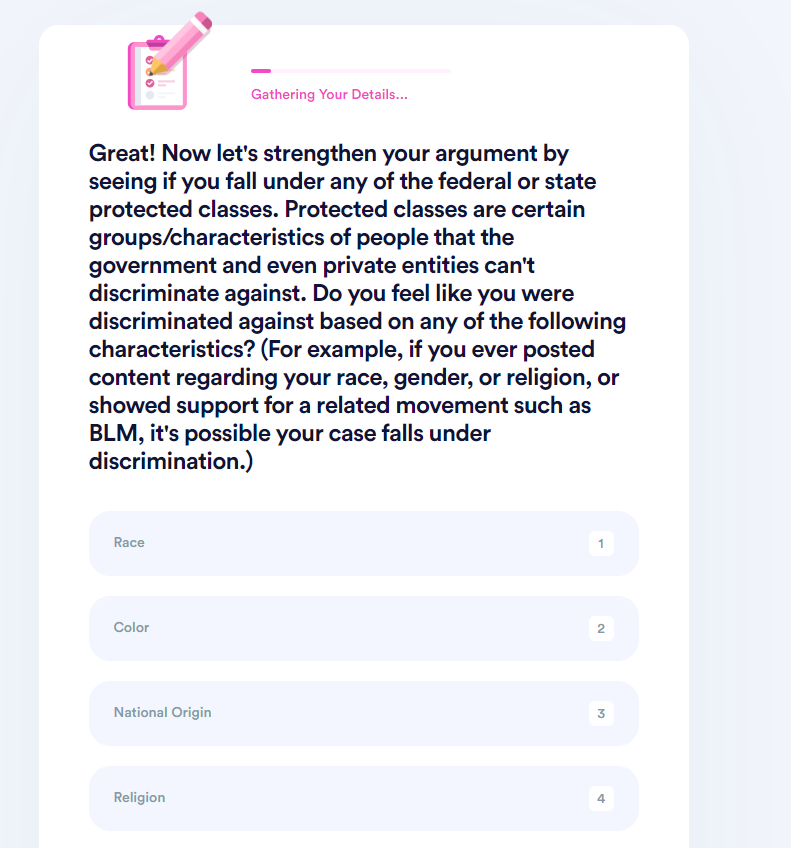 DoNotPay will use your answers to compose a strong complaint letter and then send it to Twitch.
The two-week deadline this letter will set before Twitch's complaint department will put additional pressure on them to prioritize your demand and reply as quickly as possible.
We can help you get unbanned from other streaming services, such as Chaturbate and Roku.
DoNotPay's Range of Service Goes Beyond Streaming Platforms
If your problems extend to your gaming accounts, DoNotPay has a tool that can rise to the occasion—Unban Gaming Account. This tool helps you unban your accounts on numerous gaming platforms, such as:
In case your account problems are more on the side of social media, e-commerce, and other service platforms, stick with Unban My Account for help.
Check the table for some of the examples:
Discover the Entire Spectrum of Our Features
A click or two will be enough to discover the amazing universe of DoNotPay's tools and products. Our app is here to show you the best way to get:
Financial Issues? Let DoNotPay Take Care of Them!
DoNotPay can track down your unclaimed money, submit insurance claims, or request compensation for delayed flights on your behalf. This way, you can save some money and get what you're owed. Our app can also make it easier for you to lower your utility bills, cancel active subscriptions and stop further charges, or appeal parking tickets.