Chaturbate Account Banned—All You Need To Know
If you got your Chaturbate account banned, the way to get it back depends on the reason for your ban.
This article will break down common reasons why users get banned on Chaturbate and ways to unban your account. and let us create an effective demand letter to streamline the process of unbanning your Chaturbate account.
Common Reasons To Get Your Chaturbate Account Banned
Chatrubate may ban you for numerous reasons, all of which are related to breaking the platform's rules. These rule violations can be so serious you may both get banned and bear legal consequences.
Chaturbate will ban your account if you:
Engage in activities that may cause security risks
Violate the Chatrubate code of conduct in any way
Getting Banned on Chaturbate Due to Causing Security Risks
You can get banned from Chaturbate if you engage in any activity that is considered a security risk. This includes:
Accessing the platform's data without authorization
Refusing to verify the information on your account
Using your account for criminal activities
Getting Banned Due To Chaturbate Code of Conduct Violations
Chatrubate has a code of conduct with strict and straightforward rules regarding users' behavior on the platform. The company will not tolerate violations, such as:
Discussing content that includes child pornography and exploitation of minors
Demanding moderators to broadcast inappropriate acts for tips
Creating multiple accounts to take advantage of the platform
Harassing other users or moderators
As a visitor of a chat room, you will have to be careful about your interaction with the moderator. If you engage in inappropriate behavior, the moderator may expel you from the room and even report you.
What if a Chaturbate Moderator Account Is Banned?
If you have a moderator account on Chaturbate, you should be mindful of your content and interactions with your viewers.
According to Chaturbate terms of service, the reason for your account ban may be one of the following:
Uploading recorded content
Vomiting, urinating, and similar acts in front of the camera
Soliciting funds
Advertising other services
Broadcasting torture, abuse, and violence
Arranging offline payments
Most of these offenses will result in permanent bans. This means that Chaturbate will not let you get your account back even if you file an appeal.
How To Get Unbanned on Chaturbate
If you believe Chatrubate has banned you by mistake, you will have to file an appeal to get your account back. You can do that by contacting Chaturbate customer service directly at support@chaturbate.com.
You can also visit the Chaturbate support page and contact the support team. To do so, you will have to:
Select the Submit a request option
Enter your email address and the subject of your request
Type your appeal in the description box
Add files that can support your appeal
Click on Submit
Once you complete the steps, the Chaturbate support team will review your account and decide whether to unban you or not. Note that some bans may turn out to be permanent, and Chaturbate might not be willing to unban your account.
Use DoNotPay To Make an Effective Appeal to Chaturbate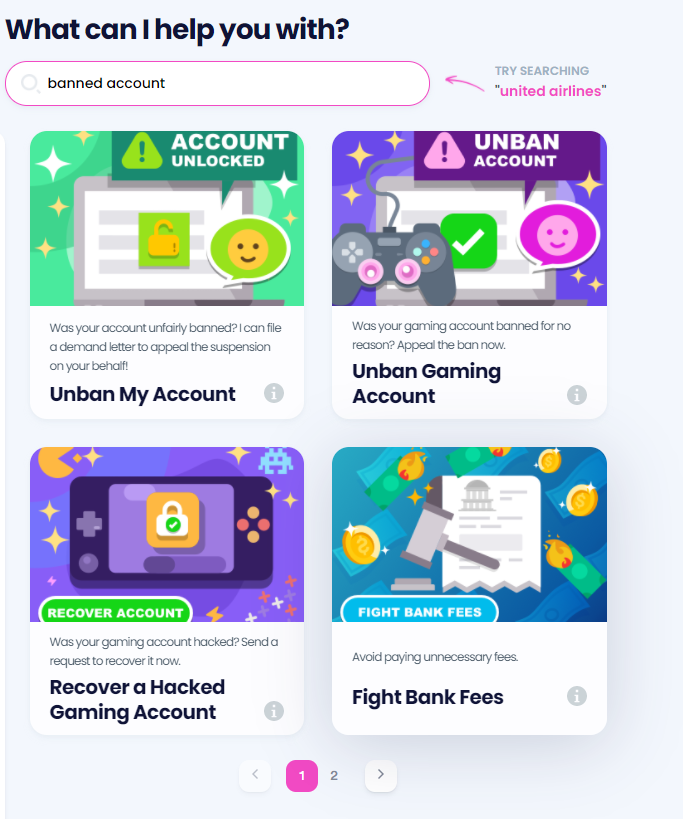 If a certain amount of time passes, and you still haven't received any news about your appeal, turn to DoNotPay. Our app will create a demand letter that requests Chaturbate to process your appeal and provide you an answer within two weeks.
To have DoNotPay create your demand letter, all you need to do is:
Navigate to the Unban My Account product
Fill out our questionnaire providing the following information:
Name of the platform your account was banned from
Date when your account was banned
Your address
Federal or state classes—If you believe you were discriminated against
Tap on Submit
DoNotPay will draft a personalized demand letter within a few minutes and send it to Chatrubate. This letter will put legal pressure on Chaturbate to consider your appeal and, if possible, lift a ban on your account.
DoNotPay Helps You Deal With Bans and Suspensions on Other Platforms
DoNotPay is a useful tool for any account suspension or ban you might be facing. Our Unban My Account and Unban Gaming Account products will help you draft a demand letter and send it to any online platform or service.
We also have various guides that break down the appeal process for suspensions, locked accounts, and other similar issues. If you are having trouble with bans on other streaming platforms—such YouNow or Tumblr—we will gladly assist you with that as well.
Browse through our expanding learning center to find the exact guide you need. Here is a fragment of what DoNotPay can help you with:
Solve Your Legal and Bureaucratic Issues With DoNotPay
The primary purpose of our app is to provide you with practical tools that can speed up all the drawn-out tasks you must complete. All you need to do is choose a suitable feature from our offer and get your problems solved in a heartbeat!
Once you create an account with DoNotPay, you can:
File:
Create:

Powers of attorney

Divorce settlement agreements

Many other legal documents

Get:
Feeling Unsafe or Harassed? DoNotPay Can Help You!
Have annoying calls and messages become your everyday problem? Don't give up on your peace—rely on DoNotPay and deal with robocalls and restless text and email spammers easily.
We also take care of your privacy, allowing you to create burner numbers and virtual credit cards to avoid revealing sensitive information when signing up for various online services.
If you are being stalked by somebody or discriminated against at work, we will do our best to help you fight for justice and report the case accordingly! We will also safeguard your creative work from copyright violation and ask for violent crime compensation on your behalf.