Not Sure How To Get Unbanned From a Minecraft Server? DoNotPay Has a Solution!
You were following all the Community Guidelines, but somehow you got your account suspended or banned on Minecraft? Now you're not sure how to get unbanned from a Minecraft server?
If you reached out to the game's customer support in an attempt to appeal your suspension, but you feel like your message was ignored—we get you.
This is an annoying situation, but don't worry, as there is a solution that can get your account unlocked quickly.
and use our Unban Gaming Account tool to file an effective complaint and receive a rapid response.
The Potential Reasons Behind the Minecraft Server Ban
If they're not an error, most Minecraft bans result from some form of Community Standards violation. If you don't follow these guidelines, you can get banned or suspended from any service provided by Mojang Studios.
Take a look at the rules all players must follow:
Be respectful and polite—When expressing opinions, you must do it with respect to all other players
Keep in mind the in-game experience of other users—Any available chat on a website or in a game must be considerate to other players' experience. This means you should be nice and try not to affect others negatively by spamming or writing in caps-lock (which is interpreted as yelling)
Report all arguments—In case you have a disagreement with another player, make sure you reach out to the moderation team. You can seek the moderators' help or report the other player. Whatever you do, don't shame the person you have an issue with (or any other user), as this falls under harassment
Do not share personal info publicly through the platform—This goes for both your and other people's personal details. The information that this section refers to are:

First and last names
Physical address
Gaming account details
Phone number
Email address
Any passwords

Never share your account info—In case anyone approaches you with a request for your account password, do not share it with them. This goes even for people who say they are from Minecraft support—this is not Minecraft's usual practice, and the person is probably using a fake account
Don't share content meant to provoke or hurt other players—Posting any intentionally provocative content with the aim of starting an argument is prohibited
Never promote any illegal activities
Steer clear of verbal violence—Minecraft is strict when it comes to behavior such as hate speech, harassment, bullying, threatening, or soliciting sexual services
Stick to all Minecraft Earth terms:

Don't add mods in Minecraft Earth. Modding is only allowed in the base Minecraft game
Minecraft adventures in the real world exclude the right to trespass
Follow the law and other rules and regulations although you are playing a game
Do not play Minecraft Earth while driving
How To Unban Yourself From a Minecraft Server
Until recently, you could get account- or IP-banned from one server. Now, in addition to temporary bans, Minecraft introduced game-wide permabans. That means moderators can ban you from the whole game permanently. If this happens, you cannot recover your account. Temporary bans are still reversible.
Here is how to get unbanned from a server:
Browse the server from which you've been banned
Wait until the notification that you've been blocked goes away
Click the Forums menu
Choose Ban Appeals under Suggestions, Reports, and Ban Appeals
Select Ban Appeal Template
Compose your appeal following the template
Start a new thread and add your appeal request
How To Unban Yourself From a Minecraft Server in a Few Simple Steps Through DoNotPay
You can reach out to Minecraft moderators or customer support, but you may have to wait for a response for days.
and let us solve your problem faster through our Unban Gaming Account tool.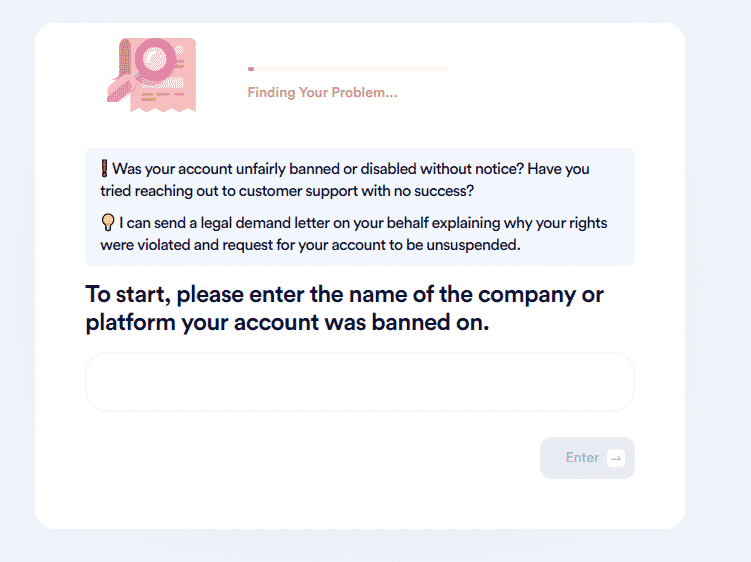 Here is the whole process:
Fill out the name of the platform that you are banned from
Give us some of your account details, such as:

Account ID
Email connected to the account
The date the issues started

Inform us if you have any suspicions that you are being discriminated against based on your gender, religion, race, etc.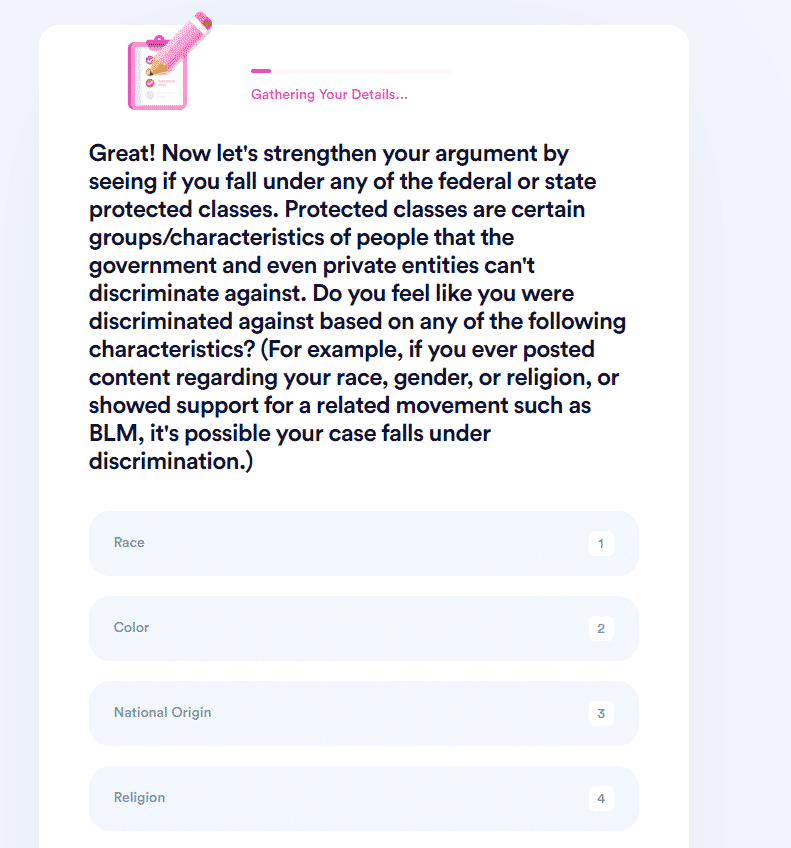 Our app will use the information you provide to create an original complaint letter and send it to Minecraft with a two-week response deadline. This way, we'll drive them to put your complaint on their list of priorities and answer in the shortest possible time.
DoNotPay also helps you get unbanned from Hypixel—a Minecraft minigame server.
Locked From Gaming, Social, or Shopping Platforms?—DoNotPay's Got You Covered
Minecraft is one of the numerous games to which we can help you get back. Unban Gaming Account guides you through the unbanning process for various online games, including:
If your suspension issues lie elsewhere, such as social media or shopping platforms, try our Unban My Account tool. It will file your unban request in a matter of minutes.
Take a look at some of the platforms included in ou service:
Discover the Entire Spectrum of Our Features
A click or two will be enough to discover the amazing universe of DoNotPay's tools and products. Our app is here to show you the best way to get:
Financial Issues? Let DoNotPay Take Care of Them!
DoNotPay can track down your unclaimed money, submit insurance claims, or request compensation for delayed flights on your behalf. This way, you can save some money and get what you're owed. Our app can also make it easier for you to lower your utility bills, cancel active subscriptions and stop further charges, or appeal parking tickets.