Has the Gymshark Return Policy Left You Sore? We Got the Best Solution!
Gymshark is a famous next-level functional fitness wear brand, but its poor customer service has been frustrating buyers to no end. The after-sales support is the worst for buyers using the Gymshark return policy to fix a bad purchase decision—they often complain about:
Wasting hours trying to reach out to a representative
Receiving insincere, scripted responses that hardly help
If your recent Gymshark clothing is not what you hoped for, don't let unprofessional customer service intimidate you. DoNotPay can help you skip the procedural hiccup and place a return request in record time— today!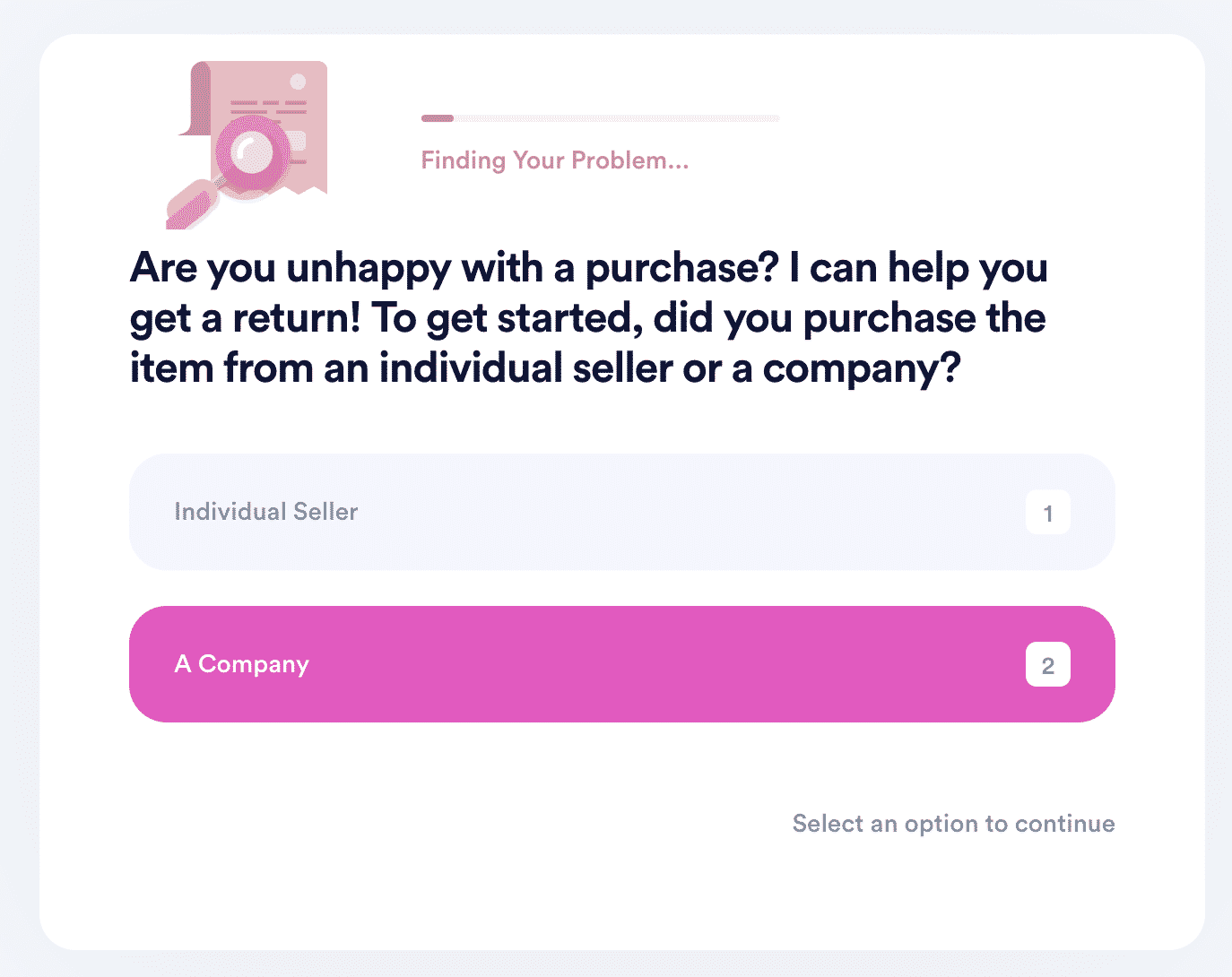 The Gymshark Return Policy Made Easy for You
Despite being a U.K.-based online and pop-up store, a staggering 40% of Gymshark's revenue comes from sales made in the U.S. Regardless of its expanding customer base, Gymshark offers a pretty lax return policy to American customers.
Currently, all U.S. buyers can return their Gymshark items within 90 days of delivery, as long as the products are unworn and unwashed and have their original tags. The company also dictates additional return guidelines for certain merchandise—you can check them out in this table:
Merchandise
Return Requirements
Women's swimwear
If you're returning women's swimwear, make sure the hygiene seal is intact—swimwear with compromised seals will not be accepted for returns
Underwear
You can only return Gymshark underwear if you haven't ripped off its hygiene strip
Socks
To return Gymshark socks, you need to:

Seal them back in store-bought condition
Box them up in their original packaging

Face masks
Face masks purchased from Gymshark cannot be returned or refunded due to pandemic due diligence and health precautions
My Gymshark Item Was Delivered Without Tags—Is It Eligible for a Return?
Recently, many customers have been freaking out after finding that the products delivered to them had no tags, which made these items ineligible as per return guidelines.
Gymshark eventually addressed the confusion and clarified that they have stopped adding tags to many products for environmental reasons. Such no-tag products are still eligible for returns.
The Gymshark Return Policy—Refund Guidelines
You may or may not receive a full refund on your Gymshark purchase—the refund amount is usually decided after your product is received at the warehouse.
If you return eligible Gymshark merch, you can expect a refund credited to your original payment source. In case you used a gift card for the purchase, you will receive an equivalent amount on your card after returning the item.
I Used Both a Gift Card and a Credit Card for Purchase—How Will I Get a Refund?
Your refund will first be issued with another gift card carrying the same amount as the previous one. The balance amount will be returned to your card.
What if I Purchased My Item From a Pop-Up Store?
Gymshark's pop-up store purchases are refunded with a store credit only (for the full amount), irrespective of the original method of payment.
Can I Ask for an Exchange Instead of a Refund?
At present, Gymshark excludes exchange matters from its refund policy, but buyers from the U.S. and Canada can still request an exchange for a recently purchased item through the website. There's no guarantee that your exchange request will be honored, especially if the item is out of stock.
How To Return a Gymshark Item—A Step-by-Step Guide
The Gymshark return mechanism is a major source of distress for many customers because the company practically has no call center! If you're looking to make a return, check out the options:
| Can You Initiate a Return Request Via | Yes/No |
| --- | --- |
| DoNotPay | Yes |
| Email | No |
| Phone | No |
| Letter | No |
| Website | Yes |
| In person | No |
Follow these steps to return your Gymshark wear through the company website:
Visit the website and navigate to the Returns page
Enter your location to find a country-specific RETURNS PORTAL
Type in the following details:

Order number—make sure to add a # before the number
Postal code or shipping data
Email address (the one you used for the original order)

Select the item you want to return from the bulk order displayed on the screen
State your reason for return—if you're returning a faulty product, Gymshark will ask you to upload three photos that show:

The company logo and label
The full-length product
A zoomed-in view of the fault in question

Enter the delivery destination and pick a drop-off point
Print the return label provided or save the QR code generated (this depends on the courier service available in your location, like FedEx or UPS)
Gymshark recommends customers hold on to the postage proof until they receive the refund.
How To Get Customer Support for Gymshark
Many customers feel left out in the cold after returning an item and receiving no refund or response from the company for weeks. With no call center support, customers hit a dead end and lose sleep speculating if they made a mistake in the return process.
If you're an agitated customer, you can contact Gymshark's grievance support through their website's chatbot only—there's no other way.
DoNotPay Won't Leave You Hanging—Use Our App for a Seamless Return Experience!
Are you tormented by the lack of decent customer service at Gymshark? Don't get worked up—DoNotPay is here to help! We are all in when it comes to helping users return their unwanted purchases.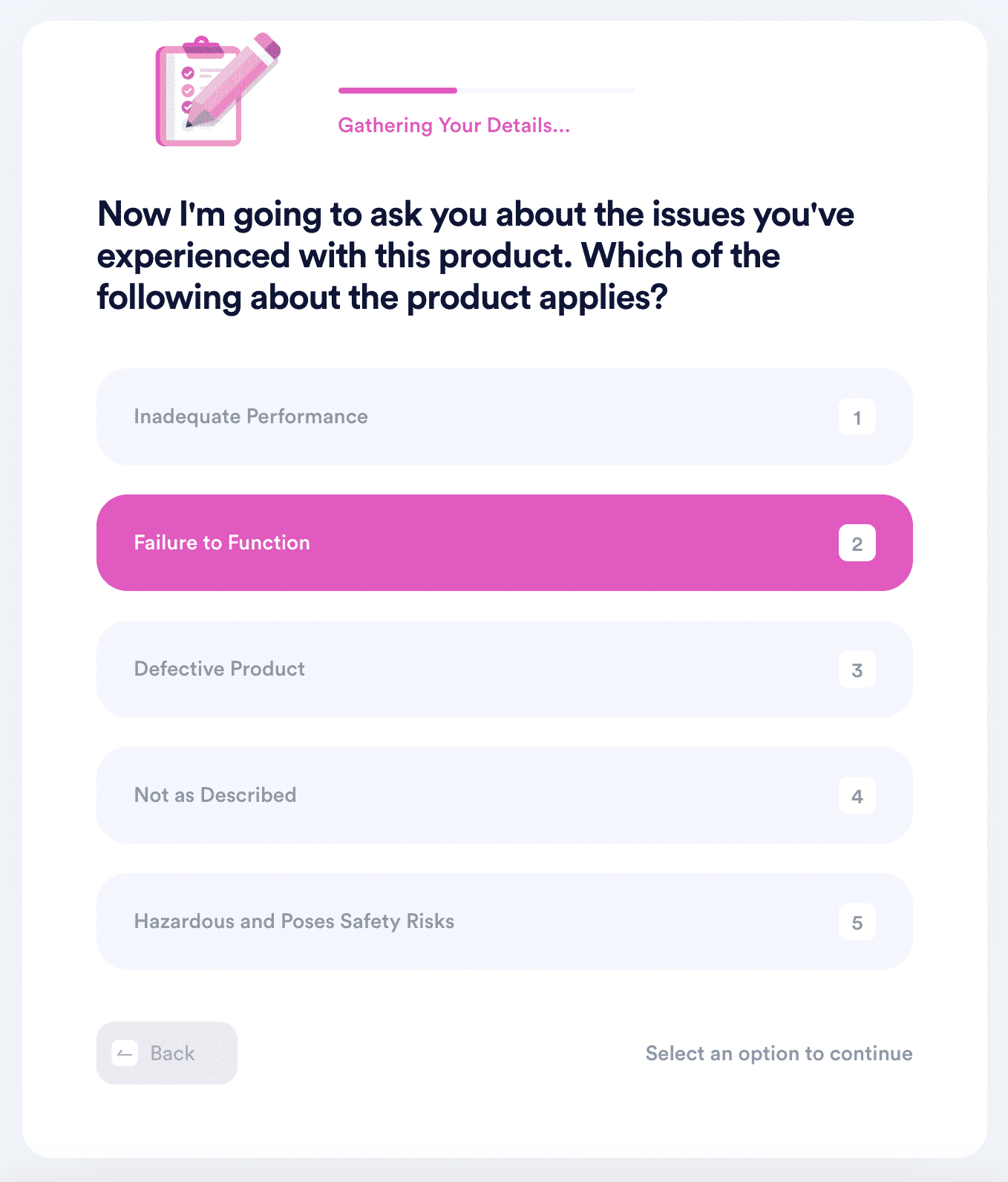 DoNotPay's user-friendly interface helps you tackle returns in a jiffy—we can also:
Let you set a deadline for the return (so that Gymshark processes your refund in a time-sensitive manner)
Get you a shipping label for free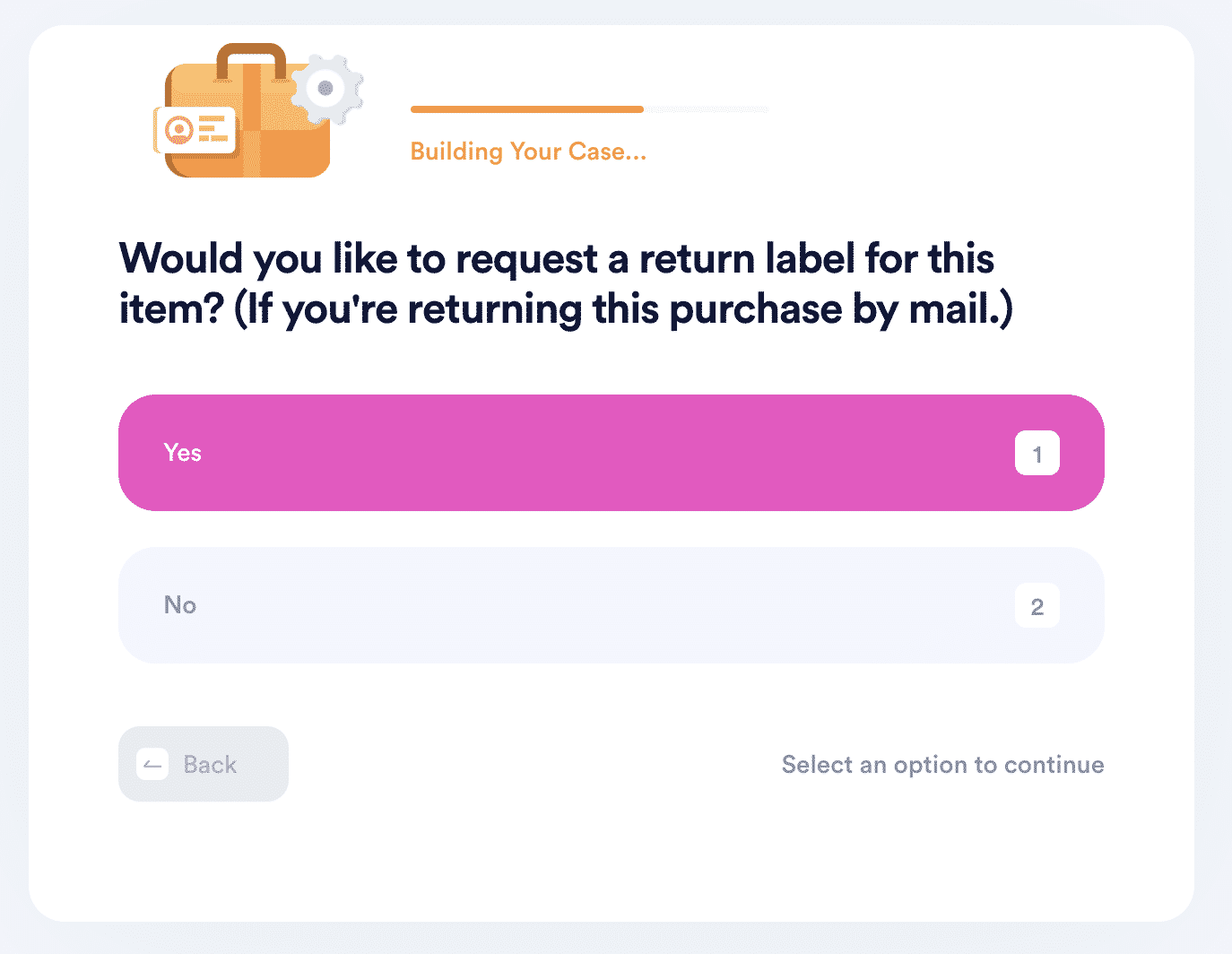 You are four easy steps away from initiating your Gymshark return:
and choose the Item Return Request feature
Enter your order details
Add photos of faulty products (if applicable)
Hit the Submit button
Once DoNotPay receives your responses, our robot lawyer will generate a full-fledged return request letter and send it to Gymshark. Most users get their refund amount within 14 days.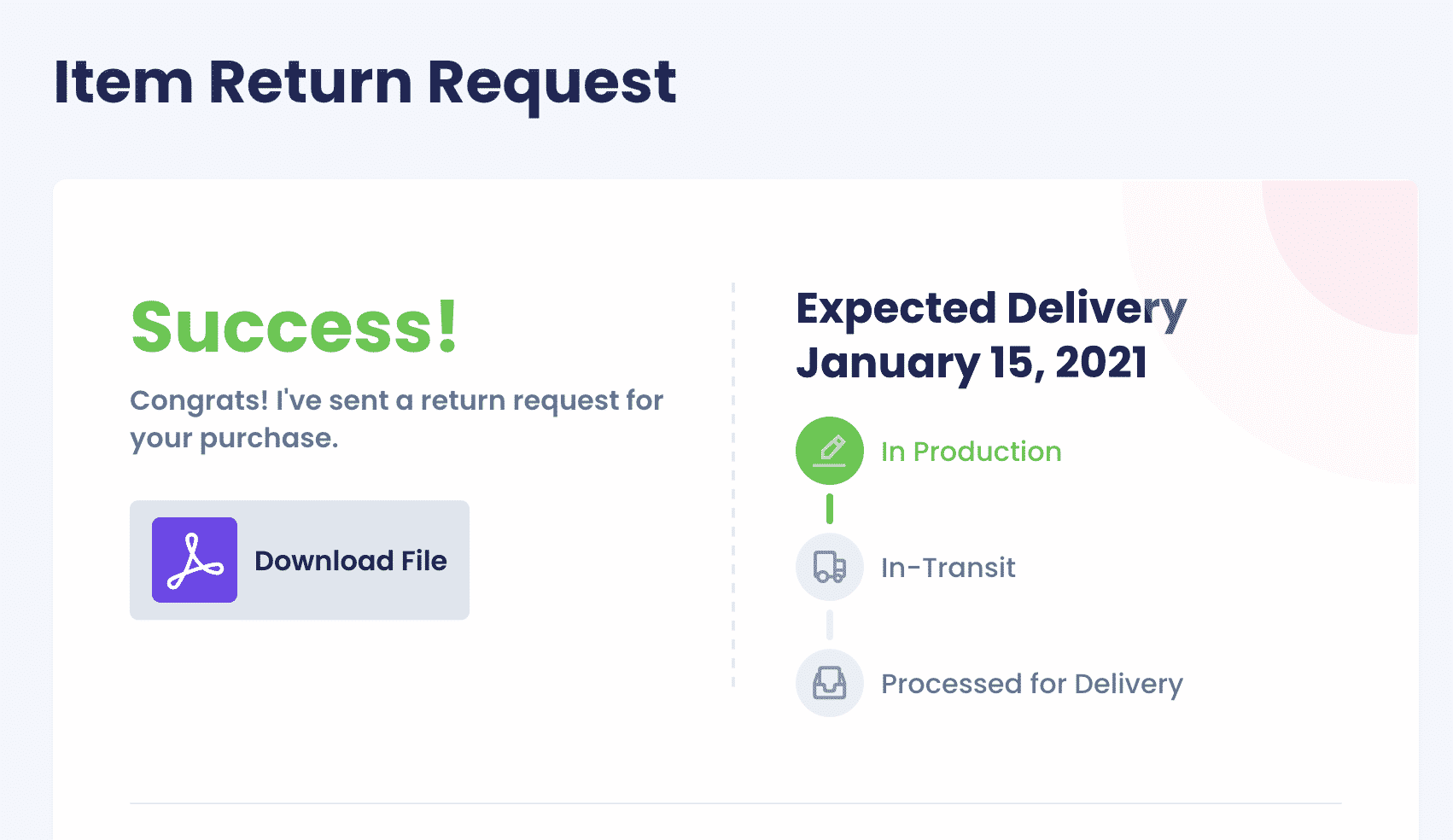 DoNotPay stays by your side through thick and thin—we will not only monitor your return status but also follow up in case of delays. If Gymshark disputes your refund, we will help you claim your rightful dues via the available legal means.
Return Policy Headache Is a Thing of the Past! Check Out DoNotPay's Other Guides
Initiating returns consumes time, energy, and resources—but not with DoNotPay! Our comprehensive guides help you get a handle on the return policies of hundreds of companies—here are a few examples:
Wasted Your Money on a Non-Returnable Purchase? There Are Other Methods To Earn It!
Don't feel down if the item you got isn't returnable—DoNotPay has many more tricks up its sleeve that will help you earn some money!
From helping you enter sweepstakes, decrease your property taxes, and lower your utility bills to assisting you in earning off email or text spammers and robocalls, waiving your college application fees, submitting a college financial aid appeal letter, and getting a refund from any company or airline, we can do it all!
DoNotPay Is Always at Your Disposal
Our app's mission is to take everyday admin and legal tasks off your plate so you don't have to waste any of your precious time. If you want to appeal your parking tickets, draw up a legal document, get any agreement notarized, get a tourist visa, keep a sex offender at bay, mail anything without waiting in line, or get in touch with a loved one in prison, DoNotPay will resolve any of these with ease.
Too busy to track your memberships? You don't need to worry about canceling your free trial on time before it turns into a paid subscription if you use our virtual credit card.
With DoNotPay, you can tackle any otherwise annoying chore stress-free.