The Collin College Financial Aid Program Explained
Collin College is a popular choice among students, and it doesn't come as a surprise since it offers over 100 different degrees and certificates. Some would say that the sum of tuition and attendance costs, which is almost $22,000 for students living off-campus, is not much compared to other schools, but depending on your financial situation, even that amount can be an obstacle.
Read this guide to learn how to apply for the Collin College financial aid program and how to to appeal the school's decision, get more aid, and overcome your financial hurdles!
What Types of Financial Aid Does Collin College Offer?
Collin College offers various types of financial aid students can opt for to afford higher education without breaking the bank, including:
Grants
Scholarships
Loans
Federal work-study programs
Collin College Financial Aid—Grants
Take a look at this list of federal and state grants available at Collin College:
Pell Grant
Iraq and Afghanistan Service Grant
The Federal Supplemental Educational Opportunity Grant (FSEOG)
The Texas Public Education Grant (TPEG)
Texas Educational Opportunity Grant (TEOG)
Collin College Scholarships
Current and prospective Collin College students are eligible for Collin College Foundation Scholarships if they:
Have a minimum of 2.5 GPA or higher
Have a valid college email address
Agree to take a minimum of 6–9 credit hours per semester
Remain in good standing with the College
In addition, high school students must graduate in May or this fall by taking dual credit classes. The College won't reward applicants who:
Are seeking scholarships based on athletic performance
Attend:

Non-degree seeking classes
Only winter or summer classes
Non-credit classes
Two schools (for example, Collin College and another 4-year university)
Continuing education classes

Are high school students taking dual credit classes but are not seniors
Check out these resources for:
Available Loans at Collin College
If you're thinking about loaning, Collin College offers the following options:
College Access Loan (CAL) Program (for Texas students only)
Federal Direct Subsidized Loans
Federal Direct Unsubsidized Loans
Federal Parent Plus Loans
Collin College needs to certify all private loans so if you opt for one, contact the loan coordinator at amchavez@collin.edu.
Collin College Financial Aid—Federal Work-Study Programs
The federal work-study program allows you to:
Work part-time (up to 20 hours per week)
Work on-campus or in a community service position
Earn $11 per hour
You need to meet the following criteria to be eligible for work-study programs at Collin College:
Demonstrate financial need
Be enrolled in an eligible program
Make Satisfactory Academic Progress (SAP)
Be a U.S. citizen or eligible non-citizen
Be enrolled at least half-time
Collin College Financial Aid Application Explained
Collin College requires you to submit the following forms to apply for financial aid, depending on the type of aid you opt for:
Free Application for Federal Student Aid (FAFSA)
Texas Application for State Financial Aid (TASFA)
Loan Request Form
Check out the financial aid application deadlines:
| | |
| --- | --- |
| Application Deadline | Application Type |
| June 30 | FAFSA |
| January 15 | TASFA |
If you have any questions regarding the application process, contact the Collin College Financial Aid Department by:
Completing the contact form
Calling 972-377-1710, 972-548-6710 or 972-881-5710
Meeting an advisor via Zoom by clicking on the laptop icon on the Connect With Us page
Writing an email to financialaid@collin.edu
What To Do if Collin College Refuses To Grant Me Aid
Depending on your student status, there are two ways to go about the issue:
Continuing students—should file a Satisfactory Academic Progress Appeal, explaining why they failed to reach aid requirements for the current term
First-year students—can appeal the school's decision and request an application reconsideration from Collin College
To submit your appeal to Collin College and request more aid, you need to write a financial aid appeal letter, and we can help you with that!
Get More Financial Aid From Collin College With DoNotPay!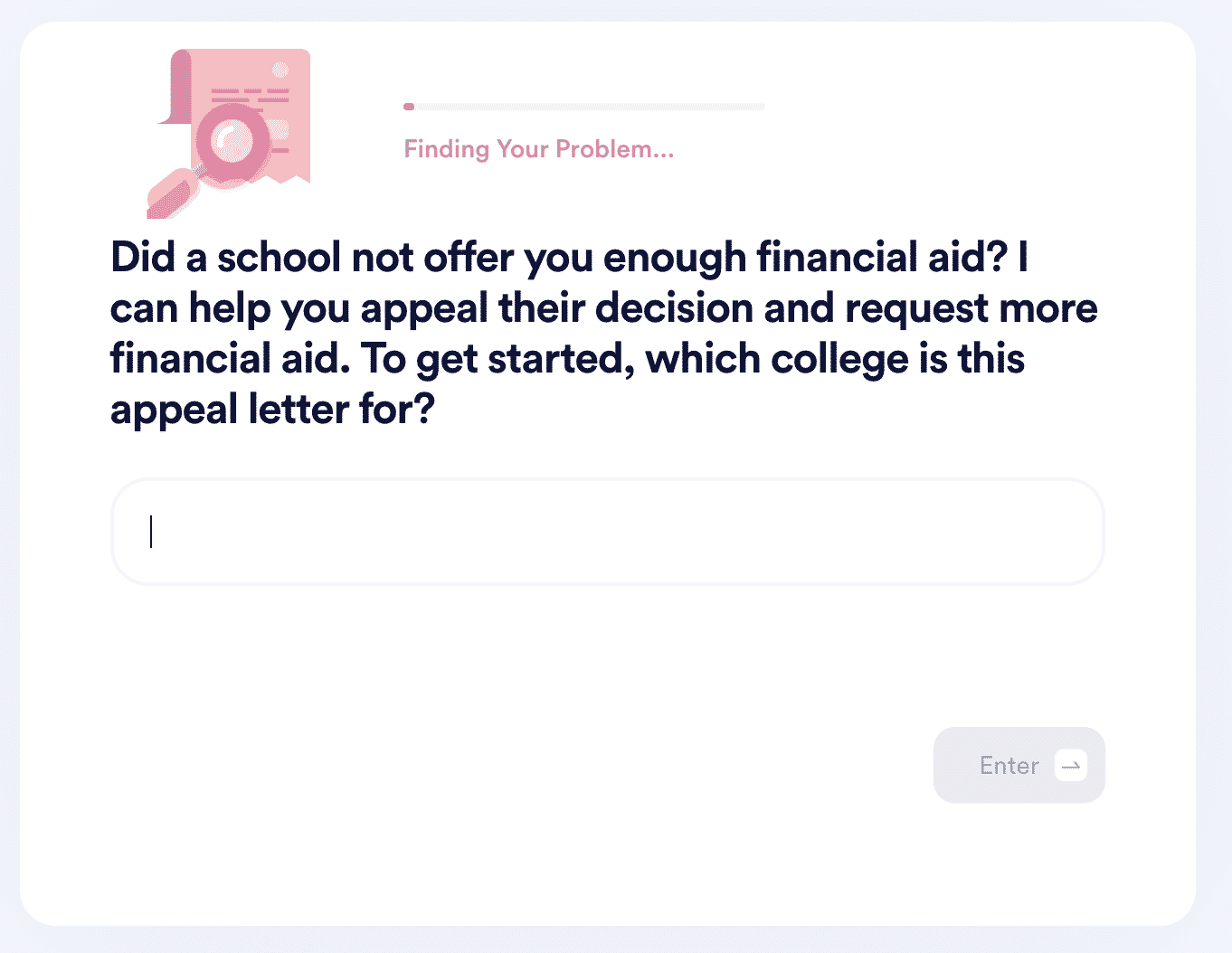 Writing a financial aid appeal letter can seem scary at first, but it's a simple process that takes only a couple of minutes if you use DoNotPay!
To get started:
Type Appeal for More Financial Aid in the search bar
Answer a few questions about your financial aid application, such as why you need more funds, whether you received more aid from other schools, etc.
All that's left is to select whether you want us to send the letter to Collin College or email it to you so you can do it yourself.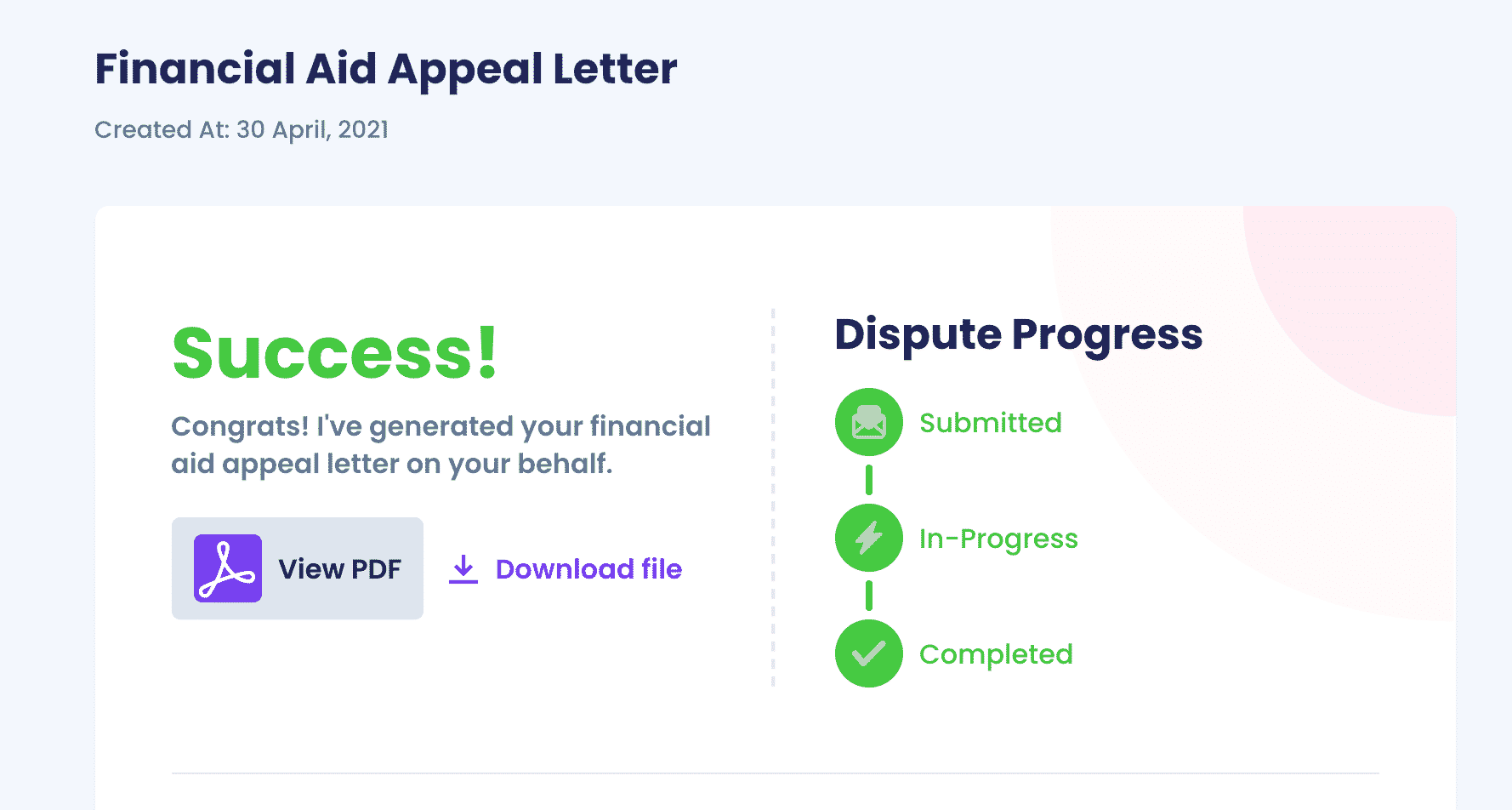 If you have more questions about financial aid, our knowledge base offers the latest information about:
What Are Good Options To Consider Other Than Collin College?
Regardless of whether Collin College isn't your primary choice or you need a backup plan, here are some other reputable schools to consider:
Solve Any Issues Like a Pro With DoNotPay
DoNotPay is an AI assistant that is able to solve almost all issues you're facing. Whether that be your noisy neighbors, the annoying text and email spam you're receiving, or the frustrating robocalls that won't leave you alone. We'll even cancel your unneeded subscriptions and get you a few extra bucks you've been cheated out of.
The world's first robot lawyer app can help you get:
DoNotPay Helps You Deal With Any Administrative Issue Effortlessly
Tedious administrative tasks are always headache-inducing, but they don't have to be if you use DoNotPay. With our AI-powered app, you will be able to: