Learn Everything About the American River College Financial Aid Program
The American River College (ARC) is a great option for students with immense financial need because it participates in the Los Rios Promise Program, which offers one year of tuition-free education. You may want to consider applying for financial aid even during the tuition-free year because:
The program does not cover expenses such as books, transportation, etc.
The tuition-free year will end eventually
This guide will help you learn when and how to apply for the American River College financial aid program and , if necessary.
What Types of Financial Aid Does the American River College Offer?
Take a look at this list to find out what types of financial aid the American River College offers:
Grants
Loans
Work-study
Scholarships
Student payment plan
Grants Available at ARC
The American River College offers and distributes the following grants:
Cal Grant B—This grant is for low-income students enrolled in programs lasting at least 24 semesters and resulting in an associate, baccalaureate degree, or certificate
Cal Grant C—Students who pursue a degree in an occupational or technical program of at least four months in length or are enrolled in and attending at least six eligible units per semester are eligible for this grant
California College Promise Grant—This grant waives enrollment fees for students exempt from nonresident fees or coming from a family with exceptional financial need
Chafee Grant for Foster Youth—Students who were fosters, even for just one day, can apply for and use this grant to cover tuition or cost of attendance
Federal Pell Grant—This grant is for students demonstrating financial need
Federal Supplemental Educational Opportunity Grant (FSEOG)—Undergraduate students without a bachelor's or professional degree are eligible for this grant
Student Success Completion Grant (SSCG)—Students receiving a Cal Grant who are enrolled in at least 12 units each semester are eligible for this grant as well
ARC Financial Aid—Loans
You can opt for one of the two types of federal loans at the American River College:
Subsidized loans—The school grants these loans to students demonstrating financial need
Unsubsidized loans—Eligible students can receive these loans regardless of financial need
ARC accepts and includes all private loans you report to the Financial Aid Office in the final financial aid plan.
Work-Study Programs at the American River College
ARC students can work no more than 26 hours per week during semesters and 40 hours per week between semesters. They can earn up to $7,000 during the school year and receive payments for the current month on the tenth of the following month
ARC Scholarships
Check out this list of scholarships available to ARC students:
External scholarships:

AB 540
Agricultural
Business and finance
Gender
General
LGBTQ+
Merit and honor
Military
Multicultural
For students with disabilities
STEM
ARC Student Payment Plan
The ARC student payment plan allows ARC students to cover the tuition and attendance fees in up to four monthly installments to ensure they have enough time to resort to other financial aid options, such as loans, without compromising their financial stability.
When and How To Apply for ARC's Financial Aid Program
Complete your FAFSA or CADAA
Submit the applications by March 2
Complete and submit the required documentation before the deadlines (June 7 for the fall semester and November 1 for the spring semester)
The deadlines for Los Rios Promise Program applications are June 16 and September 7.
For more assistance, contact the American River College Financial Aid Office by calling (916) 484-8437 or sending an email to financialaid@arc.losrios.edu.
What Can I Do if the American River College Rejects My Financial Aid Application?
If the American River College rejects your application or doesn't offer enough aid, you can file a financial aid appeal by writing a formal letter. It should include:
Reasons why you want to go to ARC
Other schools you applied for and the amount of aid they offer
Reasons why ARC should reconsider your application
The financial situation you and your family are in
Send a Financial Aid Appeal Letter to the American River College Using DoNotPay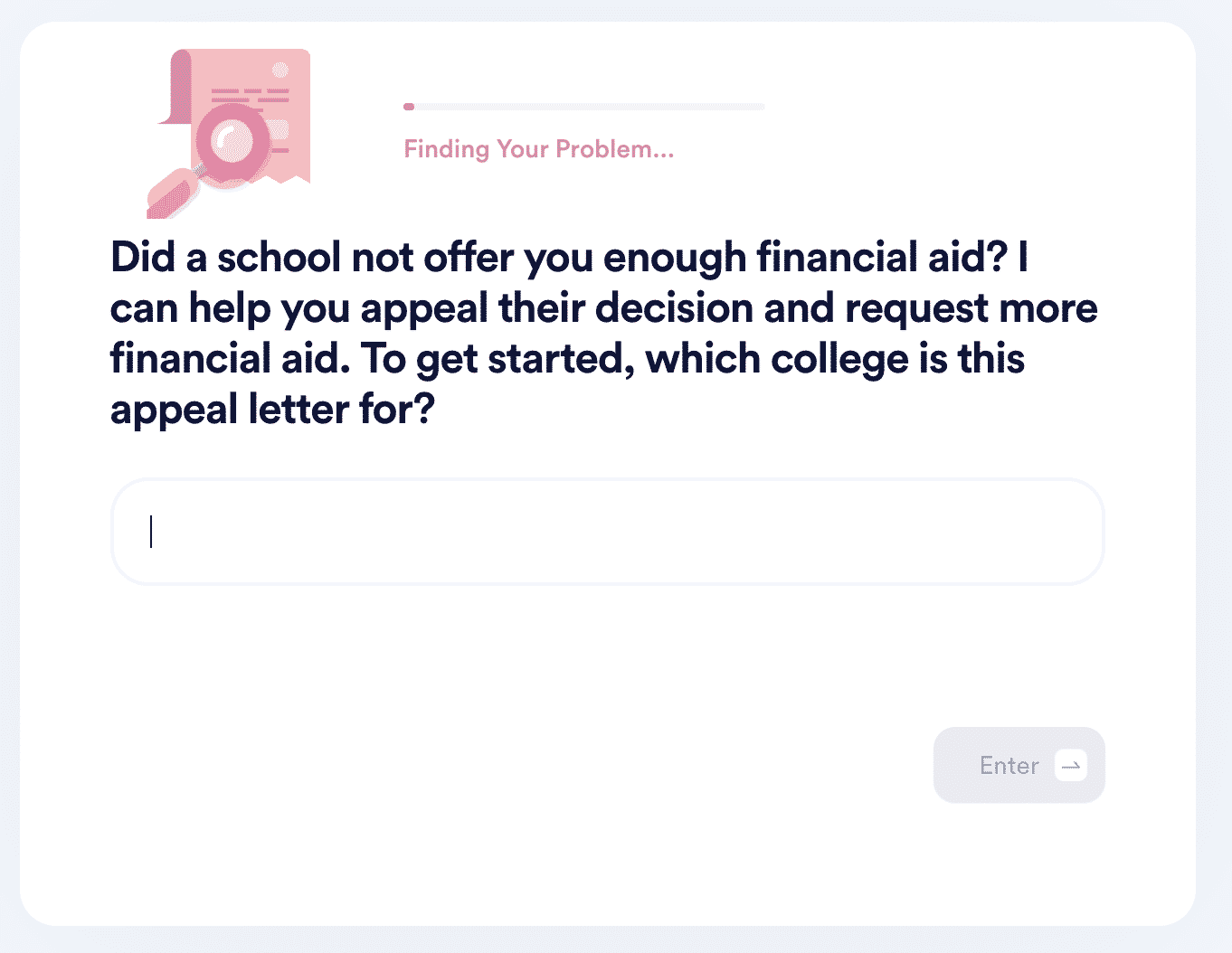 With our handy feature, you don't have to spend hours writing an appeal letter to get more financial aid. Instead, you can get a custom-generated financial aid appeal letter in a matter of moments if you follow these steps:
Enter Appeal for More Financial Aid in the search bar
Answer a few short questions about your financial aid application and the response you received from the American River College
After you complete all steps, you can choose whether you want DoNotPay to mail the letter to ARC or send it to you via email.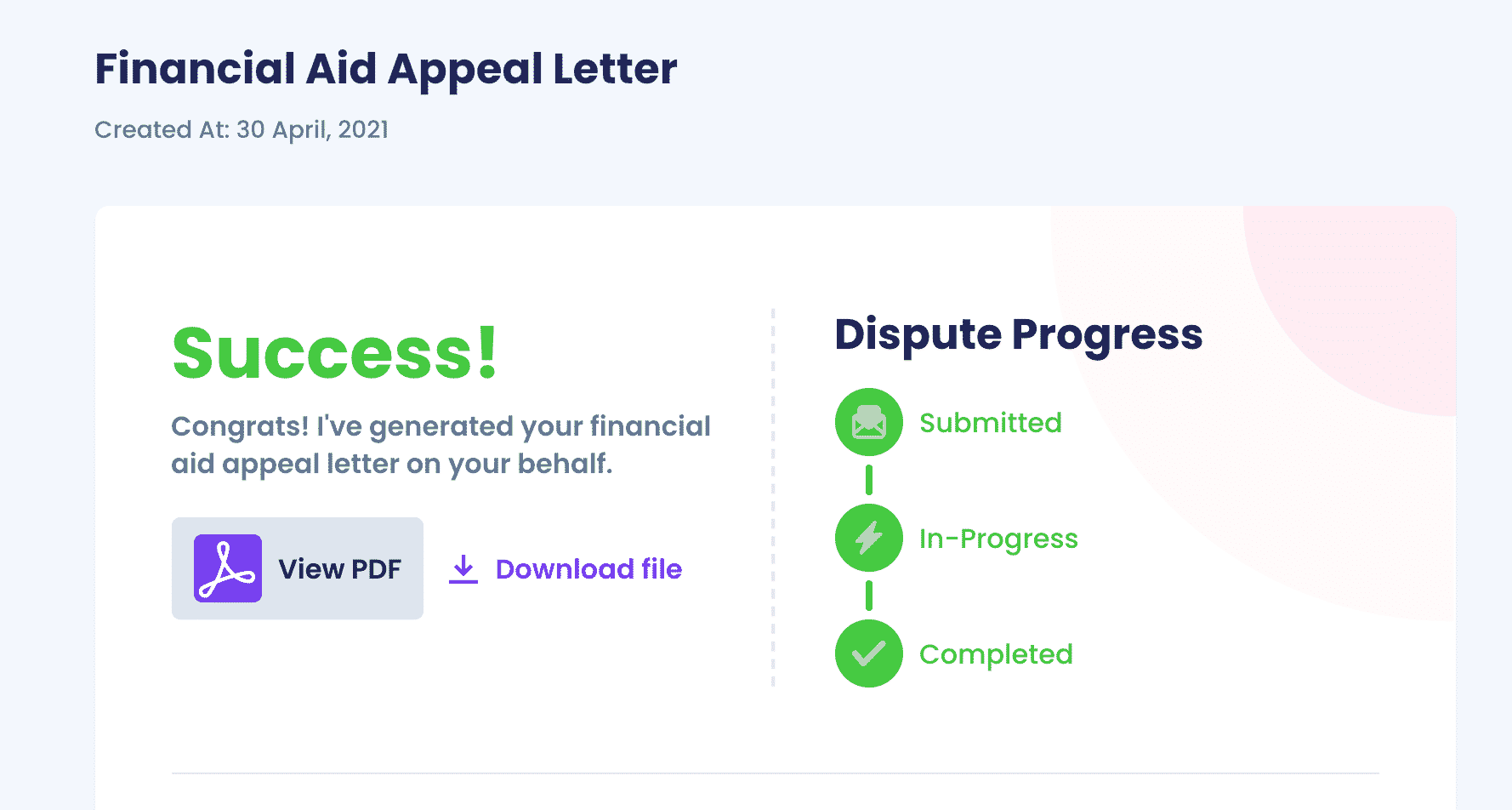 Check Out Other Schools and Their Financial Aid Programs
Hope for the best but prepare for the worst—our learning center can help you learn more about financial aid programs of other schools, such as:
Get the Basics Down—Learn About Financial Aid With DoNotPay
Check this list for our guides that answer the most common financial-aid-related questions, such as:
What is financial aid for college

?
DoNotPay Helps You Deal With Any Administrative Issue Effortlessly
Tedious administrative tasks are always headache-inducing, but they don't have to be if you use DoNotPay. With our AI-powered app, you will be able to:
Solve Any Issues Like a Pro With DoNotPay
DoNotPay is an AI assistant that is able to solve almost all issues you're facing. Whether that be your noisy neighbors, the annoying text and email spam you're receiving, or the frustrating robocalls that won't leave you alone. We'll even cancel your unneeded subscriptions and get you a few extra bucks you've been cheated out of.
The world's first robot lawyer app can help you get: